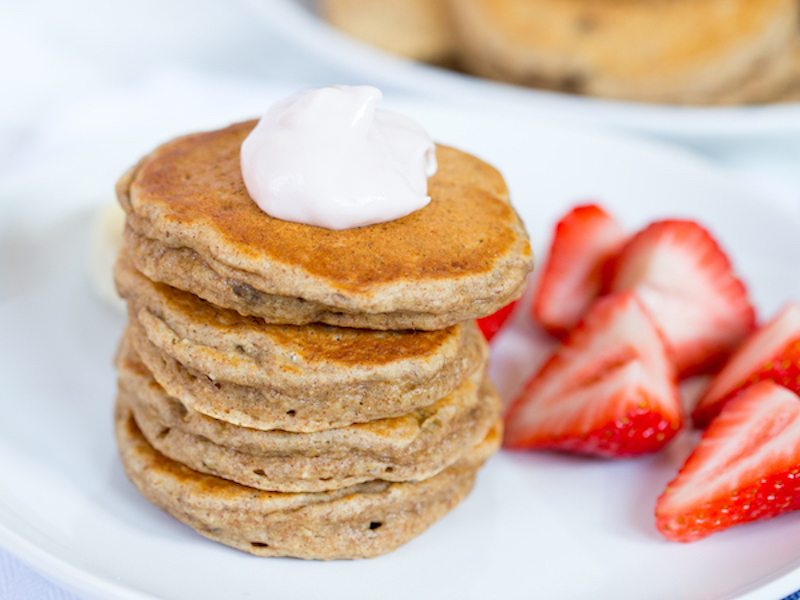 Made with whole wheat flour, maple syrup, bananas, and oats, these pancakes are healthful and easy to make in a big batch, cook and freeze until a busy morning when they are sure to bring a smile to everyone's faces.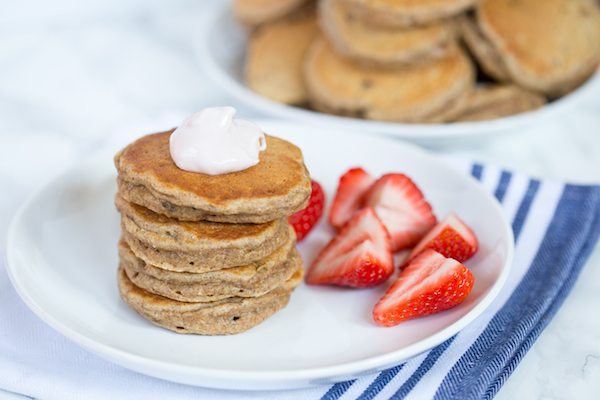 When it comes to eating, I'd say my toddler is pretty average. He doesn't have an amazing appetite that I can brag to you all about, but he's not refusing everything I put in front of him, either.
He's more in the middle where 60% of the time he will eat what we put in front of him. Unless it's meat. He's in a vegetarian phase right now. The other 40% of the time, he wants nothing to do with food. I've read it's pretty normal for toddlers to go through phases like this, so I'm not worried. I have to say, though, as someone who shows their love through food, it's a little sad when he won't even try something I made for him. And a little annoying.
Okay, a lot annoying. I mean CMON JUST EAT THE DANG SCRAMBLED EGGS YOU TOLD ME YOU WANTED! p.s. I don't really yell at him like that. I just say it in my head as he throws it on the ground or feeds it to the dog.
So what I'm trying to say is that it helps to have some go-to meals that I can feed him in times of desperation. For breakfast, this is pancakes.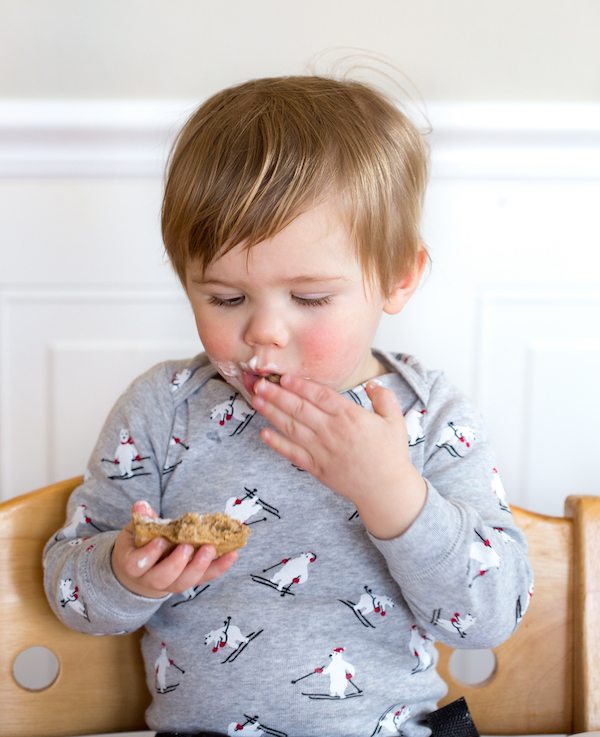 Since pancakes aren't necessarily an "every day" kind of a thing to whip up, I have made a habit of making a huge batch every couple of months. Then I'll package them up in plastic baggies and freeze them for the mornings when scrambled eggs are just not cutting it.
Of course, these aren't only for toddlers. They are tasty enough for the whole family. The reason I label them as "toddler friendly" is because they are made with ground oats, whole wheat flour, bananas, and no refined sugar. High five!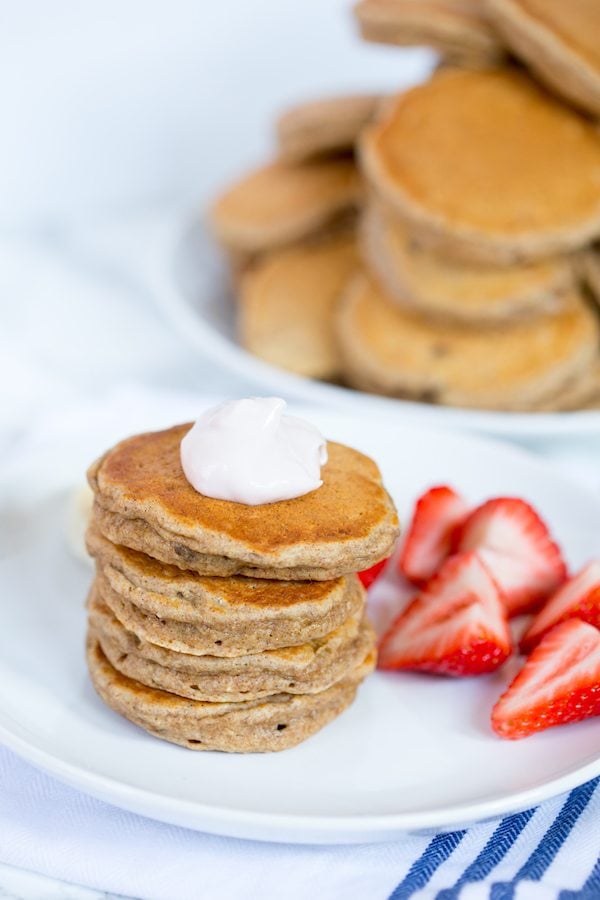 Like I said, this banana oat pancake recipe makes a lot of pancakes. I make ours pretty small so they are "toddler sized", so if you make larger pancakes, it will obviously make less pancakes. Regardless, this will feed a crowd! Or just one hungry toddler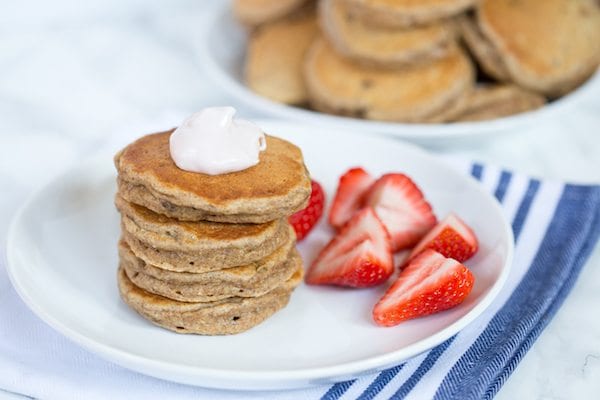 Taylor Kadlec
Ingredients
1

cup

old fashioned oats

1

cup

whole wheat flour

2

teaspoons

baking powder

1

teaspoon

baking soda

1/2

teaspoon

cinnamon

1/2

teaspoon

salt

1 1/2

cups

whole milk

1/2

cup

yogurt

2

eggs

1

tablespoon

maple syrup

1

teaspoon

vanilla extract

2

tablespoons

butter

melted

2

bananas

mashed

butter

for greasing skillet
Instructions
Place oats in blender and process on high until it forms oat flour.

In a large bowl, combine oats, flour, baking powder, baking soda, cinnamon, and salt, and blend to combine.

In a separate bowl, combine milk, yogurt, eggs, maple syrup, vanilla, melted butter, and mashed bananas and stir well.

Add wet ingredients to flour mixture and mix until just combined.

Heat a large skillet over medium-high heat.

Add butter and let melt.

Pour batter 2-3 tablespoons at a time and cook each pancake until bubbles start to form. Flip and cook another 2-3 minutes.

Repeat with remaining batter.

Serve top with maple syrup, yogurt, fruit, or any of your favorite pancake toppings!
Taylor Kadlec
Taylor Kadlec is a lover of all things food including baking, cooking, and of course, eating. She is a self-taught baker and cook, and she shares her kitchen adventures on her blog Greens & Chocolate, where healthy cooking meets sinful indulgence.