These almond butter cookies are the bomb. Ultra soft and chewy, sweetened with maple syrup, the nuttiness of almond butter, and loads of dark chocolate chunks.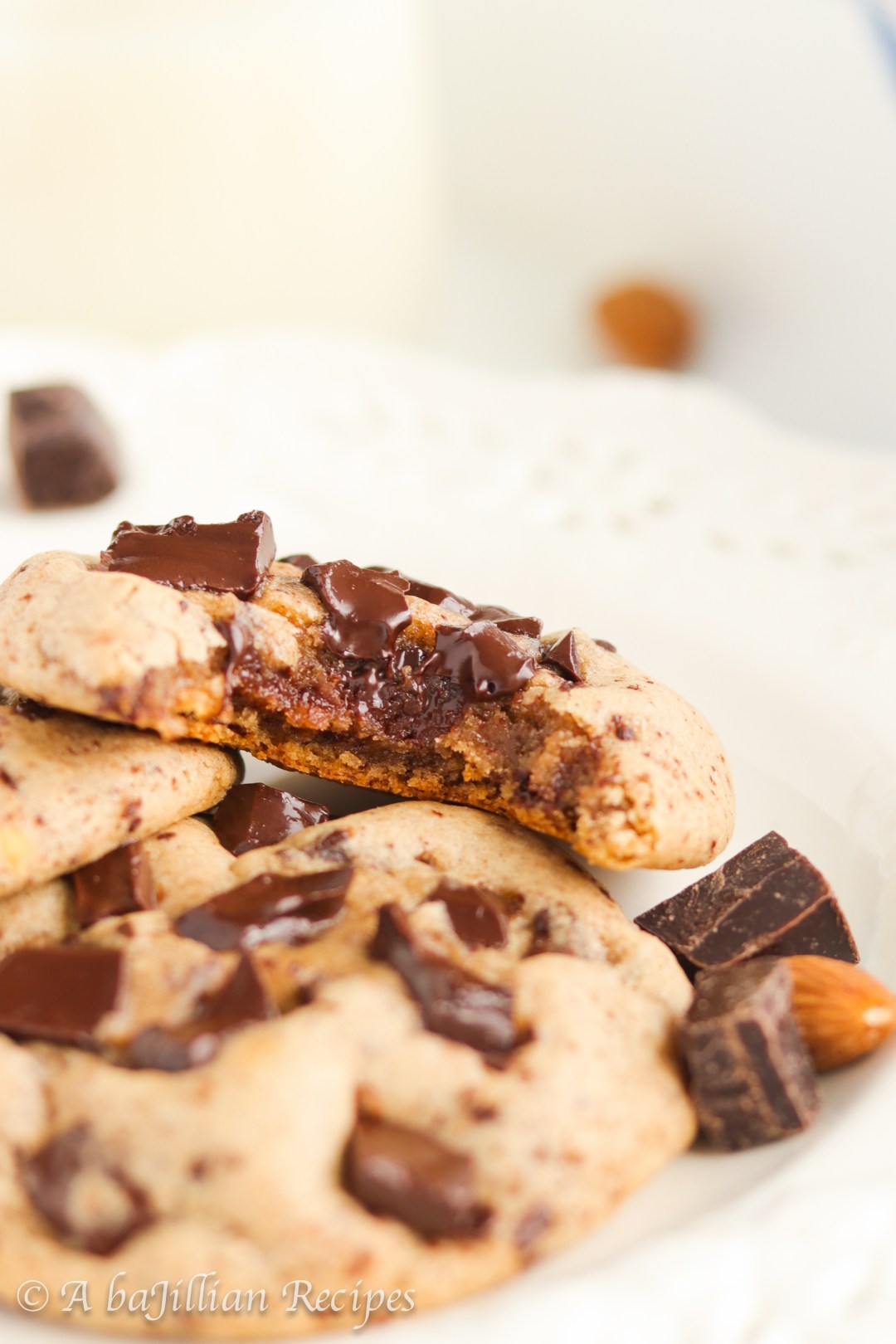 As a peanut butter addict, I've definitely made my fair share of peanut butter cookies over the years. However, this week I decided to delve into a different spread that I've never experimented with until now–almond butter!
With almond butter being so popular these days, I was surprised I hadn't used it in ANY of my recipes thus far. I guess I can blame it on my undying love and loyalty to peanut butter. I also have to admit that almond butter tastes rather flavorless and mild in comparison to peanut butter, in my opinion.
Nonetheless, I wondered if baking almond butter into a cookie would change my views on this wildly popular nut butter. And guys, I think I may have found the best way to enjoy almond butter…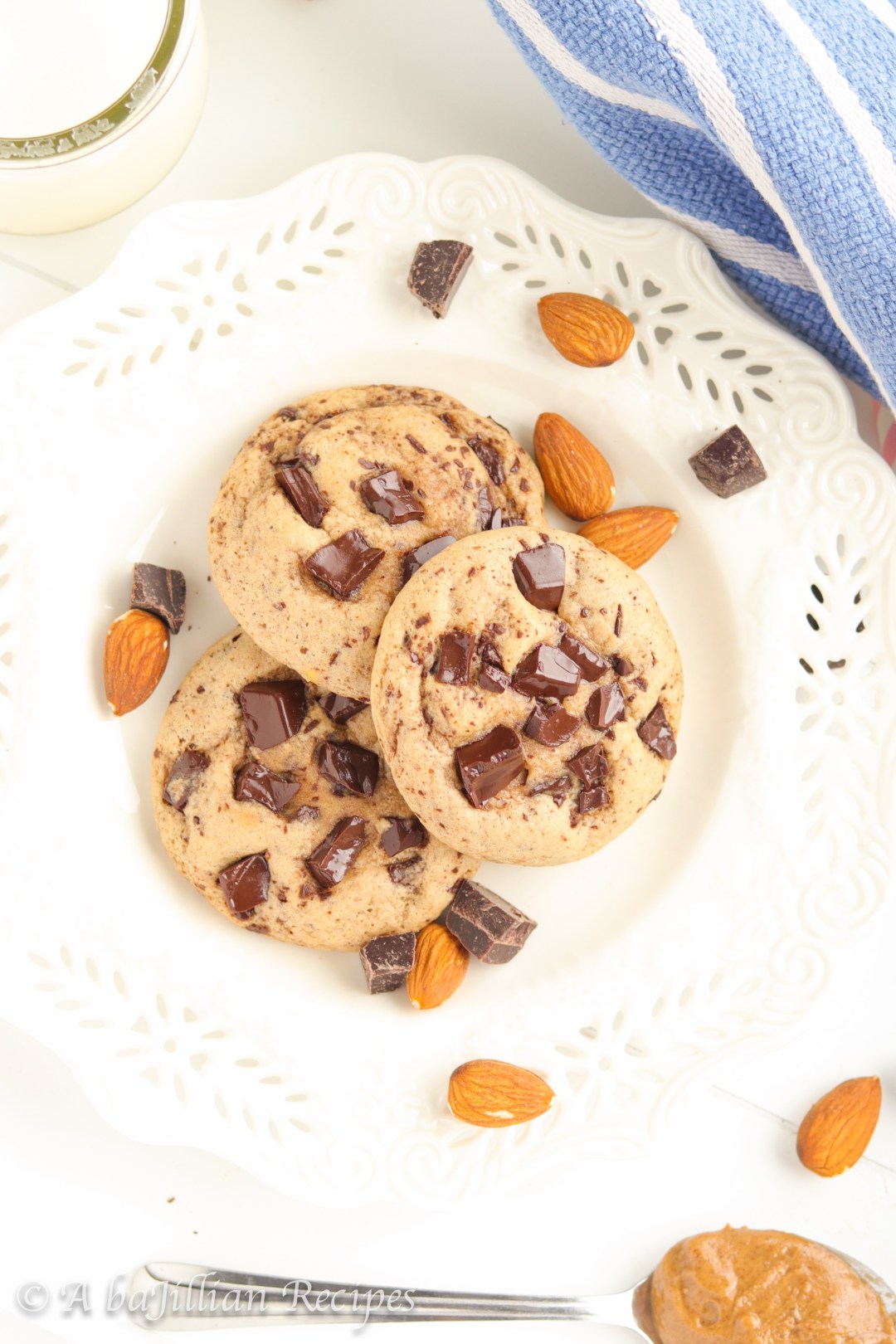 I think I can safely say that almond butter has fully redeemed itself with these Maple Almond Butter Chocolate Chunk Cookies. Unsurprisingly, almond butter tastes ten times better when you sweeten it up with tons of maple syrup, brown sugar, and chocolate…who knew?
Most of the almond butter cookie recipes you'll find on the internet are healthy, gluten-free, vegan, paleo, yada yada yada…these, on the other hand are a little different, AKA, better. Because not only are they bursting with maple sweetness and nutty almond butter flavor, but they're perfectly soft and chewy.
And since everything comes together in one bowl, they could not be any easier to make. First, the almond butter, brown sugar, and maple syrup are beaten together. Being that almond butter isn't as sweet on its own, I decided to use both maple syrup and brown sugar in these cookies. Along with adding that heavenly maple sweetness, they would also help to create a pillowy chew and long-lasting softness.
Once combined, the egg and vanilla are added, followed by the flour, baking soda, and salt. As for the chocolate, I folded in some good-quality dark chocolate which I had chopped into chunks. Normally I would go the lazy route of using plain semi-sweet chocolate chips, but these cookies seemed a little too fancy for such mediocrity. What I love most about using chunks as opposed to chips is that they melt more easily into the cookie, creating more of those wonderfully oozy pockets of chocolate melty ooey gooeyness. The tiny crumbs of chocolate also create a more rustic look!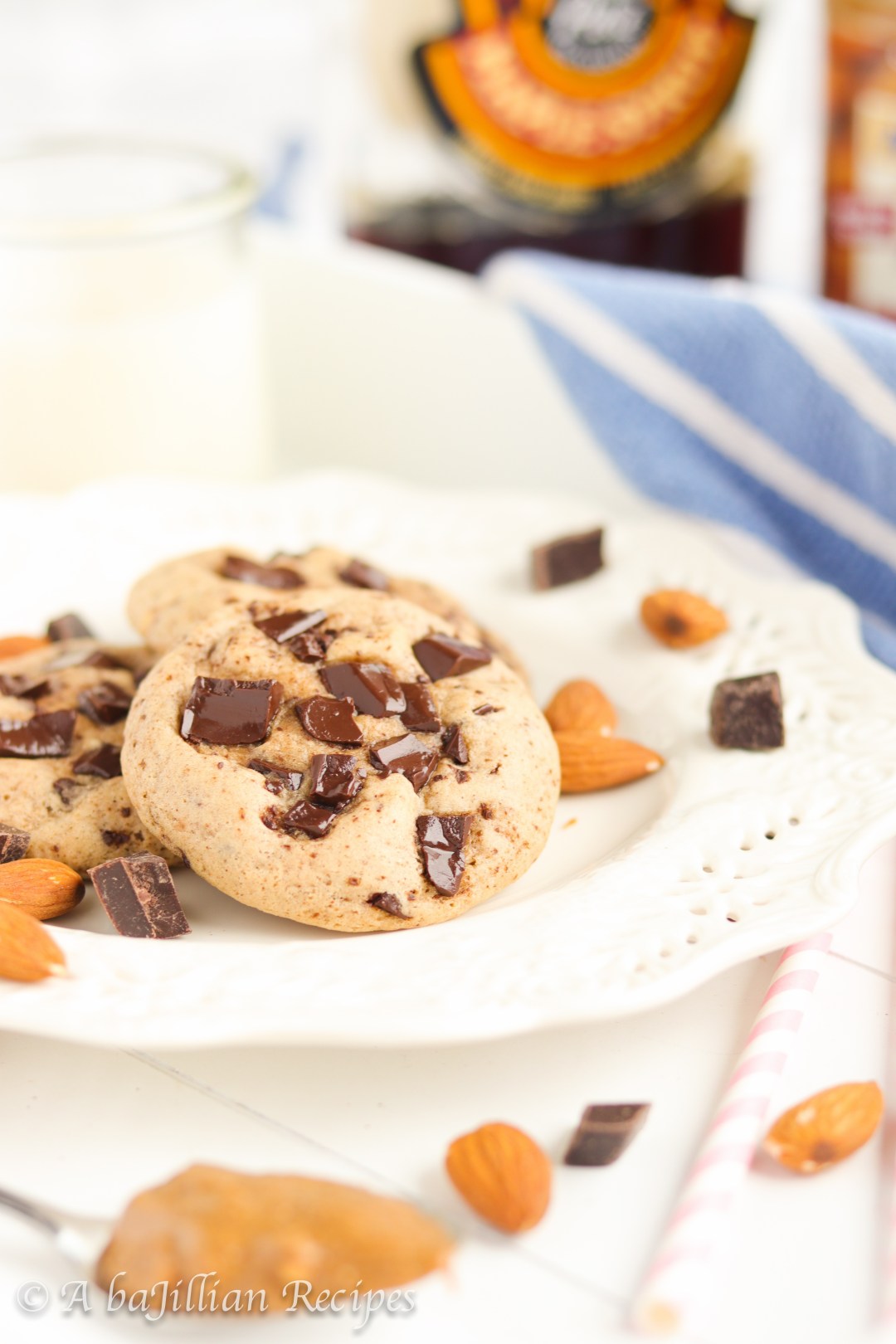 To ensure that these cookies didn't spread too much in the oven, I popped them in the fridge for about 2 hours. Once nice and chilled, they were ready for rolling. Due to the maple syrup, this dough is a little sticky. Luckily though, the dough tends to stick to itself instead of your hands when rolling.
As with all my drop cookie recipes that require chocolate chips/chunks, I always like to press a few chocolate chunks into the tops of each cookie. Not only does it make the cookie look prettier, but it's a great excuse to add more chocolate! Just before they go into the oven, a gentle press on the tops of each cookie will allow them to bake more evenly.
These cookies don't take long to bake–mine took about 8-9 minutes. You want to look for puffy cookies that aren't quite browned. They may look underbaked and rather pale, but they'll firm up and continue to bake as they cool on the baking sheet.
I don't think you can get any closer to heaven than with these Maple Almond Butter Chocolate Chunk Cookies. The combination of maple and almond butter is nothing short of divine, and the added richness of the dark chocolate chunks make this cookie a TEN in my book.
Just consider these a more grown-up version of the classic chocolate chip cookie.
Print

Almond Butter, Maple and Chocolate Chunk Cookies
---
1/2 cup

almond butter

1/2 cup

maple syrup

1/2 cup

brown sugar

1

egg

1 teaspoon

vanilla

1

and 3/4 cup all-purpose flour

1 teaspoon

baking soda

1/4 teaspoon

salt

1 cup

semi-sweet chocolate chunks/chips*
---
Instructions
In a stand mixer fitted with the paddle attachment, beat the almond butter, maple syrup, and brown sugar together until combined. Mix in the egg, followed by the vanilla.
Add the flour, baking soda, and salt, mixing until just combined. Stir in the chocolate chunks. Cover with plastic wrap and refrigerate for at least 2 hours.
Preheat the oven to 350ºF. Line a cookie sheet with parchment paper. Roll dough into balls and place them 2 inches apart on the cookie sheet. Flatten just slightly before placing them into the oven to bake for 8-10 minutes.
Allow to cool on the cookie sheet for 5 minutes before transferring to a wire rack to cool completely.
Notes
*I like to reserve about a 1/4 cup of the chocolate chunks for pressing into the tops of each cookie just before baking them in the oven.
Jillian Hatsumi
I'm Jillian, the writer, baker, chef, recipe creator, and amateur (very amateur) photographer of A baJillian Recipes. Though I'm not a classically trained chef, I like to think I know my way around a kitchen pretty well. Aside from baking, cooking, and EATING, I also enjoy acting, couponing (I LOVE saving money!!), running, working out, photography, and playing with my little fluffernutter, Olivia. She's a dog, if you're wondering...