Chef Alex Guarnaschelli and Lindt Master Chocolatier Ann Czaja team up for an incredible evening of dark chocolate, spirits, and hot fudge sundaes.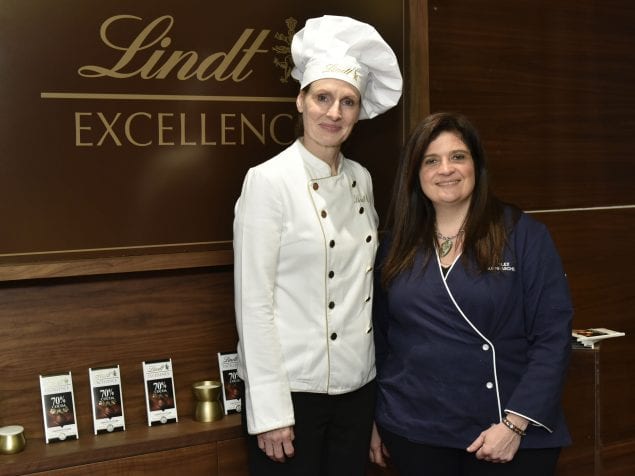 Dark Chocolate has always been the "Friendly neighborhood cousin to milk chocolate…." according to Food Network's Chef Alex Guarnaschelli.   And she's right.   In my experience, most people just don't know how to handle the taste of it.  But Chef Guarnaschelli and Lindt Master Chocolaterie Ann Czaja took us on an incredible journey that made us have a "moment" the minute the Lindt's EXCELLENCE 70% Smooth Dark Chocolate started to melt in our mouths.  And it didn't stop there.  While the Dark Chocolate lingered on our palettes, Chef Alex and Czaja continued this journey by paring Lindt's EXCELLENCE Dark Chocolate varieties with certain beverages at Butter, Chef Alex Guarnaschelli's restaurant in Manhattan.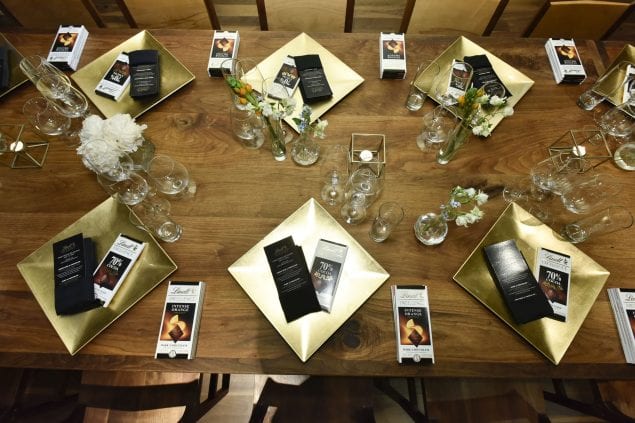 The journey began with Lindt's EXCELLENCE Intense Orange Dark Chocolate with almond slivers and a bottle of crisp white wine.  Wanting to savour the moment,  I slowly peeled back the silver paper surrounding the chocolate and was pleasantly nudged by the aroma of orange peel. The citrus fragrance combined with hints of vanilla, toasted nuts, and coffee created a perfect balance and added dimension to dark chocolate.  I instantly broke off a square and made it melt in my mouth.  With the chocolate still lingering, I took a sip of a crisp and citrusy white Gruner Verliner from Austria that Chef Alex Guarnaschelli selected to be paired with it.   The silky orange dark chocolate combined so nicely with the nutty, fruity and spicy taste of the Gruner.    It was the perfect combination.
Lindt's EXCELLENCE Roasted Hazelnut Dark Chocolate was up next paired with a 10+-year-old Tawny Port.  Lindt combined the finest dark chocolate and roasted the hazelnuts to intensify their nutty flavour and crunch with an aged, sweet fortified wine.  The coffee notes in the dark chocolate balanced out the sweetness of the aged Port resulting in a smooth aftermath.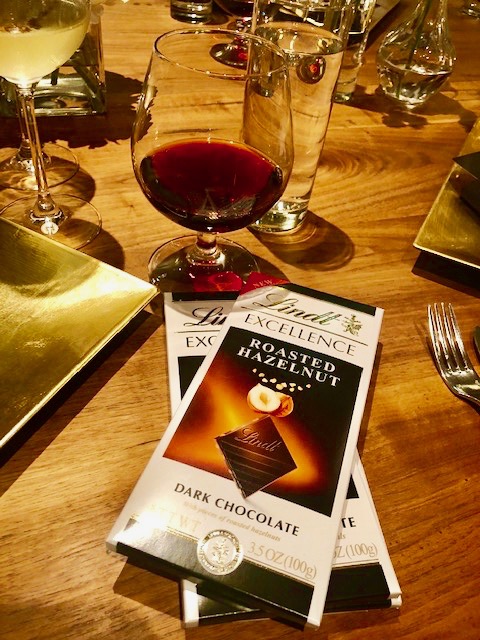 Chef Alex Guarnaschelli and Lindt Master Chocolatier Ann Czaja revisited Lindt's EXCELLENCE 70% Smooth Dark Chocolate but this time paired it with a Merlot wine from Virginia. The deep roasted flavors of the chocolate with notes of dried fruit picked up the black cherry and chocolate flavor ending with a chocolatey finish.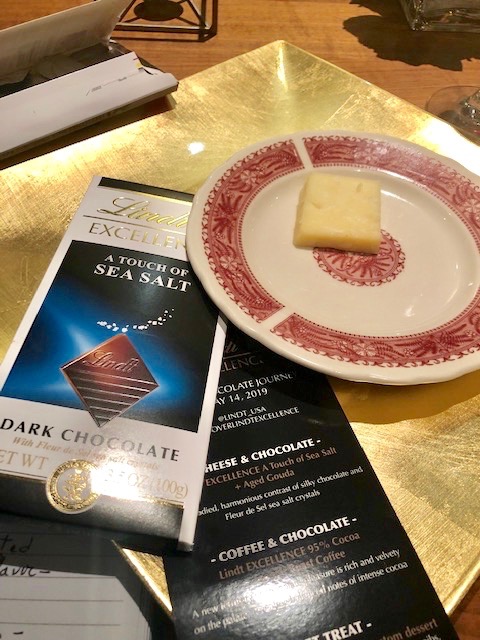 See Also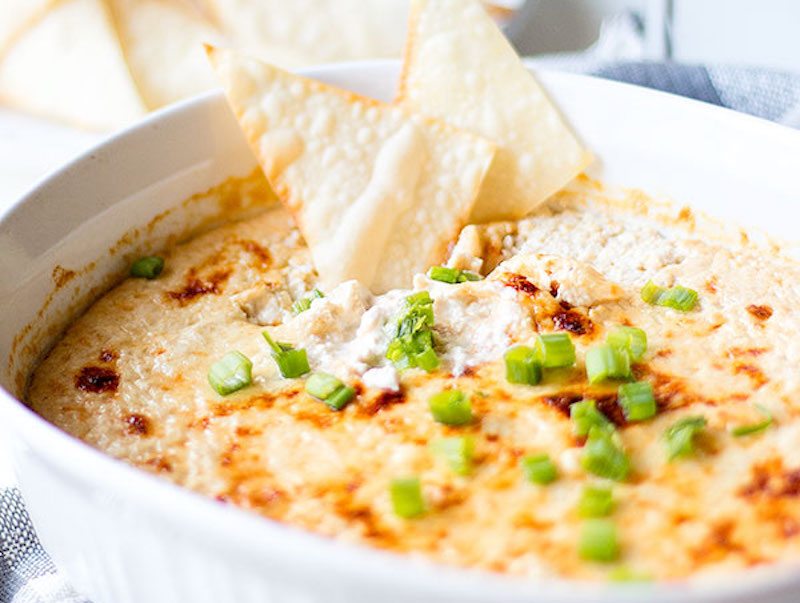 There's nothing as elegant as an Aged Gouda being served with a Lindt's EXCELLENCE Dark Chocolate and Fleur de Sel sea salt.  The darkness of the chocolate with a hint of sea salt and the salt crystals in the Aged Gouda compose a perfect balance of sweet and salty in your mouth.  Chef Alex Guarnaschelli and Lindt Master Chocolatier Ann Czaja bought both worlds together to create this perfect marriage letting us know that opposites definitely do attract with amazing results.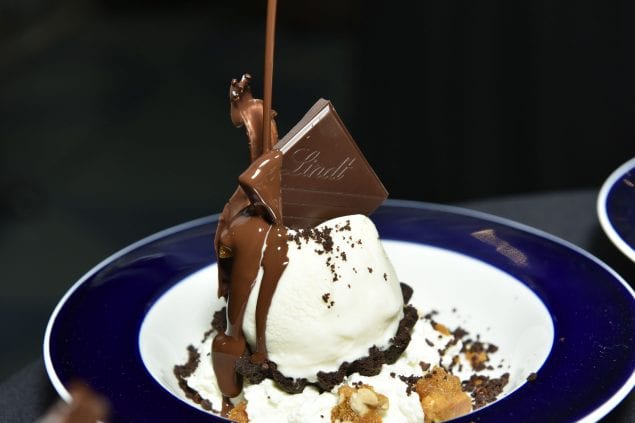 The highlight of the evening was saved for the end when Chef Alex Guarnaschelli unveiled her Mini Sundaes made with Lindt EXCELLENCE 70% cocoa nibs.   Seriously, this sundae was a masterpiece in taste and texture.  The fresh whipped cream was placed in a homemade chocolate shell which served as a delectable nest for the vanilla bean ice cream. Yes, you read it right.  The whipped cream was on the bottom of the sundae instead of the top.  Topping the vanilla bean ice cream was melted Lindt EXCELLENCE 70% cocoa nibs mixed with coconut oil.  The coconut oil mixed with the chocolate created a glossy shell that hardens within minutes creating a chocolate "diamond" shell.  Scattered around the "diamond" was chocolate cookie crumble and homemade caramel peanut toffee.   And just when you thought you had enough, pint-sized pitchers of melted chocolate were served which when poured around the sundae created a pool of liquid gold.  Sublime.
Growing up we always had Lindt's Dark Chocolate in my house because my Mother always loved it.  It became my favorite as well.  And after this evening, I'm positive that Lindt's EXCELLENCE Dark Chocolate varieties created many new dark chocolate lovers.
Gabe Fanelli
In another lifetime I went to Culinary School (ICE) and graduated with a degree in Pastry Arts. I interned and worked for a bit in the Test Kitchen of Rachael Ray's Magazine "Everyday with Rachael Ray" but missed meeting her by 15 minutes. Currently, I'm the Marketing Director for Town Sports because after eating all of that pastry and working in a test kitchen, I needed a free gym membership.