Loaded with pinto beans instead of chicken, this vegetarian tortilla soup is hearty enough for a cold winter, with great flavor and fun toppings.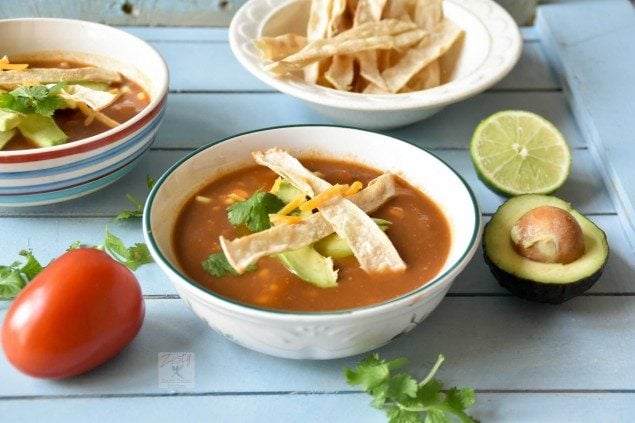 I have seen always chicken tortilla soup and wanted to make a vegetarian version. Finally got a recipe for vegetarian tortilla soup and I decide to make it my own changes and made it.
Since I have a habit of making everything from scratch I thought I will make corn tortilla at home. Then I skipped that idea and bought a store-bought one. I have few left which I am planning to make taquitos and tacos. I need to make it. If it is good soup my hubby and kids loves it and for kiddos I need to make it less spicy, this one is slightly spiced so they didn't want to try it. Original recipe used peas and corns we are not that great fan of peas so used pinto beans.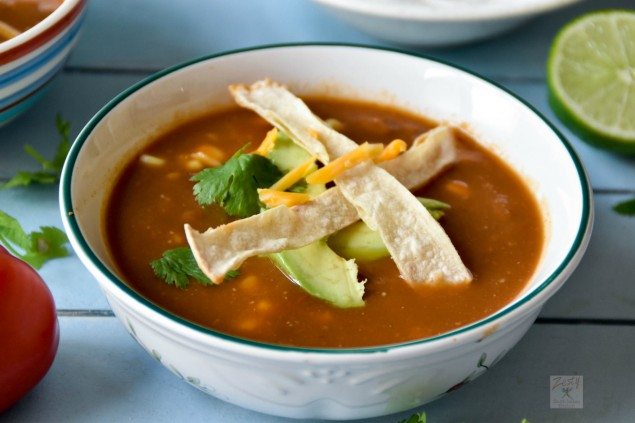 In India pinto beans are called Chitra Rajma (Chitri–wale Rajma) because of its color in skin. Nowadays I forget to soak them the night before so I pressure cook them with some extra whistle. According to famous cookbook author Diana Kennedy you can't find tortilla soup all over the Mexico, but only in Mexico City. To be really authentic, the soup should have only a little white onion, raw not cooked, blended with roasted tomato.
See Also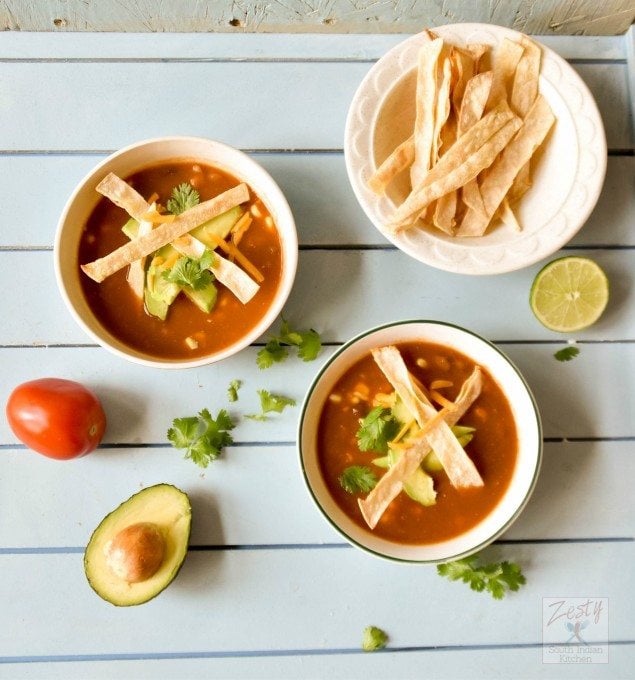 Mine is not authentic, as it is vegetarian also I cooked onion along with tomato so more of a fusion. Again do to health consciousness I used baked tortilla instead of fried ones.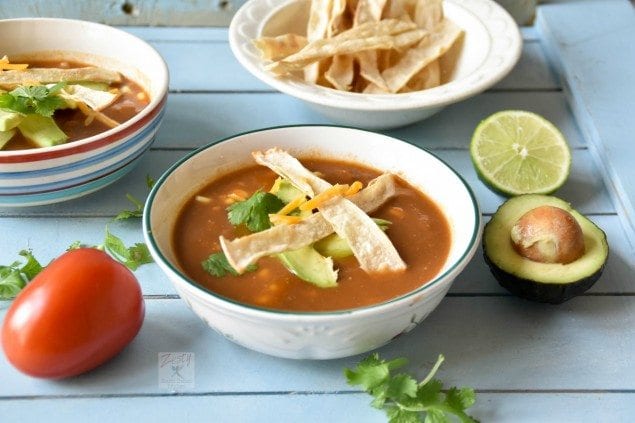 Swathi Iyer
Ingredients
4

inch

– 6 corn tortilla cut it into ¼ inch strips I used white corn tortilla

4 to

matoes roughly chopped

8

portabella mushrooms

1

red bell pepper

½

of medium red onion

1

red chili use chipotle or arbol pepper if you have it hand

5

sprig of cilantro

2

teaspoon

ground cumin

3

cup

water

2

cloves

of garlic

½

teaspoon

chili powder

1

cup

of fresh corn you can use frozen if you want

1

cup

cooked pinto beans

2

avocados

1

lime cut into wedges

Cilantro
Instructions
Preheat the oven to 400F. Line a baking sheet with parchment paper, cut the tortilla into ¼ in strips and place on prepared baking sheet and bake for about 6 minutes or until it become golden brown in color.

Pressures cook the pinto beans if you are using dried beans or you can use canned beans.

In a sauce pot add tomatoes, onion, portabella mushrooms, red bell pepper, red chili, cilantro, cumin powder , garlic , cilantro sprigs and 1 cup water and cook for about 25 -30 minutes or until the vegetables cooked very well. Remove the red chili from the cooked veggie mixture.

Transfer the veggie mixture into the blender and processor and puree. Heat the vegetable puree along with 2 cups of water and ½ teaspoon chili powder and salt, cook everything for 10 minutes or until mixture starts to thicken little bit. Then add 1 cup of fresh corn and cook 5 minutes. Then add cooked pinto beans and cook for a 2 minutes.

Serve them with fresh avocado, lime wedge, tortilla chips and cilantro if you want you can add extra tomatoes I didn't added.

Enjoy.
Swathi Iyer
Swathi ( Ambujom Saraswathy) loves to explore cuisines from all over the world, and write about the ones that she and her family enjoyed on her blog Zesty South Indian kitchen. She loves to gives an Indian touch to several of the world cuisine, and has weakness for freshly baked bread. She is also a mom to two wonderful young kids who gives a up or down vote to the food she creates.