This bean salad has all of the rustic, deep, and rich colors that Sarah Kenney likes to see in food.
Text And Photo By Sarah Kenney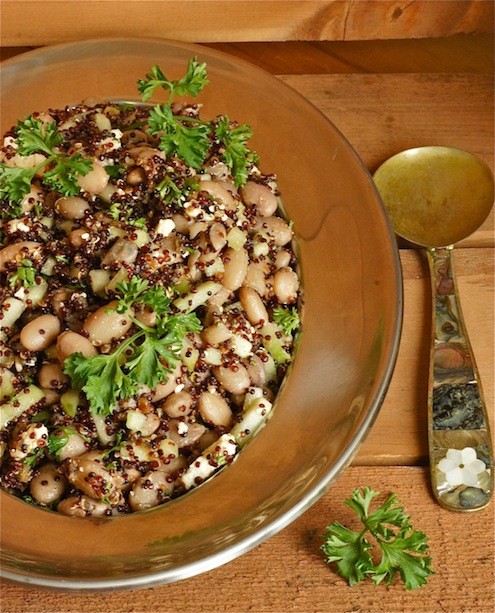 My kitchen and I have become pretty inseparable. Sometimes I just want to hug the cool granite slab covering my kitchen island.  My little dog Chester and I choreograph several dances around my island once a new recipe commences.  Chopping, stirring, and often fretting are carefully timed between snatches of tidbits or two  tossed down Chester's way.
On Saturdays, I practically skip out the door  to get to my Williams-Sonoma  class.  I now recognize familiar faces.  I  just adore the chef, Jill's witty style.  Last weekend the topic was "Legumes".
I will not buy more cooking gadgets from the store this week.
I will not buy more cooking gadgets from the store this week.
I am sure there  are no more incredible DEVICES  from the Williams-Sonoma store that I need in my kitchen…this week. But, I never know what I might cook and then need… NEXT week…on that wonderful granite island.
Ha!
Beans? At class, I quickly learn that  new line of carefully selected bean growers has been added to the Williams-Sonoma line up of packaged food items.  I smartly realized this wouldn't be a gadget buying weekend.  Oh, no!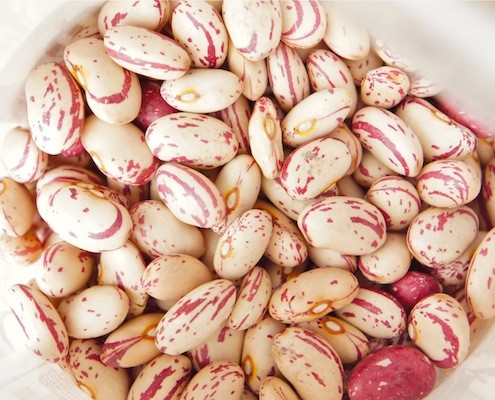 But, could it, would it –  be a "bringing home, let's just say, beans kind of weekend?  Now, that would be an intelligent and healthy option to ensure the well-being of my beloved family.
Twisted, but that's how my mind works. Beans it shall be.  No gadgets.  Now lets look at those beans and see what this fuss is about.
We made all kinds of healthy deliciousness with beans, or, legumes during class.  One bean salad in particular was tasty.  It was a "Cranberry Bean and Toasted Black Quinoa Salad".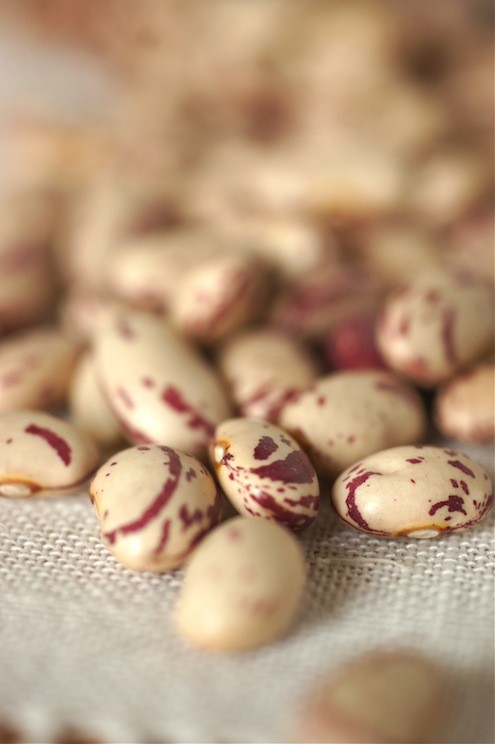 I definitely have wanted to cook with more beans. The soaking process always put me off.  I have no idea why I've been intimidated by buying beans that you soak.  Really, all you do is put the desired amount in a bowl of water overnight and rinse them out the next day.  Why did this always sound so trying?  I also didn't know that beans need to be kept in the refrigerator.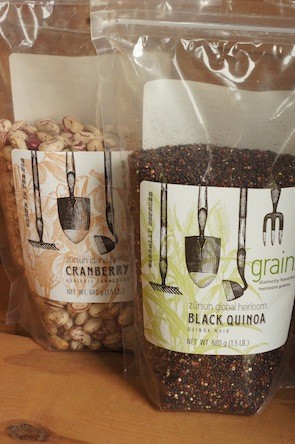 The only beans that I ate growing up were black-eyed peas. This is a southern traditional bean eaten on New Year's Day.  I honestly cannot remember eating them on any other day of the year.  Families eat a serving of black-eyed peas with cole slaw.  If I remember correctly, the black-eyed peas were eaten for good luck and the cole slaw for wealth.  I remember my brothers cringing and grimacing while eating their portion but since, even as a child, I pretty much tried anything, I did happily eat mine.  If we ate these good luck charmed foods, then we could flip our plates over and there would be some money underneath.  How is that for instant luck and wealth in one sitting!!
Since beans aren't loaded with flavor, these wonderful ingredients went into the bean salad:  garlic, parsley, lemon juice, olive oil, and feta cheese.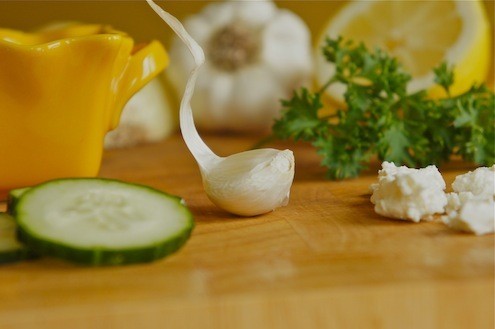 The recipe calls for toasting the black quinoa on the stove top for a few minutes.  This was fun.  They crackle and smell delicious.  This salad would be a great option to take to a summer picnic or barbeque. I served it with my bbq'd soft tacos.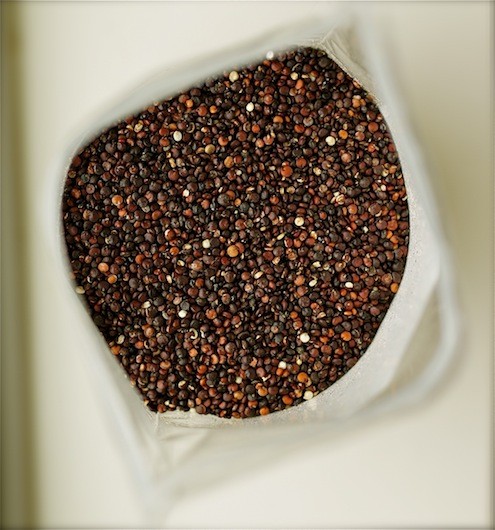 For me, this bean salad has all of the rustic, deep, and rich colors that I like to see in food.  The woody beans, the deep scarlet toasted quinoa, the strong herbal smell with the tart feta  appeal to all of my food senses.  This recipe made so much of this salad that we had leftovers for days afterwards.  The flavors get better and better.  Enjoy!
See Also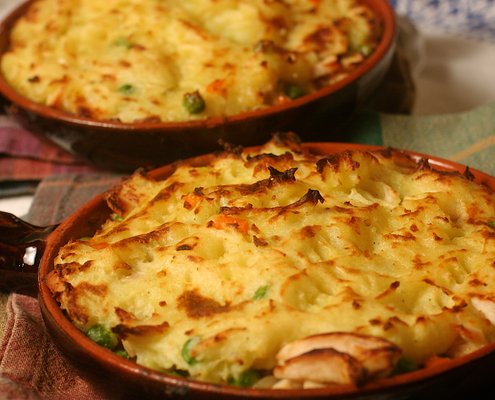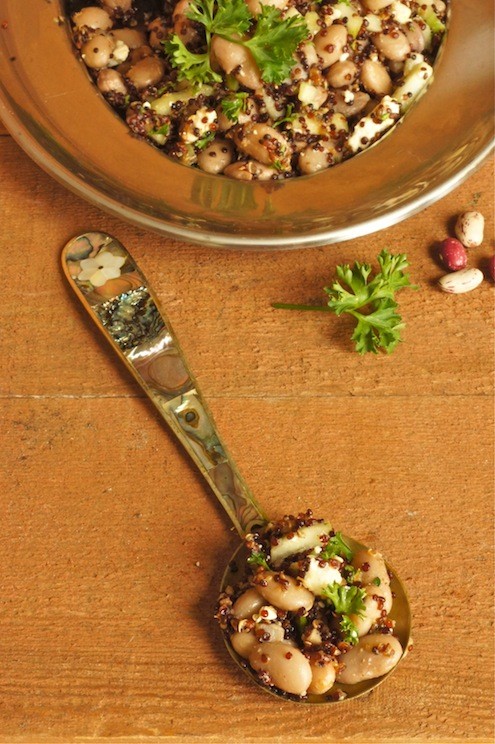 Cranberry Bean Salad with Toasted Black Quinoa and Feta Cheese
Beautiful to look at as well as tasty and flavorful to eat, this vitamin packed healthy salad has creamy feta and juicy lemon that make this a hearty and satisfying side dish.
Ingredients
1½ cups (210g) dried cranberry beans*), rinsed and soaked overnight
1 Tbs. plus ¼ cup (60ml) olive oil
½ yellow onion, diced
1 tsp. minced garlic
1 cup (180g) black quinoa*, rinsed and drained
1½ cups (375ml) chicken or vegetable broth
3 Tbs. fresh lemon juice
1 cucumber, about 10oz. (315g)
½ cup (20G) finely chopped fresh flat-leaf parsley
½ cup (75g) crumbled feta cheese
Kosher salt and freshly ground pepper, to taste
Instructions
Drain the beans and rinse with cold water.
Place in a large saucepan and add water to cover by 3 inches (7.5cm).
Bring to a boil over medium-high heat, reduce the heat to medium-low and simmer, uncovered, until the beans are tender, 35 to 45 minutes. (Snippet's Note: don't let them cook too long or they are mushy. The difference is pretty noticeable)
Drain the beans and set aside.
Meanwhile, in a large saucepan over medium heat, warm the 1 Tbs. olive oil.
Add the onion and cook until soft and translucent, 7 to 8 minutes.
Add the garlic and cook for 1 minute.
Add the quinoa and cook, stirring frequently, until lightly toasted, about 2 minutes. Add the broth, increase the heat to medium-high and bring to a boil.
Reduce the heat to medium-low, cover and simmer until the liquid has been absorbed, about 45 minutes.
Remove the pan from the heat and let stand, covered, for 5 minutes.
Transfer the quinoa to a large bowl and fluff with a fork.
Let cool, stirring occasionally, about 30 minutes.
In a small bowl, whisk the lemon juice and the ¼ cup (60ml) olive oil.
Pour over the quinoa and stir until incorporated.
Stir in the cranberry beans, cucumber, parsley, cheese, salt and pepper. (Snippet's Note: Try to not eat several large spoonfuls before its served at the table!)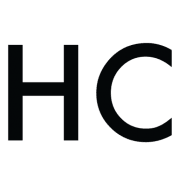 Sarah Kenney
Sarah is an adventurous food photographer and writer who has moved six times with her family from the U.S. to Wales, Japan and back. They are affectionately known as "The Rolling Stones". She is a passionate chef who thinks that their experiences living in Louisiana, Michigan, New York, Missouri, Kansas, and now Texas culminate in shared meals and tales around the table as her family experiences each regions offerings of cuisine and culture. Texas is her current stop and good food and good times are a passion of this southern state. She writes about her foodie adventures in her blog "Snippets of Thyme".