Sarah Schiffman introduces a few fresh stalks of rhubarb to her friend from Italy. The Mascarpone.
Text And Photo By Sarah Schiffman
When winter gives way to spring my thoughts turn to rhubarb and ice cream. Actually, that's a lie. My thoughts never really left ice cream, but rhubarb, rhubarb is another story. Spring has been slow to arrive here in Seattle, so this weekend at the market I was cautiously enthusiastic about what I would find. I slowly strolled from stand to stand, passing the barrels of onions and crates of beets, and then, as I rounded the potato bin, there it was- a big basket of pretty red rhubarb, a sure sign of spring's opening weeks. I grabbed a handful of stalks, ran home, and boiled them into sweet submission.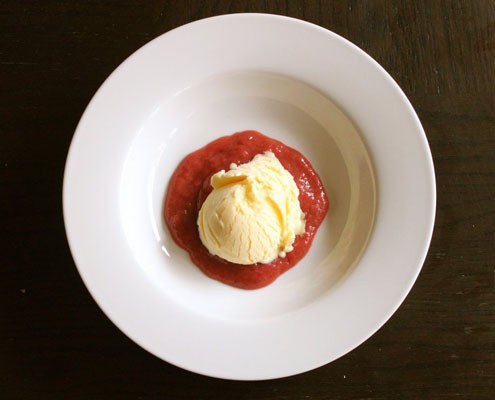 Fresh and tart rhubarb, meet soft and sweet mascarpone ice cream – the two of you are going to get along just fine. Cooked rhubarb is never the prettiest girl on the block but mascarpone doesn't seem to care. The tart kicky flavor of the compote plays off the soft dairy richness of the ice cream. Brightened with a touch of fresh citrus, the luscious sauce cradles each bite, uniting the separate components into a delicious seamless whole.

Homemade Mascarpone Ice Cream with Fresh Rhubarb Compote
Sarah Schiffman introduces a few stalks of rhubarb to a good friend from Italy
Ingredients
4-5 medium stalks fresh rhubarb, chopped into medium pieces
½ cup (100g) sugar, plus extra to taste
2 tablespoons fresh orange or lemon juice
1 teaspoon fresh orange or lemon zest
) Mascarpone Ice Cream
1 cup (240 mL) whole milk
¾ cup (150g) sugar
Pinch of salt
5 large egg yolks
1 cup (8 oz) mascarpone
Instructions
Combine all ingredients in a heavy medium saucepan and stir to combine. Bring mixture to a boil and continue stirring until sugar dissolves. Reduce heat to medium-low and simmer until rhubarb is very soft and beginning to fall apart, stirring occasionally. This should take about 20 minutes. Taste and add additional sugar depending on desired tartness. Serve warm, or refrigerate uncovered until cold. Once compote is completely cooled it can be stored, tightly covered, in the refrigerator for up to two days.
(!) Mascarpone Ice Cream
Prepare a medium-sized bowl with a mesh strainer over the top and set it in an ice bath.
Combine the milk, sugar, and salt in a medium saucepan and warm over medium heat. In a separate bowl, whisk together the egg yolks. Slowly pour the warm milk mixture into the egg yolks, whisking constantly. Scrape the mixture back into the saucepan.
Stir the mixture constantly over medium heat with a heatproof plastic spatula, making sure you scrape the bottom as you stir. When the mixture has thickened enough to coat the spatula, pour the custard through the prepared strainer and stir to cool over an ice bath. Chill thoroughly in the refrigerator.
Once cool, whisk in the mascarpone completely until there are no clumps. Freeze the mixture in your ice cream maker according to the manufacturer's instructions. Serve with rhubarb compote.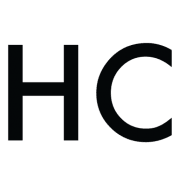 Sarah Schiffman
Sarah Schiffman is the author of the food and photography blog Pearl and Pine. Her recipes focus on fresh seasonal ingredients and she loves to share the stories and pictures that accompany each dish.