These friands are so perfect, fragrant, very moist and not greasy at all.
By Ann Low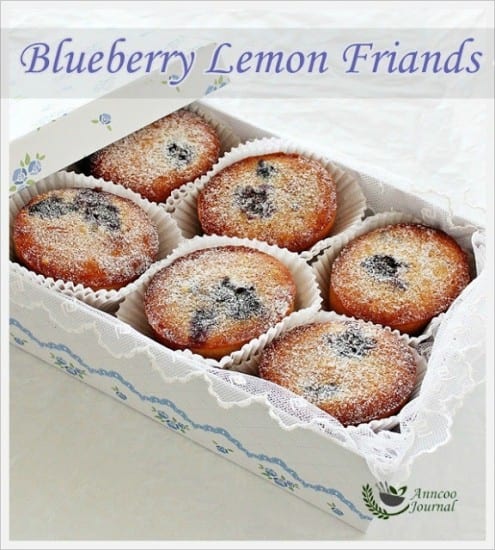 So perfect, fragrant and very moist and not greasy at all. I ate two in one go without feeling any sense of guilt as these are quite healthy without any egg yolks being used. Really yummy!
Blueberry and Lemon Friands
These friands are so perfect, fragrant, very moist and not greasy at all.
Author:
Ann Low, adapted from Coles Recipes
Ingredients
60g Plain flour
95g Icing sugar
1 tbsp Lemon zest (grated from 1 large lemon)
150g Almond meal (ground almond)
200g Butter, melted and cooled
150g Blueberries, fresh or frozen
5 Egg whites, (190-200g), lightly beaten with a fork
extra icing sugar, to dust
Instructions
Preheat oven to 190 degrees. Grease a 12 hole non-stick friand pan with butter or cooking spray.
Sift the flour and icing sugar into a large bowl then add the lemon zest and almond meal. Stir to combine evenly and make a well in the centre.
Add the egg whites and butter to the dry ingredients and stir until just combined with a hand whisk, do not overbeat. Then fold in the blueberries with a rubber spatula.
Spoon the mixture into the prepared pan. Bake for 25 minutes until well risen and golden or insert a skewer into the cake comes out clean.
Leave the friands in the pans for 5 minutes then carefully lift out onto a wire rack to cool.
Serve friands dusted with icing sugar or snow powder.
Notes
If you don't have a friand pan, you can use a 12-hole medium muffin tin instead.
Ann Low
Ann Low is the author of Anncoo Journal, and loves to bake and cook for both family and friends. She acquired a strong passion for culinary skills from a very young age by watching her grandmother prepare delicious meals for the family. Ann believes that baking is an art and she wants to share her baking and cooking experiences with everyone in the world.