Warm Farro with Cinnamon Apples Breakfast Bowl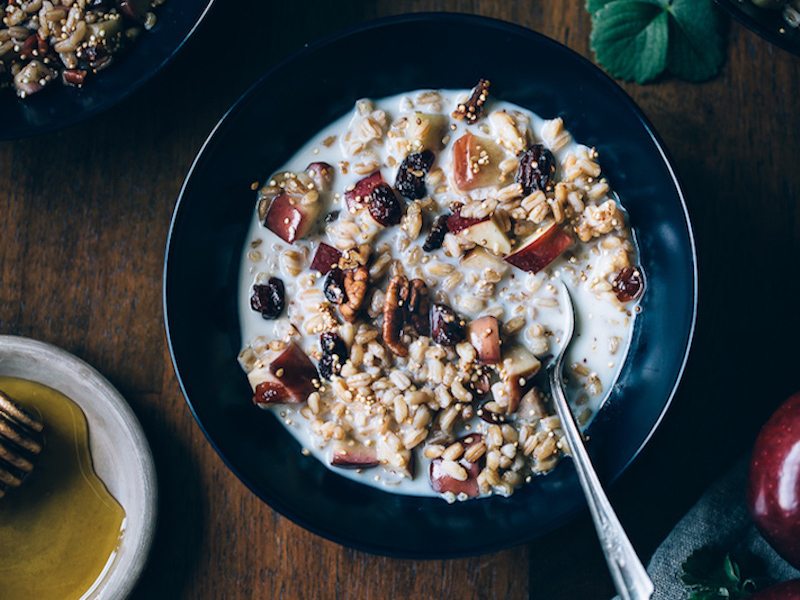 This Warm Farro Breakfast Bowl with Cinnamon Apple recipe is made with sautéing apples with cinnamon, dried cranberries, and cooked farro until warmed through. It's topped my bowls off with homemade quinoa crunch flavored with maple syrup and pecans. It could also be served cold with a little bit of almond milk. Either way, this is a great autumn breakfast bowl recipe that is not only delicious, but also healthy.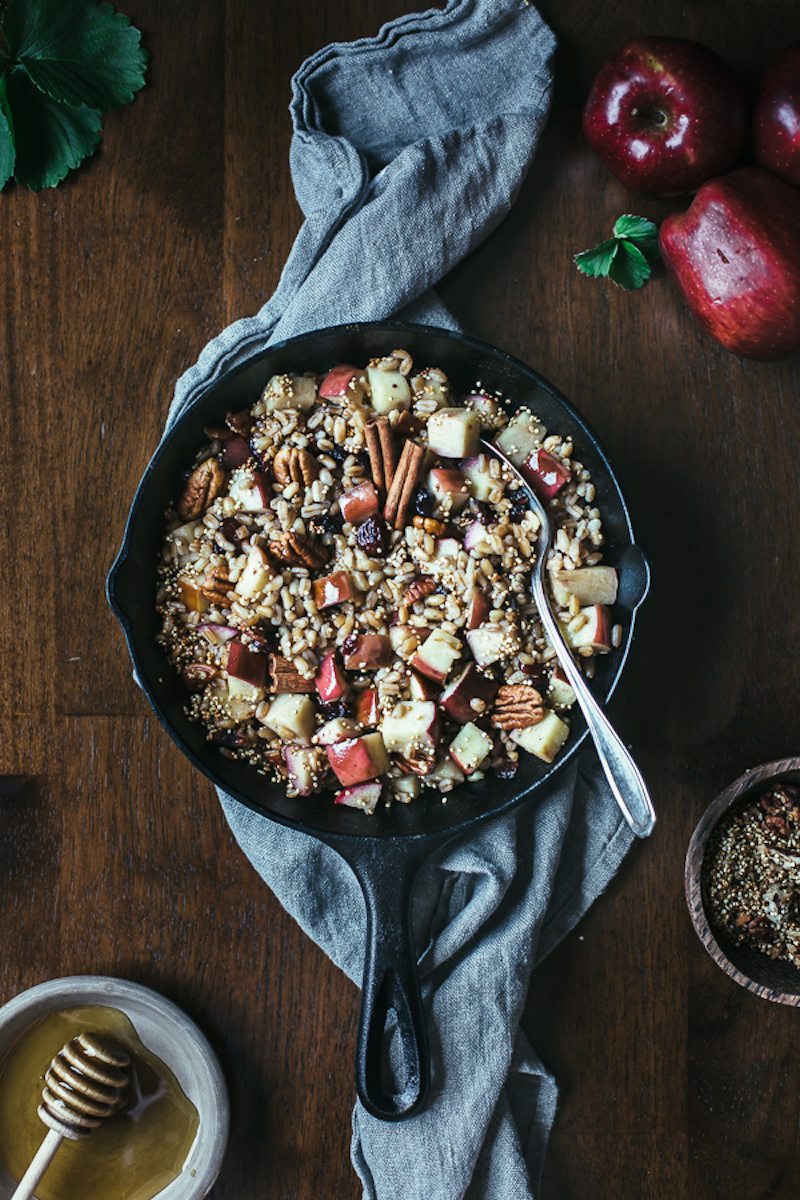 Today's recipe, warm farro breakfast bowl with cinnamon and apples, is a true autumn breakfast. Cooked farro is sautéed with apples, cinnamon, and cranberries and mixed with my favorite topping, quinoa crunch. Of course, you can top it off with any kind of granola or nuts as well, but please do yourself a favor and give my version a try. It is one of those filling and flavorful breakfast bowls that you will want to make over and over again in the cool autumn mornings that are ahead of us.
ABOUT WARM FARRO BREAKFAST BOWL WITH CINNAMON APPLES RECIPE:
The recipe below uses cooked farro. If you are making this on a weekday, I recommend cooking it in advance. I usually prefer and use semi-pearled farro as it does not require soaking and I love that it cooks faster than pearled farro. On the weekend, I cook a batch and keep it in an airtight container in the fridge to use in recipes like this one or to sprinkle on salads and soups throughout the week. I found that its nutty and earthy flavors brighten every dish. Not to mention, since it contains more fiber than grains like rice and quinoa and has a great amount of vitamins and minerals, it is a great addition to any meal.
HOW TO MAKE FARRO:
To cook it, all you have to do is to rinse 1 cup of farro, place it in a small saucepan with 1 ¾ cups of water over high heat, bring it to a boil, turn the heat to low, and let it simmer for 25-30 minutes. The timing may vary depending on the brand of farro you are using. Therefore, I recommend giving it a taste at the end of 25 minutes to see if it is cooked to your liking. Some cookbooks I found mentioned that it may take up to 40 minutes to cook, but my farro was ready in 25 minutes. If you end up with excess water in the pan after it is tender, drain it.
ADD A LITTLE CRUNCH:
To give this farro breakfast bowl a nice crunch and a little bit of sweetness I topped it off with my quinoa crunch topping. As you may remember, I published the recipe for quinoa crunch back in May of this year. Since then, it has been a favorite in our house. To be quite honest, I was not planning to add it to this breakfast bowl recipe, but I had some leftovers from the last batch I made and wanted to give it a try while I was testing this recipe. After our first bite, both Dwight and I thought it was so much better than topping it off just with pecans. So we decided to include quinoa crunch as a part of this recipe. However, if you prefer to omit quinoa crunch just use some pecans. Either way, you are in for a delicious autumn breakfast bowl.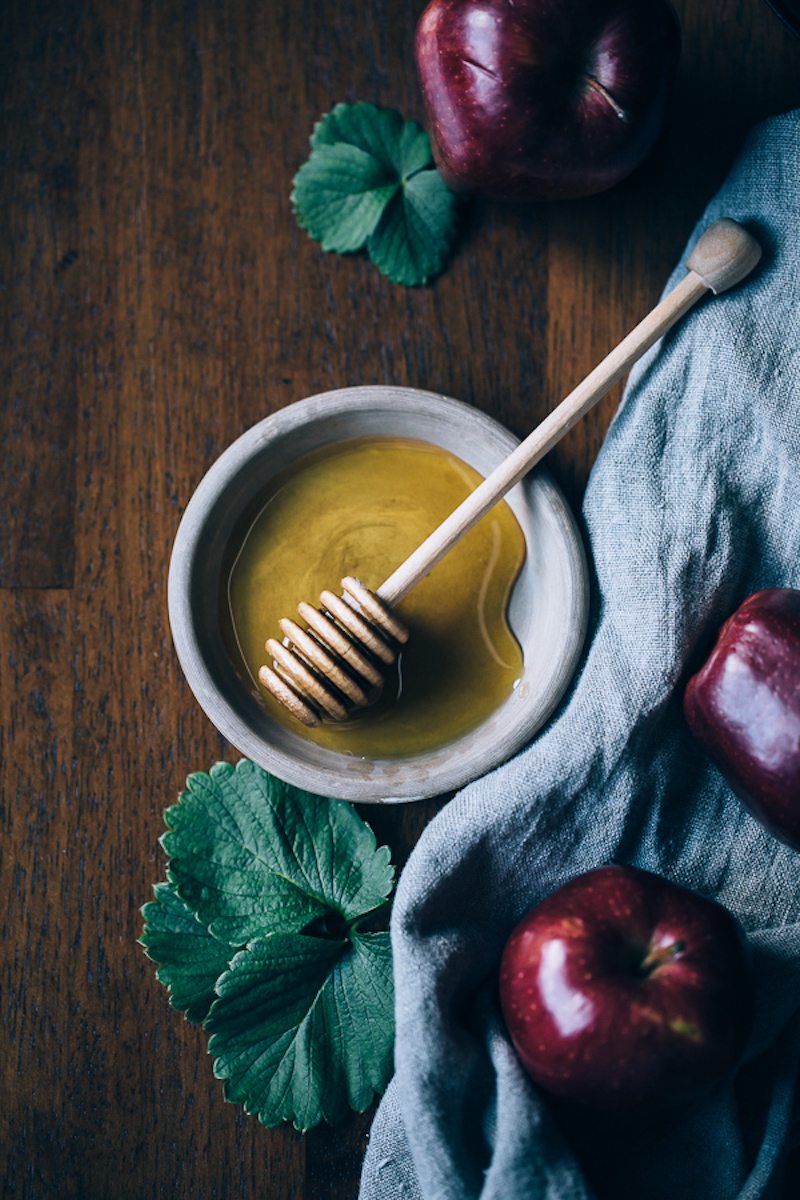 In terms of a sweetener, I used honey, but if you prefer you can swap it with maple syrup or brown sugar as well. I only used ¼ cup of honey as my apples were very sweet. I recommend adjusting the amount of honey used depending on the sweetness of your apples.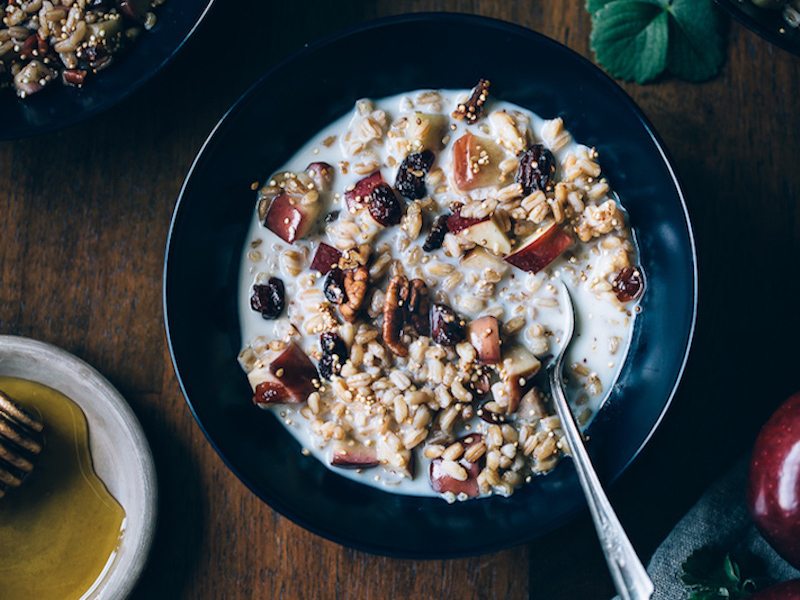 Finally, if you have leftovers, in the next morning, you can warm it up in the microwave or serve it cold with almond milk on the side. Whether you like it warm or cold, I think this fall breakfast bowl is a great way to switch up your breakfast routine.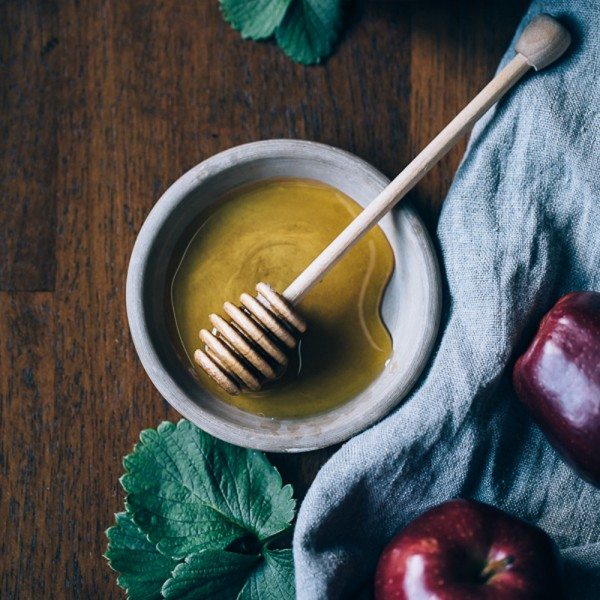 Aysegül Sanford
Ingredients
2

tablespoons

coconut oil

1

large apple

cored and cut into small cubes

¼

teaspoon

ground cinnamon

1

teaspoon

lemon juice

freshly squeezed

¼

cup

of dried cranberries

1

cup

cooked farro

I used semi-pearled farro

1

cup

quinoa crunch – see note for the recipe

¼

cup

honey or maple syrup

handful of pecans

as garnish

1

cup

unsweetened almond milk

optional
Instructions
Heat coconut oil in a small sauce-pan or cast-iron skillet. Add in the apple cubes, cinnamon, and lemon juice. Cook, stirring frequently, until they turn golden brown.

Stir in the cranberries and farro. Give it a stir to make sure that the apples are distributed evenly amongst other ingredients. Cook 4-5 minutes or until warmed all the way through.

Divide it amongst 4 bowls. Sprinkle each bowl with quinoa crunch and drizzle them with honey. Garnish with pecans.

Serve them as they are, or if preferred, with almond milk on the side.

To store: As long as it is kept in an airtight container, it will keep fresh up to 3 days in the fridge. When ready to eat, you can warm it up in the microwave or on stove top in a small sauce-pan.
Notes:
Please read the blog post to find out how to cook farro.

Quinoa crunch adds a really nice crunch to this bowl. For this recipe, I swapped the slice almonds with same amount chopped pecans.

This recipe is adapted (with minor changes) from Megan Gordon's cookbook Whole-Grain Mornings.
Aysegul Sanford
Aysegul is the cook, writer, and photographer behind foolproofliving.com. She spends her days creating recipes from seasonal ingredients on a small island in the Caribbean. Other than cooking and baking, her biggest passion in life is photography. She also is a firm believer that if you know how to read, you know how to cook.