This quiche-like casserole made up of layers of green chiles and cheese is a meal even the most novice cook can put together. Easy Chile Rellenos Casserole is a comfort food dinner or breakfast everyone will love!
Happy fall! It certainly hasn't felt like fall so far this week with temperatures in the upper 80's, but it was a nice way to end summer. Today is all about a recipe that is so easy even the most novice cook can get it on the table, Easy Chile Rellenos Casserole!
This recipe comes from my aunt's mom and I'm so happy I have it for those days when I have no interest in putting together a meal that requires any kind work. I thought I better share a recipe using green chiles before Hatch green chile season ends. You don't have to have roasted green chiles to make this casserole, in fact the original recipe just calls for the canned variety. Of course if you can find some fresh roasted green chiles, I highly recommend using them!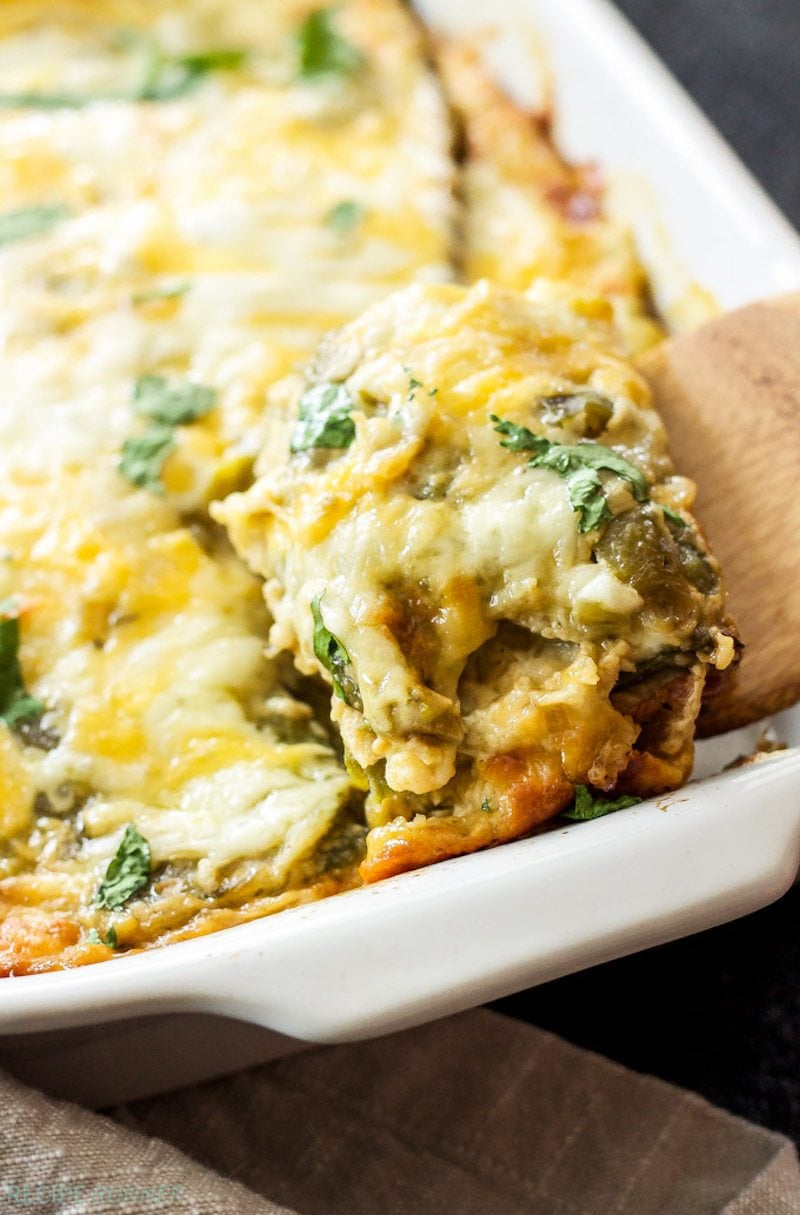 I'm not gonna lie, this casserole isn't the healthiest thing you'll put in your mouth, but if you're looking for some comfort food to cozy up with, it's well worth the calories. The two major ingredients in this dish are the green chiles and lots of cheese! They're layered together then a mixture of milk, eggs and flour is poured over the top to bind everything. More cheese and some green salsa go on top, then it's baked until it's bubbly and golden brown.
This Easy Green Chile Rellenos Casserole is similar to a quiche minus the crust. Not only does it make a great dinner, but you could also make it for breakfast or brunch. It only takes about 10-15 minutes at the most to put together, then bakes for about 40 minutes, a perfect meal when you're short on time. Today I'm sharing the recipe over on Spoonful of Flavor. Head on over so you can make this easy peasy cheesy casserole tonight!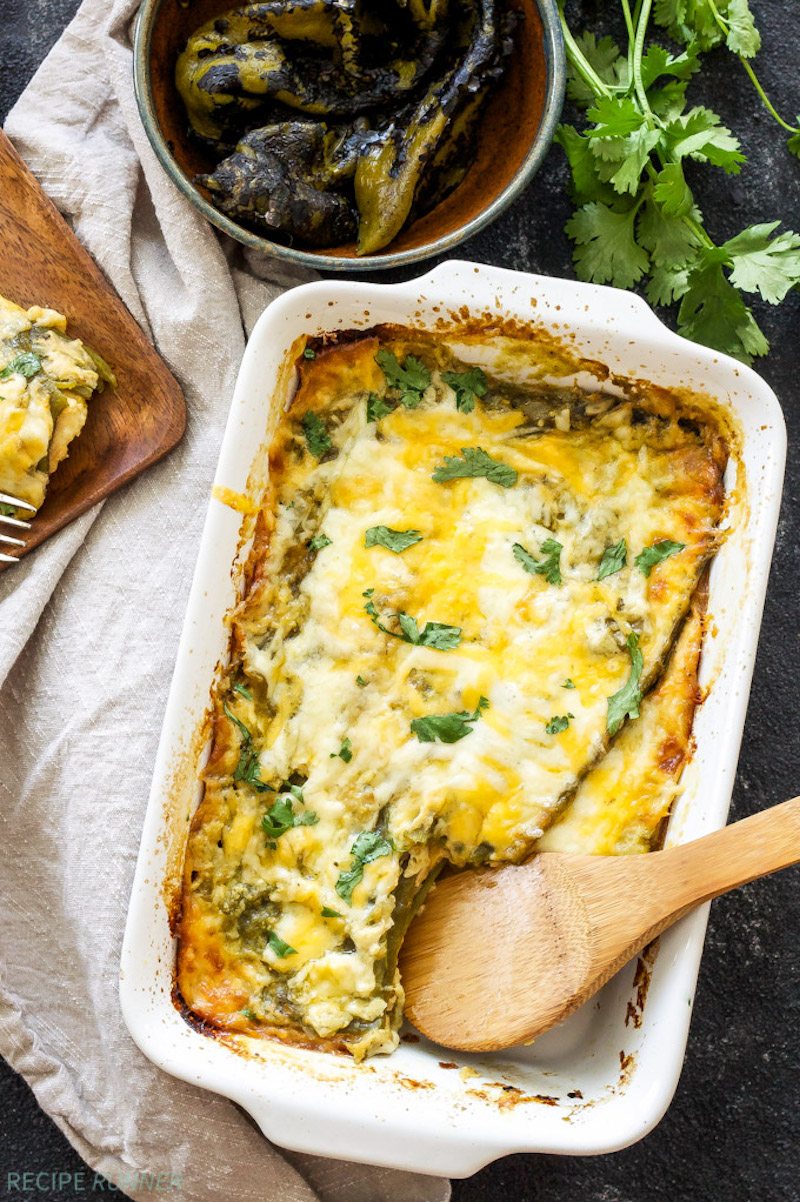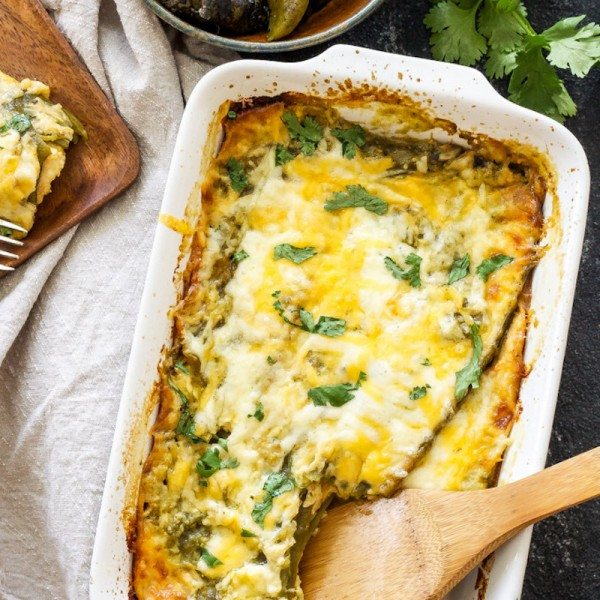 Danae Halliday
Ingredients
8

whole roasted green chiles or

2 7 ounces cans whole green chiles

3/4

cup

shredded Monterey Jack cheese or Pepper Jack Cheese

1/2

cup

shredded sharp cheddar cheese

2

whole eggs + 1 egg white

1

cup

lowfat evaporated milk

Hot sauce to taste

Pinch

of kosher salt and black pepper to taste

1/4

cup

whole wheat or all purpose flour

3/4

cup

green salsa
Instructions
Preheat oven to 375 degrees.

In a blender or with a bowl and whisk, blend/whisk the eggs, milk, hot sauce, salt, pepper and flour until combined.

If you're using fresh roasted green chiles peel off the charred skin, cut of the stem and remove the seeds.

Slice the chiles in half lengthwise and lay them flat in the bottom of an 8x8 casserole dish or a rectangular one similar in size.

Add a 1/3 of the cheese on top of the chiles.

Repeat this step then pour the egg mixture over the top.

Top with the green salsa and the remaining cheese.

Bake for 40-45 minutes or until bubbly and the top is golden brown.
Danae Halliday
Hi, I'm Danae, the blogger, photographer, and recipe developer of Recipe Runner. Recipe Runner is all about my love of food, cooking, baking, and running. I hope that I can tempt you with my recipes and inspire you with my running stories! Enjoy!