Try this simple Italian-style potato recipe with swiss chard, chili pepper flakes, and a tasty garlic dressing that doesn't require ANY mayonaisse for once! 
By Patricia Conte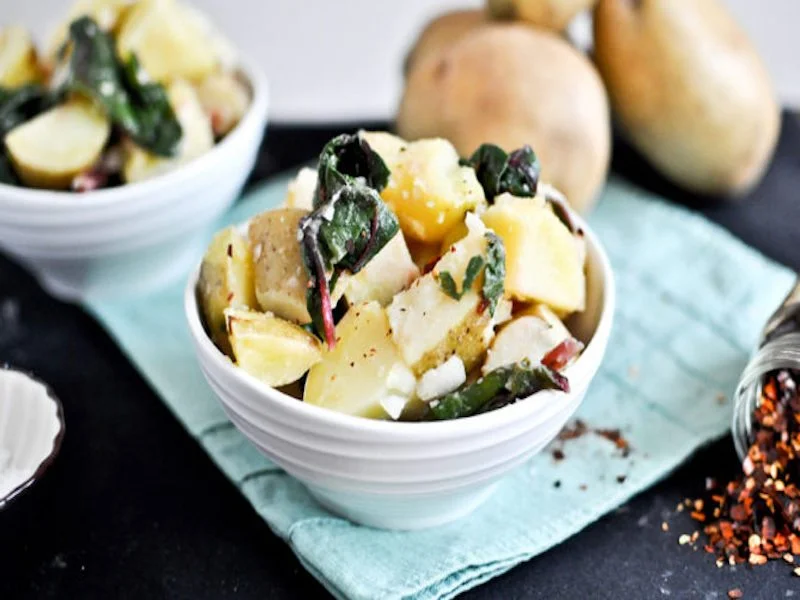 Jessica Merchant
Ready-made potato salads have a bad wrap. Many of those store-bought potato salads are in a tub swimming in mayonaisse that is often too mustardy or Italian-style potato saladquestionably yellow. Instead, try this Italian-style potato salad recipe that doesn't call for ANY mayo, yet it's still hearty with all the flavor.
This article has been posted with permission and originally appeared as "Italian Potato Salad with Swiss Chard" on Relish

Italian-Style Potato Salad with Swiss Chard
Ingredients
4 large yellow potatoes
1 small bunch of Swiss chard
½cup roughly chopped white onion
1 garlic clove, minced
1tablespoon vinegar
⅓cup light olive oil
1½teaspoons red pepper flakes
1teaspoon coarse salt
Instructions
Bring a large pot of water to a boil.
Cut potatoes (skin on) into 1½- to 2-inch chunks. Add to boiling water and cook until tender but still firm. Drain well.
Tear Swiss chard (including stem) into large pieces. Place in boiling water for 3 to 4 minutes. Pour into a colander to drain.
In a large bowl, combine potatoes, Swiss chard and onion.
In a small bowl, combine garlic, vinegar, oil and red pepper flakes. Pour over potato mixture and gently toss. Add salt and toss again. Refrigerate until chilled.