Joan Nova with a healthier and more Mediterranean kind of 'fish fry'.
Text And Photo By Joan Nova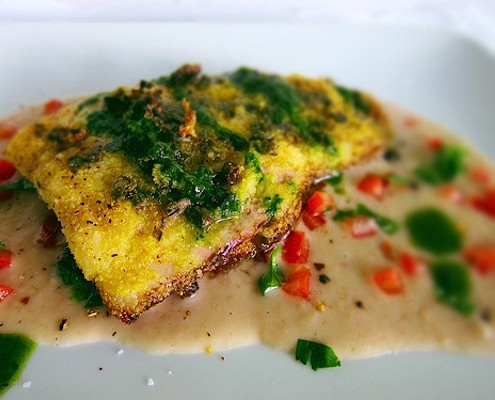 This is a different kind of 'fish fry'…more Mediterranean in its flavor profile and healthier for you since it is finished in the oven instead of remaining in oil. We pass on the fries and serve it on a bed of white beans. And to brighten it up, try the mildly sweet mint oil and fresh tomatoes.

Polenta-Crusted Fried Fish with Capers + Mint Oil
The gentle puree of white beans provided a pillow to the crispy salty skin of the fish. The mint-honey oil balanced the briny taste of the capers. The tomatoes and parsley added freshness.
Ingredients
fish fillet (I used local Lane Snapper)
polenta mix
olive oil
capers (chopped)
fresh mint
cannellini beans
dry seasonings (salt, pepper, paprika)
fresh tomato (minced)
honey
lime
Instructions
Coat fish with olive oil and sprinkle with dry seasonings.
Pat down with polenta mix and chopped capers to form crust.
Fry skin side down in very hot cast iron pan and finished in oven.
Serve over white cannellini beans that have been pureed with a drizzle of olive oil and salt + pepper.
Finish with chopped tomato and mint for color and freshness.
Add a drizzle of mint oil. (fresh mint blended with extra virgin olive oil, a little honey and a squeeze of fresh lime juice.)