Not every day will end with a gourmet meal. But every meal deserves a good wine.
by Maya Dangerfield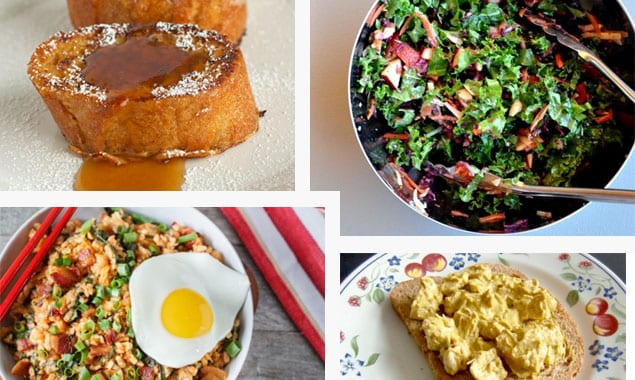 Let's be honest, dinner every night is not always a gourmet meal.  More often than not, late night dinners are a slapdash affair—a creative pairing of whatever's left in the fridge that can be fashioned into a quick meal. There aren't many rules for late night meals. Home cooking at these times is reduced to a sniff of the refrigerator's contents and a quick debate whether or not your meal is 'microwave safe.' In the rush to relax after a long day and brutal commute, it's important to slow down when considering a wine selection. Whether it's sipping on a perfectly chilled glass of Chablis, or enjoying a relaxing Pinot Noir, wine is the perfect way to wind down after a long day. To make the late night meal the best meal of the day, Honest Cooking interviewed certified sommelier and French Culinary School Graduate  Mike Zygmonski about  the best food and wine pairings for late night meals. From kale salad to breakfast-for-dinner, let Honest Cooking help you select the best wines to end the day.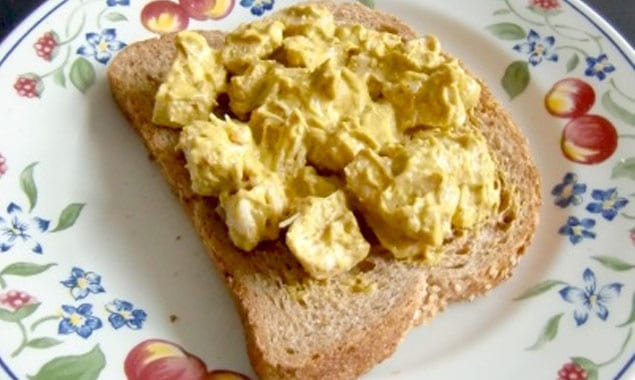 Late Night Classic: Dutch Curried Chicken Salad
A seminal crowd pleaser that spreads perfectly on anything from whole wheat bread to crackers, chicken salad is a simple yet versatile late night meal. Traditionally  with a mayonnaise based spread, this Dutch Curried Chicken salad is mixed with a curry powder for a spicy kick. For additional texture and flavor consider adding toppings like cranberries, almonds, scallions, apples, or even pickles to the chicken salad.
Pairs Perfectly With: Riesling
Zygmonski notes the spicy kick of the chicken salad would pair perfectly with the ever versatile Riesling. "Sweet wines or semi-sweet wines always go really well with slightly spicy dishes. I think it would be perfect, with the curried chicken salad. Either an off dry semi-sweet variety from the Mosel (a German wine region) or an half dry semi-sweet Riesling from the Fingerlakes (a central region of New York) would work well." Often brushed aside as sweet wines reserved for dessert, Rieslings offer a complexity and range of tastes to suite any palate. Ranging from sweeter varieties to bone dry (trocken) , Rieslings, as Zygmonski notes, are "food wines" that can complement most dishes. "It's definitely fallen off people radars because it's sweet, but if it's made well with an acidity to balance it out, they can be amazing wines."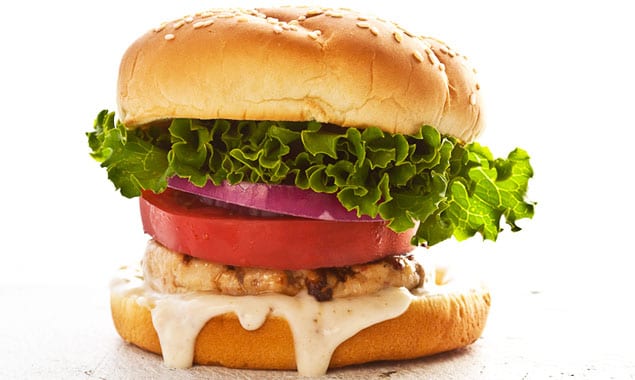 Late Night Classic: Turkey Burger with Yogurt Sauce
This American classic has a slight Indian flair with a coriander spiced patty topped with a mint-yogurt sauce.  Lighter than a traditional red meat patty, turkey burgers have become a favorite for those looking to make healthier eating choices (especially those prone to late night snacking).
Pairs Perfectly With:  Chardonnay
Zygmonski suggests rather than pairing turkey with a red, a straightforward Chardonnay would complement the lightness of the burger. "I think a turkey burger would go well with either a San Louise Obispo or a Santa Barbara Chardonnay. Around 13% in alcohol [which is] not too high or overpowering. A little bit of oak but it's not over the top." Since Chardonnay is one of the world's most popular grapes ensuring that you purchase a bottle you'll like  may seem like a daunting task. To make sure you're getting a quality wine with no unexpected surprises, Zygmonski suggests sticking with a single producer. "If you want a good bottle of wine figure out the area that you like, then find some producers in that area. Remember those producers and buy their wine because they're going to be good all the time."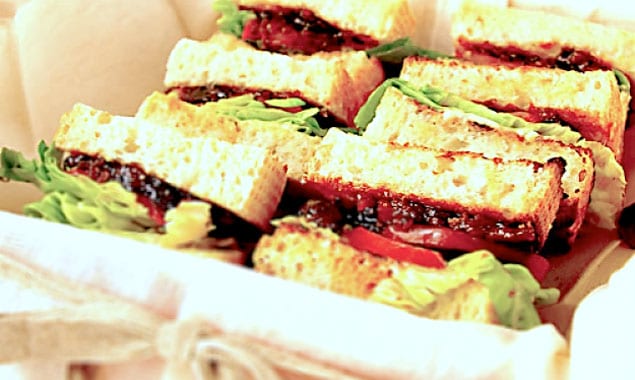 Late Night Classic: Bacon Marmalade's BLT
An American classic, this BLT (Bacon, Lettuce and Tomato) recipe is jazzed up by the incorporation of bacon marmalade.  For those pressed for time, substitute the bacon marmalade for thick, pan fried slices of bacon.
Pairs Perfectly with: Pinot Noir or Chardonnay
For Zygmonski it's a split for this late night favorite. "You could go red or white here. You could do a Pinot Noir, which would pair well with the bacon. A Pinot Noir with a little tannin to it—like something from [California's] Sonoma coast. Or a Chardonnay goes well with the elements of the sandwich."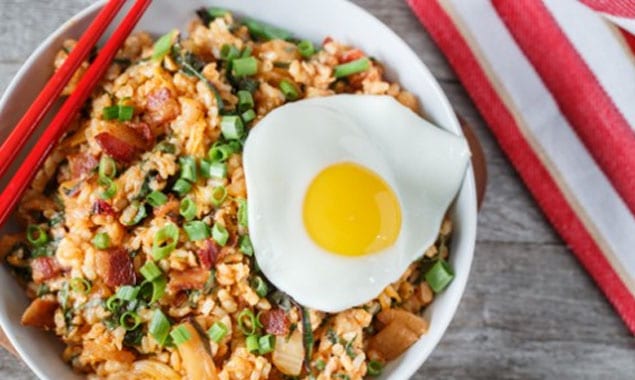 Late Night Classic: Kimchi and Bacon Fried Rice
Fried rice. A college level cooking staple, fried rice is a tried and true late night favorite for those seeking a quick but satisfying meal. Although there are a number of variations, this kimchi and bacon fried rice has the perfect balance of spicy and salty. Although the recipe calls for the use of Gochujang, a popular Korean red-pepper condiment, the paste can be substituted for a homemade mixture of red chili powder, garlic, and soy sauce.
Pairs Perfectly With:  Pinot Noir or Chenin Blanc
A red or white would complement this dish, as the kimchi and Gochujang requires a wine that balances the strong flavors of the spicy and aromatic dish. Zygmonski suggests sticking with a California or Oregon Pinot Noir, whose heartier bodies match the flavorful elements of the fried rice. Although pairing a white wine with bacon seems unusual, Zygmonski asserts the complexity of the Chenin Blanc pairs perfectly with the bold flavors of the kimchi and bacon fried rice. "Chenin Blanc is kind of funky and dirty,' Mike says with a laugh. 'I think with the kimchi, bacon, fried rice, and soy sauce, you're getting a little bit of earthy elements that would go well with a bold white."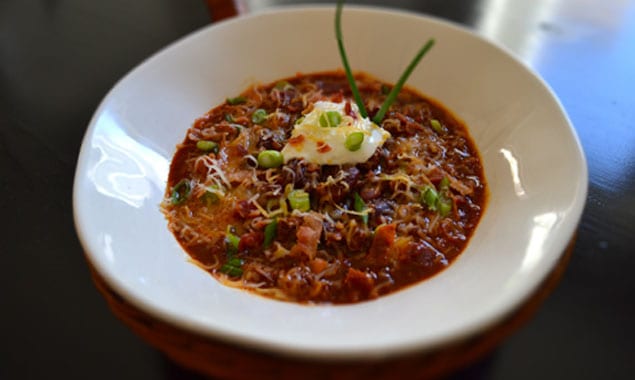 Late Night Classic: Stan Fraizer's Secret Chili Recipe
Chili and wine? An unusual pairing but one that works for those meat lovers craving a heartier late night meal. Stan Frizer's recipe is a carnivore's delight—packed with Italian sausage, beef, and bacon. Using a crock pot makes this 24 element chili a late night classic.
Pairs Perfectly with: Syrah or Shiraz
To complement the powerful  favors in the dish Zygmonski suggests a bold Syrah or Shiraz from central coast California or Australia. The bold elements and hearty flavors of the dish requires a wine that's "big, jammy, and hearty." For a bold Shiraz, Zygmonski suggest looking for producers from the Barossa Valley in South Australia.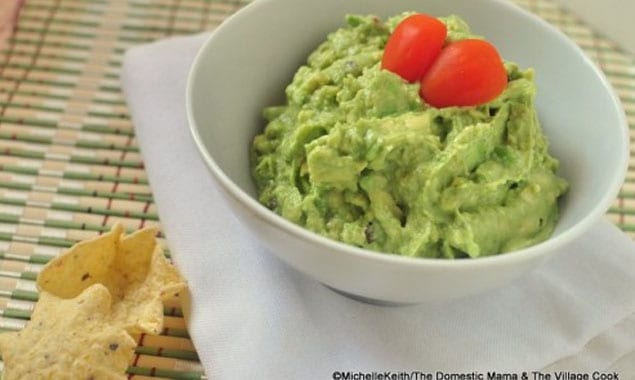 Late Night Classic: Guacamole and Tortilla Chips
Don't judge, we've all done it.  After a long night at the office and coming home to the disappointment of threadbare cabinets, there's nothing more joyous than finding guacamole and chips tucked away in your fridge. Despite the duos traditional consideration as a party snack, it continues to hold a special place as a late night favorite.
Pairs Perfectly With:  Sauvignon Blanc
See Also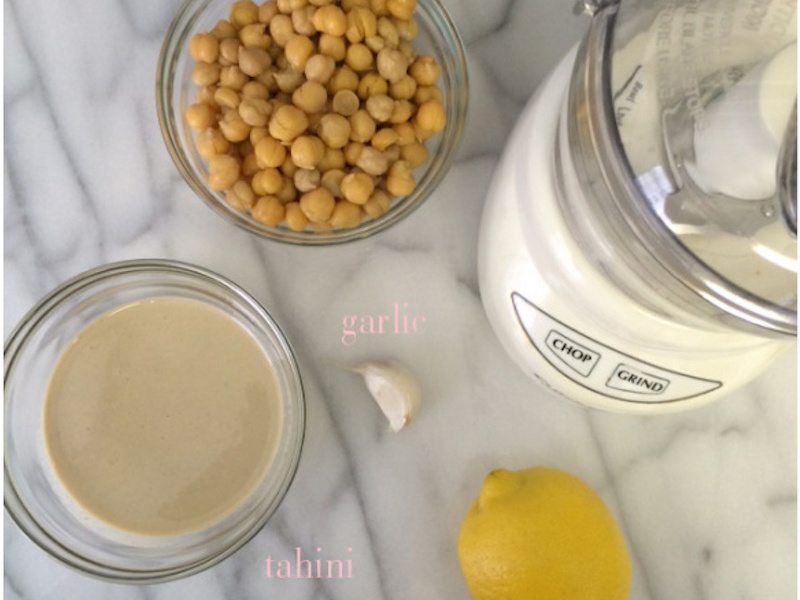 Although guacamole and tortilla chips are typically paired with a light beer, Zygmonski suggests that a light white like Sauvignon Blanc would balance the creamy and salty duo. Why Sauvignon Blanc? "It's light and easy to drink. You have guacamole and chips, which I always feel is like a starter, and a Sauvignon Blanc which I always picture as an aperitif. It goes well with mains as well, but when I think of drinking Sauvignon, I'm drinking it while I'm cooking." For the best varieties of this popular grape, Zygmonski suggests sticking to the crisp varieties from California or New Zealand.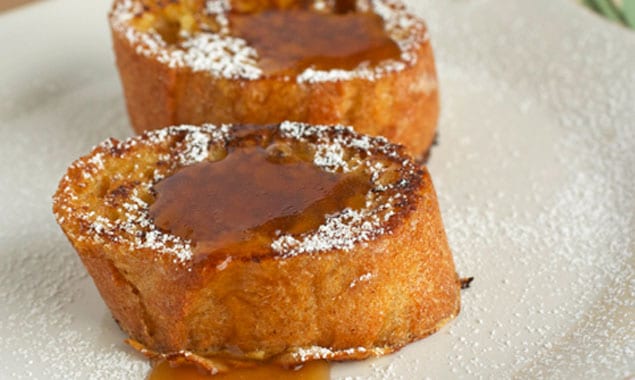 Late Night Classic: Spiked French Toast
Breakfast for dinner—a match made in heaven and a late night fail-safe. This deliciously decadent recipe for French Toast is sure to be the highlight of your night as the batter is a delightful combination of sugar, nutmeg, and Grand Marnier.
Pair's perfectly with: Barolo
The perfect accompaniment for this sweet boozy desert? A Barolo. A red wine from the Piedmont region of Northern Italy, Barolo's are known for their high tannin count, acidity, and flavoring that's reminiscent of sour red cherries, spice and chocolate. To increase the complexity of the dish (and your tasting pleasure) Zygmonski suggests the addition of truffles, or mushrooms to the dish.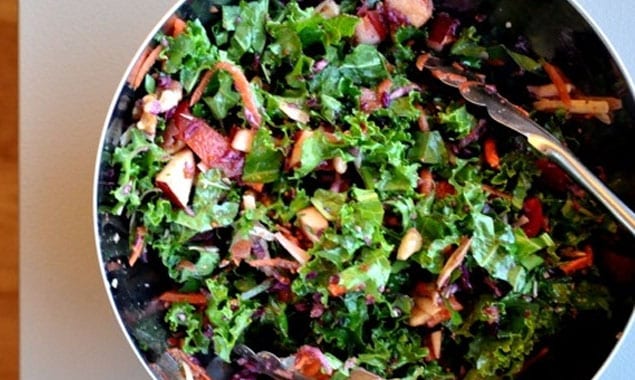 Late Night Classic:  Apple and Kale Salad with Mustard Vinaigrette
Light, fresh, and filling, a kale salad is a great late night option for the health conscious.  Chopped kale is mixed with diced apples, grated carrots, red cabbage, and red pepper, and is finished with a light mustard vinaigrette. With only 10 minutes of prep, this kale salad is the perfect way to get a daily serving of anti-oxidant rich vegetables.
Pairs Perfectly With: Sancerre, Rose or an unoaked Chardonnay.
The lightness of the kale salad prompted  Zygmonski to quickly suggest a  "light, fresh,  spring wine." He suggested the mixed salad would match perfectly with a Sancerre, Rose, or an unoaked California Chardonnay. What's an unoaked Chardonnay?
"Unoaked just means the wine doesn't see any of those [oak] barrels. When they put wine in an oak barrel it rounds it out, and makes it a little richer and it adds  a buttery [and] vanilla notes to it."  In contrast to an unoaked Chardonnay, a buttery traditional Chardonnay wouldn't complement the mustard  dressing or slight bitterness of the kale. Mike also suggests a Rose as another potential accompaniment for the kale salad, but understands the wine has its fair share of critics.
"Americans mentally compare it to White Zinfandel—something that was in for so long—than it was out. Typically that's what they think of Rose because it looks the same.  As for Rose's, their almost always dry. Their great food wines and perfect for spring and summer"
 Love our late night wine pairings? Let us know or share your favorite wine and food pairings in the comments below.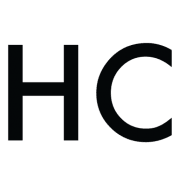 Maya Dangerfield
A recovering teacher and editorial intern for Honest Cooking, Maya began her journalism career at Greatist.com. A food lover who never misses dessert, she is also a passionate sports enthusiast. Currently Maya freelances for FoodmakerMedia and copywrites for Techturized. Her writing has been published for Greatist.com, Shape.com, and The Washington Post.