Put a little asian spin on a traditional American barbecue sauce, gochujang-maple sauce adds loads of flavor to your grilled chicken.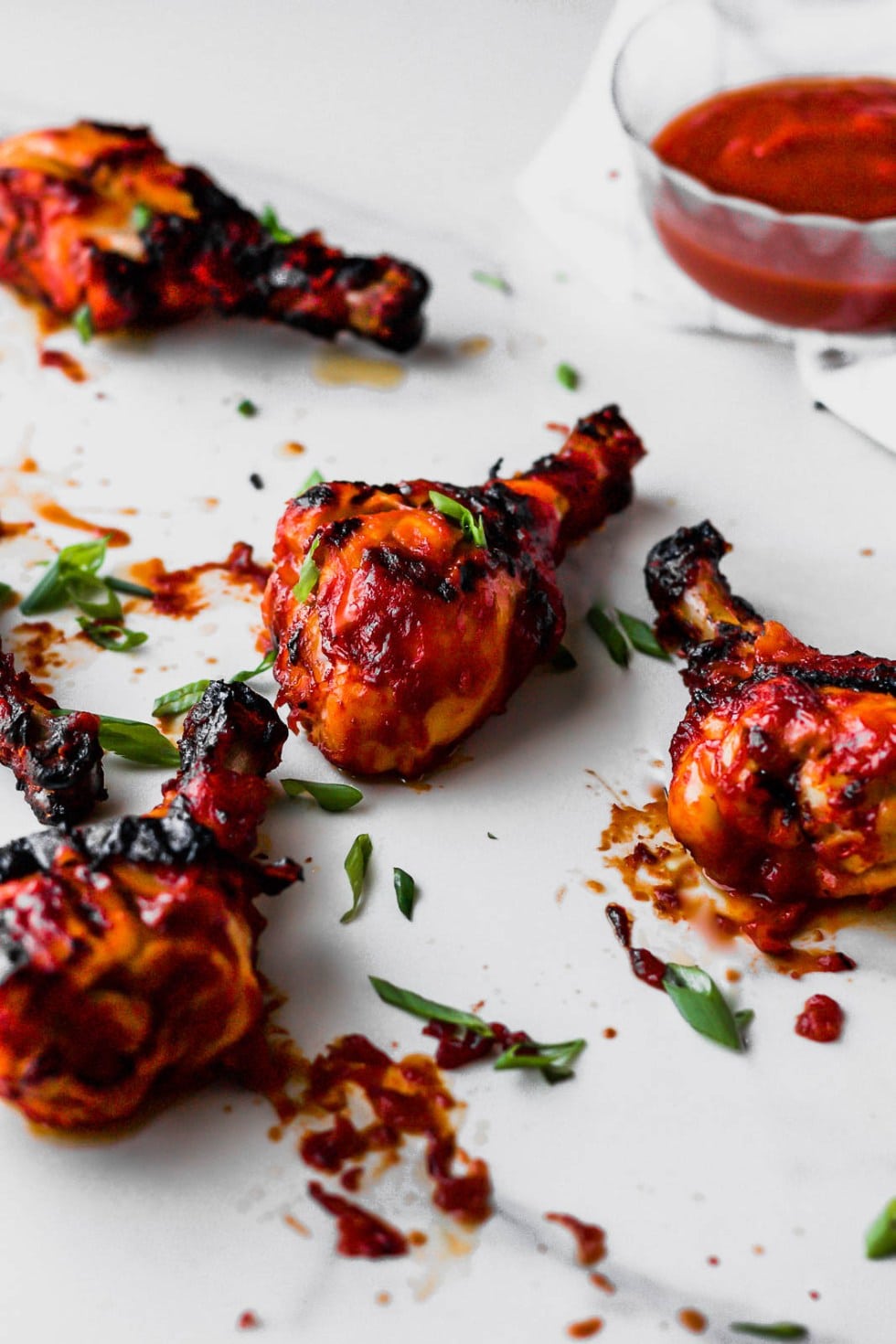 Gochujang is an umami packed, Korean fermented chili paste. Although I had seen it many times before in the refrigerator of the family I have worked for over the years who are half Korean, I first really learned what gochujang was when I read the January issue of Saveur magazine back in 2017. It was an article about all the "jangs" (gochujang, ganjang, doenjang), the art of the fermentation process, and the fact that you can't get any really good ones in the states. You can read the article here.
So why did I decide to put gochujang, along with ginger, tamari, and fish sauce in a traditional American barbecue sauce? Well, because doesn't that just sound delicious? And it is!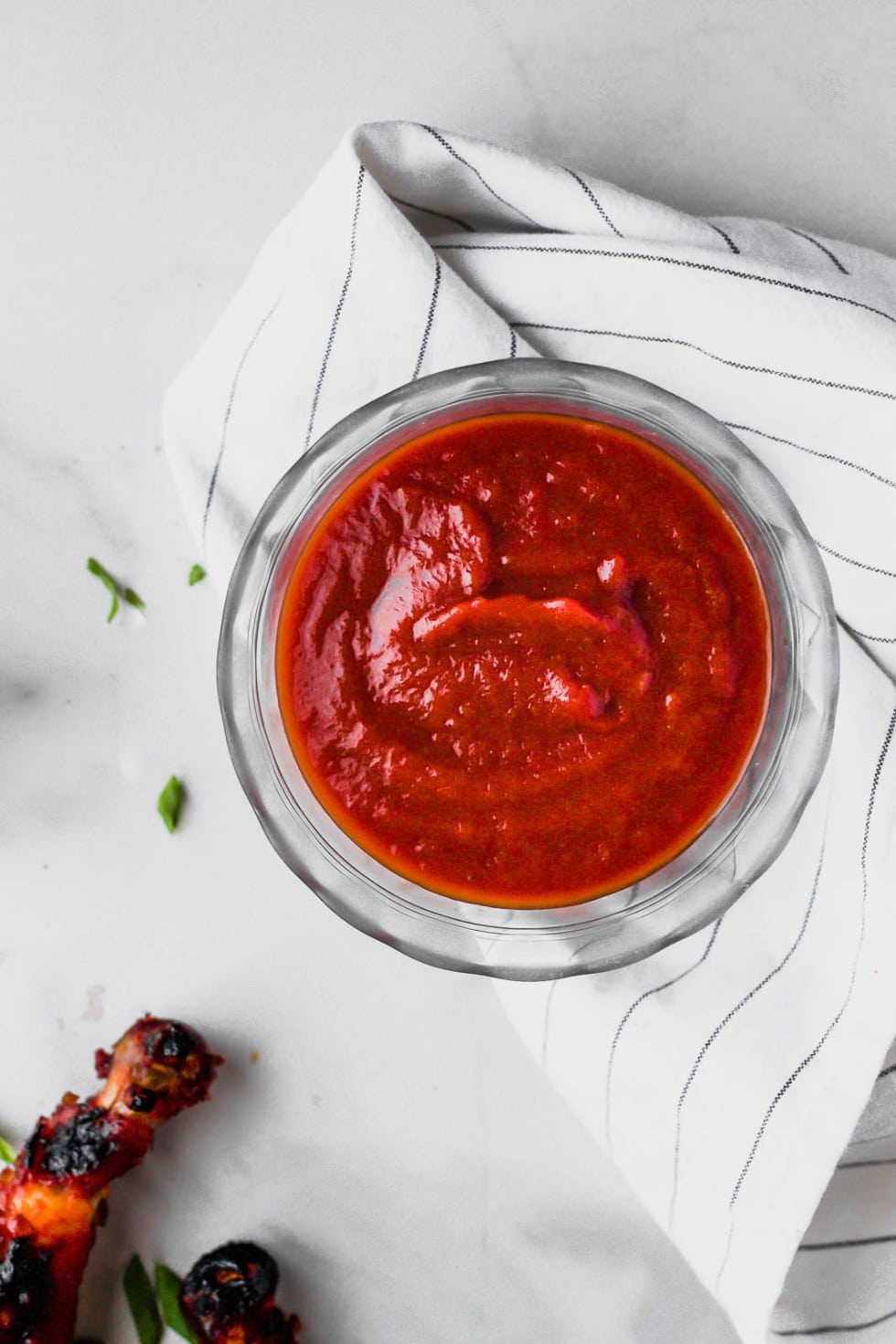 This simple recipe for barbecue sauce will knock your socks off. It has that sticky sweet texture we normally attribute to barbecue smothered anything, but with a lot of interest and nuance of flavor. Plus a little kick. You simply combine the roughly 11 ingredients in a medium size sauce pan and simmer away for a good hour. Marinate your favorite protein (chicken, shrimp, tofu, pork chops) in the gochujang maple barbecue sauce and toss them on the grill at dinner time.
You simply have to try it. And so do all of your friends and family.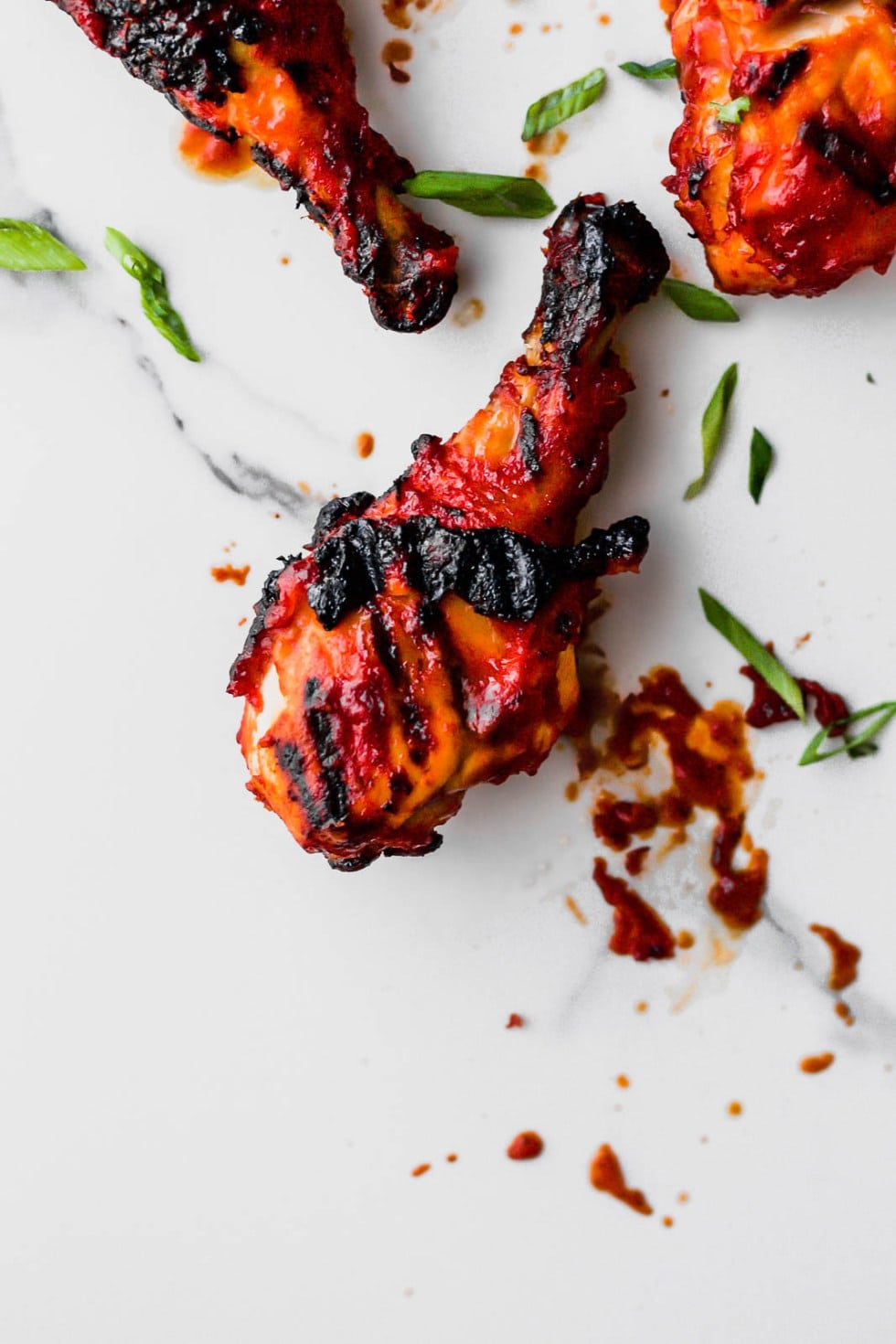 5 TIPS FOR GRILLING
So now that you have a crazy delicious barbecue sauce recipe up your sleeve, here are some tips for killing it on the grill this summer.
1. START ON HIGH
The rule of thumb for any grilled protein to turn out super tender and moist is low and slow. But to get those gorgeous grill marks you need to amp up the gas first thing. When I first turn on my grill I crank it all the way up to high for 5-10 minutes, give the grates a good brush, and throw on my protein covered for 3-5 minutes. Peel up a corner to check and see if those grill marks are gorgeous. If they are, flip over the protein, making sure to place the other side on a fresh hot piece of grate that you haven't used yet and then turn the grill all the way down to low.
2. STOP THE STICK
When you barbecue it's really important that whatever you grill be thoroughly oiled. A non-stick cooking spray is usually the easiest for grilling but make sure that whatever oil you choose be a high heat oil such as avocado or (a less healthy) vegetable oil. Especially when you use sticky barbecue sauce as it makes your protein stick even more. For even more non stick action, stab half an onion with a fork and dunk it in some oil. Rub over all of the grates of your grill to make sure they're all coated.
3. SAVE SOME MARINADE
When you use a marinade like this gochujang maple barbecue sauce, make sure you leave some of the marinade out and set aside in the fridge. You'll add loads of extra flavor if you brush the marinade or sauce on while it is grilling. Never use leftover sauce from the container you were marinating your protein in (unless it's plant based). Imagine giving your chicken a fresh smear of salmonella soaked barbecue sauce just before taking it off the grill. Total health hazard.
See Also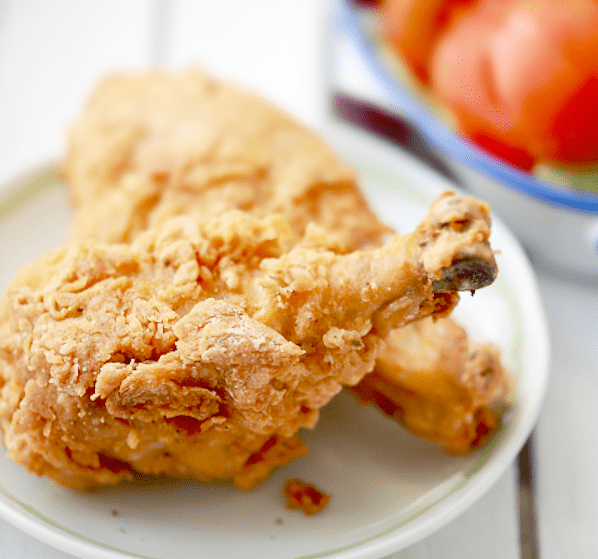 4. LEAVE IT ALONE
It can be really tempting to constantly check on, mess with, or flip over whatever your grilling. But once you've got the grill down to low, it kind of serves like an oven. If you keep opening the cover to check your food you're letting out that built up heat. Not only will it take longer to cook, it will not evenly cook on all sides of the grill. Keep the cover on for at least 5 minutes before going to check on your food. When I'm grilling any kind of protein, I aim to flip it over 4 times at the most. Keep that lid down and sit back and relax with your fave bevvy. That what barbecuing is all about.
5. FOR PETE'S SAKE, USE A THERMOMETER!
If you are a meat eater and do not own an instant read thermometer like this one, drop everything and go buy one. Now! It is not sufficient enough and not safe to trust the old finger palm or juices running clear tricks. Not only could you potentially undercook your meat and make everyone you're cooking for sick, you could over cook your meat. Which is just as bad! Base when something is done by the temperature, not the look.
Insert your thermometer into the thickest part of the meat. Chicken should always be above 165 F but not much more if you want juicy chicken breast. Pork chops, steak, and fish are different. I cook a pork chop to 140 F, a medium rare beef steak or salmon steak to 135 F. Anything ground up, like hamburgers or brats should be cooked to 165 F, but it's totally up to you if you want to cook that burger to medium rare.
GET GRILLING!
Now that you have my most basic grilling tips and an amazing gochujang maple barbecue sauce recipe to boot, call all your friends and have a barbecue. If you've never grilled before, do not be afraid! These 5 tips will help a lot. And you can always email me if you're stuck on something. Once I learned to grill it has become like a past time to me. I even fire up that baby in the winter!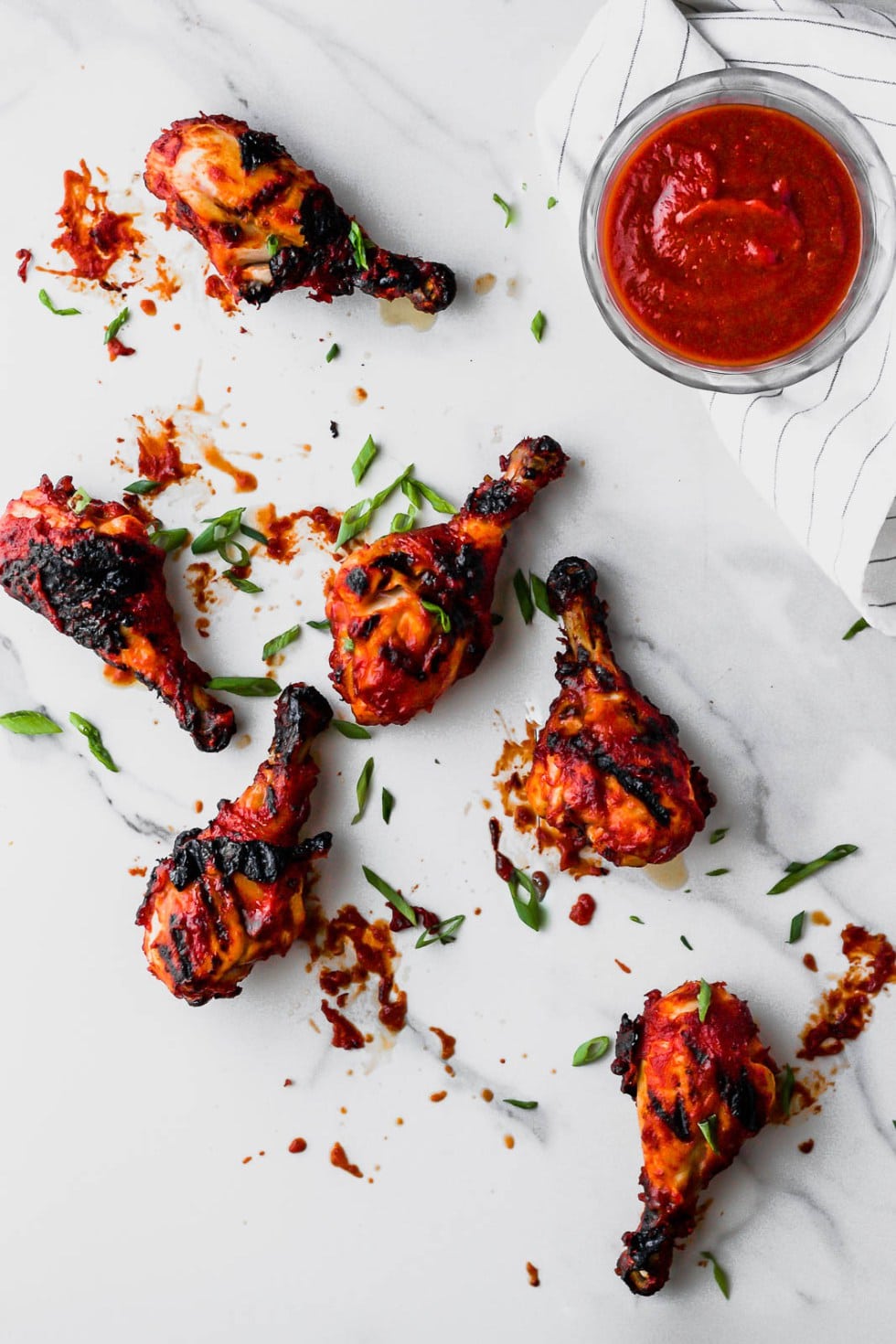 Print
Gochujang-Maple Grilled Chicken
Put a little asian spin on a traditional American barbecue sauce, gochujang-maple sauce adds loads of flavor to your grilled chicken.
Prep Time:

10 minutes

Cook Time:

1 hour

Total Time:

1 hour 10 minutes

Yield:

2 cups

1

x
Category:

bbq, Sauce

Cuisine:

Korean-inspired
11 oz

tomato paste

1

clove garlic (minced)

1 tbsp

soy sauce

1 tsp

gochujang

1 tsp

fish sauce

3 tbsp

maple syrup

3 tbsp

honey

2 tbsp

lemon juice

1/2 cup

apple cider vinegar

2 tbsp

onion, grated

2 tsp

grated ginger, fresh

1

pinch cinnamon

1.5 cups

water
Instructions
Whisk all of the ingredients together in a medium sized sauce pan. Bring the mixture up to a boil.
Reduce down to a simmer on low heat and loosely place a lid on top to prevent copious amounts of splattering.
Cook for 1 hour, stirring every 5-10 minutes.
Marinate your favorite vegetable or protein over night, leaving out ¾ cup of sauce to brush on during the cooking. Store sauce in a sealed container for at least 1 week.
Keywords: marinade, sauce
Stacy Feyer-Salo
Stacy is the creative director and photographer for the food blog POP KITCHEN. Creating accessible, vibrant, healthy and simple recipes while have fun doing it is her jam! As a trained chef, Stacy has worked as a meal planner and private chef for almost a decade and wants to share all her skills. She lives in Toronto with her family and enjoys listening to hip-hop and eating all the tacos.