National Tequila Day is right around the corner on June 24th. Celebrate with these fun and festive cocktails that are sure to cool you down on a hot summer night.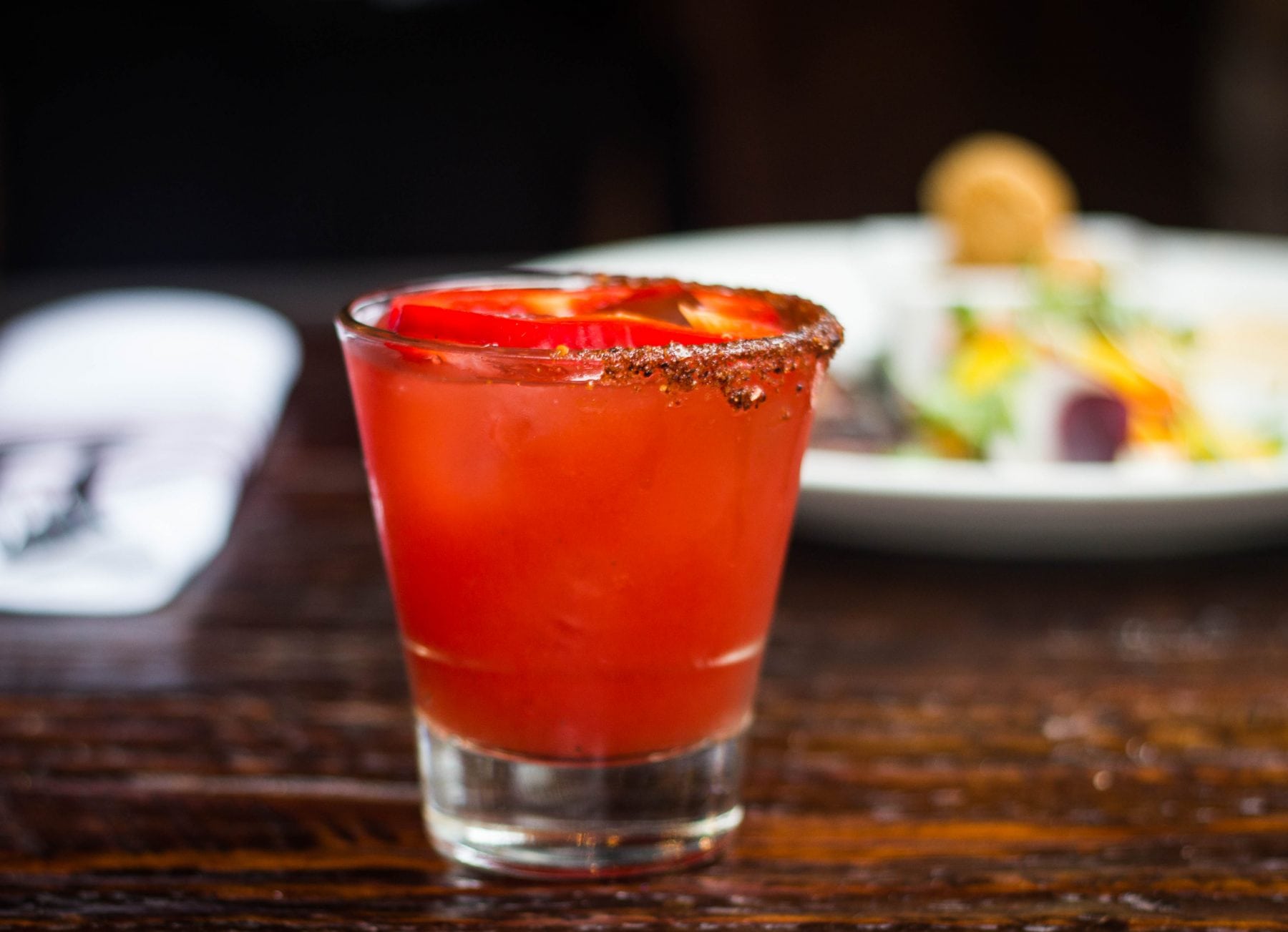 El Pimiento
Just the right amount of spice. Made for Añejo, NYC by Tequila Sommelier, Amanda Swanson.
1.5 oz Chamucos Reposado
.75 oz Ancho Verde
.5 oz lime juice
1 oz red pepper puree
2 dashes of Hellfire bitters
Method: Shake and garnish with chili rim and red pepper wheel
Image Courtesy of Código 1530 Tequila
"El Rey" Paloma
This cocktail is the perfect way to highlight an aged blanco tequila. Refreshing, but complex.
2 oz Código 1530 Reposado Tequila
2 oz Fresh Grapefruit Juice
4 oz Club Soda
Method: In a shaker filled with ice, add tequila, squeeze of lime and splash of fresh grapefruit juice. Shake and strain into a Collins glass filled with ice, and top with club soda. Garnish with a slice of grapefruit.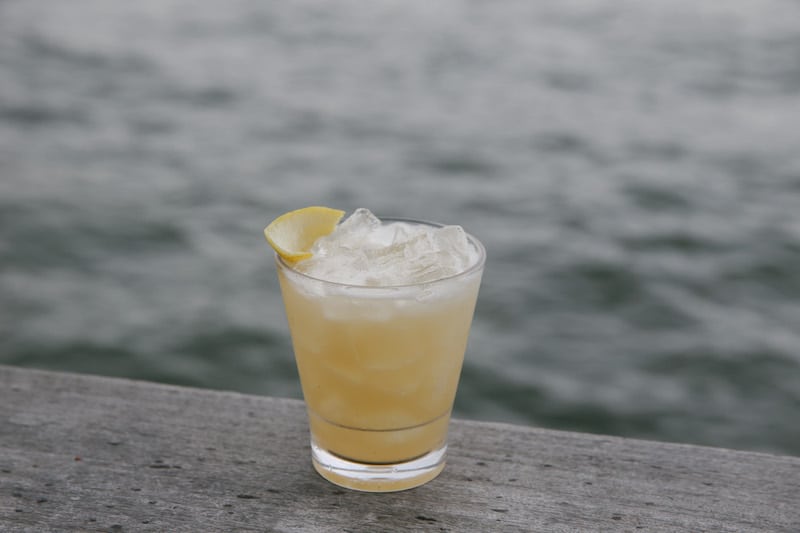 Uh Huh Honey
Three ingredients, so refreshing. Made for Industry Kitchen, NYC by Head Bartender, Jeremy Strawn.
2oz clove infuse tequila
.75 lemon
.75 honey
Method: Combine all ingredients and shake well.
Image Courtesy of Código 1530 Tequila
Spicy Pink Watermelon Margarita
A fun drink that features a tequila that has rested for one month in a Cabernet barrel to give it its pink hue.
2 oz Código 1530 Rosa Tequila
3 oz Pressed Juicery Watermelon Lime Jalapeno Juice
3/4 ox Fresh Lime Juice
1/4 tsp Jalapeno-infused Agave Nectar
Fresh Jalapeño, sliced (optional)
Kosher Salt (as garnish)
Method: Fill a cocktail shaker with ice. Pour in the watermelon jalapeno juice, tequila, lime juice and agave nectar. Shake for 30 seconds. Garnish glass with salted rim and jalapeno slices if desired.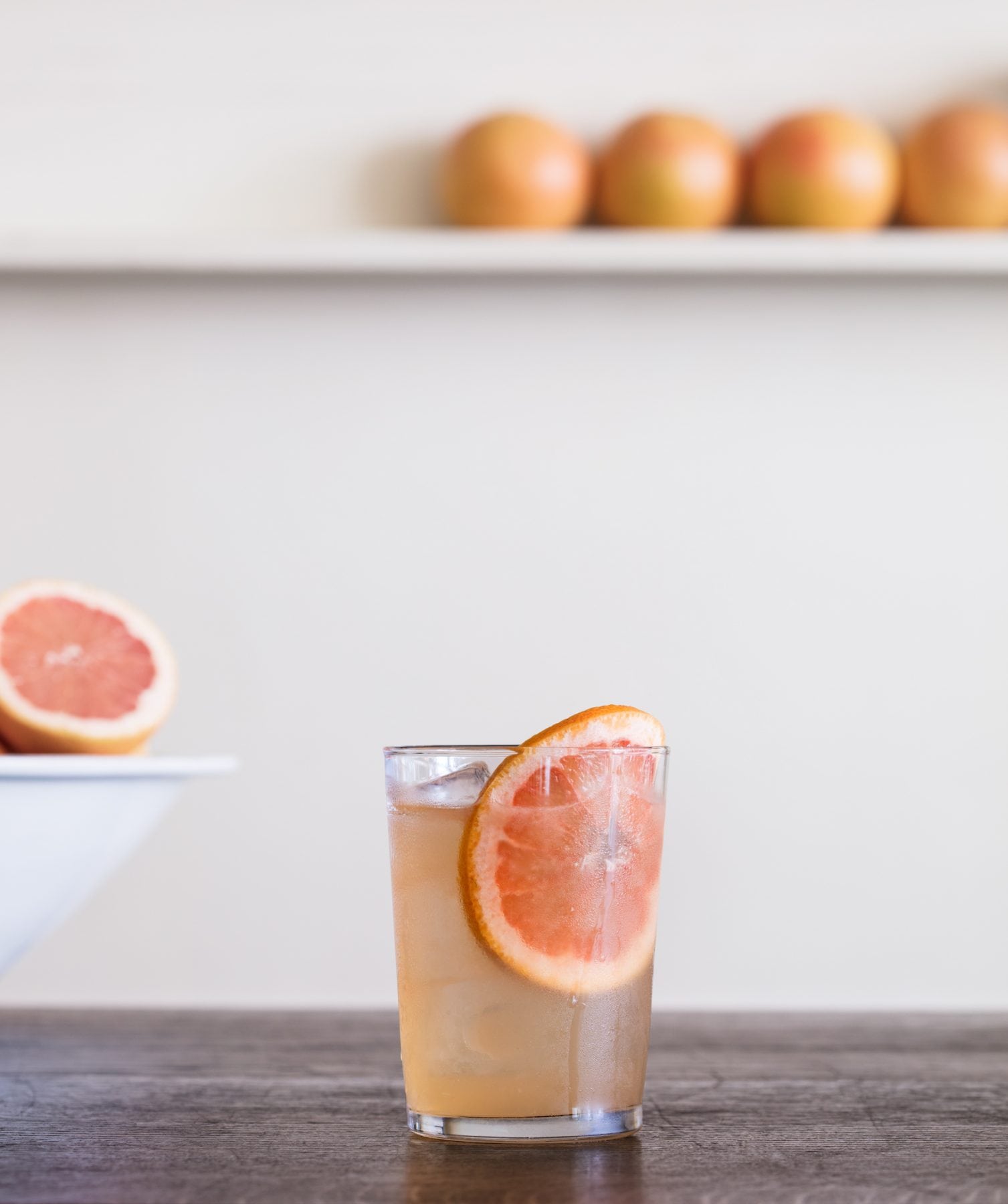 Grapefruit and Friends
Grapefruit to the max. AKA tequila's BFF. Made for Dante, NYC by Head Bartender, Naren Young.
1.5 oz. Mancino Bianco Ambrato
½ oz. El Tesoro Platinum
1/4 oz. Combier grapefruit liqueur
1 barspoon of Malort
½ oz. salted grapefruit cordial
1 oz. fresh grapefruit juice
5 dashes hopped grapefruit bitters
1 dash chardonnay vinegar
Method: Build over ice & top with San Pellegrino grapefruit soda AND Prosecco. Stir. Pour into Spritz Tumbler. Garnish with large grapefruit slice + half black salt rim.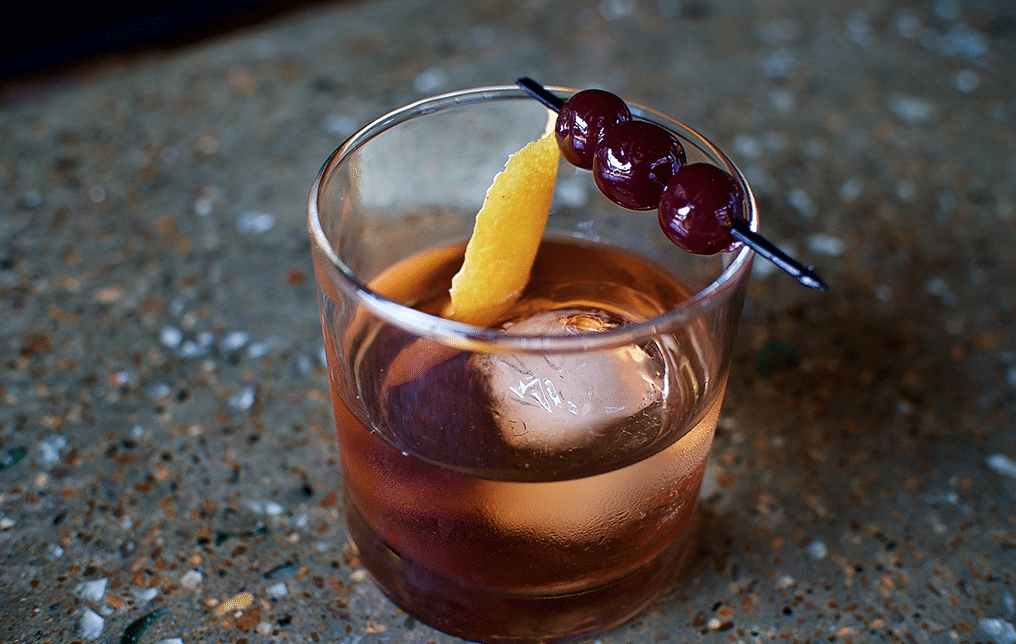 Image Courtesy of Código 1530 Tequila
Añejo Old Fashioned
This old fashioned features an refined, well-aged tequila that is quite expressive and the perfect things to feature in this drink.
2 oz Código 1530 Añejo Tequila
2 dash simple syrup
2 dash bitters
1 slice of orange
Method: In as Old Fashioned or rock glass, muddle orange. Add simple syrup, bitters, tequila, and an ice cube, and stir until well-chilled.
See Also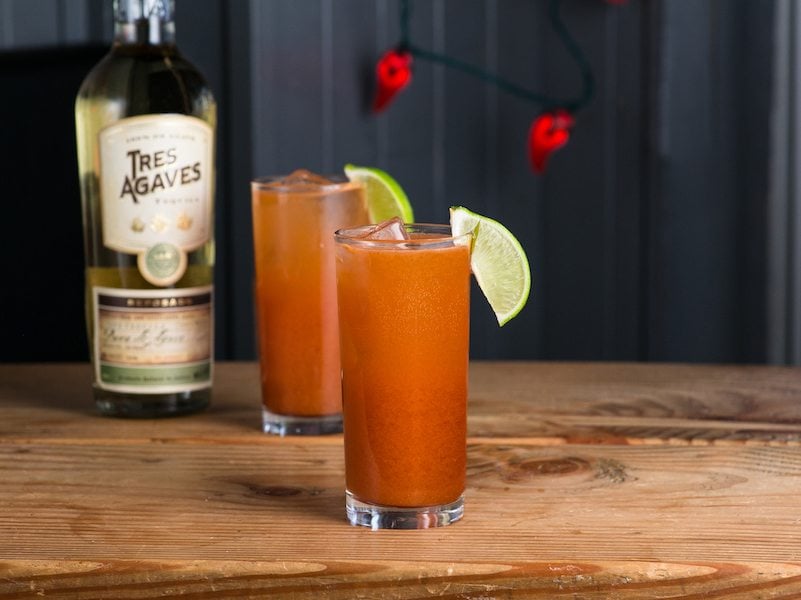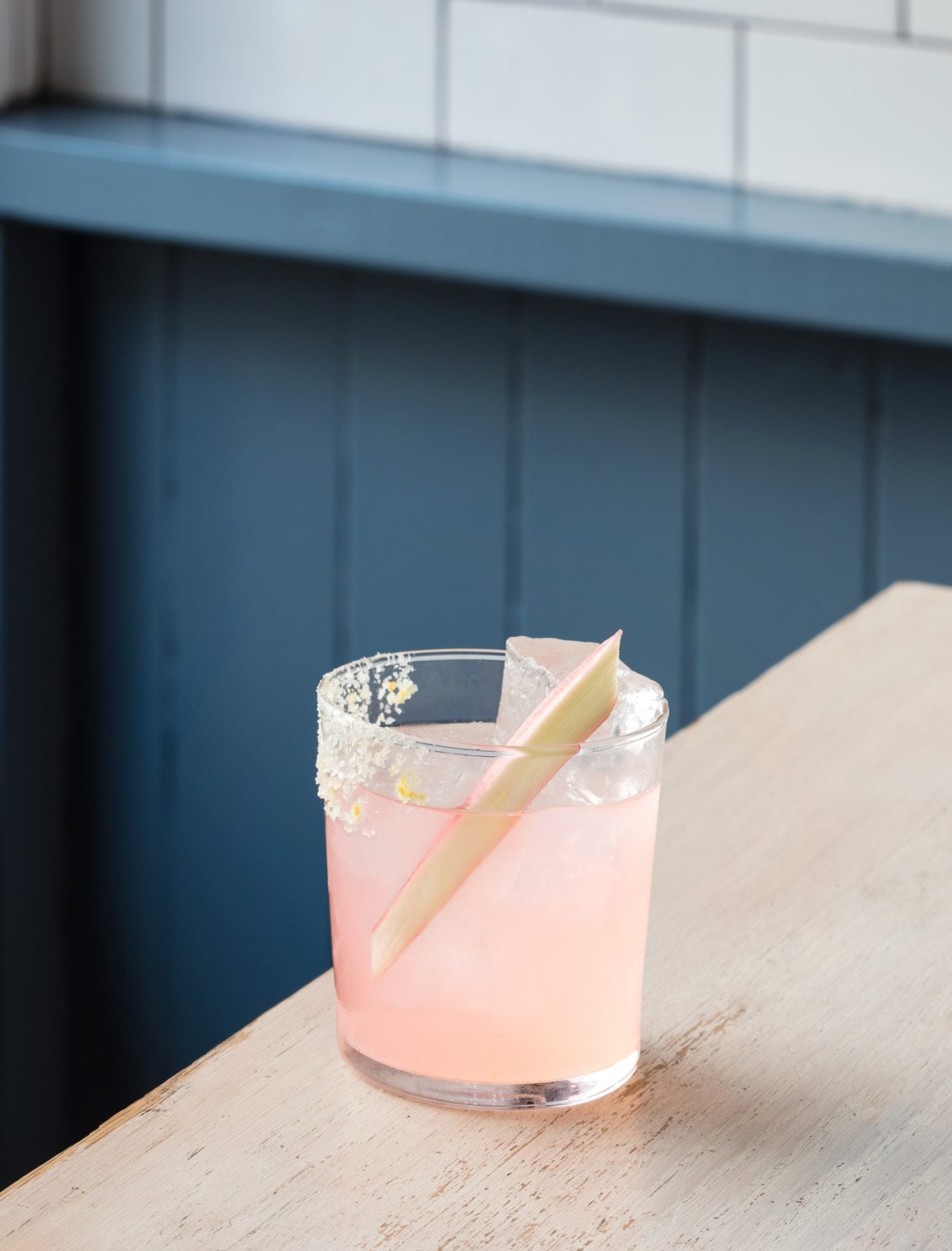 Coconut Rhubarb Margarita
That rhubarb you stashed away in your freezer earlier in the season? Here's what you do with it. By The Fat Radish, NYC
Image available HERE
Ingredients:
2 oz coconut fat washed tequila*
.5oz rhubarb syrup*
.75 oz lime
.25 frangelico
Pinch of salt
Method: Salt half rocks glass with citrus salt, put all ingredients into shaker, shake/DOUBLE strain over ice, Rhubarb ribbon to top. GARNISH: Rhubarb spear cut to order/Citrus Salt rim. Pour into rocks glass.
*Coconut Fat Washed Tequila
Heat up 4oz of coconut oil to just before boiling and pour into quart container
Pour tequila into this quart
Let sit until room temp
Leave in walk in overnight
Strain off next day
*Rhubarb syrup
Chop rhubarb into 2 qts
Cover with 32oz of water and bring to a boil on the stove
Stir constantly until water turns pinkish red and the stalks are beginning to break apart
Strain
Add 16oz of sugar to the water and reboil
Stir until sugar is dissolved
Add in 2oz orange juice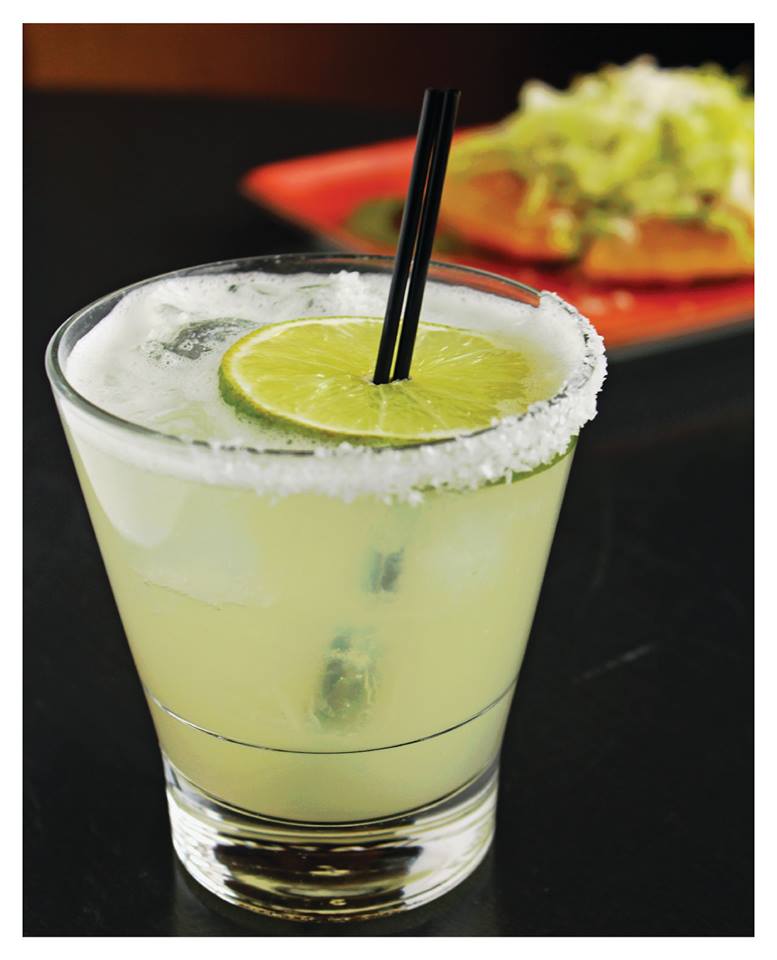 Que Bueno Suerte's Suerte Margarita
If you're in Denver this week, be sure to head to Que Bueno Suerte! – Platt Park's eclectic and upscale Mexican restaurant – is celebrating National Tequila Day with $25 flights of three tequila tasters on Tuesday, July 24 and a buy one, get one deal on Suerte Margaritas for just $8. A house specialty, the Suerte Margarita features Suerte blanco tequila, Pierre Ferrand dry orange curacao, freshly squeezed lime juice, simple syrup and a rim of salt, sugar, chili salt or cayenne sugar. Add strawberry, raspberry, blackberry, pureed mango, kiwi, jalapeno, basil, cucumber or pureed prickly pear to a Suerte Margarita for a one-of-a-kind Mexican cocktail. YUM.
1.5 oz. Suerte Blanco
0.5 oz Pierre Ferrand dry orange curacao
1 oz. Sangre de Azul Citron Juice
0.75 oz. simple syrup
Coarse grain salt and lime wedges
Wet the rim of a margarita glass and dip into salt. Combine Suerte Blanco, Pierre Ferrand dry orange curacao, Sangre de Azul Citron juice and simple syrup in a cocktail shaker. Blend vigorously and pour into margarita glass. Garnish with lime wedge and serve.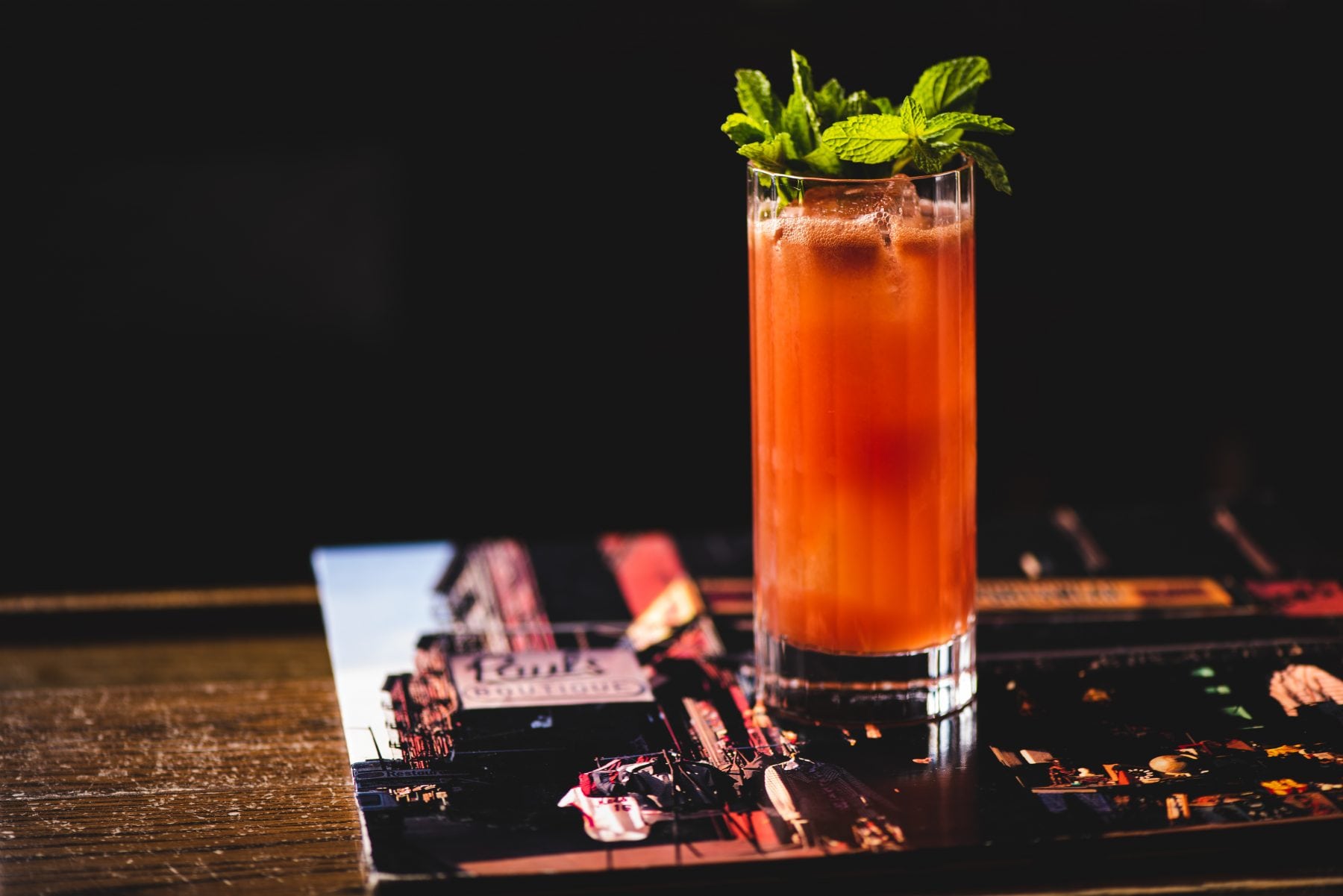 Weekend Warrior
It's like a Bloody Mary, only so, SO much better. Made for Underdog, NYC, by Head Bartender, Connor Myers
1.5 Oz Espolon Reposado
0.25 Oz Manzanilla Sherry
0.5 Oz Yellow Chartreuse
0.75 Oz House Grenadine
0.75 Oz Lime Juice
0.75 Oz Tomato Juice
0.75 Oz Watermelon Juice
1 Dash Hellfire
2 Dash Tiki Bitters
Method: Combine All In Shaker, Shake and Strain to Highball Glass, Garnish with Mint Sprig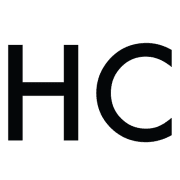 Honest Cooking
The Honest Cooking editorial team handpicks inspiring culinary stories to share with you that we think are beautiful. As an international online culinary magazine with the ambition to truly change the face of online food media we hope to create an inspiring place for serious culinary debate, salivating recipes, interesting food news and international food-fun.