Summer Watermelon Smoothies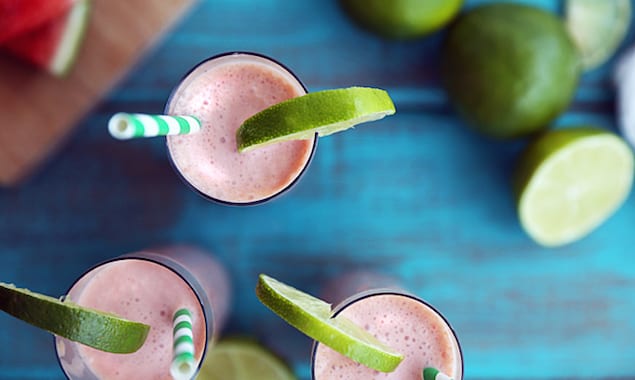 Ideal for an afternoon cool down, these watermelon smoothies are made creamy with coconut milk and flavored with lime juice and fresh mint.
By Lynsey Walker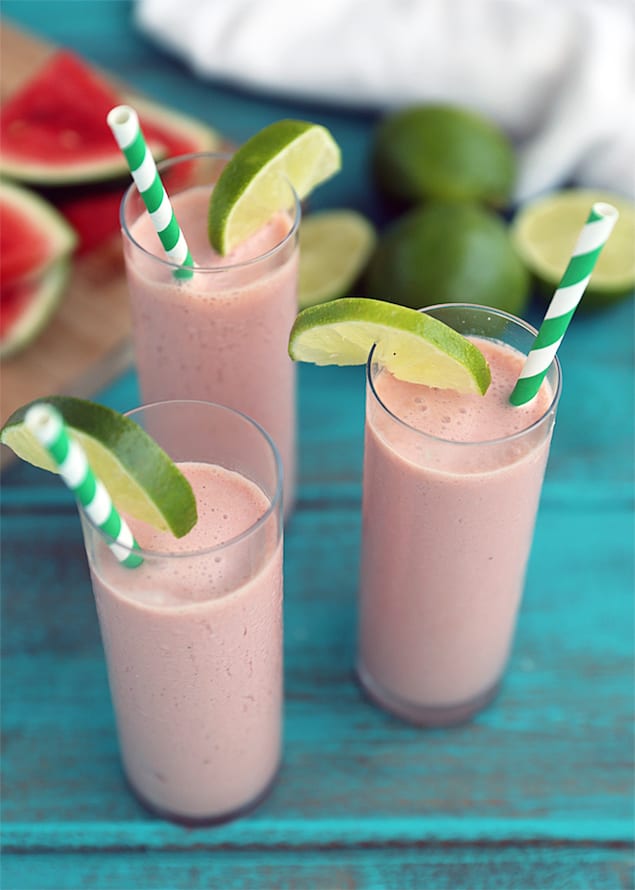 If I am being honest I don't really eat smoothies that much in the morning these days, but rather prefer to turn to them in the afternoon when the summer sun is shining strong. They are a refreshing and cold, and a sweet treat to look forward to as a pick me up in that lull that hits both belly and mind at 3pm.
Frozen watermelon has been my jam these days. I assume it is something about the water content that makes it turn almost slushie like when you blend it up.
See Also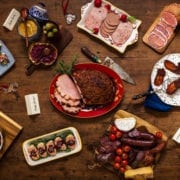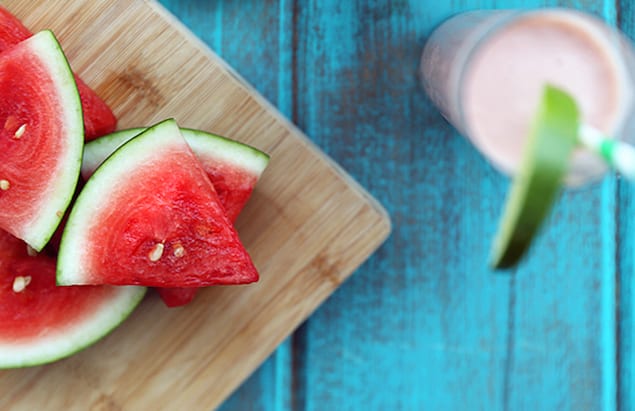 I like to sing the praises of coconut milk and watermelon for their skin boosting properties. The lauric acid and lycopene in their respective foods are damn fine at protecting your skin from sun's damaging rays, and will keep your skin radiating beauty even if the weather cramps the look of your locks (#summerproblems). Thanks watermelon smoothie.

Summer Watermelon Smoothies
Ideal for an afternoon cool down, these watermelon smoothies are made creamy with coconut milk and flavorful with lime juice and fresh mint.
Recipe Type:
Smoothie, Drink, Snack
Ingredients
2 cups frozen watermelon
1 cup full fat coconut milk
1 lime, juiced
5 mint leaves
honey to sweeten (I used just shy of 1 teaspoon)
Instructions
Add all ingredients to a blender and blend on high until creamy.
Lynsey Walker
Lynsey Walker has a master's degree in nutritional science and is currently finishing up her Registered Holistic Nutritionist designation. By inspiring people to start cooking and getting back to eating real food, as well as fostering healthy relationships what they put in their body she is on a mission to shake up the world of nutrition.