These Caribbean grilled chicken and plantain bowls are filled with flavor thanks to spices, cauliflower rice and avocado. Plus, they're paleo and easy to achieve on a weeknight.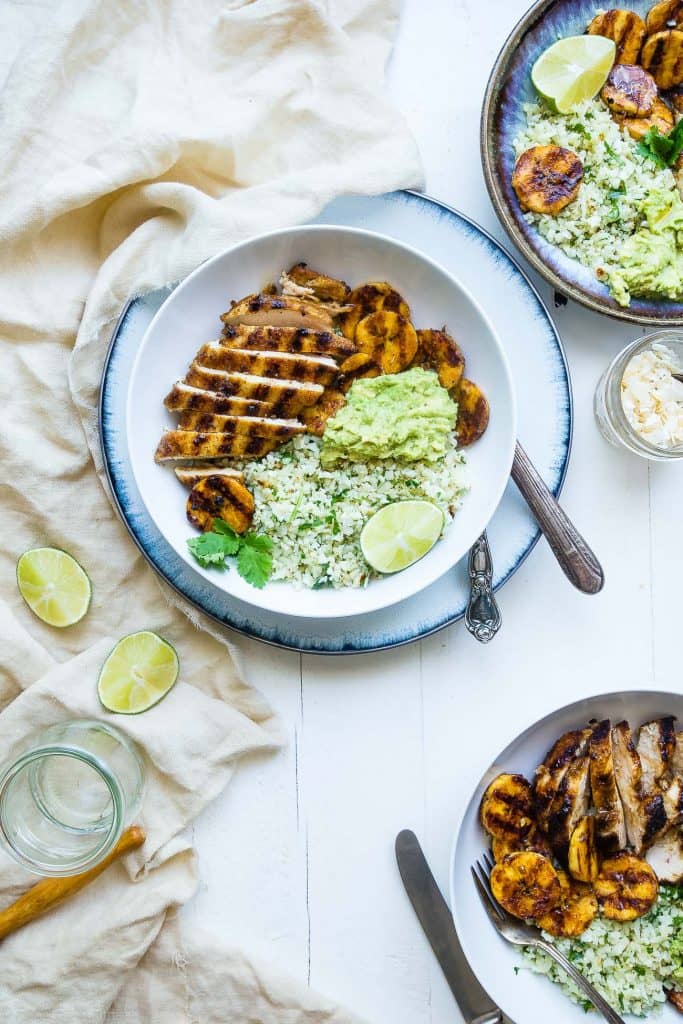 OHMIGOSH. YUMMY. That is what these summery bowls of sweet, heat and grilly goodness are.
Are we over bowls yet? Considering we've eaten tahini grilled avocado, cauliflower and sweet potato power bowls, cheeseburger salad bowls, chicken satay meal prep bowls and sweet potato breakfast bowls all in the last month, I think it's safe to say that I MOST DEFINITELY AM NOT.
Bowl food forever please.
Deets on T-H-I-S bowl to follow:
-Grilly-charry slices of ripe plantain that have been bathed in a lusciously-smooth combo of creamy coconut oil + sugar.
-Tender, juicy chicken that's hugged in the most RIDIC addicting spicy-sweet cumin, cayenne & coconut sugar flavor profiles.
-Coconut cauliflower rice. BUT, unlike the mango chicken with coconut cauliflower rice, it's GRILLED.
-A drizzle of sticky-sweet honey that marries everything together in the ultimate of SUMMER FOOD BLISS.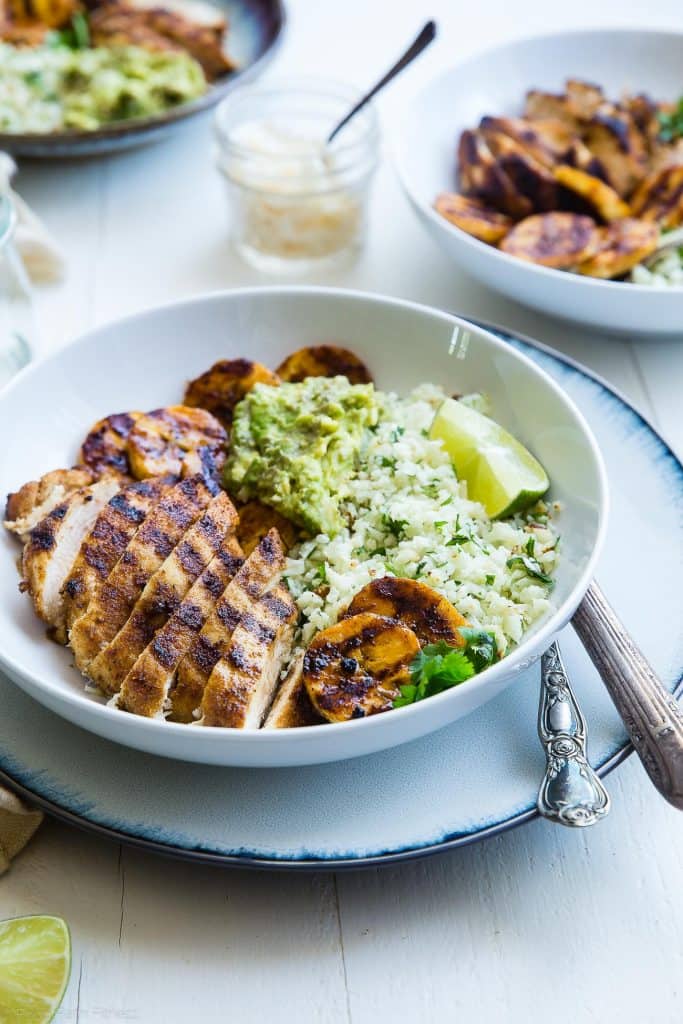 Plantains. Do you like them? Or do you think they are just banana wanna-bes that are just NOT AS GOOD.
I used to not like them at all. I feel like this was largely due to the fact that I was SEVERLY misinformed of how to cook them. Unless you are making plantain noodle bowls, you should PLAN to coat your PLANtains (just laugh) in a slathering of delicious butter (or coconut oil) and (coconut) sugar.
Also. Hardcore green plantains are not your BFF for this recipe. HOWEVER, neither are totally BLACK and SUPER mush plantains. Go for in-between. A littttle soft with a few black spots, but still slice-able and flip-able on the grill.
BE CHOOSY.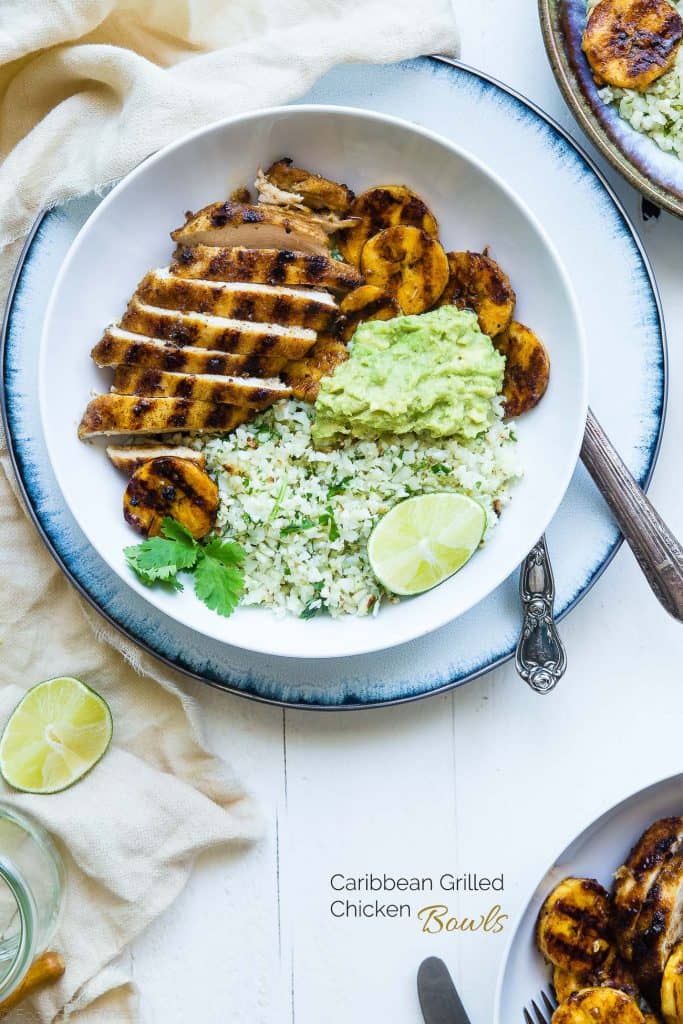 You should also know that razor-thin slices of plantains cook LIKE THIS on the grill. So pretty much put them on, flip them over, take them OFF. Boom – no burned faux-bananas happening to your face!
This chicken though. It has this totally unassuming, S-I-M-P-L-E rub of cumin, coconut sugar and a pinch of cayenne for that warm-the-back-of-your-throat spicy kick, that I totally thought would be good but not LIFE CHANGING, you know?
But, liiiike, my internet BFFS? You NEED have it in your life.
The heat of the cumin and cayenne marry together with the coconut sugar, and then create layers of flavor with the charry bits of sweet, crispy plantains, creamy avocado, cilantro-y coconut cauliflower rice and a smooth swirl of honey that is going to PILE DRIVE your taste buds with FLAVAH.
In a good way. Don't worry. No pain.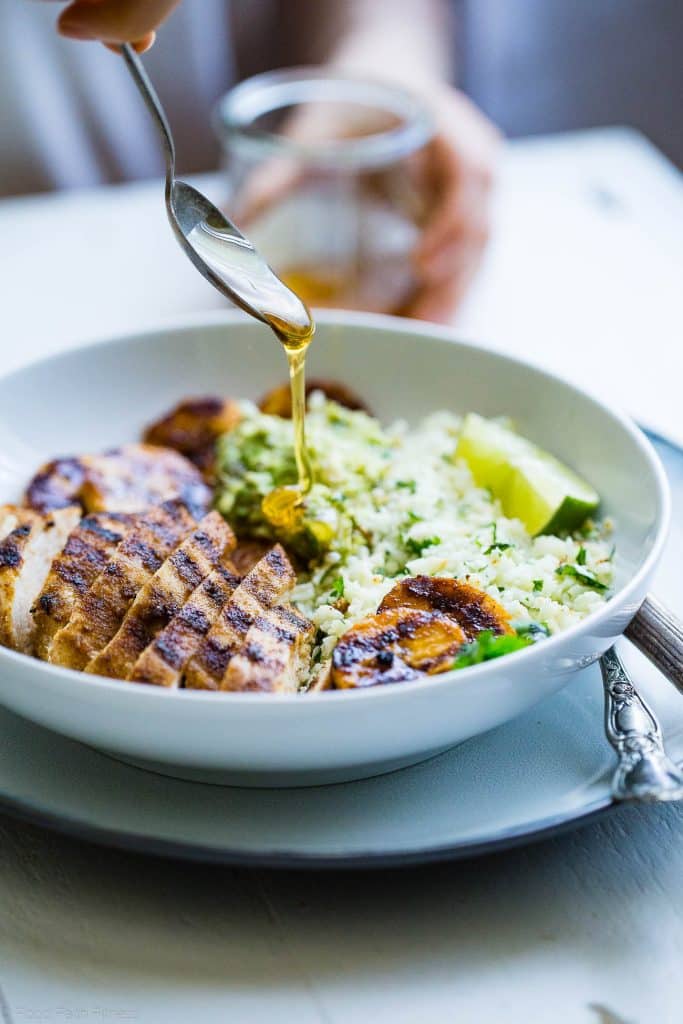 Print
Caribbean Grilled Chicken and Plantain Bowls
These Caribbean grilled chicken and plantain bowls are filled with flavor thanks to spices, cauliflower rice and avocado. Plus, they're paleo and easy to achieve on a weeknight.
Author:

Taylor Kiser

Prep Time:

10 minutes

Cook Time:

25 minutes

Total Time:

35 minutes

Yield:

2

servings

1

x
Category:

Main

Cuisine:

Caribbean-inspired
For the bowls:
2 Tbsp

Unsweetened coconut flakes

2 Cups

Cauliflower (cut into florets)

3 tsp

Melted coconut oil (divided)

1/2

Large Ripe green plantain (very thinly sliced. *READ NOTES)

3 tsp

Coconut sugar

1/4 Cup

Cilantro (roughly chopped)

1

Large avocado (mashed)

1 Tbsp

Honey
For the chicken:
3 tsp

Ground cumin

2 tsp

Coconut sugar

1/4 tsp

Cayenne pepper
Sea Salt and pepper

8 oz

Chicken breast
Instructions
only 2-3 mins. Watch CLOSELY as coconut burns quickly.
Additionally, place a grill pan on your grill and preheat to medium heat. (I do this while I prep all the ingredients.)
Place the cauliflower in a medium bowl and toss with 2 tsp of the coconut oil, reserving the rest for later. Sprinkle with salt and pepper and toss into the heated grill basket. Cook until tender, with some charred spots, about 10-15 minutes, stirring occasionally.
Lay the VERY thinly sliced plantains in a single layer on a plate and brush them with half of the remaining coconut oil (about 1/2 tsp.) Then, sprinkle on half of the coconut sugar (about 1 1/2 tsp.) Flip and repeat. They may be a little hard to flip, so be gentle! Set aside.
Remove the cauliflower from the grill and cover to keep warm. Then, in a small bowl, combine the cumin, coconut sugar, cayenne pepper and a pinch of salt and pepper. Dry the chicken off and really rub all of the spice blend on both sides of the chicken.
Grill until no longer pink inside, about 4-5 minutes per side, flipping once. Transfer to a plate and cover to keep warm. Let rest for 5 minutes.
While the chicken rests, place the plantains on the grill. Immediately flip the plantains in the order that you put them on. Then, remove them. You want them a little bit crispy and charred, and they cook almost instantly! Place on a plate and cover to keep warm.
Place the cauliflower into a small food processor, along with cilantro and pulse until broken down and "rice-like." Stir in the toasted coconut flakes.
Divide the cauliflower between two bowls, followed by the plantains, mashed avocado and the grilled chicken.
Drizzle the bowls with honey (1/2 Tbsp per bowl) and DEVOUR.
Notes
*You will buy a "green plantain" but the actual color should be yellow with some large brown spots. You don't want it ALL brown or it will be way too soft to cut and grill.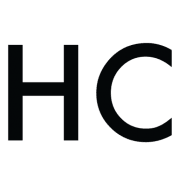 Taylor Kiser
Taylor is the blogger, recipe developer, photographer and general mess maker behind the blog "Food Faith Fitness." She is a Christian who is constantly trying to learn how to keep Christ at the center of her daily life. Taylor is also a health and fitness enthusiast who loves creating delicious recipes, with a healthy spin. However, Taylor also believes that moderation is key, so sometimes it's ok to just go and eat a cookie!