Sydney based Maria Laitinen finds herself missing the dark rye bread of her home country Finland, and shares the recipe with us.
By Maria Laitinen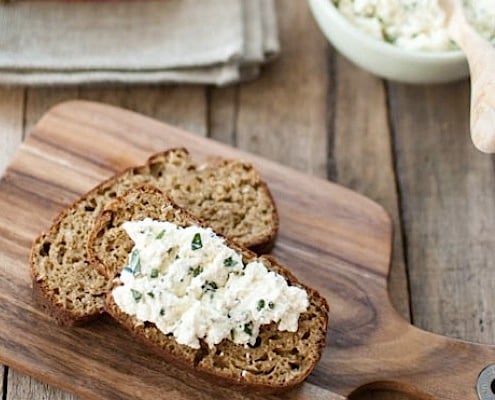 Like any other ex-pat, there are a few things I always miss from my home country. To mention a few, there is the Finnish rye bread, the wild berries and mushrooms and the wide range of dairy products. This rye bread is quick and simple to make, yet the flavour is very close to what I would get in Finland. Fennel is widely used in Finnish savoury baking as is the ground bitter orange. Don't worry if you can't find the latter, you can easily substitute it with ground (unsweetened) orange peel which has a similar flavour.
The buttermilk cheese is another traditional Finnish treat. It does not require any special equipment to make and you will most likely already have the ingredients at hand. The taste is very mild and the texture resembles that of ricotta. You can make a savoury version by mixing in a variety of fresh or dried herbs or try a sweet version with honey and vanilla. It works either way!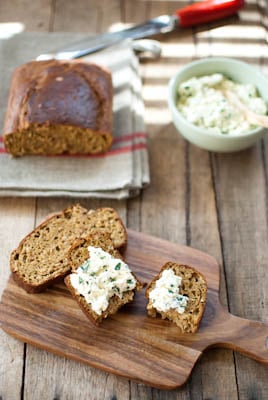 Finnish rye bread with home-made buttermilk cheese
Buttermilk Cheese*
34 fl oz (1 litre) buttermilk
2 large free-range eggs
50 fl oz (1,5 litres) low fat milk
1 cup (100g) skim milk powder
1-3 tbsp lemon juice
fresh oregano, to serve
*Note to the recipe. You need to allow at least 3-5 hours for making this.
1. Lightly beat the eggs and the buttermilk until well combined. In a large saucepan, heat the milk until warm (107°F / 42°C).
2. Whisk in the milk powder and continue to heat until almost boiling. Take the saucepan off the heat and whisk in the buttermilk mixture. Cover the saucepan with a lid and leave in a warm place for about an hour. 3. Add lemon juice if there is no curd forming on top of the mixture. You will need to keep the mixture quite warm for this to happen.
4. Once the mixture has curdled, use a slotted spoon to scoop out the curd and place it into a sieve lined with a cheese cloth and placed on top of a bowl.
5. Cover the curd with the cheese cloth, place some weight on top and refrigerate for at least 2-4 hours or overnight. Flavour the finished cheese with finely chopped fresh oregano and serve with rye bread.
Rye Bread
1 cup (110g) rye flour
3/4 cup (90g) wholemeal spelt flour
1/2 cup (60g ) rolled rye
1/2 cup (60g) rolled spelt
1 tsp whole fennel seeds
1/2 tsp ground bitter orange
1 tsp baking powder
1/4 tsp baking soda
4 large free-range eggs
1 cup (250ml) buttermilk
1 tbsp treacle
Preheat your oven to 350° / F180°C.
1. Mix together the dry ingredients. In a separate bowl, lightly whisk the eggs, buttermilk and treacle. Pour the egg mixture in with the dry ingredients and stir to combine.
2. Pour the batter into a prepared medium sized loaf tin. Bake for 40 minutes or until a tester comes out clean. Cool on a wire rack and serve with the buttermilk cheese.