Fall brings out the richness in everything around you. You may think you don't want to surrender the lazy days on the beach, cook-outs, and biting into a juicy piece of watermelon, all of which speak Summer. But something is refreshing about the chill in the air, the warm and cozy feeling you get of being inside by a fire that allows you to slowly break-up with Summer. The hearty, sumptuous meals made with sprigs of Thyme and Rosemary and sipping a deep crimson-colored Cape Mentelle's wine can edge you into Fall with the greatest of ease.
Cape Mentelle's Vineyards have been utilizing the richness of ironstone gravel soils found in the Margaret River Region in Western Australia for close to 50 years. The warm and sunny climate of the Region allowed the grapes to ripen in a drier setting while the Indian and Southern ocean breezes kept the vines cool against the Australian sun. What transpired were wines that are diverse and classic, complex, and intense and all filled with exceptional character and uniqueness.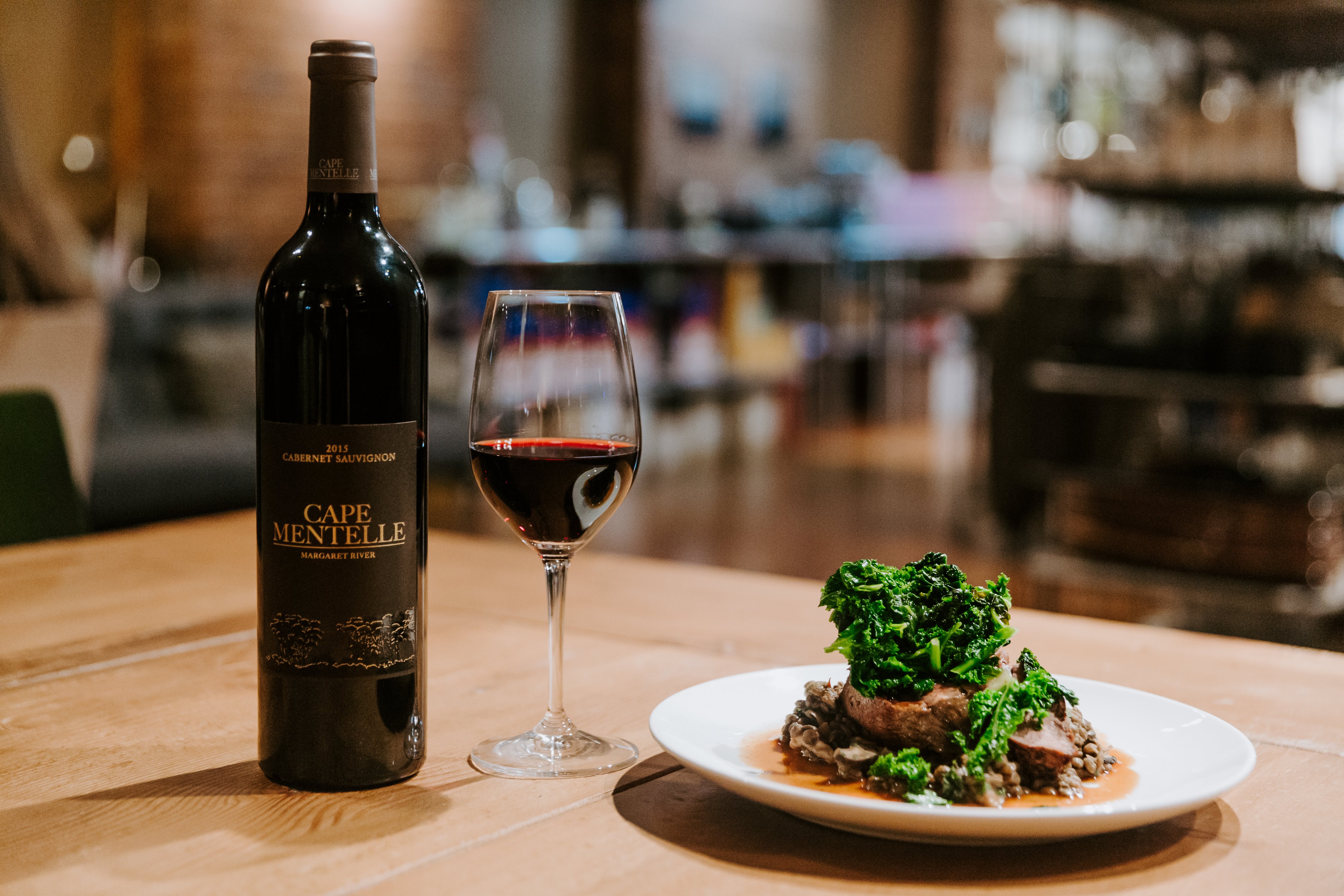 For a complete selection and to purchase Cape Mentelle wines, go to https://www.capementelle.com.au/Wines/Buy-Wine. When purchasing, keep in mind Cape Mentelle's Shiraz 2017 or Cape Mentelle Cabernet Sauvignon 2015, which both pair nicely with Shiitake Mushrooms with Thyme Oil and Charred Bread and Cowboy Rib Eye Steak with Creamy Lentils. The recipes are below.
Shiitake Mushrooms with Thyme Oil and Charred Bread
Pair with Cape Mentelle Shiraz Cabernet 2017
Feeds 2
Ingredients
extra virgin olive oil
4 thick slices of sourdough bread
1 cup shiitake mushrooms
2 teaspoons chopped thyme
sea salt and freshly ground black pepper
3 ½ oz soft cheese, such as blue or brie
Method
Preheat oven to 400 degrees.
Drizzle a little olive oil over the bread slices, then add to a large cast-iron frying pan and cook in the oven until lightly charred on both sides.
Meanwhile, place the mushrooms in a small frying pan, add the thyme, a good pinch of salt and a splash of olive oil and cook for 5 minutes or until tender.
Transfer to a bowl and drizzle over a little more olive oil. Season to taste with salt and pepper.
Arrange the mushrooms on the charred bread. Top with cheese and serve.
Cowboy Rib Eye Steak with Creamy Lentils
Pair with Cape Mentelle Cabernet Sauvignon 2015
Feeds 2
Ingredients
10.5 oz rib-eye steak
olive oil
2 cup chopped kale
2 cloves garlic, crushed or thinly sliced
14 oz brown lentils can
1 cup sour cream
sea salt and freshly ground black pepper
Method
Heat a large cast-iron frying pan until good and hot. Pat the rib eye dry with a paper towel, then brush the meat with olive oil and sprinkle on one side with salt. Place the steak, salt-side down, in the pan and cook for 10 minutes or until well browned and crusty on the bottom. Season the top with salt, then flip over and cook for another 8 minutes.
Remove from the heat and let the fat render for a few minutes on each side, then transfer to a carving board, cover loosely with foil and rest for 10 minutes.
Place the kale in the hot pan and cook until tender. Remove and rest with the meat.
Combine the garlic and lentils (and the juices in the can) in a small cast-iron frying pan. Bring to the boil and cook until the liquid has evaporated, and the lentils and garlic have softened. Remove from the heat and stir in the sour cream. Season to taste and spoon onto a serving plate.
Slice the steak and top with roughly chop the kale. Season and serve with the creamy lentils.
Gabe Fanelli
In another lifetime I went to Culinary School (ICE) and graduated with a degree in Pastry Arts. I interned and worked for a bit in the Test Kitchen of Rachael Ray's Magazine "Everyday with Rachael Ray" but missed meeting her by 15 minutes. Currently, I'm the Marketing Director for Town Sports because after eating all of that pastry and working in a test kitchen, I needed a free gym membership.