Skylark NYC Shares Unique Wintry Recipes
Winter often calls for nourishing soups, hearty casseroles and stews. From pumpkin soups to cauliflower pesto they are tried and true. But sometimes you're in the mood for something different. Skylark NYC, rooftop venue located in midtown NY,  shares unique recipes for a wintry refresh. 
The classically-styled cocktail lounge in the heart of Midtown East shares four recipes great to impress any holiday hosting festivities. Start the party with the Skylark Old Fashion then wow friends and family with duck confit wontons.
Crispy Duck Filled Wontons.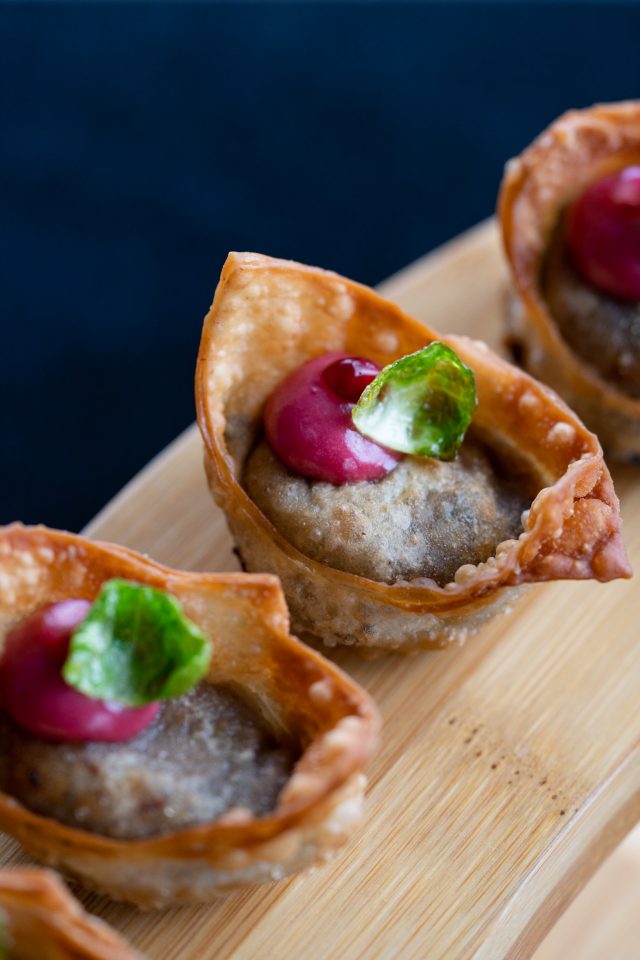 Duck Harvest Spice – Duck Confit – Duck Confit Mixture for Wonton Filling – Cranberry Aioli
DUCK HARVEST SPICE INGREDIENTS 
1 Tbsp salt
1 Tsp ground ginger
1 Tsp cayenne pepper
½ Tsp ground nutmeg
½ Tsp ground cloves
¼ TSP ground allspice
¼ TSP spanish paprika
¼ TSP ground black pepper
DUCK SPICE PREPARATION
Ingredients for Cranberry Aioli:
8 Cups fresh cranberries
2 Cup sugar
1 Cup fresh apple cider
½ Cup pomegranate juice
5 garlic gloves – roasted and puree
2 egg yolks
1 Tbsp fresh lemon juice
1 Tbsp Dijon mustard
½ Cup extra virgin olive oil
¼ Cup vegetable oil
CRANBERRY SAUCE PREPARATION
Place cranberries, sugar, apple cider and pomegranate juice in a sauce pot and bring to a simmer.
Under medium to low heat simmer everything until liquid is reduce by 50%. ~10MIN
Cool, place ingredients in blender, blend until smooth.
In the meantime combine ingredients for aioli, whisk together egg yolks, lemon juice, and mustard in small bowl.
Slowly add both oils, whisking constantly until oil is incorporated and emulsified.
Slowly whisk 1 cup of prepared cranberry sauce and roasted garlic.
Save remaining cranberry sauce for duck filling recipe.
DUCK CONFIT INGREDIENTS
6-7 LB duck legs with bone
1 Tbsp Duck Spice, see earlier recipe
4 oz-wt fresh ginger, peeled chopped
10 Sprigs fresh thyme
10 garlic cloves
Duck Fat, enough to cover duck approximately 8 Cups
DUCK CONFIT PREPARATION
• Preheat oven to 225*F
• Melt the duck fat in a small saucepan.
• Rub the spice mix on the Duck very well.
• Place the duck, thyme, garlic, ginger in deep hotel pan.
• Cover duck with duck fat, be careful not to overfill the pan. Entirely cover the duck.
• Cook duck until the duck is tender and can be pulled away from bone. Approximately 2 to 3 hours.
• Cool duck, strain fat, and pull the duck meat from the bones.
• The duck fat can be strained, cooled and reused.
Part Two of Duck Wontons
WONTON FILLING INGREDIENTS
Duck Confit Cooked, see recipe
1 Cup butternut squash, small dice
1 Cup  brussel sprouts, fine julienne
½ Cup fennel, small dice
2 Cups cranberry sauce, see recipe
1 Cup mascarpone cheese
½ Cup fennel, small dice
10 garlic gloves, peeled and minced
2 Tbsp fresh ginger, peeled and minced
¼ Cup maple syrup
½ Bunch fresh parsley
½ bunch fresh sage
Square Wonton Wrappers
DUCK WONTON FILLING PREPARATION
Using some of that Duck fat just saved (~ ½ Cup) you are going to saute the ginger and garlic on low heat
Add the fennel, butternut squash, and brussel sprouts and continue to saute under low heat
In about 5 Min you will start to see the Brussel Sprouts start to wilt. That is when you will turn off the heat and let everything cool back down.
Once everything is cooled combine everything in the largest mixing bow. Mix everything well together and check seasoning for taste. Adjust seasoning accordingly.
WONTON PREPARATION
Skylark take note: You are going to want to work in making the wontons is batches of 4 to 6 depending on how fast you can assemble the wontons. The longer the wonton wrappers are left uncovered; the more they will dry out, start to become stiff and crack. You will need wonton wrappers, a small dish of cornstarch, a small dish of water, and a damp towel to cover the stack of wontons you are not using.
Place .5oz of wonton filling in the center of the wrapper.
Brush the edges of the wrappers with water to make wrapper stick to itself.
Now for the tricky part. The FOLD. Fold the wonton in half, making sure the edges are flush to each other. For reference always have to long edge facing you. With a finger you will want to press on the rolled edge to make a dip in the wonton which will make the next fold easier.
Brush water on the left for the wonton.
Take the upper right corner and touch it to the upper left, folding along the rolled end.
The water on the left edge will keep the wrapper corners together. The other two corners of the long flush edge will fan out to become the "wings" of the wonton.
Gently flatten the bottom of the wonton or your wontons will roll all over the vessel you serve them on. Really important says Sklark. You can fold the wrapper anyway you want. This is they way we close our wontons, but there are other ways of folding wontons. The most important part is making sure the filling is completely wrapped and sealed by the wrapper. Otherwise filling may leak out during frying.
For storage: line the pan with parchment paper and lightly dust shallow pan with cornstarch. This will keep the wontons from sticking to each other.
PRESENTATION
Fry the wontons in 350*F Oil for 3-5 MIN or until golden brown. Once out of the fryer place the wontons on a dry paper towel and season with just a little more duck seasoning.
Garnish with a dollop of the cranberry aioli.
Move the wontons to your favorite serving dish and garnish the wontons with fresh pomegranate seeds.
Maple Walnut Old Fashioned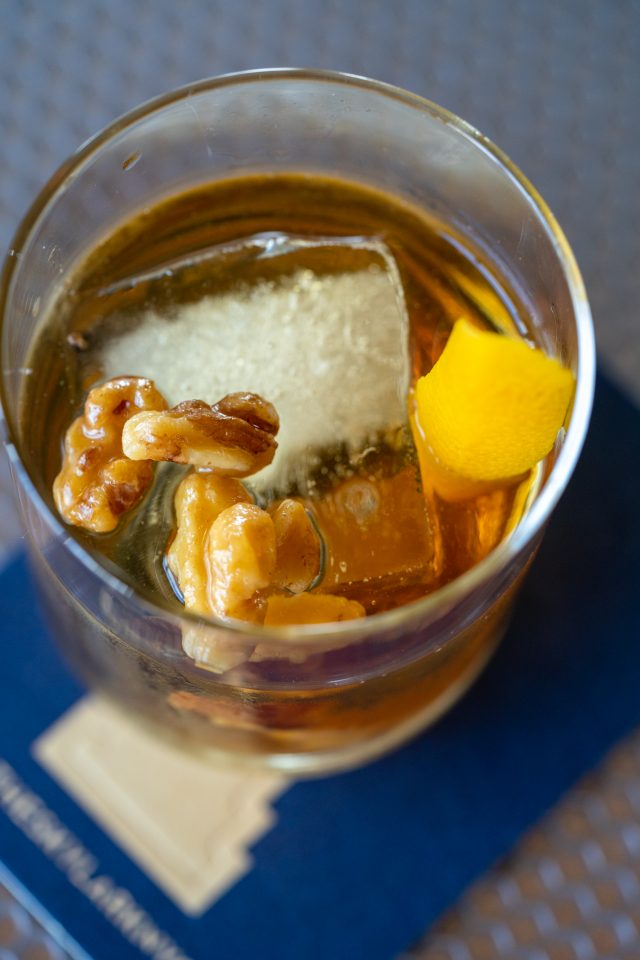 Vessel: Mixing Glass
INGREDIENTS
2 Old Grandad Bonded Bourbon
.25 oz. Maple Syrup
6 Dashes Walnut Bitters
Cubed Ice
Orange Twist
Candied Walnuts in Syrup
INSTRUCTIONS:
Stir all of the ingredients to temp with ice
Strain into rocks glass with cubed ice
Add orange twist and a bar spoon of candied walnuts in syrup to glass
Spanish Tortilla with Grilled Octopus
Marinated Grilled Octopus – Spanish Tortilla – Piquilo Pepper Hummus – Herb Chimichurri
Ingredients for Lemon Marinade: Will be used for 2 Octopus Tentacles
½ Cup extra virgin olive oil
¼ Cup fresh lemon juice
½ Tbsp Dijon mustard
½ Tbsp honey
½ Tbsp smoked paprika
1 shallot, minced
¼ bunch parsley, chopped
Preparation of Lemon Marinade and Grilled Octopus
Whisk all ingredients together in small mixing bowl
Cover octopus with marinade, marinade overnight for best results.
Drain octopus from marinade.
Grill Octopus until outside is charred.
Slice octopus into thin pieces
Ingredients for Piquillo Pepper Hummus:
See Also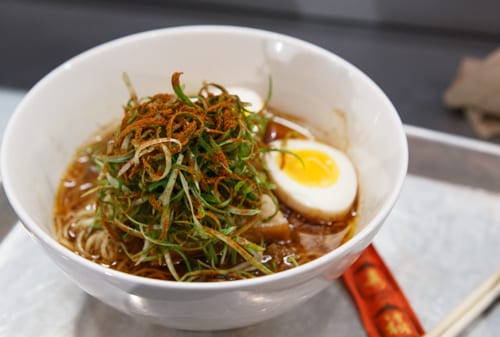 2 Cups white bean, drained
½ Cup piquillo peppers, drained
¼ C extra virgin olive oil
½ Tbsp fresh lemon juice
2 each, garlic gloves, roasted
½ Tbsp tahini paste.
Preparation for Red Pepper Hummus:
Puree all ingredients in food processor. The hummus should be thick and smooth.
Check seasoning, add salt and pepper, adjust to taste.
Ingredients for Herb Chimichurri:
½ Cup extra virgin olive oil
2 Tbsp sherry vinegar
Zest of 1 lemon
Zest of 1 orange
2 Tbsp dill, chopped
2 Tbsp parsley, chopped
½ tsp smoked paprika
½ tsp salt
Preparation for Herb Chimichurri:
Whisk all ingredients together in mixing bowl and season to taste.
Ingredients for Spanish Tortilla:
½ red onion, brunoise
3 oz-wt dry chorizo, brunoise
4 oz-wt yukon potatoes, sliced thinly on Madeline
1 garlic glove, minced
¼ Cup piquillo peppers, brunoise
-(For egg mixture)-
5 Eggs
½ Cup Sour Cream
¼ bunch parsley
Salt and Pepper to taste
Preparation of Spanish Tortilla:
Preheat oven to 400*F.
Combine eggs, sour cream, parsley, salt and pepper in mixing bowl and whisk together vigorously. Set aside in a container with a pourable spout.
On medium heat saute the chorizo until fat is rendered, add red onions and cook until golden.
Reduce heat, add garlic and piquillo peppers.
Add potatoes and stir occasionally. Cook an additional 3 to 5 minutes until potatoes are slightly wilted.
Liberally spray a muffin tray with non-stick spray. Instead use mini muffin trays, but feel free to experiment with different size muffin trays. Just note that temperature and time of cooking will be different with different size muffin trays.
Pour a small amount of egg mixture into the bottom of the muffin trays.
Add about 3-4 slices of potato and some of the onion and chorizo mix. Leave at least ¼ room at the top for more egg mixture.
Top with egg mixture. Tap the side of the tray gently to make sure the egg mixture gets inside all the crevasses of the potatoes. If there is any air inside, the tortilla will fall apart when you take them out of the tray.
Bake the tortillas for 8 minutes. Let cool before you take them out of the tray, be careful they will be delicate.
Presentation:
Place several Spanish tortilla on your favorite vessel
With either a spoon or squeeze bottle place a small dollop of piquillo pepper hummus on top of the Spanish tortilla
Take the thinly sliced octopus and stack 2 to 3 pieces on top of the hummus
Serve hot or room temperature.
Brush herb chimichurri on top of octopus.
Garnish with some fresh or fried parsley
 Cranberry Sauce Sangria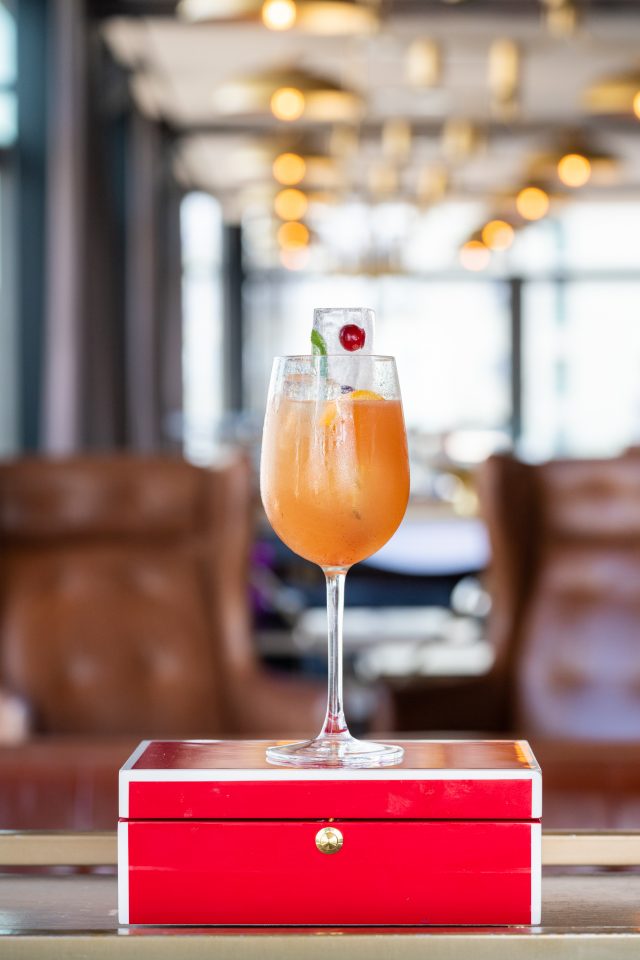 Vessel: Tin
Ingredients:
3 oz. wine
1 Heaping Bar Spoon of Jellied Cranberry Sauce
1.5 oz. Grand Marnier
.5 oz. Orange Juice
.5 oz. Lemon Juice
.75 oz. Simple Syrup
Cubed Ice
Long Cranberry & Sage Ice Cube
Orange Slice
Instructions:
Muddle Sage
Add Wine to tin
Add and stir jellied cranberry sauce
Combine and shake the Grand Marnier, orange juice, lemon juice, and simple syrup to temp
Add cubed ice, long cranberry & sage ice cube, and orange slice into wine glass
Fine strain ingredients into wine glass.
Recipes and images are courtesy of Skylark. For more information on Skylark or to make reservations visit: https://theskylarknyc.com/