For this quick & simple dish has a few ingredients, but bursting flavours that need no accompaniments whatsoever. Of course, a little pickle on the side never hurts though!
My first memories of eating lemon rice are from our days in Bangalore, India. Not being a big rice eater in those days, I always marvelled how a subtle lemony rice always managed to get my attention. And for good reason.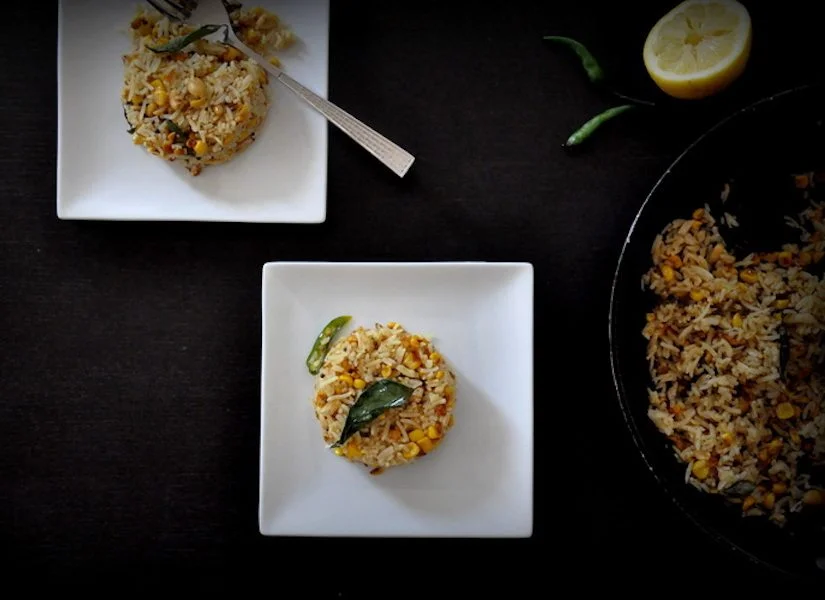 I was never a big rice eater while growing up (North Indian cuisine is predominantly more rotis/breads), but I do love it now. Partly because of the ease of cooking it up on a busy weeknight, and party because of it's versatility to absorb flavour. But there are enough theories out there about the grain to make you think twice before putting it on the boil. It's benefits, not-so-favourable qualities or sizing it up against brown rice and super grains like quinoa, teff or barley. How do you combat the conflicting information? Keep it simple- focus on quantity & quality rather than mind boggling research! And I do that by lowering the rice : vegetable/meat ratio when cooking with it. The result is not only satisfying, but also balanced and healthy.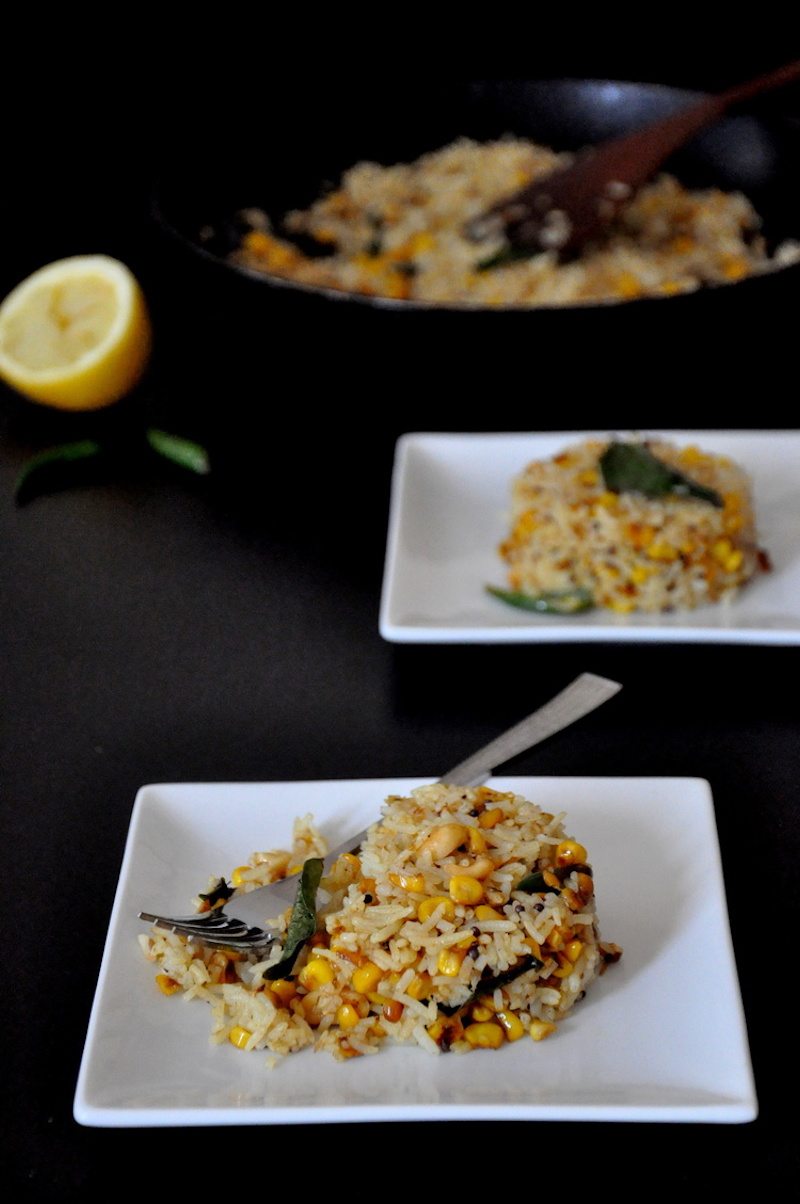 About this dish. It's my version of the humble Lemon Rice that originates from the southern part of India, with a sweet touch of fresh corn kernels. Comes together in minutes, and can be eaten on its own, or a side with Grilled Fish or Meats. Of course you can always add vegetables of choice, but there is just something about fresh corn……mmmm…
And the colour? It makes me think of sunshine on a plate :)

Corn and Lemon Rice
Ingredients
1 cup boiled basmati rice
Fresh kernels from 1 corn
6-8 curry leaves
½ teaspoon fresh ginger, grated
1 teaspoon mustard seeds
2 tablespoons unsalted peanuts (with or without the skin)
Juice from 1 large lemon (approximately 2-3 tablespoons)
2 green chilies, slit lengthwise
1 teaspoon cumin powder
½ teaspoon turmeric powder
3 tablespoons olive or peanut oil
Salt to taste
Instructions
Heat oil in a non stick pan. Add the mustard seeds and cook till they begin to splutter. Now add the curry leaves, ginger, green chilies, peanuts and corn kernels. Cook till the corn kernels begin to brown. Add the rice, along with the turmeric, cumin, salt & lemon juice. Stir fry till all the rice has been coated with the spices and begins to brown on the underside.
Remove from heat and enjoy fresh. A true one-pot comfort meal that will be ready before your table is set...