September is the month when the heat begins to cool off, and the cravings for comfort food begin. This crustless zucchini and rice pie is a hot and cheesy vegetarian dish straight out of the oven. Have this easy-to-make meal for dinner for those cooler nights.
By Jean Kressy
This article has been posted with permission and originally appeared as, "Crustless Rice and Zucchini Pie"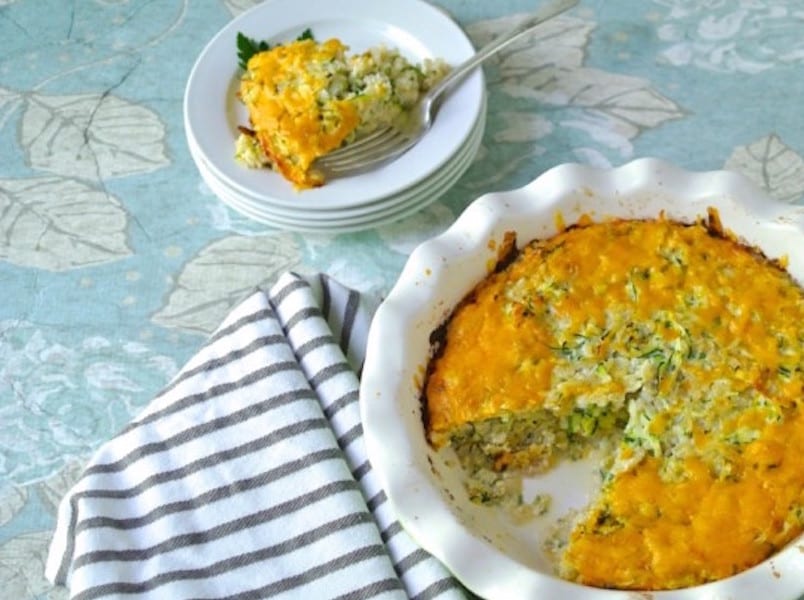 Yes, it's the month for pumpkin spiced lattes and autumn everything. Hopefully there's not a heatwave where you are, because this crustless zucchini and rice cheese pie is meant to warm your belly, not your forehead.

Rice and Zucchini Cheese Pie
Ingredients
2 eggs lightly beaten
1cup milk
2¼cups cooked long-grain brown rice
1½cups grated zucchini, water squeezed out
3tablespoons finely chopped flat-leaf parsley
½teaspoon salt
⅛teaspoon pepper
1cup (4 oz) shredded sharp cheddar cheese, divided
Instructions
Preheat oven to 375°F. Coat a 9-inch pie plate with cooking spray.
In a large bowl whisk eggs and milk. Stir in rice, zucchini, parsley, salt, pepper and ½ cup cheese. Pour into pie plate. Sprinkle with remaining ½ cup cheese.
Bake 30 minutes or until a knife inserted in middle comes out clean. Let stand 10 minutes before serving.