These pumpkin cranberry breakfast cookies make for a great breakfast on-the-go.
This article has been posted with permission and originally appeared as, "Pumpkin-Cranberry Breakfast Cookies"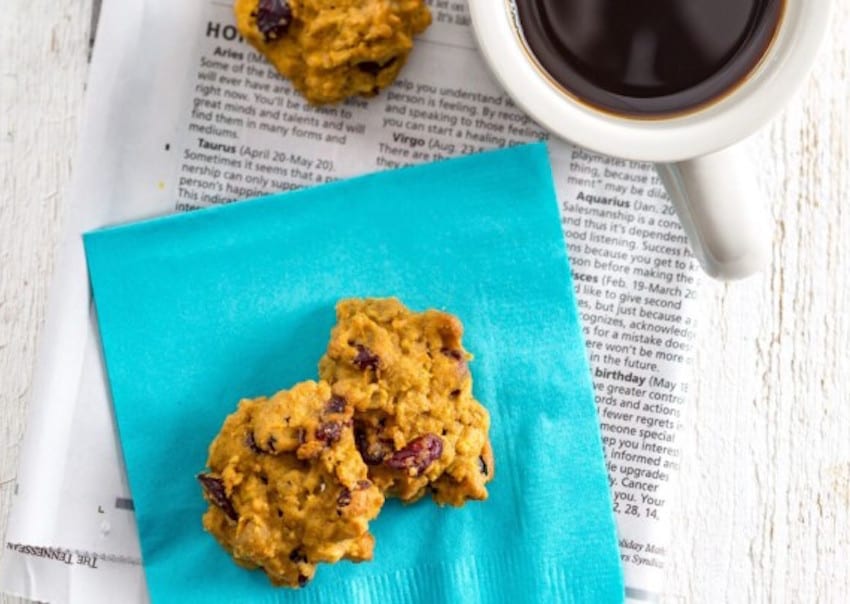 Mark Boughton Photography / Styling by Teresa Blackburn
There are two types of breakfast eaters – the sweet and the savory. Every now and then it's good to mix it up. With fall just around the corner, these pumpkin cranberry breakfast cookies will help you start your day off to a sensibly sweet start. Tip: Make a batch of these on the weekend and store in the freezer!

Pumpkin Cranberry Breakfast Cookies
Ingredients
1¼ cups whole-wheat flour
½teaspoon baking soda
½ teaspoon ground ginger or pumpkin pie spice
½teaspoon salt
2tablespoons butter
¼cup canola oil
⅓cup maple syrup
1 egg
1teaspoon vanilla extract
⅓cup pumpkin puree (like Libby's)
1cup old-fashioned oats
½cup dried cranberries (like Craisins)
⅓cup chopped walnuts
Instructions
Combine flour, baking soda, ginger and salt in a bowl.
Using an electric mixer on medium speed, beat together butter, oil and syrup in a mixing bowl until creamy. Add egg, vanilla and pumpkin. Beat until smooth. Add flour mixture and beat 30 seconds.
Fold in oats, dried cranberries and walnuts. Refrigerate 30 minutes.
Preheat oven to 350°F. Line baking sheets with waxed paper.
Scoop dough by heaping tablespoons 2 inches apart onto baking sheets. Bake 12 to 13 minutes, until light golden. Remove from oven and transfer cookies to a wire rack to cool completely.