This carrot gnocchi recipe is a blissed-out, orange-hued, vegan, and gluten-free take on the classic.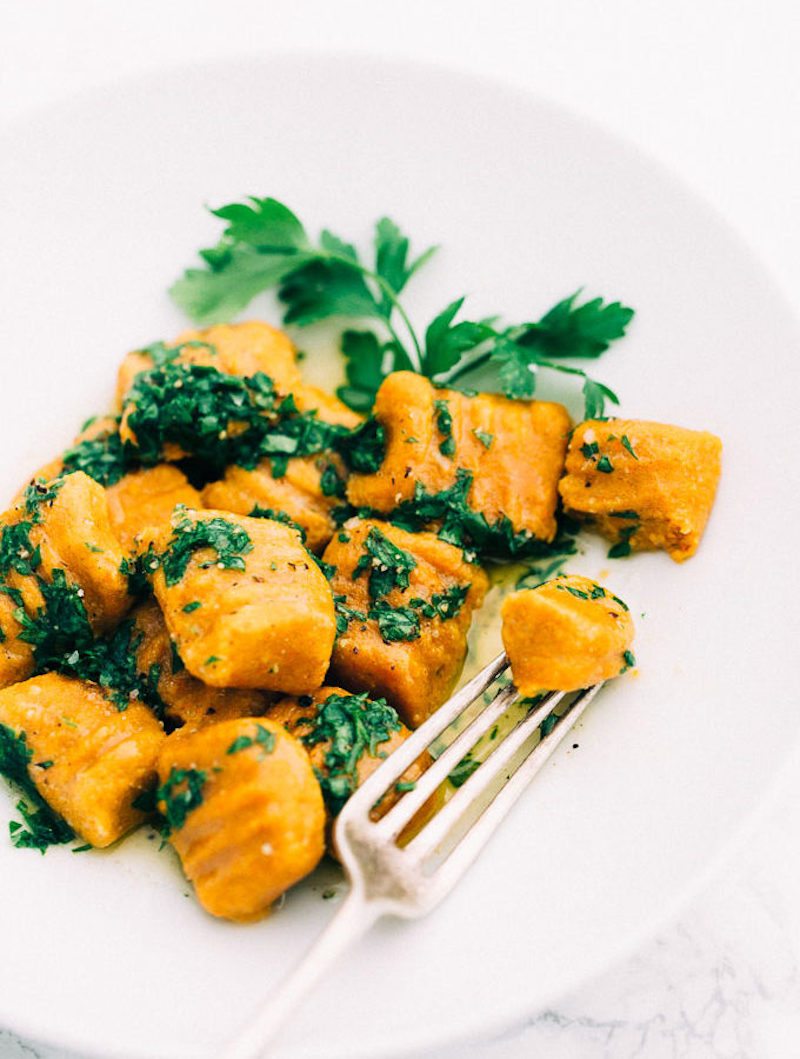 Just 5 ingredients (plus salt) and the tiniest bit of endurance yields pillow-shaped pasta that plays nicely with many varieties of sauce. Think herb-infused vegan butter or olive oil, marinara, pesto, etc.
A heaping pound of carrots is diced, steamed, and puréed to perfection. The purée is folded into a mixture of blanched almond flour, arrowroot starch, nutritional yeast, and sea salt. Then, oat flour is slowly added in until the desired texture is reached.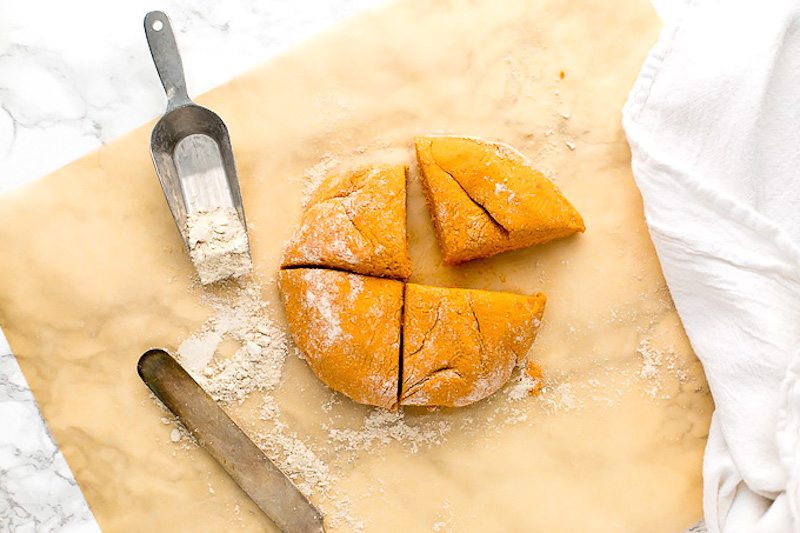 The dough is gently formed into a disc and quartered (above photo). Then, each piece is softly kneaded, rolled into a 1-inch thick rope, and sliced into 1-inch pieces.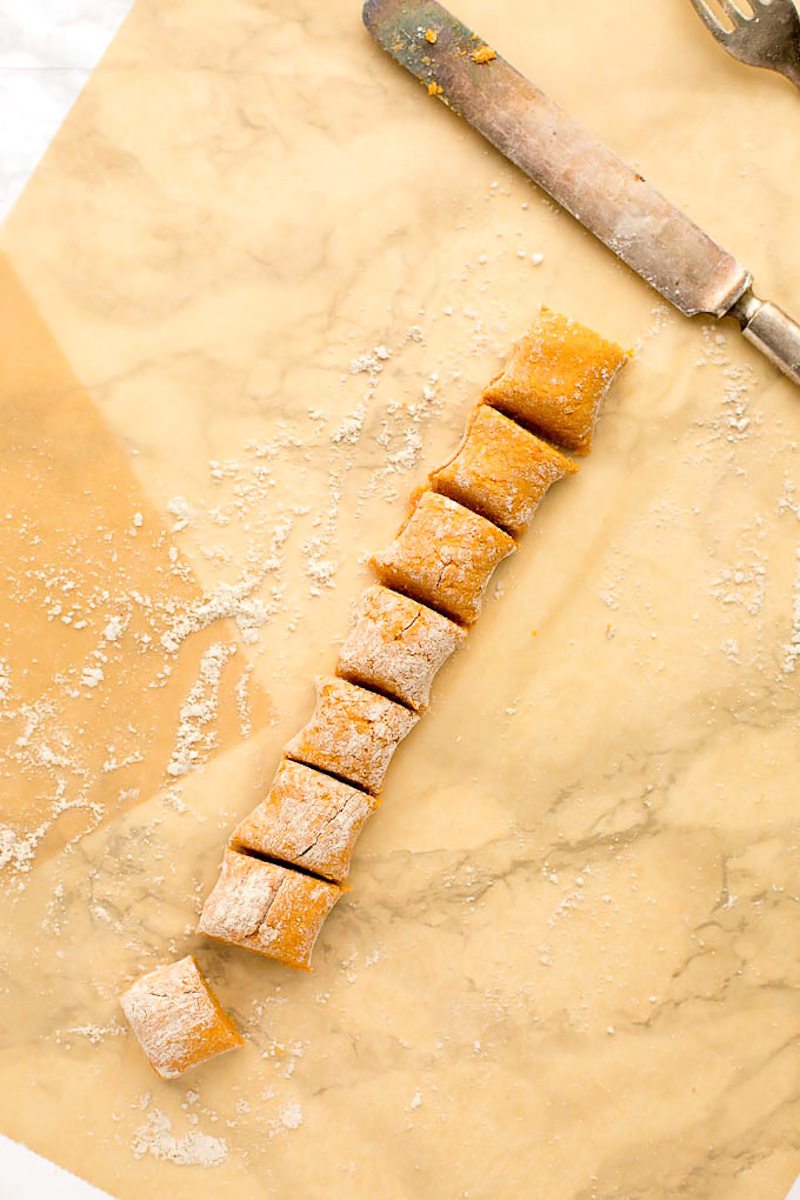 Each little pillow of dough is carefully rolled down the backside tines of a fork, leaving behind soft, sauce-snuggling indentations.
Once the gnocchi are formed, you'll drop them (in batches) into boiling water. They cook up quickly, averaging just 2 to 3 minutes, and you'll know they're done when they float to the surface.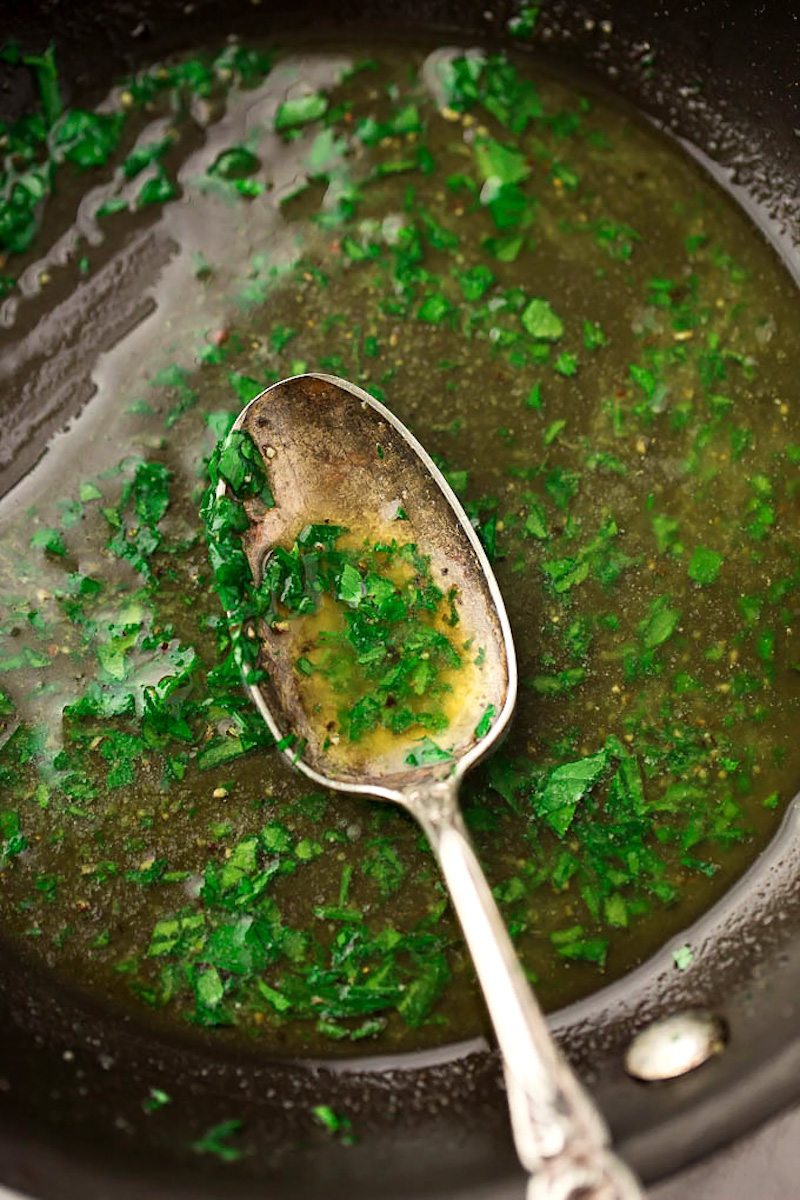 See Also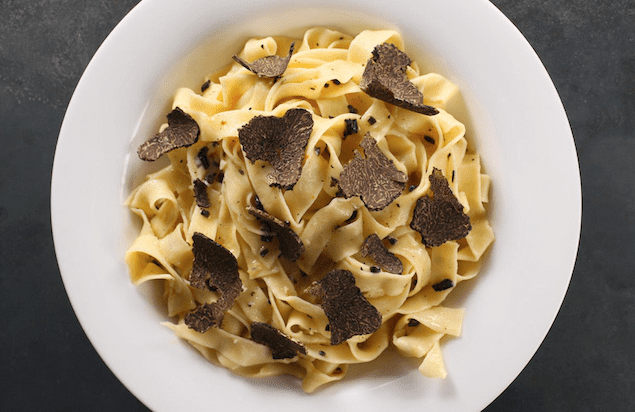 Once they're done, skim them off the top, escort them to a proper serving bowl, and toss with your sauce of choice. I recommend an herb-infused olive oil or vegan butter sauce for a bright, complementary pop of flavor.
Once they're nice and saucy, there's just one thing left to do, and I think you know what it is…
Enjoy!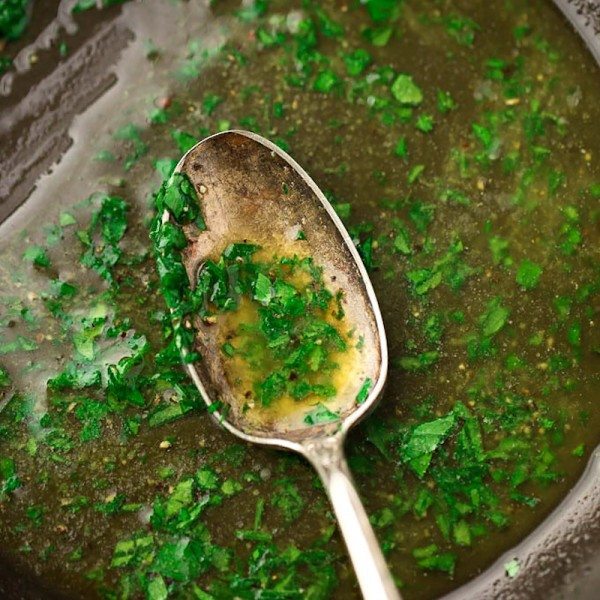 Ashley Melillo
Ingredients
1

pound

454g carrots, peeled and diced (about 2 1/4 cups)

1/3

cup

blanched almond flour*

1/4

cup

plus 2 tablespoons arrowroot starch

2

tablespoons

nutritional yeast flakes

1/2

teaspoon

sea salt

3/4 to 1

cup

oat flour

plus more as needed and for flouring**
Instructions
Steam the carrots in a steamer or steamer basket for 25 minutes, or until tender.

Meanwhile, in a large bowl, whisk together the almond flour, arrowroot, nutritional yeast, and sea salt. Form a shallow well in the middle.

Transfer the steamed carrots to a food processor and process for 30 seconds, or until puréed, stopping to scrape down the sides as needed. The texture won't be perfectly smooth but rather like a thorough mash.

Add the carrot purée to the center of the flour well. Use a spatula to mix until the dry ingredients have been incorporated, folding the flour mixture in to the carrots. Then, add the oat flour 1/4 cup at a time and mix. Repeat until 3/4 cup has been incorporated. Allow the dough rest for 5 to 10 minutes and then evaluate whether or not you need to add the additional 1/4 cup***. The dough should be tacky yet easy to handle when dusted with oat flour.

Line a baking tray with parchment paper, and bring a large stockpot of water to a vigorous boil.

Liberally flour a clean work surface with more oat flour and turn the dough out onto it.

Gently shape the dough into a disc, and slice into four equal pieces.

One at a time, gently knead each piece of dough for a few seconds to smooth out. Then, roll into a 1-inch thick rope. Slice the rope into equal 1-inch pieces. Gently roll each down the backside of a fork, allowing the tines to make soft imprints. Transfer to the lined baking tray. Repeat until all of the dough has been formed.

Add about 1/3 of the gnocchi to the boiling water. Boil for 2 to 3 minutes, or until they float to the surface. Do not overcook. Use a pasta scoop to remove from the water and transfer to a serving bowl.

Repeat until all of the gnocchi is cooked.

Serve the gnocchi warm with sauce of choice. I recommend making an herb-infused olive oil or herb-infused vegan butter, sea salt, and black pepper (see notes). They're also delicious when pan-fried in an herb-infused sauce.
Recipe Notes
*Blanched almond flour is different than almond meal. It's lighter and airer. If you substitute it with almond meal, do so at your own risk as I haven't tested the recipe with that swap.

**Please, for the sake of all things delicious, do not substitute the oat flour with coconut flour. Coconut flour isn't a suitable 1:1 replacement for oat flour (or any flour for that matter) and will result in dry, inedible rocks instead of pillowy pasta.

***Keep in mind that the more flour you add, the heavier/denser the gnocchi will become. I typically have to add just shy of 1 cup but go on look and feel of the dough.

To make an herb-infused olive oil or vegan butter: Add a few tablespoons of olive oil or vegan butter to a sauté pan along with chopped fresh parsley (or herbs of choice), fresh minced garlic or a few shakes of garlic powder, sea salt, black pepper, and red pepper flakes (if desired). Heat over medium-low for 2 to 4 minutes, or until hot and simmering. Spoon over the gnocchi.
Ashley Melillo
Ashley Melillo is the creator of Blissful Basil, a blog dedicated to unearthing the happiest side of life through wholesome, plant-based foods. Being a school psychologist and food blogger, Ashley incorporates a wide array of health-enhancing ingredients into her recipes with the hope of guiding others on their path towards improved well-being.