This is a gluten-free, breaded and baked cod recipe that will have everyone, including little ones, eating fish.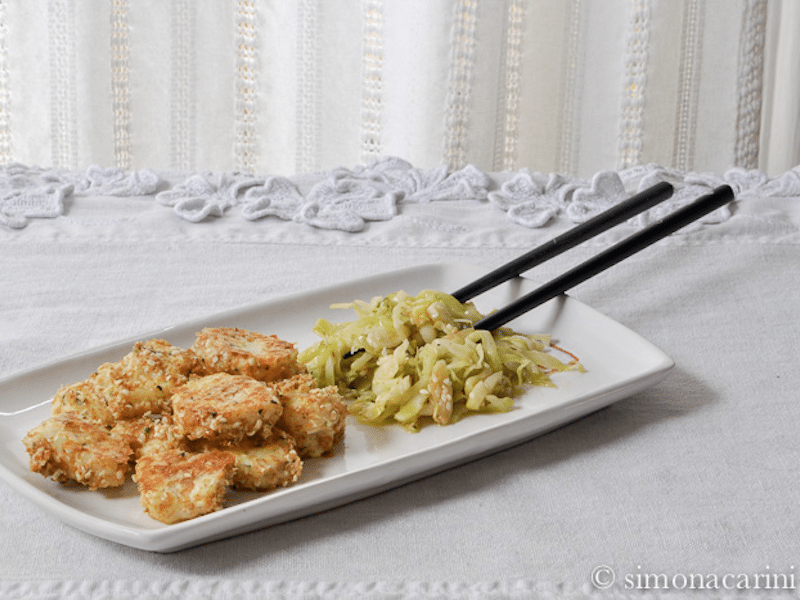 As a child I didn't like fish, particularly fried fish (pesce fritto). On the other hand, I liked other fried food my mother made: breaded meat (cotoletta) or chicken breast, battered cauliflower florets, potato croquettes (crocchette di patate) and of course supplì (rice croquette). Later in life I learned to like fish.
In general, I don't deep-fry in my kitchen, but I like the crisp crust (crosticina) foods acquire when breaded and fried. Baking breaded foods approximates the result well. A recipe I came across for chicken nuggets that uses chia seeds and ground flaxseed for the breading prompted me to first try a variation using chicken and then to apply the same approach to fish. The result was much appreciated at the table.

Gluten Free Breaded Cod
Ingredients
1 pound / 450 g skinless Pacific cod fillet (or similar fish)
1 large egg, possibly from pastured poultry
1 teaspoon water
4 tablespoons / 30 g ground flaxseed
4 tablespoons / 20 g hemp hearts (raw shelled hemp seeds)
20 g freshly grated Parmigiano-Reggiano
½ teaspoon fine sea salt, divided in half
Instructions
Heat oven to 400 F / 205 C. Line a baking sheet with parchment paper.
In a bowl, whisk egg with the water and ¼ teaspoon of the salt.
In another bowl, mix the breading ingredients: ground flaxseed, hemp hearts, cheese and ¼ teaspoon salt.
Cut the fish into bite-sized pieces, add them to the bowl with the egg and stir well to coat.
Roll the pieces of fish in the breading then lay onto the lined baking sheet to form a single layer.
Bake 10 minutes, then turn over the fish. Bake another 10 minutes or until the cod flakes easily with a fork and the breading is crisp.
Serve immediately.