If you read a handful of recipes for chocolate bread pudding, you'll find that the ingredients are more similar that not. The differences tend to be cream vs. milk, yolk vs. egg, and in the variety of chocolate types and volumes. Bread pudding can be made with all sorts of bread, from challah, to brioche, to cinnamon-raisin bread.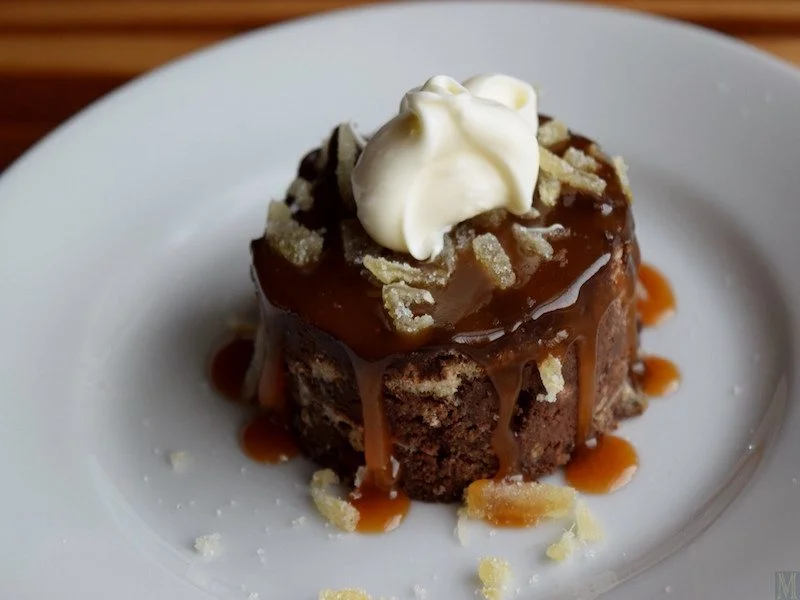 I used pieces of French bread, half of which were sourdough. Most of the bread was crumb; some of it was crust. Some people make their bread pudding with neat slices of bread. I don't find that appealing, which turns out to be handy, because the bread I had on hand was quite the opposite of neat-looking.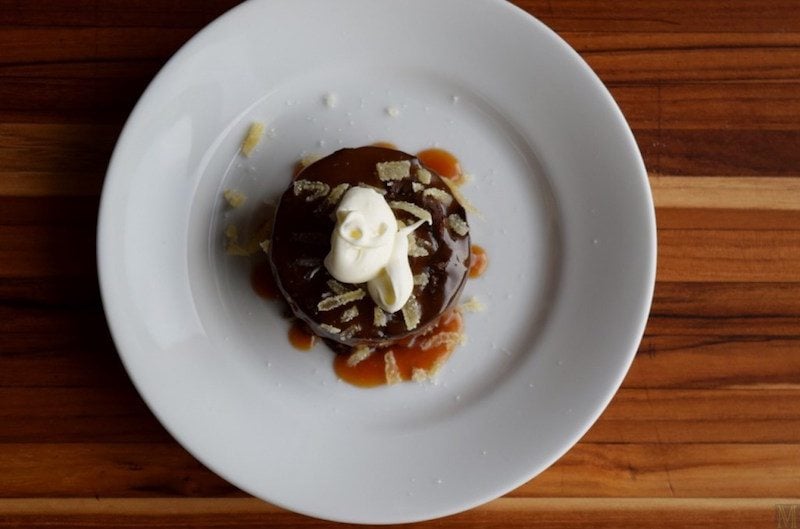 My first attempt at this pudding was far too rich, and I underestimated the sturdiness of a baguette. You need to soak that bread seriously. Also, you might not like the combination of sourdough and dark chocolate; it's not for everyone. Use a sweeter (or milk) chocolate if you like.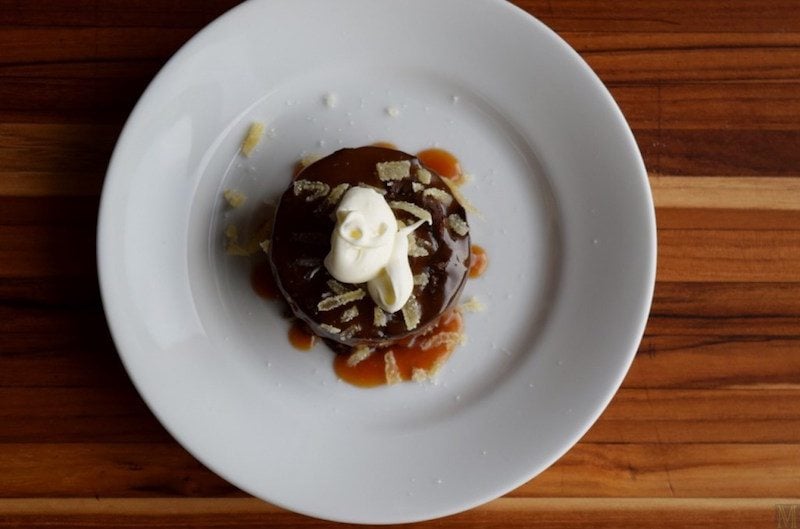 Chocolate Bread Pudding with Crystalized Ginger, Caramel Drizzle, and Crème Fraîche
Jeff Kleinsorge
Ingredients
8

oz.

cream

1 cup

1

lb.

8 oz. milk

whole, but 1% works, 3 cups

1

Tbs

vanilla

or 1 vanilla bean

1

lb.

bittersweet chocolate

finely chopped

6

egg yolks

¼

cup

sugar

¾

tsp

coarse salt

1

lb.

day-old bread

ripped into small, dainty bite-size chunks

9

oz.

bittersweet chocolate chips

1½ cups

2½

oz.

crystalized or candied ginger

for serving

Caramel sauce

for serving

Crème fraîche

for serving
Instructions
Pour the cream and milk into a saucepan. If you're using the bean, you'll have to heat the cream-and-milk mixture just to the boiling point (about 10 minutes over med-high heat), steep the bean in it for about 5 minutes, strain out the husk, reheat the milk just to the point of boiling once again, and add the chocolate. If you use extract, simply heat the milk once, add the chocolate, and pour the extract over it. If you have the right size pan, you can add the chocolate to the milk mixture. If you don't, put the chocolate into a large mixing bowl, and pour the milk over it. One way or another, you'll wind up with hot vanilla-milk and chocolate. Let it sit for about 2 minutes, and the whisk until smooth.

Whisk yolks, sugar, and salt. Next, you must combine the yolk mixture with the hot chocolate mixture without cooking the yolks. I suggest this: add ¼-cup of the chocolate to the yolks, pouring it so that it runs down the side of the mixing bowl, into the yolk mixture. Quickly begin whisking. Slowly add three ¼-cups of chocolate, one at a time, whisking dilligently. Test the yolk mixture with your finger. It should feel tepid. If it's warmer than that, continue to add chocolate in the same manner until it is. Pour the yolk mixture into the remaining chocolate, in a slow, continuous stream, whisking constantly.

Pour half of the chocolate mixture over the bread. Toss until the bread is fully coated. Add the chocolate chips, and toss once again. Spread the bread into a 9×13-inch baking dish, making a deliberate effort to even it out. Pour the remaining chocolate over it. Let it stand for 60 minutes.

Bake at 325ºF for 39-35 minutes, until glossy on top, and set in the middle. Cool for 15 minutes before serving. (It's delicious warm, room temperature, or cold.)

To serve, sprinkle 1 Tbs ginger over a serving. Drizzle with caramel. Top with a heaping Tbs of crème.
Jeff Make it Like a Man
Jeff is a well-seasoned home cook who produces Make It Like a Man, an occasionally irreverent blog about more-or-less everyday cooking. When he's not at home making vanilla extract, Jeff divides his time between hanging in out in cafés and dedicating himself to several arts and culinary-related Chicago-area non-profits. He is also a member of the Board of Directors of Chicago Food Bloggers.