Fontainebleau Miami Beach's Executive Pastry Chef Brielle Fratellone succeeds in crafting an exclusive dark chocolate called Sapphire Noir.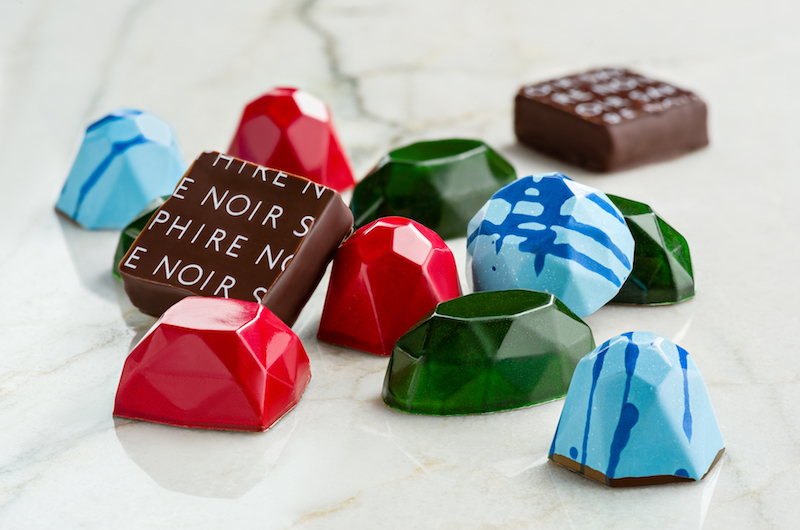 I'll admit, I'm a bit of Chocolate Fanatic. I love breaking off a piece from a decadent bar of chocolate I have stashed in my kitchen cabinet at 2 AM, and my friends will tell you that I don't share any of my chocolate desserts with anyone. That's why I'm a bit envious that Fontainebleau's Executive Pastry got to craft the Fontainebleau Miami Beach's exclusive Sapphire Noir.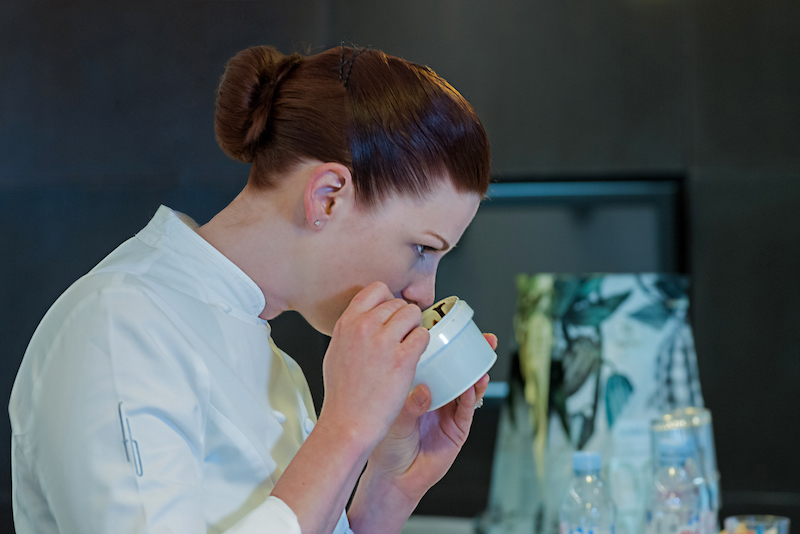 Collaborating with world-renowned French chocolate brand Cacao Barry, Chef Brielle traveled to the French chocolatier's lab, Or Noir in Meulan, France to customize the Fontainebleau's newest creation. But where do you begin? By building a flavor profile.
Chef Brielle looked for a flavor profile that would represent Miami by combining tropical tastes of yellow fruits and coconut with toasted nuts. But this wasn't an easy task. Chef Brielle wanted to achieve the right balance of acidity, sweetness, and bitterness to create the perfect dark chocolate. To create that harmony, Chef Brielle spent several days tasting and retesting each cocoa bean until she achieved what is now call Sapphire Noir. The final recipe incorporates cocoa beans from the Dominican Republic, Ecuador, and Mexico and features a full cocoa taste that unveils yellow fruits with woody notes.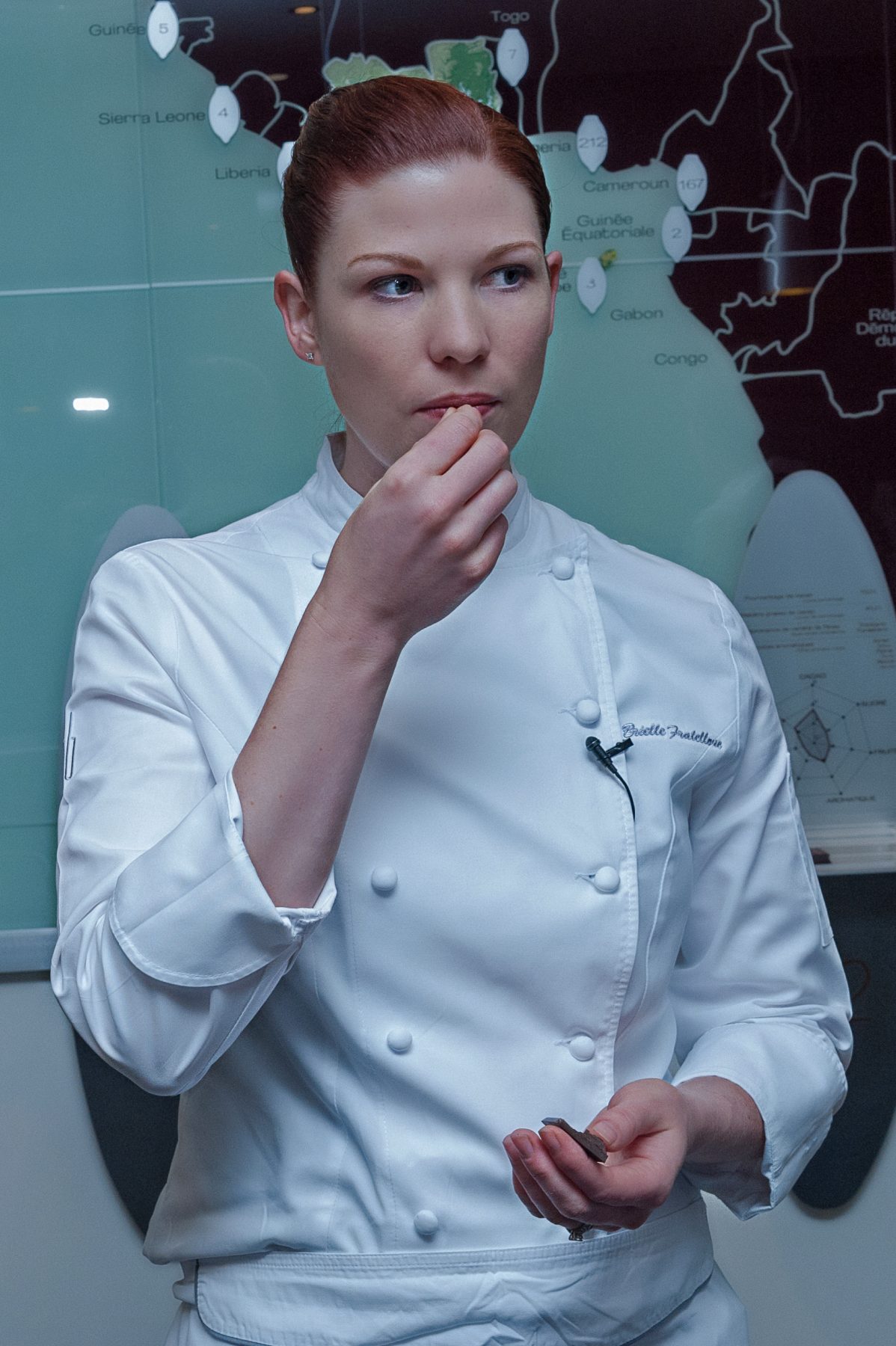 Like beautiful sapphires, rubies and emeralds, the name Sapphire Noir comes from the relation that chocolate has with these precious jewels. Each must have the perfect environment, temperature and ingredients to produce stable, beautiful crystals. Similar to crystals, chocolate must be worked within the ideal temperature and environment to achieve the perfect texture and flavor. Because of this relation, the Signature Gemstone collection was created. An assortment of four Sapphire Noir pralines artistically designed to look like jewels which consist of the classic Sapphire Noir, mango chili, caramel plantain, and smokey mezcal can be purchased separately or in a beautiful gift box.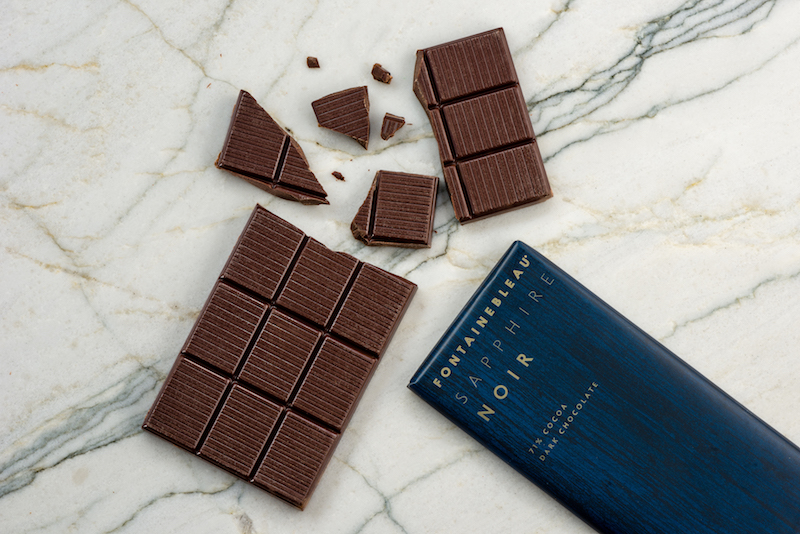 By creating Sapphire Noir, the Fontainebleau Miami Beach is proud to state they are the only hotel in the U.S. to retain their own, customized dark chocolate which can only be purchased at the hotel or eaten in the hotel's signature coffee and patisserie shop, Chez Bon Bon and incorporated in specialty dessert selections in the hotel's signature restaurants Scarpetta by Scott Conant, Hakkasan and StripSteak by Michael Mina which also hosts a chocolate and wine pairing experience.
Since the exclusive Sapphire Noir collection is only sold at the Fontainebleau Miami Beach, this is the perfect reason to take a vacation or ask a friend to pick you up some. And can you pick me up some as well? My friends won't because…..well, as mentioned I'm not a very good sharer.
Gabe Fanelli
In another lifetime I went to Culinary School (ICE) and graduated with a degree in Pastry Arts. I interned and worked for a bit in the Test Kitchen of Rachael Ray's Magazine "Everyday with Rachael Ray" but missed meeting her by 15 minutes. Currently, I'm the Marketing Director for Town Sports because after eating all of that pastry and working in a test kitchen, I needed a free gym membership.