Roasted Potato Wedges with Beet Leaves Pesto
These international potato roast wedges are covered with beet leaves pesto sauce, making it one sumptuous side dish. A simple and easy vegetarian recipe.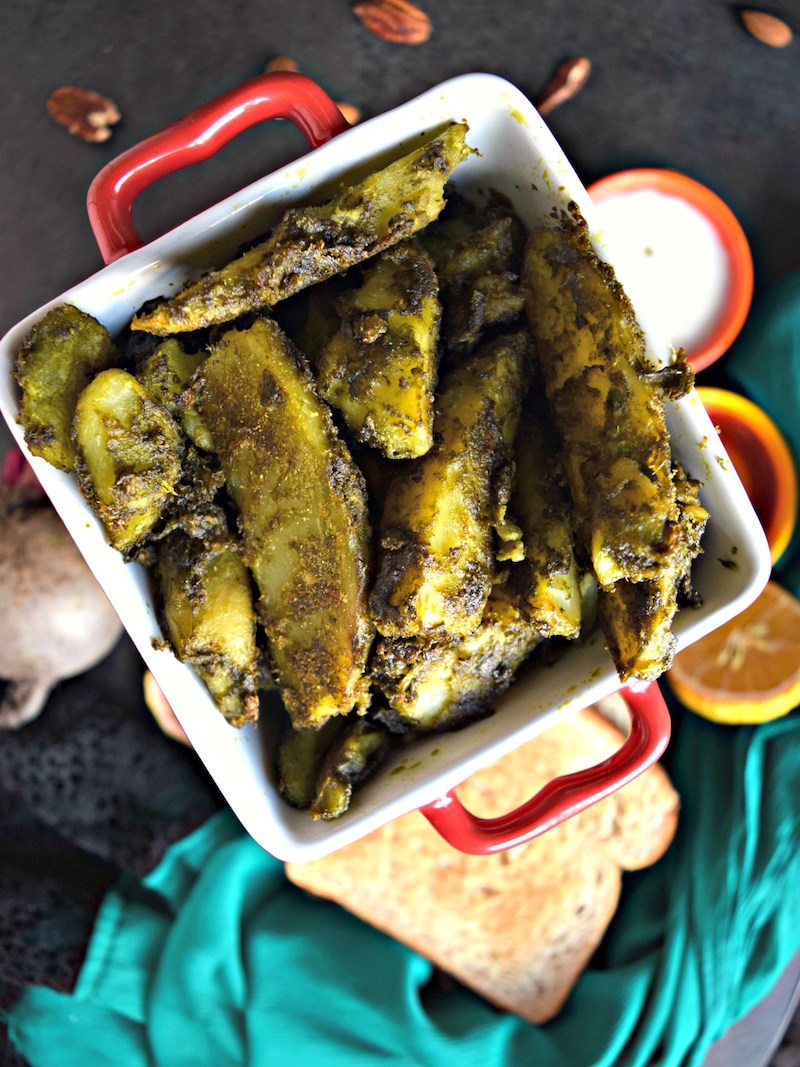 These potatoes roasted in freshly made pesto sauce is the best thing that you would taste today! This pesto sauce is extra special because its made with beetroot leaves. Why? Because I had some beet leaves which I wanted to put to a good use! As simple as that. While I was scratching my head on how to use these nutritious leaves, I came across this article which was talking about the benefits of consuming beet leaves. In there, it was mentioned that we can even use it to make pesto sauce. That was all the inspiration I needed. I came up with my own version of pesto sauce recipe using ingredients at hand.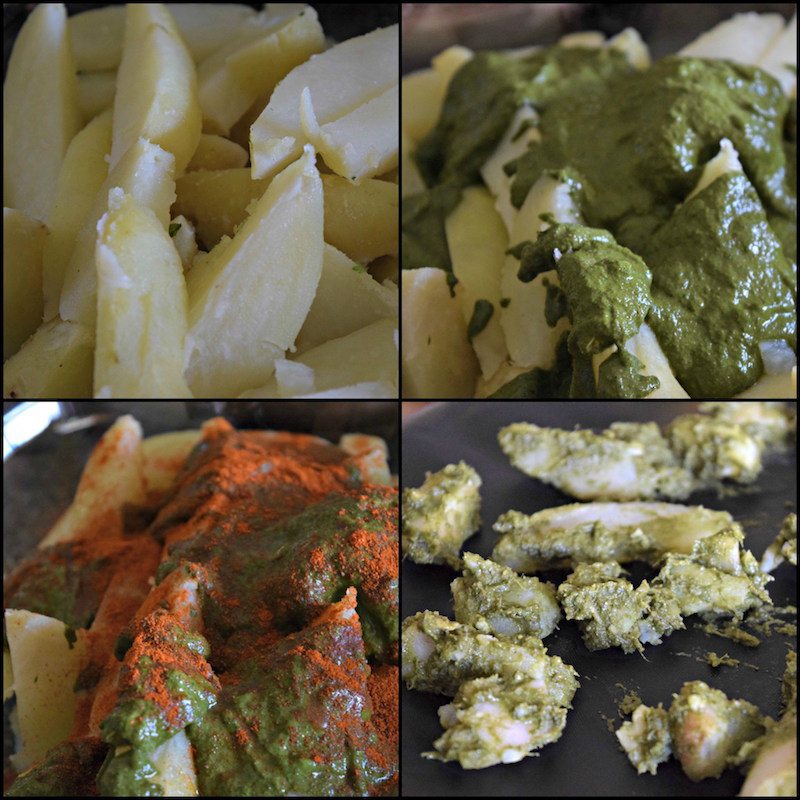 I have used beet leaves before in a recipe before – Beets Bahaar, where I have utilized the beetroot entirely with its leaves to make this wonderful recipe. Do check it out. I enjoy cooking with beetroot and therefore land up with its leaves quite often. I add them to chutney and gravy pastes whenever I can. This time however, I wanted to try something different. Hence the idea of making fresh pesto sauce with beet leaves.
The recipe is extremely simple and easy to make. First separate the leaves from the beets. Wash them thoroughly and then blanch them in hot water for 2 minutes. Add them to a processor along with any nuts like almonds/walnuts/pine nuts, garlic, parsley, cilantro, basil, salt, pepper powder and blitz it to a smooth paste by adding enough olive oil. Beet leaves pesto sauce is ready.
Now to prepare the potato roast, boil the potatoes, peel and cut them in wedges. Add the pesto sauce, chilly powder, and toss it lightly so that it coats the potatoes well. It is fine if some potatoes break a little in the process. Preheat the oven to 400 degrees F. Place these pesto wedges on a grill mat over a baking tray and bake it for 15-20 minutes.
Once you can see the charred potatoes, its done. Sprinkle chaat masala on top and serve with toasted bread. It makes a great side dish or lunch box recipe. The pesto sauce can be made in advance and used as needed.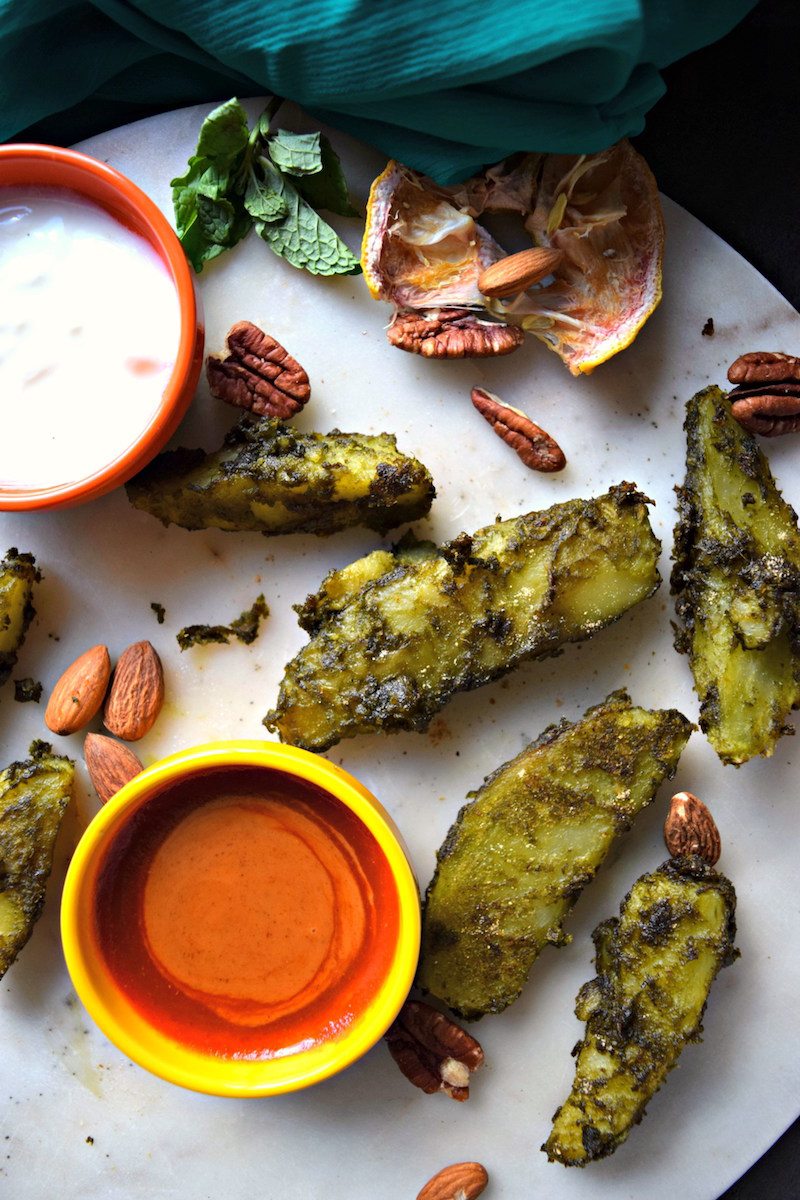 Coating a vegetable with pesto gives it a fantastic thick coating of intense flavor and color, and is such an easy way to marinade your food. The roasted potatoes with pesto taste just great and can even be munched as is as a light snack. Serve it with a yogurt dip to enhance the taste.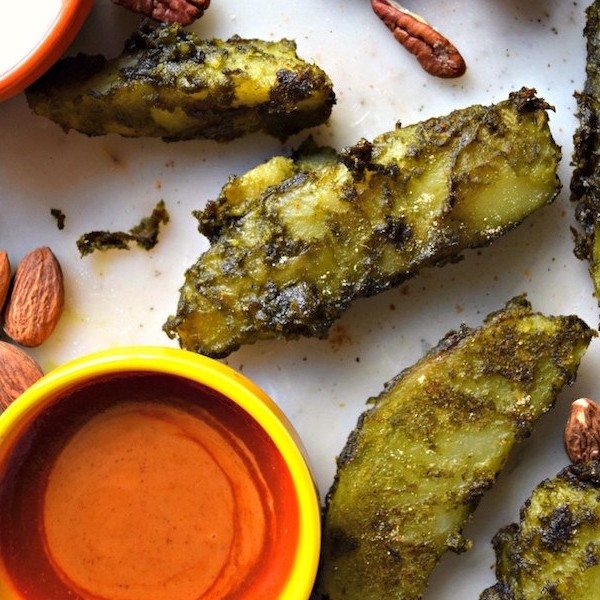 Roasted Potato Wedges with Beet Leaves Pesto
Priya Lakshminarayan
Ingredients
6-7

beetroot leaves

2

cloves

of garlic

1/2

cup

walnuts

10

almonds

1/2

cup

basil leaves

1/2

cup

parsley

1/2

cup

cilantro

Salt & Pepper to taste

3-4

potatoes

1

tsp

chilly powder

Olive oil as required
Priya Lakshminarayan
An Indian vegetarian/vegan food blogger from Florida who loves to cook, host, develop new recipes, style food and photograph it too. When not cooking/blogging, loves to travel and do DIY crafts.