Sinigang is a Filipino sour soup dish prepared with tamarind and meats like pork belly, gabi, beef, chicken, pork ribs, fish and prawns. It's often also also made with different vegetables like kangkong, taro, radish, green beans, okra, bok choi, green chillies, tomatoes and eggplant.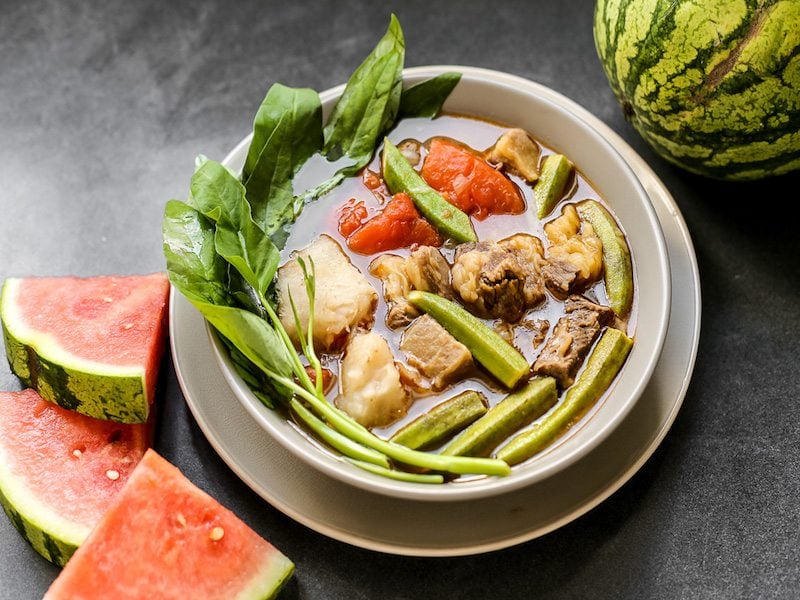 A true Filipino dish that can be traced back even before the Spanish came to the Philippines, as suggested by food historians its origins are most likely indigenous hence there is no documentation of where and what is the origin of sinigang is.
Having said that there are similar dishes on neighboring countries like the Malaysian Assam Pedas Ikan, Indonesian Sayur Asem, Vietnamese Canh Chua and Thai Tom Yum which can be an origin of Sinigang.
Through time this sour broth dish had evolved into many forms where souring agents were changed; from tamarind to different fruits like guava, raw mango, green mango, calamansi, lemon, kamias and santol to name some. But there is this new kid on the block where fruits are used, not as a sour element, but to enhance the flavor by adding a sweet profile to it – hence strawberries and even watermelon is used.
See Also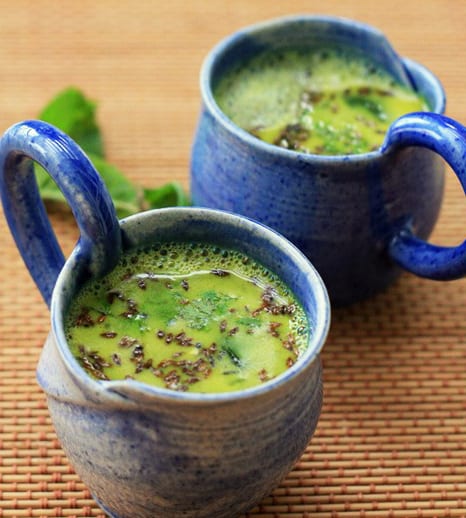 At first I was a bit skeptical on this new style of sinigang but after I tried it, the dish makes sense as the sweet flavor adds to the complexity at the same time complements the already existing sour, savory and sometimes hot profile.
Sinigang sa Pakwan like the name suggest, it's a sinigang but with pakwan added (watermelon), it still uses the same tamarind souring agent but with the addition of other ingredients that contributes to its fresh taste like the ginger and lemongrass. I love this dish – in fact I don't think I can go back to the usual beef or pork sinigang recipe; the sweetness gives so much flavor it's even more addicting than the original version.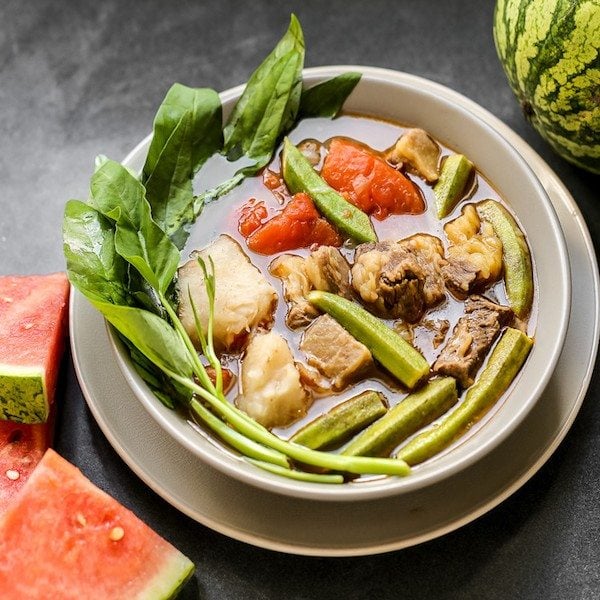 A Traditional Filipino Dish - Sinigang
Ang Sarap
Sinigang is a Filipino sour soup dish prepared with tamarind, a meats like pork, beef, chicken, fish and prawns.
Cuisine
Asian-inspired, Filipino
Ingredients
1

kg

beef brisket

cut into cubes

1

large seedless watermelon

peeled and cubed

8-10

pcs round small taro

peeled

12-15

pcs okra

1

bunch water spinach

trimmed

1

large white onion

cut into wedges

1

thumb sized ginger

thinly sliced

2

stalk lemongrass

white part only, whole and pounded

4

pcs green finger chili peppers

40

g

packet sinigang

tamarind mix or 400 g tamarind

fish sauce

freshly ground black pepper
Instructions
Boil beef in a large pot of water for 10 minutes just to remove the scum, rinse in running water to remove any impurities.

Place watermelon on the bottom then top it with beef, onion, ginger and lemongrass then top it up with water just enough to cover everything. If using tamarind place it on a muslin cloth and tie the ends. Bring to a boil then simmer for 1 hour.

Add the taro then continue to simmer for 30 minutes.

Add the sinigang mix or if using tamarind extract all the juice by wringing the muslin cloth multiple times then remove once all juice is extracted. Remove the lemongrass at this point.

Add green finger chillies and okra then cook for 5 minutes.

While boiling add the kangkong leaves and cover, turn of the heat.

Season with freshly ground black pepper and fish sauce.
Keyword
asian, filipino, soup, sour, sweet and sour
Ang Sarap
Hi I am Raymund a Filipino living in New Zealand, I'm not a cook nor a chef but I love cooking and it is my passion. My real job is an IT Professional whose devotion is to develop applications (I have a Software Development blog for those who might be interested), my brain is abused at work on a daily basis so cooking at the end of the day acts as my therapy for stress release. I have been cooking since I was 7 years old and since then almost every day I prepare our dinner and weekend meals, I usually try to cook dishes that we had tried and ordered in different restaurants that's why you will see a lot of varieties at my blog Ang Sarap (angsarap.net). I learned cooking mostly by observing my Aunt who cooks for us when I was younger, I learned to bake by assisting my Mom during my younger years and for the native dishes I learned it from my Grandmother. My other passion is photography which explains the photos you see here and travelling which explains the variety of dishes and reviews of restaurants from all over the world.