Wow the crowd with this Chili Cheese Bean Dip! A little kick of spice and TONS of flavor, this is perfect with tortilla or corn chips.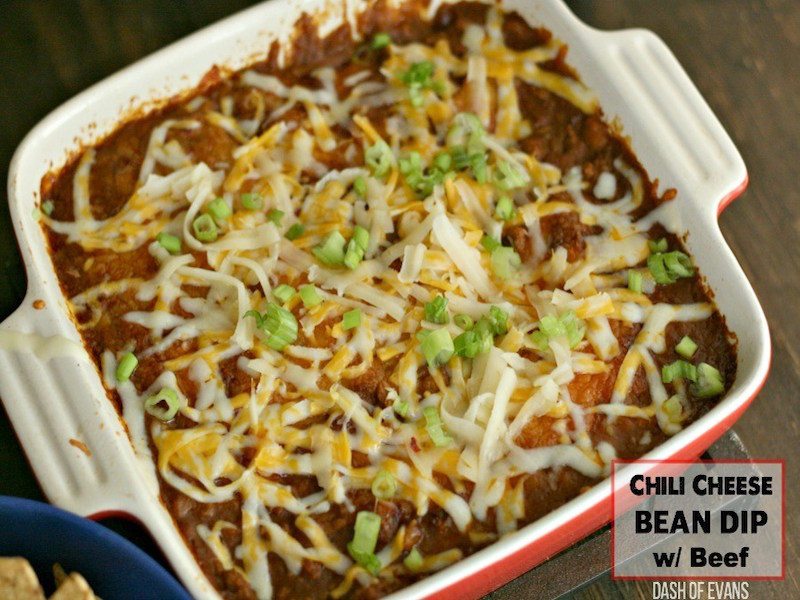 This Chili Cheese Bean Dip is a recipe that has been around in my family for decades. Super easy and cheesy–perfect for your next party!
If you're having a larger party, I highly recommend doubling the batch. This is one of those appetizers that is gone in a flash–and be sure to arm yourself with the recipe. EVERYONE will be asking how to make it. Traditionally, we serve this with Fritos Scoops, but I tried my favorite Frontera tortilla chips this time and they were delish.
I don't think turkey would hold up the same way. I used a 90/10 blend, but even 80/20 would work, you just will want to drain it quickly.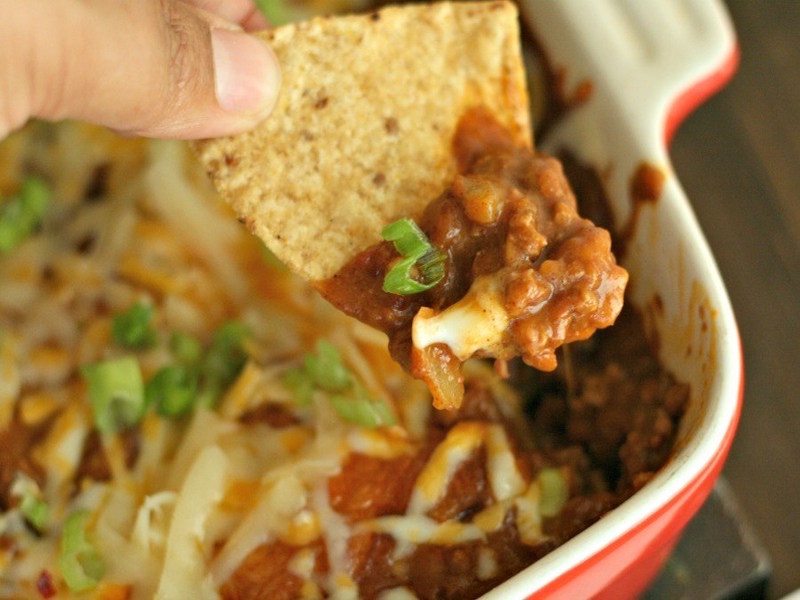 As far as the Chili beans go, I like the medium spiced ones for an extra kick. If you're super sensitive to heat, go ahead and use the mild ones. The beans are blended in a chopper to turn into an almost refried bean consistency. As tempting as it is, actual canned refried beans don't work to replace the chili beans–the chili beans have spices and a sauce that makes the dip.

Chili Cheese Bean Dip for a Party
Ingredients
1 pound ground beef (I used 90/10)
½ cup onions, finely chopped
1 can Bush's Medium Chili Beans
½ cup ketchup
¼ cup Chili Powder
1 block of colby-jack cheese, shredded
Corn Chip Scoops or Tortilla Chips for dipping
Optional: Top with green onions, diced tomatoes, avocado or olives
Instructions
Preheat the oven to 350º
Spray an 8x8 pan with cooking spray. Set aside.
In a large pan, over medium heat, cook the ground beef, crumbling with a flat spatula. Add onions.
Meanwhile, blend the entire can of chili beans in a chopper or blender until smooth.
Once the beef is cooked, add blended beans, ketchup and chili powder. Stir.
Pour the beef mixture into the 8x8 pan. Top with cheese.
Bake 20-25 minutes, until cheese is browning.
Allow to sit for 5-10 minutes before serving. [See notes for Slow-Cooker tips]
Top with green onions or any optional toppers. Enjoy!
Notes
This is also great in the slow cooker. Beforehand, cook the beef and onions, then add everything to the slow cooker, on a LOW setting. Once cheese is melted, turn to WARM. Be sure to check often to make sure the bottom isn't browning too much!