Perfect Fall Harvest Cheese Board with Apple Butter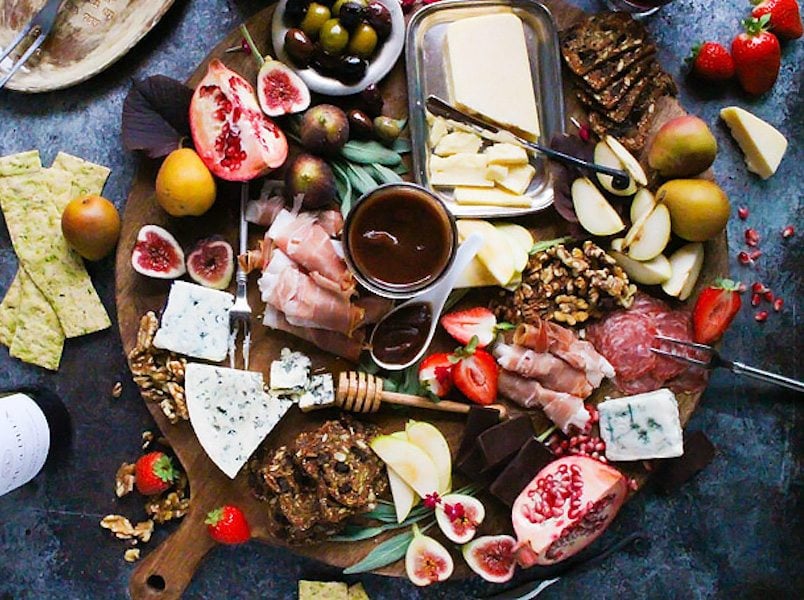 PARTNER POST- Create the perfect fall cheese board spread with Castello's selection of expertly crafted cheeses. Find inspiration here.
Create an elegant fall harvest cheese board in just four easy steps. Assemble a beautiful cheese spread garnished with seasonal produce, nuts, homemade apple butter and fresh herbs.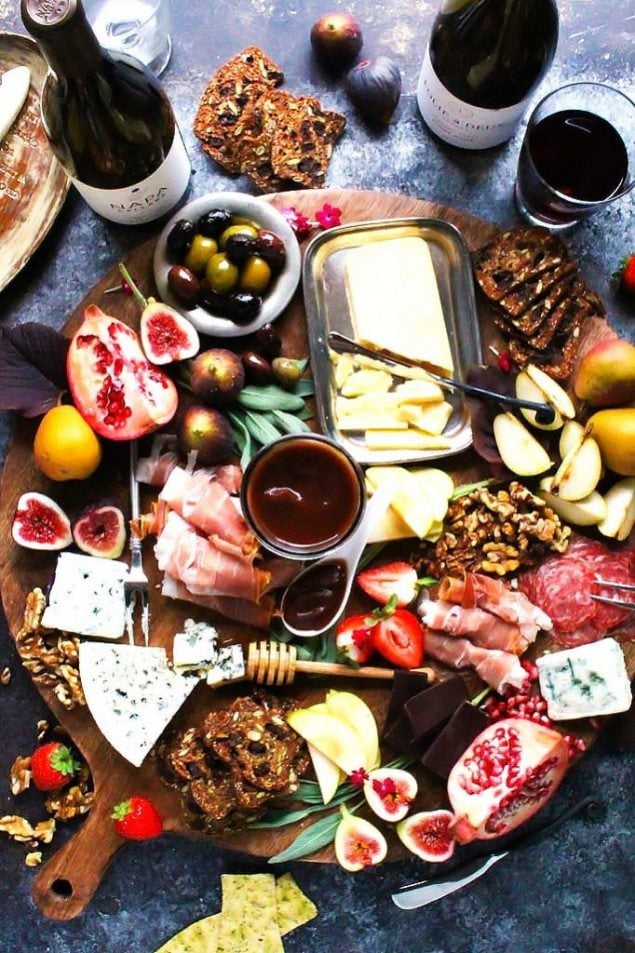 Did you know that October is American Cheese Month? It's also that time of year when it really starts to feel like autumn, and the harvest is in full swing. What better reason to celebrate with a massive platter of cheese that's shockingly gorgeous and perfect for fall?
Cheese boards are one of my favorite things to throw together for a party. My favorite part about them is how they can be customized to suit the season. It's easy to create an elegant cheese plate at home by grabbing up a few key ingredients from your local market and following these four simple steps.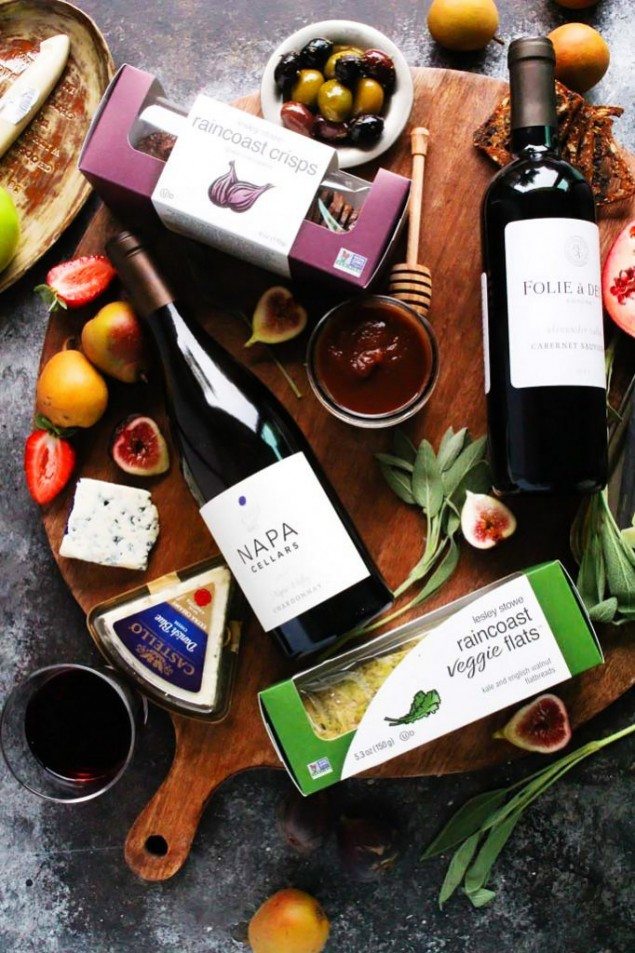 My method of attack is to choose two or three cheeses of varying types:
Aged: Havarti, Sharp Cheddar, Parmesan
Soft: Brie, Chevre
Blue: Camembert, Blue Cheese, Roquefort
Firm: Mimolette, Manchego
For this Fall Harvest Cheese Board, I chose a Castello Blue Cheese and Aged Havarti – One is creamy and pungent, the only has a bit of a bite to it and a sharp flavor.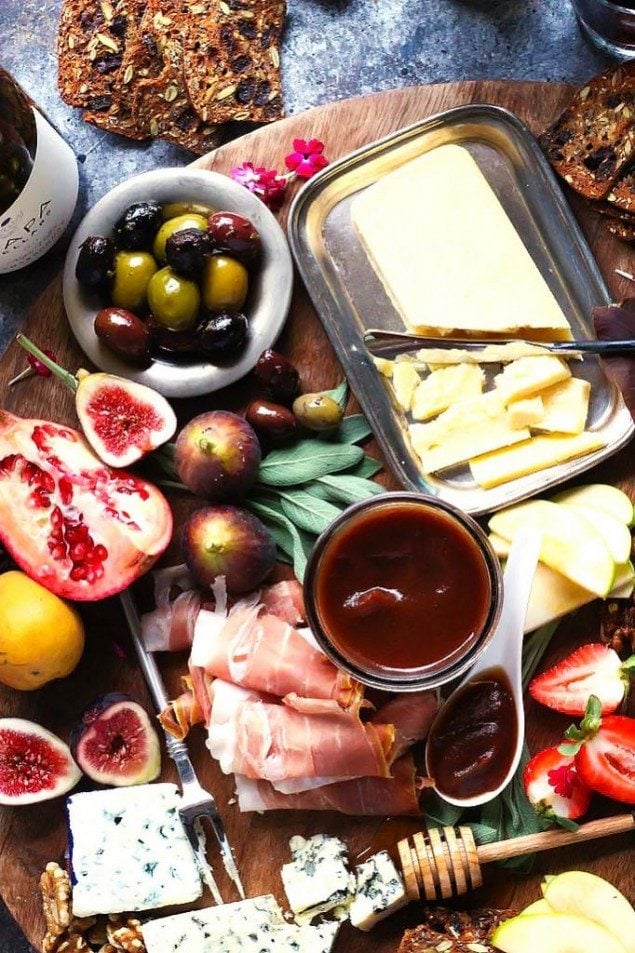 Crackers or Bread. I love to serve up my cheeses with some artisanal crackers. Here I used Lesley Stowe Fig & Olive Raincoast Crisps, which I thought would tie in the figs and olives featured on my platter nicely.
Fresh Fruit. Grab whatever looks great from your local market. During the fall season, you'll find some spectacular pears, figs, apples, grapes.
Charcuterie. Thinly sliced prosciutto and salami were my meats of choice here.
Olives. Head to the olive bar at your local market and take your pick – Kalamata and Castelvetrano olives are two of my favorites.
Nuts. Walnuts, hazelnuts, pistachios, Marcona almonds, even candied nuts. Pumpkin seeds would also make a nice accompaniment.
Honey. Honey pairs so well with fresh cheese. Try it with soft goat cheese or pungent blue cheese.
Apple Butter. As a special touch for this Harvest Cheese Board, I created a homemade Apple Butter. I thought it would be the perfect way to tie in the flavors that just call out "fall" to me – Cinnamon, nutmeg and allspice. The version that I created can be made in your slow cooker – Just slice up some apples, toss them with some sugar and spices, and let them cook together for about 12 hours. At the end, not only will your house smell fantastic, but you'll have an extra special garnish to add to your customized cheese platter. (Grab the recipe below.)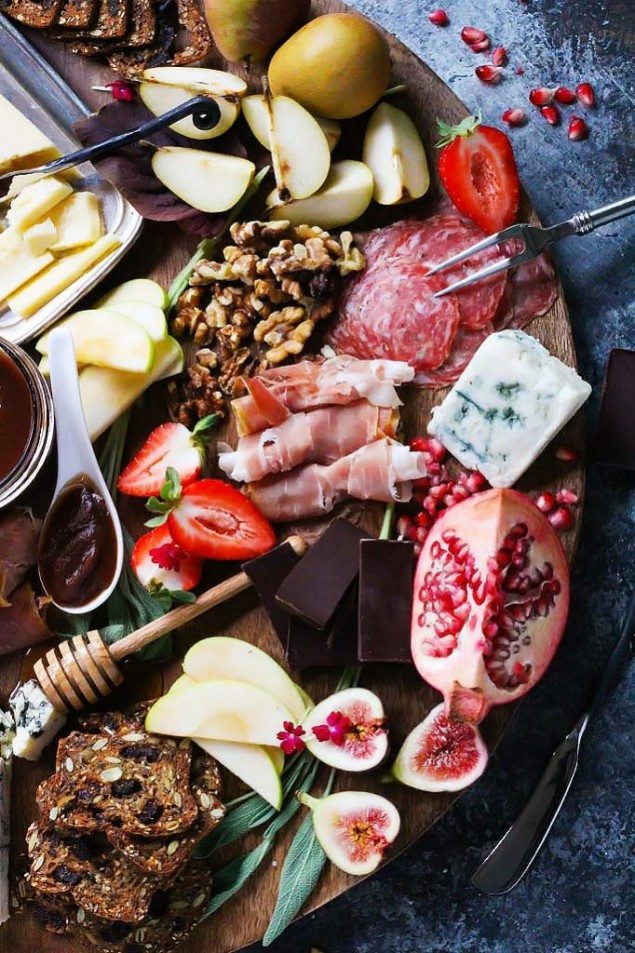 Step 3: Garnish for the Season
Grab a big board or platter and start arranging. I like to place my cheeses first and then I'll gather some greenery like apple leaves, orange leaves, dried corn husks, fresh herbs (I used sage here) and edible flowers. Slice up some of the fruit and arrange them on your platter along with the charcuterie, small dishes of olives, and your honey and apple butter spread. Be sure to have separate serving utensils for each of the cheeses and spreads, as well as a small dish for olive pits.
Step 4: Open the Wine
Choose two or three different types of wine, based on the number of cheeses you choose. Some of my favorite wines for pairing with cheese are Cabernet Sauvignon, Zinfandel, Pinot Noir, Merlot, Chardonnay and Sauvignon Blanc. For this particular platter, I chose a Folie à Deux Sonoma Coast Pinot Noir ($20) and a Napa Cellars Chardonnay ($22).
One of the key benefits to serving a cheese plate is that all your work can be done ahead of time, leaving you free to spend time with your guests.
Looking for more cheese board spreads and inspiration? Try this butternut squash and cranberry recipe. It's perfect on a crostini with blue cheese!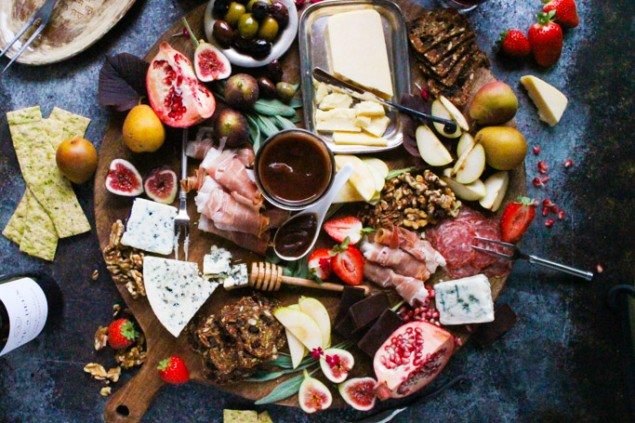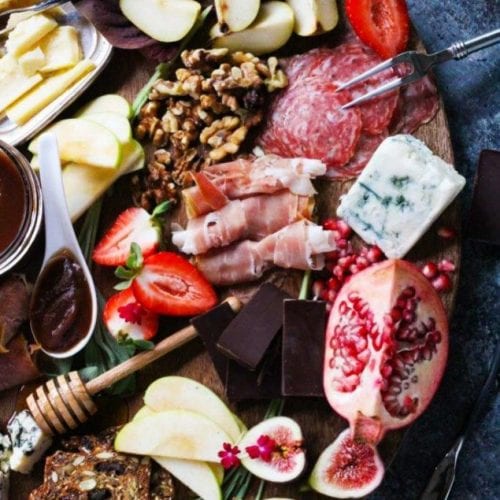 Erin Rebecca
Total Time
12
hrs
20
mins
Ingredients
5

lbs.

apples

peeled and thinly sliced

1

cup

sugar

1

cup

brown sugar

2

tsp.

cinnamon

1

tsp.

nutmeg

½

tsp.

allspice

¼

tsp.

salt
Instructions
Place apples in slow cooker. Add the remaining ingredients and stir until evenly mixed.

Cook on low for 12 hours, stirring and breaking up the apples occasionally.

Remove cover and use a blender to puree the apple butter until smooth. If you would like a thicker apple butter, return the mixture to the slow cooker and cook on low, with the lid ajar, until the desired consistency is reached.

Allow the mixture to cook and then transfer to jars. It will store in the refrigerator for up to 2 weeks, or can be stored in the freezer for up to 3 months.

Makes 3 Pints.
Erin Rebecca
I'm Erin - a self-taught weeknight cook. I occasionally like to delve into the more complicated recipes, like homemade pasta, Cioppino, and boeuf bourguignon. But for the most part, I work full-time, come home, pour a glass of vino and start cooking away.