PARTNER POST: We've teamed up with Bonne Maman to bring you the best homemade breakfast and brunch recipes to show Mom you care this Mother's Day and all spring long.
For a sweet and savory breakfast, whip up a batch of these green chili and cheese waffles served with sweet raspberry preserves.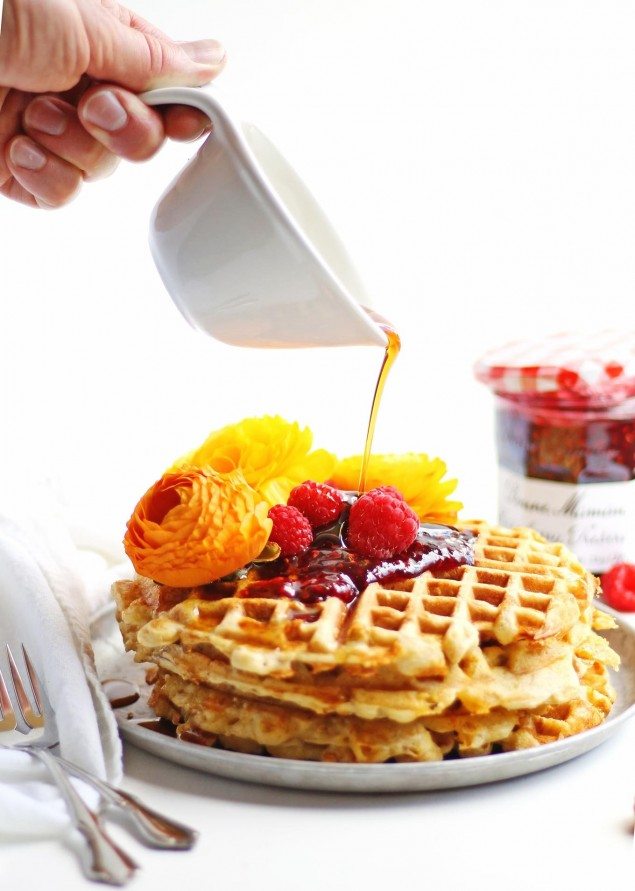 Let's get all springy and Mother's Day-y today. Brunch eats, breakfast in bed eats, sweet and savory eats, topped with fruity goodness and gorgeous spring flowers. Uh-huh.
So, Mother's Day is coming. And guess what? It's my very first one as a mother. Still feels totally weird typing that out, but I'm pretty pumped about it. I always thought that I would want to be treated like a princess on Mother's Day, in my PJs taking a day off. But, I think I would actually prefer spending the day with my little bambino. My family. My heartbeat. Ya know?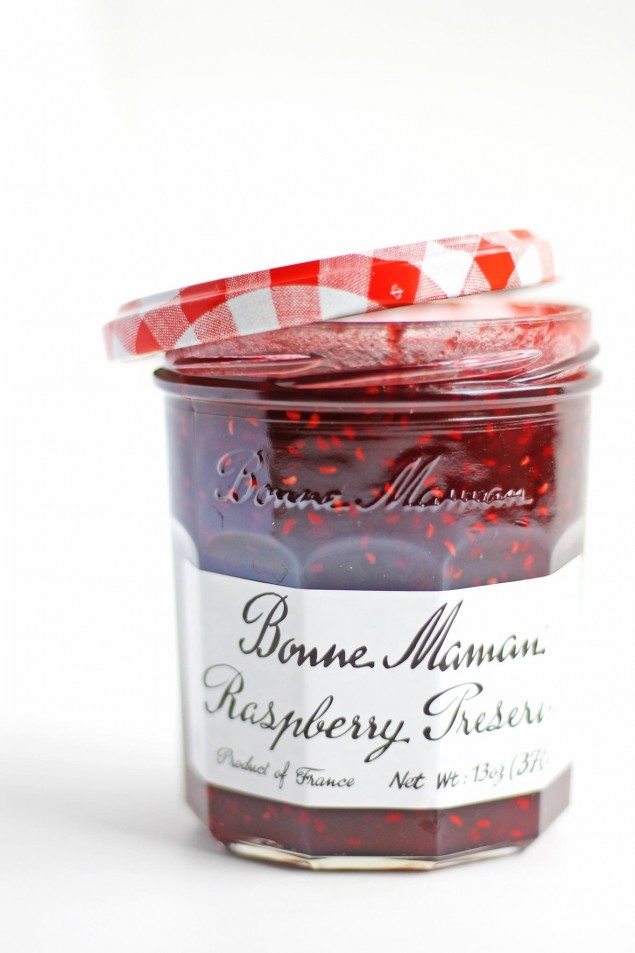 I'm having visions of the perfect MORNING off having coffee brought to me after I sleep in, then heading to the Pike Place flower festival and just walking around seeing the sights. (Ahem… husband, are you reading?)

In the spirit of Mother's Day this year, I'm sharing a very special waffle recipe from my favorite new mother and best friend. Her baby turned 1 month old the other day! We've been friends for…. sheesh…. forever, and she has made a version of these cheddar cornmeal waffles for me numerous times over the years. Now, I'm making them for her. With green chiles added and topped with raspberry preserves. Happy Mother's Day, my friend.
For some reason, Mother's Day eats just mean brunch to me. Right? Doesn't it just seem like it HAS to be brunch? For this Mom-day inspired brunch, I topped savory waffles with Bonne Maman raspberry preserves. Bonne Maman is absolutely delicious, and made from simple, wholesome ingredients that I would find in my kitchen. No high fructose corn syrup or additives. I love that the preserves are Non-GMO verified, and are as close to homemade as you can buy in the grocery store.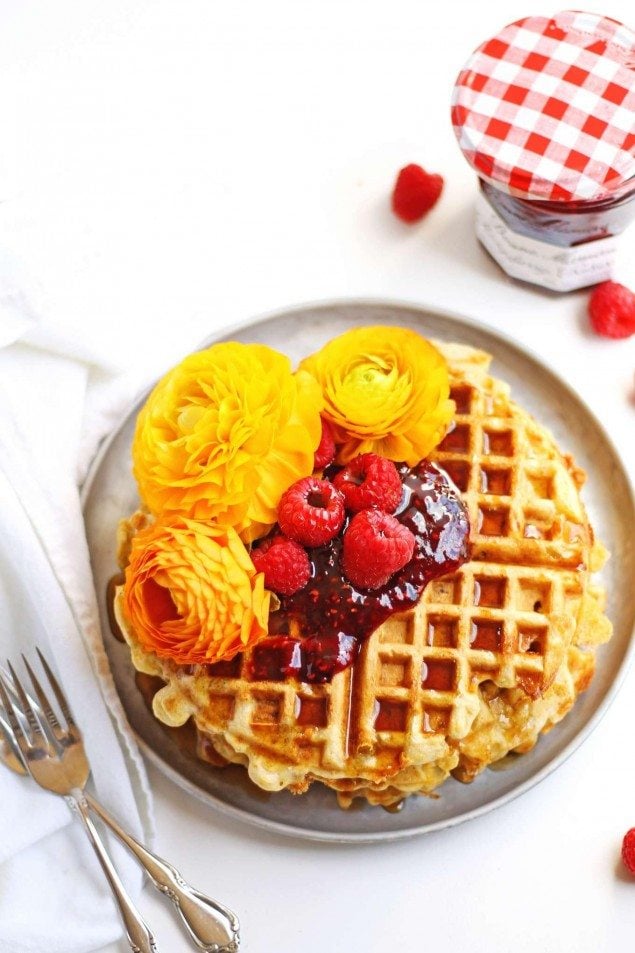 Bonne Maman is giving away a gorgeous 12-piece set of Le Creuset cookware plus many other goodies (over 1,000 prizes!) on their website. Click below to enter! Who doesn't love beautiful cookware?!
For more recipe ideas, check out these fun toasts.
Green Chili and Cheese Cornbread Waffles with Raspberry Preserves
For a sweet and savory breakfast, whip up a batch of these green chili and cheese waffles served with sweet raspberry preserves.
Ingredients
1½ cups all-purpose flour
1 cup cornmeal
½ cup quick oatmeal
2 Tbsp baking powder
1 tsp salt
½ cup chopped walnuts
2 cups grated sharp cheddar cheese
⅔ cup milk
1⅓ cup water
2 large eggs
¼ cup vegetable oil
1 7oz can green chiles (mild or hot)
For serving: Bonne Maman raspberry preserves, butter, fresh raspberries, maple syrup
Instructions
In a large bowl, mix all the dry ingredients, including the cheese. In a small bowl, mix together the milk, water, eggs, oil, and green chiles. Add the liquid to the dry ingredients and stir them just enough to mix them.
Add about ½ cup batter to a pre-heated waffle iron, depending on the size of your iron. You may need to add more water if the batter is too thick. Heat until cooked through and browned on the outside.
Serve immediately with butter, Bonne Maman raspberry preserves, fresh raspberries, and maple syrup. Enjoy!