SPONSORED POST: From Dijon Originale mustard to Cornichons, Maille has a rich heritage starting in 1747 that honors tradition. Check out these easy recipes that pack great flavor, thanks to Maille.
Ready or not, the holiday season is here. Try this super easy and delicious crostini with a kick that will impress your guests at your next gathering. This roast beef crostini with Dijon Horseradish Sauce is so simple to make.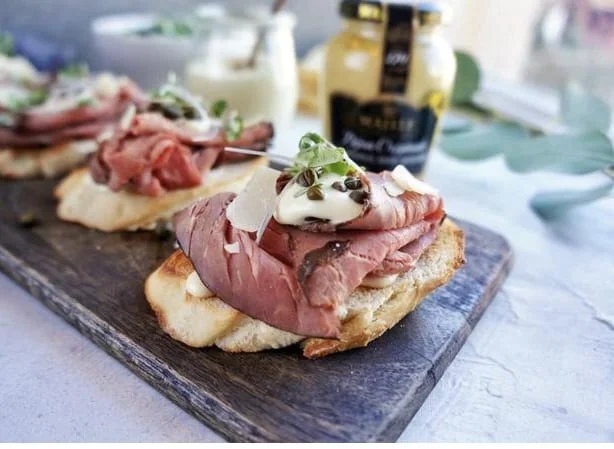 Appetizers are the new entree, so today I'm showing you a super easy and super delicious crostini with a kick that will impress your guests at your next holiday gathering! This roast beef crostini with Maille Dijon Originale horseradish sauce is so simple to whip up, and they'll be gone before you can say gobble gobble!
There is something undeniably delicious about crusty bread and pretty toppings, and it couldn't be an easier thing to put together. These go from your kitchen to serving platter in under 20 minutes. So why not try these gorgeous toasts for your holiday gathering?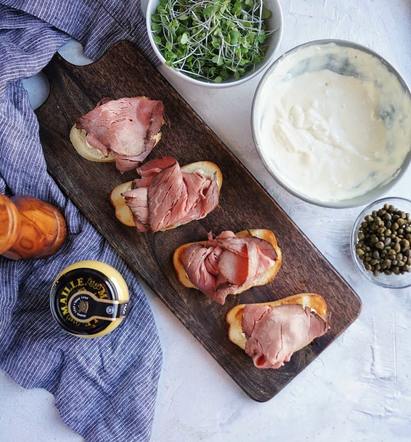 Maille has a rich heritage starting in 1747 that honors tradition. Just adding a spoonful of Maille will help to elevate any dish. This classic and simple appetizer is given an extra oomph with it's secret ingredient: Maille Dijon Originale mustard! Just a spoonful adds an incredible gourmet flavor that will wake up anyone's tastebuds!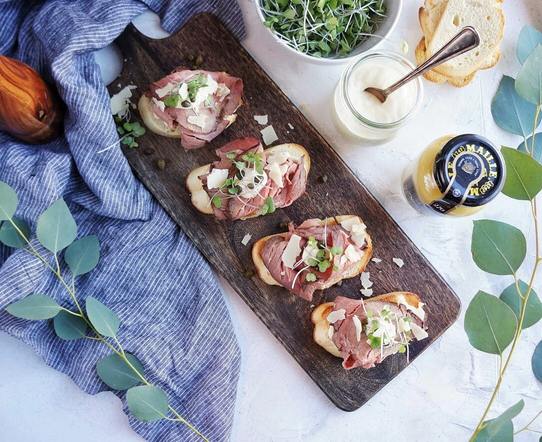 Maille's Dijon Originale mustard was a easy choice for these little toasts. The combination of brown mustard seeds and white wine is a perfect accompaniment to most meats, and I love the sophisticated flavor it brings to the beef. The horseradish is a perfect flavor combination according to my new favorite book, The Flavor Bible, and just gives it that extra kick, so I knew I had to add it! I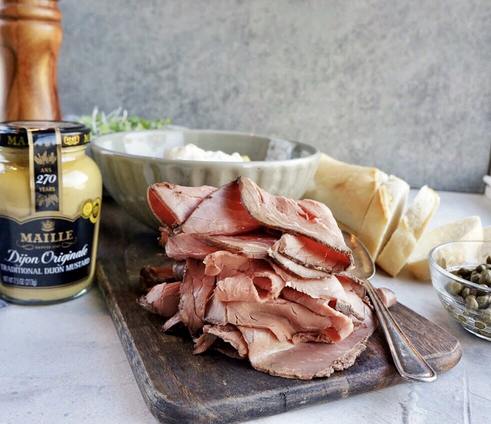 What kind of bread should I use for my roast beef crostini?
Crostini and Bruschetta are very similar. From the Italian word "bruscare" meaning "to roast over coals" is made by toasting whole, wide slices of a rustic Italian or sourdough type bread. Crostini are sliced and toasted from a smaller, round, finer-textured bread, more like a white bread baguette.
How should I toast my bread for a crostini?
Preheat oven to 350 degrees. Arrange your baguette slices on two large rimmed baking sheets; brush both sides with oil, and season with salt and pepper.
Bake until golden, 15 to 20 minutes, rotating sheets halfway through (if undersides are not browning, turn crostini over once during baking).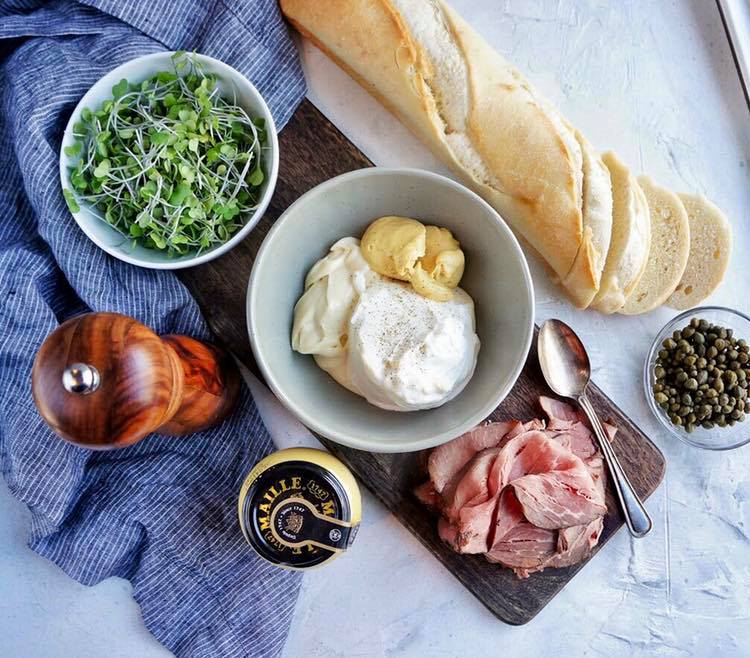 After your toasts have cooled, you can get to topping!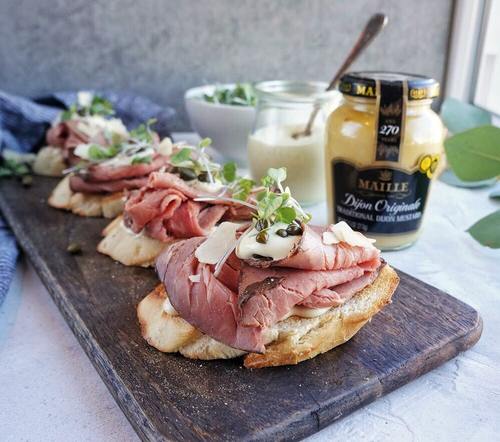 Pair these roast beef crostini with a nice glass of wine. A great Cabernet Sauvignon or Shiraz is a perfect match for beef, and completes this bite!
If you loved this recipe, be sure to check out my tomato bruschetta!
This post is sponsored by Maille, but as always, opinions are my own.
Note: After making this recipe, I realized I can make life a little easier on myself, because there's a Maille's Horseradish Dijon already created! I'll be sure to incorporate that into my next recipe! Check out all their other yummy varieties here!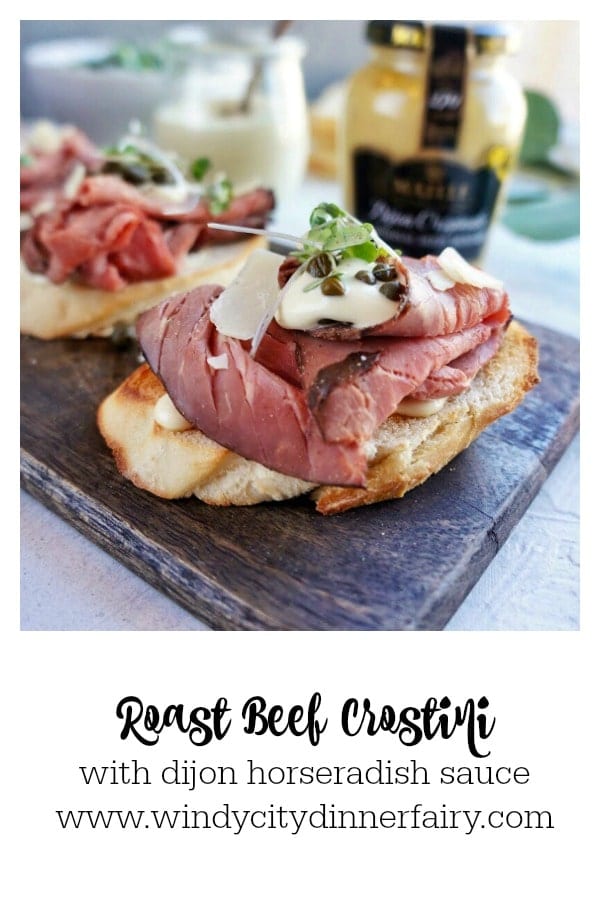 Roast Beef Crostini and Dijon Horseradish Sauce
Ingredients
¼ cup mayo
¼ cup sour cream
1 tbl horseradish
4 tsp Maille Dijon Mustard
Salt and pepper to taste
Crusty Baguette
½ pound Roast Beef, thinly sliced
Microgreens or chives
Capers
Freshly grated parmesan cheese
Instructions
Preheat oven to 350 degrees. Arrange your baguette slices on two large rimmed baking sheets; brush both sides with oil, and season with salt and pepper.
Bake until golden, 15 to 20 minutes, rotating sheets halfway through (if undersides are not browning, turn crostini over once during baking).
Spread a tablespoon of the horseradish dijon onto a toast.
Top with a slice of roast beef.
Top with a small dollop of more Maille Dijon Horseradish sauce, a few capers and some microgreens if you'd like (these are just for presentation).
Add a few crumbles of freshly grated parmesan cheese for another layer of flavor (optional)