SPONSORED POST: From Dijon Originale mustard to Cornichons, Maille has a rich heritage starting in 1747 that honors tradition. Check out these easy recipes that pack great flavor, thanks to Maille.
These crispy little Dijon Mustard Chickpea Fritters make a fun holiday appetizer or can easily be turned into a main course for a busy weeknight meal.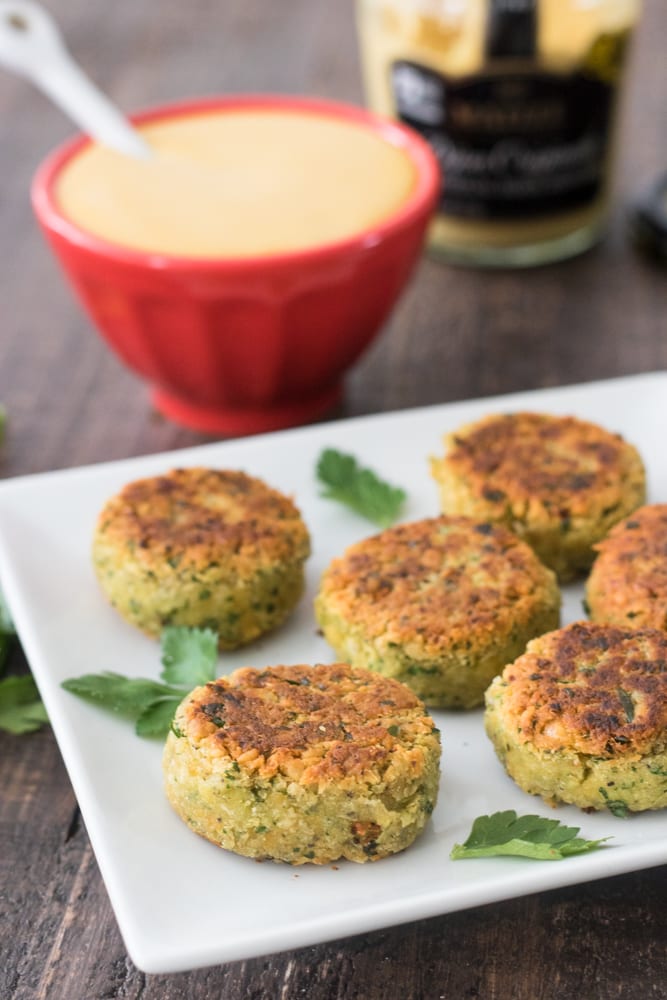 These fritters are great to make ahead of time if you are doing your Sunday meal prep or readying for a holiday gathering and don't want to be cooking last minute. You can form the patties in advance and layer them with parchment paper in a storage container in your fridge so that all you have to do is heat them on the stovetop (3-4 minutes per side) before serving. You can also make the dipping sauce ahead of time.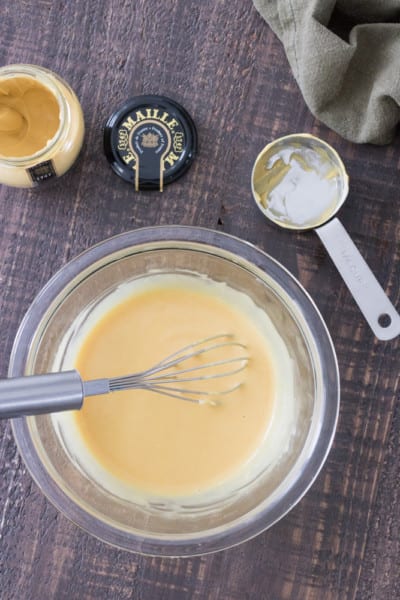 This chickpea fritter recipe is incredibly simple with just six ingredients plus salt and pepper. All you have to do is bust out your food processor and pulse everything in the machine a couple times to combine.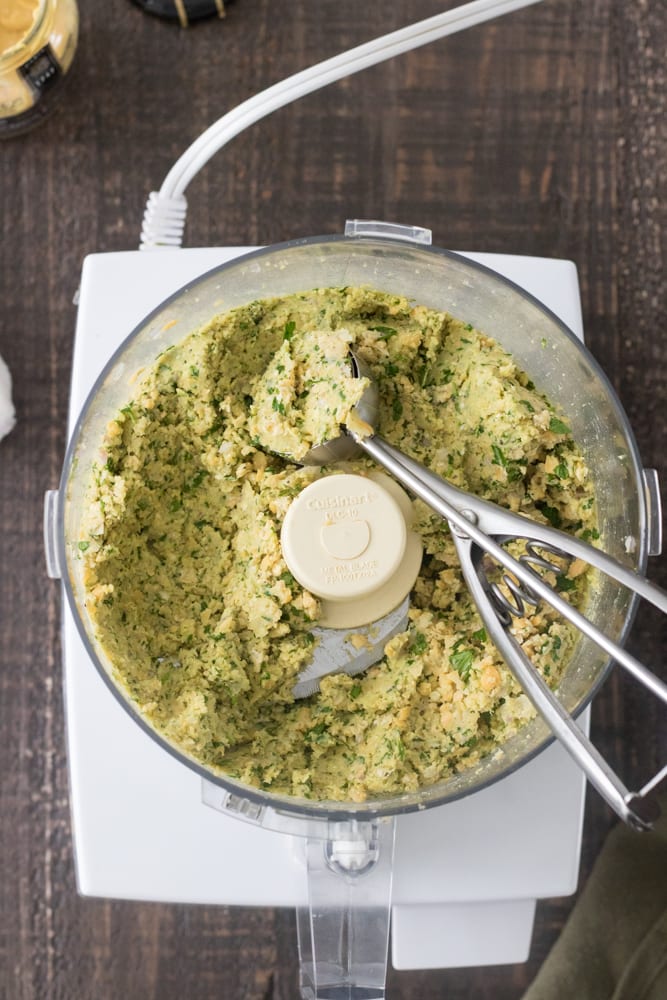 Next, form into patties or balls. Then lightly pan fry them in a bit of extra virgin olive oil to make them slightly crispy on the outside and warmed throughout. The result is full of bold flavor from the garlic, shallots, parsley and Maille Dijon Originale mustard. They bind together surprisingly well and do not fall apart as you eat them. Many gluten-free and/or vegan recipes like this are difficult to form together or crumble upon touching them. Not these sturdy babies. These are my ride or die chicks! Pun intended here.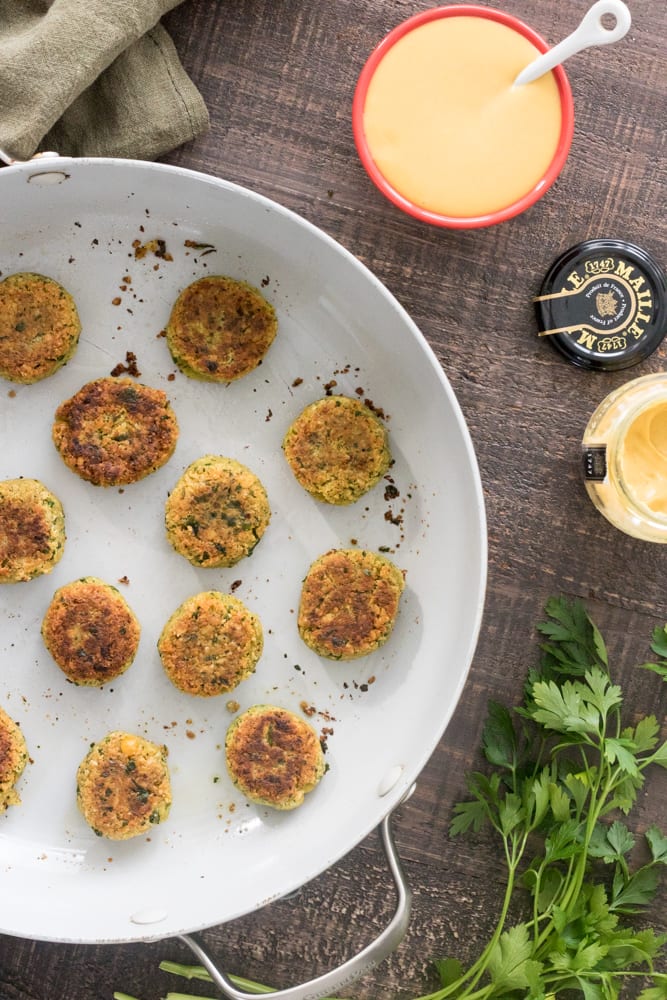 Chickpeas are one of my favorite pantry staples I use to whip up last minute recipes. They are easy to work with, versatile, inexpensive and nutritious. Chickpeas are considered a legume, which means they contains plant-based protein, fiber and complex carbohydrates. Chickpeas are also an excellent source of folic acid. Plus, they are low in fat and contain no cholesterol. Combined with the whole grain gluten-free oats, this dish will digest slowly, keeping you fuller longer. I find it to be incredibly satisfying without making you feel stuffed.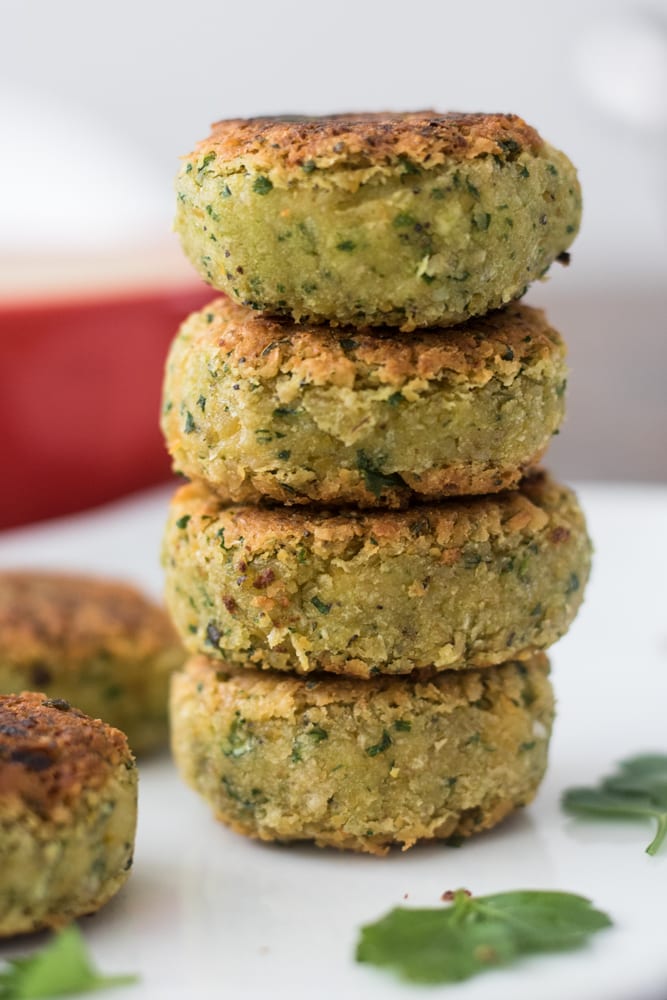 During the week, I love to enjoy these chickpea fritters for easy lunches or quick dinners. I usually combine them with fresh or roasted veggies and a grain like quinoa or brown rice. You could also treat them like falafel and serve them in a pita or wrap.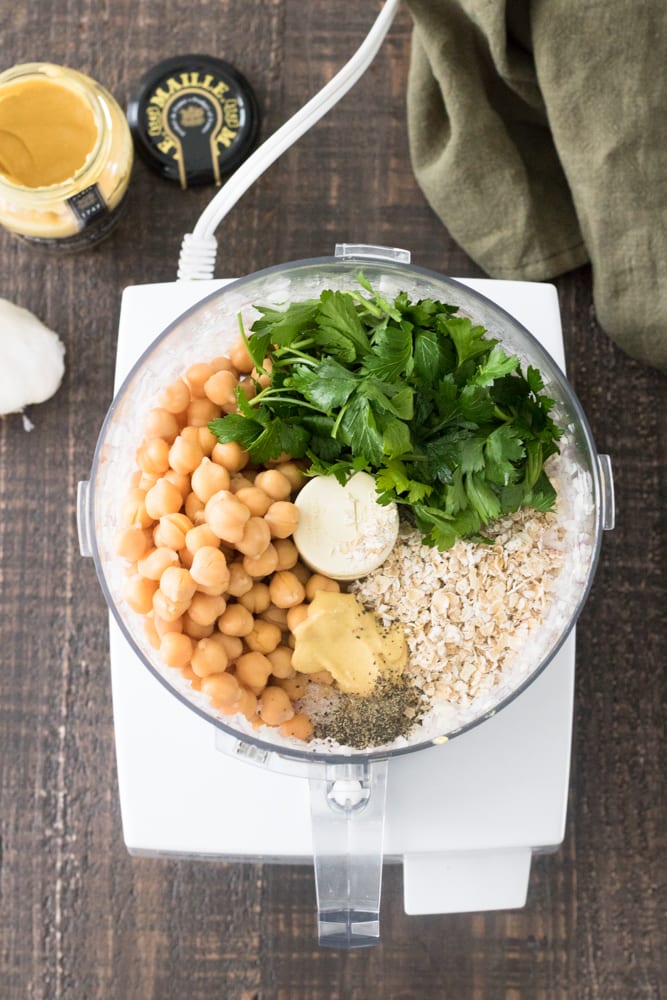 Around the holidays I love to serve these as finger food. These crispy little bites are always a crowd pleaser, and because you can make them ahead of time it takes some of the stress out of hosting. Everyone loves the sauce too. It is my Homemade 3-Ingredient Vegan Honey Mustard Sauce and it couldn't be easier to make. You simply whisk the three ingredients together and serve. That's it. Nothing too fancy here. But it does boast a ton of flavor.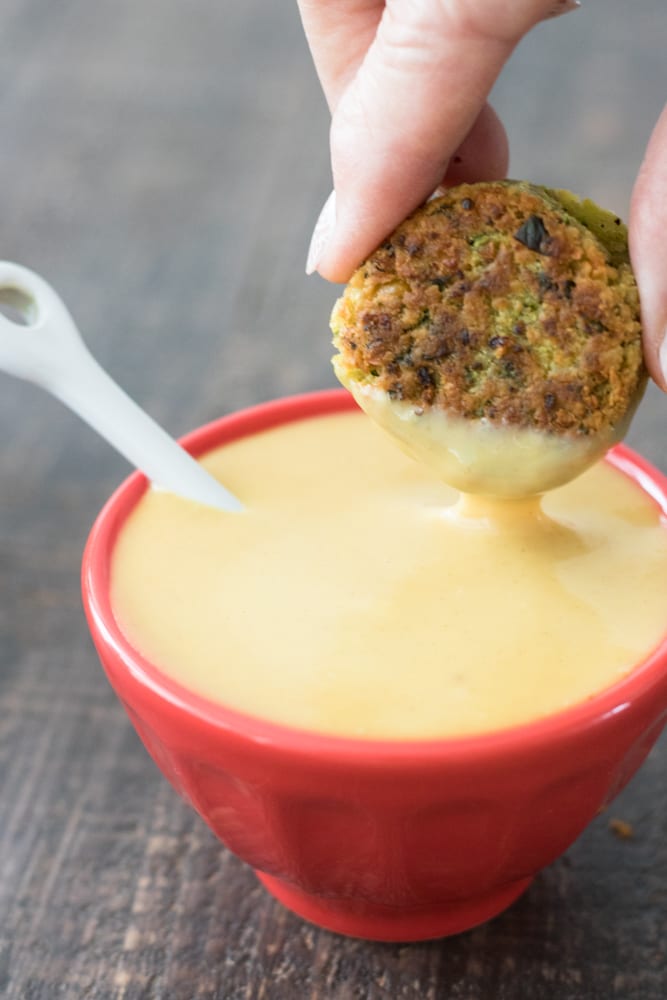 Whenever I want reliable flavor without too much fuss I go for one of my favorite easy condiments: a spoonful of Dijon mustard. Dijon mustard is great for adding quick and easy amazing flavor to food. In this recipe I added it in both the sauce and the chickpea fritters to double up on the pizzazz that Dijon adds. I used Maille Dijon Originale mustard which I love for its authentic French taste. Their ingredients are clean and the taste is bold and gourmet.
Unexpected kid success here: my three kids ended up eating the entire batch for dinner after I photographed them. I had put them out for me and my husband and they scarfed them down. I couldn't believe it. I thought they would have too much flavor for them but they inhaled them with the dipping sauce. So I guess these are kid-friendly! I know every child is different but I think initially these fritters appealed to them because of their size, shape and dippability. I asked my girls if they liked the flavor and they said they really did and wanted more.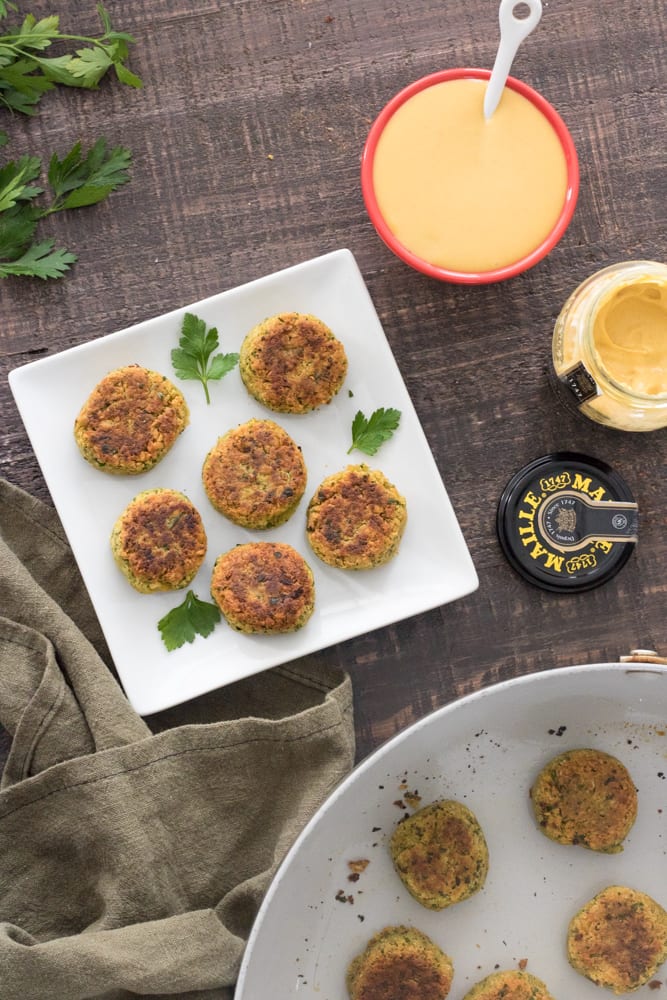 These Dijon Chickpea Fritters are vegan, dairy-free, soy-free, refined sugar-free, nut-free and gluten-free which makes it wonderful for serving a crowd with varied food allergies or food sensitivities.

Dijon Mustard Chickpea Fritters
Ingredients
1 shallot, chopped
2 cloves garlic
1, 15 ounce can garbanzo beans (chickpeas), drained, rinsed and mostly dried
1 cup fresh Italian flat leaf parsley (large, tough stems removed)
½ cup + 2 tablespoons certified gluten-free oats
1 tablespoon Maille Traditional Dijon Originale Mustard
¾ teaspoon fine salt
½ teaspoon ground black pepper
2-3 tablespoons extra virgin olive oil for pan frying
1 batch of my 3-Ingredients Homemade Vegan Honey Mustard Sauce for dipping
Instructions
In a food processor, pulse the shallot and garlic until finely minced. Add to the processor the garbanzo beans, parsley, oats, Maille Dijon Originale mustard, salt and pepper. Pulse 5-10 times until the mixture is easily formed into balls.*
Using a 1.5 tablespoon cookie scoop, scoop the batter into your hands. Form into balls or patties using your dry hands.**
Heat a 12-inch nonstick pan over medium heat and add 2 tablespoons of olive oil. Once the oil is hot (about 2-3 minutes), place the patties on the pan evenly spaced out (they should not be touching). Cook on medium heat for 3-4 minutes per side until golden brown on both the top and bottom. You may need to add 1 more tablespoon of oil if you do this in two batches or if you want more of the edge to be crispy.
Serve immediately while hot (or store and warm before serving). Serve with my 3-Ingredient Homemade Vegan Honey Mustard dipping sauce.
Fritters and sauce can be stored in an airtight container in the refrigerator for up to one week. I have not tried freezing and thawing them but I imagine these would freeze and thaw well.
Notes
* To know when it processed enough, pinch the mixture between two fingers and it should easily stick together. You don't want to over process or it will turn into mush, but you also don't want any chunks of chickpeas. A couple are okay but if it is too loose it will fall apart. See my process shots in the post above as a reference (the second food processor overhead shot).

**I like to roll the mixture into balls and then slightly flatten the top and bottom between the palms of my hands to form mini patties. I go around the edges with my fingers to make sure there are no cracks or loose pieces around the edge. The cookie scoop I use helps to ensure the patties are the same size. You could form them into any size you want though. Using the 1.5 tablespoon cookie scoop this recipe yields 15 fritters. You could double the recipe if you are serving a larger crowd.