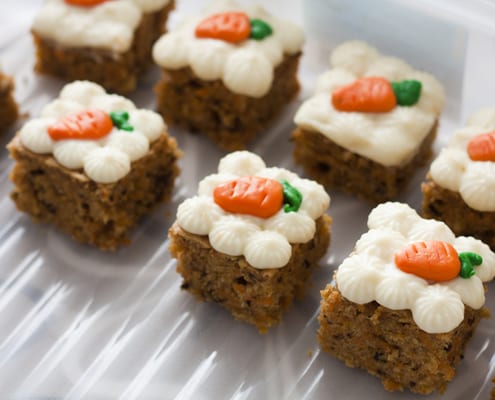 This classic cake never disappoints! It's perfect for any occasion and goes well with tea or coffee.
By Tamara Novakoviç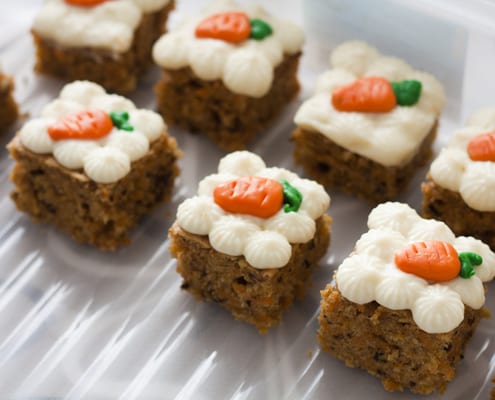 For me, this is a classic that never disappoints. It can be made into a festive cake, or served simply with a cup of coffee and tea. Carrot cake is very versatile. I tend to add walnuts and sometimes raisins to the batter and I always use orange zest for the cream cheese filling. It gives the cake a whole new dimension and that extra something that makes everyone fall in love with this recipe.

Carrot cake
Carrot cake - a classic that never disappoints!
Ingredients
For the dough
¾ pound (340 g) raw carrots
1 cup (100 g) walnuts
2 cups (260 g) all-purpose flour
1 tsp orange zest
1 tsp baking soda
1½ tsp baking powder
½ tsp salt
2 tsp cinnamon
4 eggs
1 cup (240 ml) oil
250 g brown sugar
2 tsp vanilla extract
For the frosting
¼ cup (57 g) butter
8 oz (230 g) cream cheese
2 cups (230 g) powdered sugar
2 tsp vanilla extract
1 tsp orange zest
Instructions
Preheat oven to 350 F (180 C). Line rectangular baking pan (25 x 35 cm) with parchment paper.
Mix eggs with brown sugar until pale and fluffy. Add vanilla, orange zest and oil. Fold in peeled and grated carrots. Toast walnuts and chop them, fold in as well. In the end, add sifted flour, soda, salt and cinnamon. Spread evenly into prepared baking pan and bake for about 25-30 minutes. Let cool completely. You can also use round baking pan.
With electric mixer, beat cream cheese and butter. Mak sure both are at room temperature. You should have no lumps. Add vanilla, orange zest and powdered sugar, mix.
You can spread cream cheese frosting with spatula over the cake, or cut it in squares and pipe the frosting (using decorative tip and piping bag) onto each square.
Tamara Novakoviç
Tamara Novakovic is a passionate self-taught cook, food blogger, freelance food writer and photographer behind bite-my-cake.blogspot.com. Her life journey has led her through Faculty of Humanities in Zagreb, Croatia to discovering passion for making cakes. She is currently a weekly food columnist for Croatian newspaper V magazine and food magazine Repete.