Basic Homemade Granola. Made with Old-Fashioned oats, brown sugar, maple syrup, oil, vanilla extract and pinch of salt. Great for breakfast or snack!
Today I have a Basic Homemade Granola recipe for you! It's super easy to make. You can make it with everyday ingredients from your pantry. Can I tell you how many times I have made this granola and have failed!?! I burnt several batches and others tasted terrible. But after several attempts and many days of eating burnt granola, I have finally found the key! The key, my friends, to good granola is LOW oven temperatures and SLOW roasting. 250F seems to be great temperature for granola making. No 425F here. Otherwise, you will end up with blackened granola, which isn't good.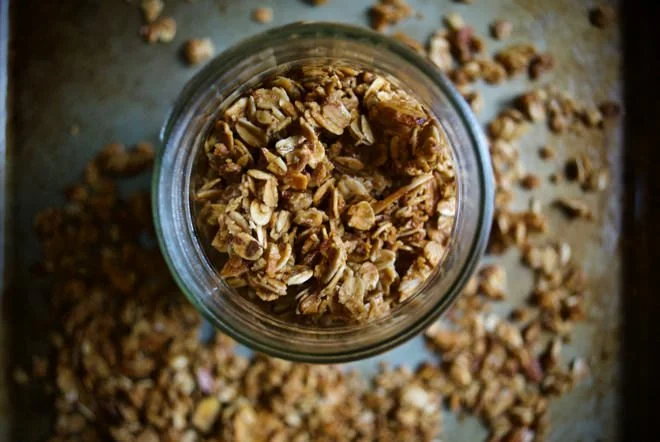 This Basic Homemade Granola uses 6 ingredients. All you need are Old-Fashioned Rolled Oats (if you use other kinds, you won't achieve the same texture), brown sugar, maple syrup, neutral tasting oil (like canola or vegetable oil), pure vanilla extract, and a pinch of salt. That pinch of salt is very important! It helps to bring out all the flavors. You can substitute your favorite liquid sweetener in instead of maple syrup (like honey), but I love maple syrup so I use it in a lot of my dishes.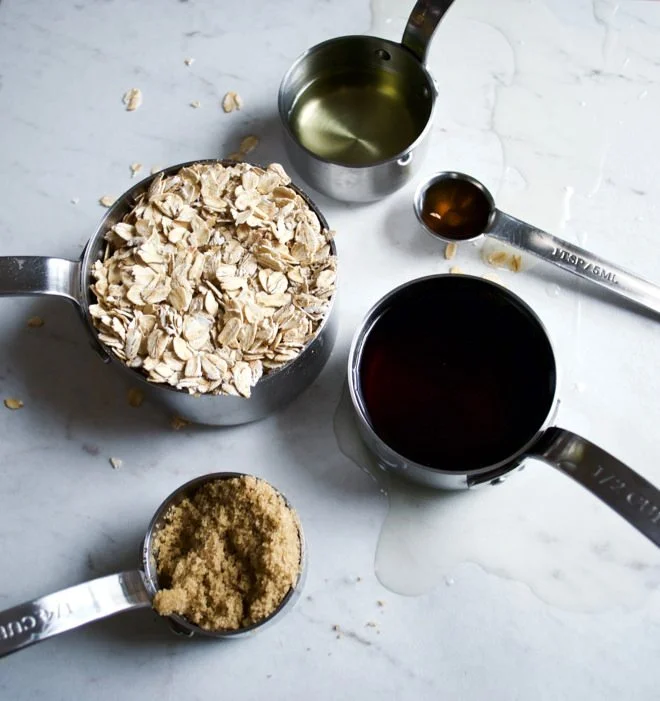 To make this granola, mix together the brown sugar, maple syrup, and oil together in a large bowl. Add vanilla extract and pinch of salt. Then add the oats. Mix everything until well combined. Once all that is done, bake in oven for about 45 minutes. Another key for cooking oats – be sure to mix oats every 15 minutes so they cook evenly. Oats should be slightly crunchy and have a beautiful golden brown color. If you like your granola on the crispier side, then add a little extra time to for extra crispness.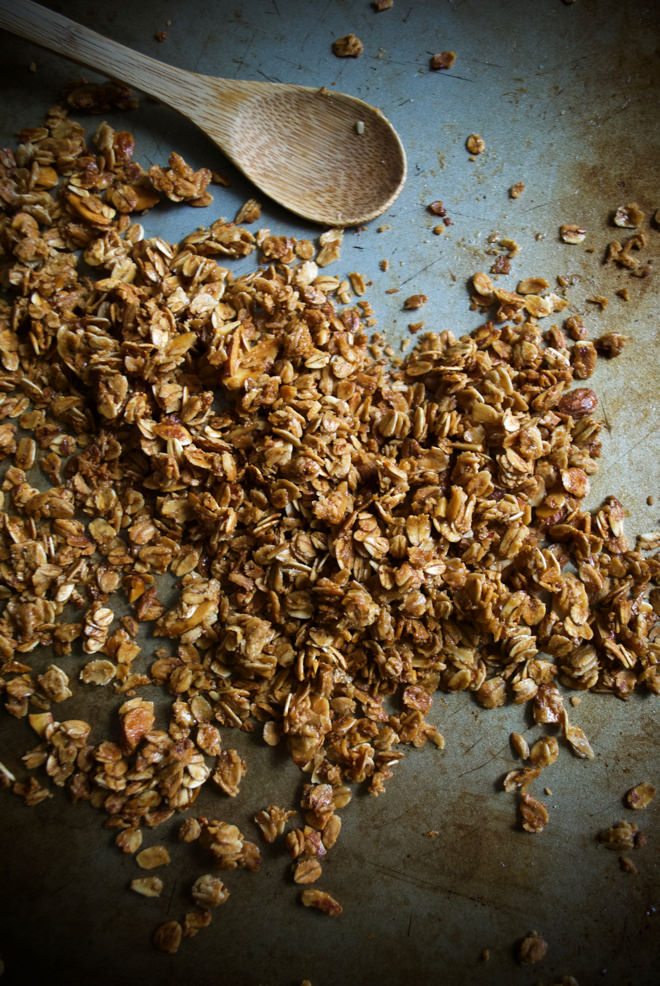 A great thing about this granola recipe is that you can add whatever kind of add ins that you like. Nuts, dried fruits, seeds, chocolate or peanut butter chips, are all great options to add in. Best to add those once the granola is done toasting though, otherwise, they may not have the same great flavor.
Granola is perfect for yogurt parfaits, smoothie bowls, trail mix, toast or even just a snack. Store in an airtight container and use whenever you need.
Print

---
Author:

Megan Pearl

Yield:

2 cups

granola

1

x
2 cups

Old Fashioned Rolled Oats

1/2 cup

maple syrup

1/4 cup

neutral tasting oil (canola or vegetable oil)

1/4 cup

brown sugar (lightly packed)

1 tsp

pure vanilla extract
pinch of salt
---
Instructions
Preheat oven to 250 degrees F.
In a large bowl, mix together maple syrup, oil, brown sugar, vanilla and salt.
Add oats and combine.
On a greased baking sheet (or on parchment paper), spread granola mixture evenly across the pan.
Bake for 45 minutes. Be sure to stir granola every 15 minutes. Granola should be slightly crunchy and have a golden brown color once done.
Let cool for about 5 minutes. Break up any clumps, unless you desire clumpy granola. Enjoy as a topping for yogurt or as a snack. Store in airtight container and use as needed.
Notes
If you desire clumpy granola, consider adding more syrup or honey. Once the cooking is done, let granola cool without breaking it up.
Hope you have successful granola baking adventures and a wonderful week!
Megan Pearl
Wife, Momma, and Author behind the food blog, The Little Momma. The best way to enjoy the everyday food and life we experience is through little hands, full bellies and happy hearts. With a background in Nutrition, I develop and revamp recipes that are easier to make for the everyday cook.