Island resorts can leave impressions that are more than favorable, but often fleeting when the entire experience, though extravagant, is expected and typical.  After recently staying at two resorts owned and operated by the Elegant Hotels Group in Barbados, I certainly left impressed, but knew that my experience would not be soon forgotten. What has left an indelible mark with me after visiting the small Caribbean island is a deeper understanding of Barbados and what the island has to offer through its cuisine and welcoming locals. This Bajan excursion was truly unforgettable.
"Bajan" is another word for "Barbadian" and pronounced "bay-jun".
TASTE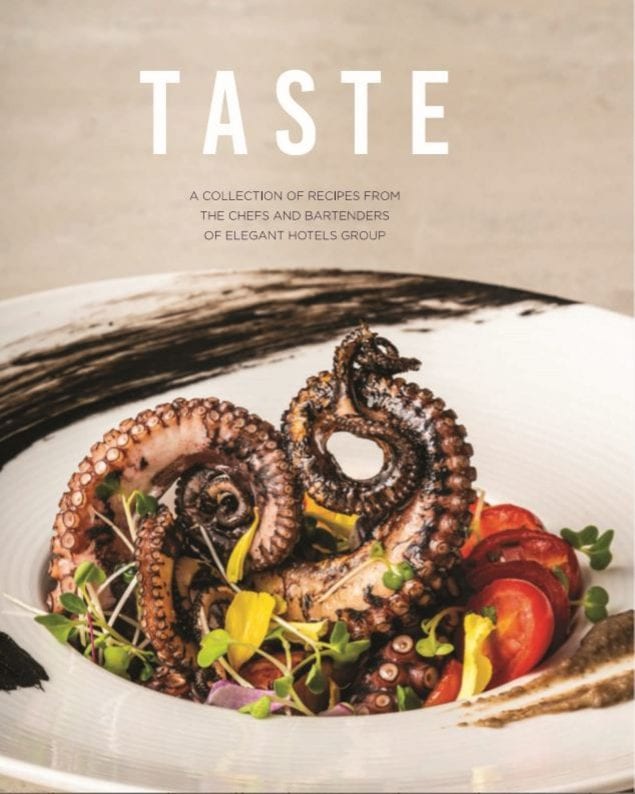 This trip to Barbados was not only to rest, rejuvenate and get a final tan of the year. It was to learn and discover Bajan cuisine — from the traditional to the reinvented. Luckily for my group, we arrived at the perfect time to the Elegant Hotels Group resorts because they had recently finished publishing their first recipe book: TASTE. Truly much more than a cookbook, it was designed and produced specifically as a gift to resort guests as a Thank You. Additionally, it was a response to guests' consistent requests for the recipes of dishes they've enjoyed at the various resorts. Created as a give-away, you may imagine that the recipe book would be a charming soft-covered booklet you'd tuck away on a shelf when you got home; but you'd be wrong. TASTE is coffee-table ready with gorgeous pictures of not just the food and drink of the island and resorts, but the personalities who created, prepare and serve these dishes daily with affection. The hard cover book contains brief histories of the island, Elegant Group's properties and the background of some of its culinary talent. Moreover, it's a guidebook on Bajan flavors new and old. When you read and cook from this book it will be hard to ignore the attention to detail and the time and care it took to create it. Its undeniable value and the fact that it was created primarily as a present for guests is a true testament to what you can expect overall when you visit an Elegant Resort in Barbados.
GASTRONOMICALLY GLOBAL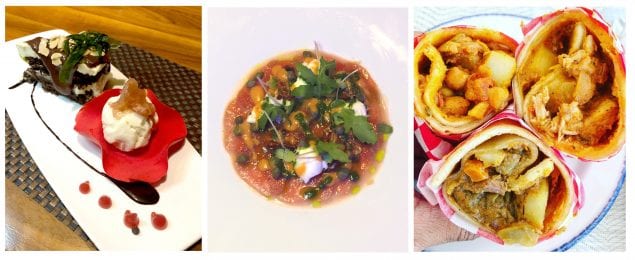 Knowing very little about the tiny island nation's cuisine, I had few expectations upon arrival. I've come to learn that, like many Caribbean nations, the food of Barbados is strongly influenced by different cultures such as Indian, African, British, Portuguese and Creole. Flavors are delivered by various techniques usually through comforting sauces and gravies with varying levels of spicy heat (Bajans do love their pepper sauce made of scotch bonnet peppers). Because Bajan cuisine is globally influenced, it's no wonder that the chefs who create dishes for the resorts' more international restaurants do it with such aplomb. From the Asian plates at SHISO, to the finely prepared Italian dishes at DAPHNES, to the Curries and Mediterranean dishes of SANDTRAP, you wouldn't know that you were thousands of miles away from the countries these cuisines originated from. Notable dishes from these restaurants respectively are the velvety Chicken, Rum & Coconut Soup and Almond Basil Torte, the vibrant Tuna Carpaccio, and the flavor-packed Beef and Potato Roti. The extensive experiences and love for food that Senior Head Chef Oliver Hinds, Executive Chef Kirk Ruck, and Senior Executive Chef Satheesh Kumar display at their respective global fusion restaurants are undeniable. Their stories and the recipes of the dishes I mentioned can all be found in TASTE, as well.
BONA FIDE BAJAN BITES – FROM PAST TO PRESENT
Aside from the delectable international fare that can be tasted at Elegant Resorts you can undoubtedly get to know traditional Barbadian dishes at their eateries, as well. These are the dishes that helped me understand the island better. Our hosts and the chefs spoke with true pride and affection about the food they grew up with, how they enjoy it with friends and family and how it's been reinvented and modernized. As a result, I got a better sense of Bajan culture, the island's history and their love for their cuisine.
RUM VAULT

Being the birthplace of rum there is nothing more traditionally Bajan than the sugar cane spirit. There's truly no escaping it in Barbados; and why would you? Even if you don't care for the spirit as a drink, its distinct flavor is widely used to enhance dishes that vary from home-cooking to fine-dining. Colony Club resort has not only embraced the national drink, but took the opportunity to commemorate it while celebrating its 70th anniversary with the grand opening of Barbados' first Rum Vault. The Vault is a small yet sophisticated room that immediately warms anyone who enters it. Its dark wood interior and leather accents set the mood while complimenting the feature wall of romantically lit specialty rums from around the world.  The 150 rums curated with the help of global rum expert Ian Burrell, are the perfect backdrop to the various rum events that are held in the Vault.
My group was privileged to experience one of the Vault's coveted events: an intimate rum-paired dinner.  At the only bespoke dining table in the vault, we enjoyed the meticulously prepared dishes by Executive Chef Wayne Manard and Pastry Chef "Smilie".  Earlier that day, off the coast of Colony Club, we went fishing with Chef Wayne who was the only one in our group to catch anything. If I were the only one to catch a fish on our excursion, folks around me wouldn't hear the end of it, but Chef Wayne is a man of few words and instead lets his food speak for him. We met again later at the Rum Vault where he and Chef "Smilie" spoke volumes with a dining experience like none other. For the starter, I had to get the Rum Glazed Pork Belly, because like myself, Chef Wayne's favorite food to cook and eat is pork; and it showed. The pork belly was perfectly roasted with the succulent meat basted in its own flavorful fat. The seasoning of salt, pepper, chili, cinnamon, garlic, thyme and onion was subtle but evident. The richness of the fatty pork was balanced by the sweetness of the dish's other ingredients like Butternut Squash, Smoked Golden Apple and of course the Rum Glaze. Crispy skin added all the crunch the dish needed and proved to me Chef Wayne's skill in the kitchen exceeded his skill on the fishing boat.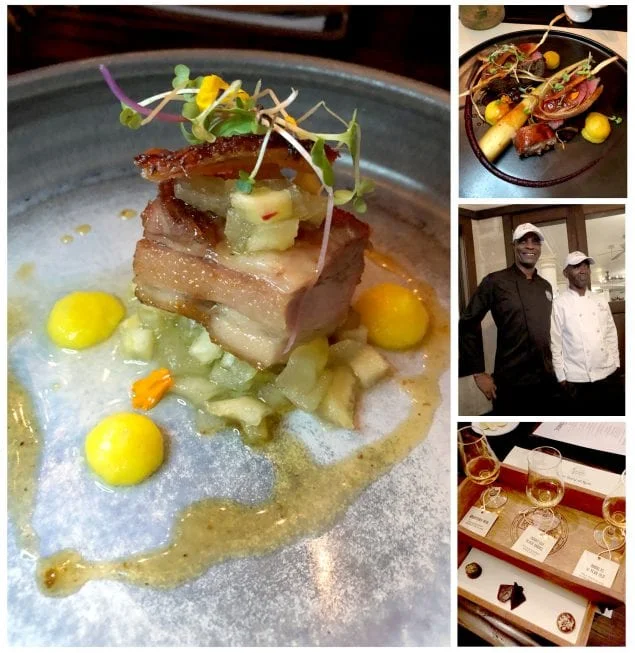 This dish, along with all the other plates of the evening, was completed by a specific rum pairing. Effervescent and knowledgeable Rum Ambassador, Corey Sobers, guided us throughout the evening with all the rums we tasted. He made sure that facts and stories about the celebrated spirit and, of course, actual rum kept flowing the entire evening. He paired the pork starter with a Spiced Sorrel Rum Sour Cocktail that brightened up the dish with hibiscus and citrus flavors while accentuating the rum in the glaze. With such a strong start to a meal I knew the following courses and pairings wouldn't disappoint. All the dishes and pairings proved why diners are already clamoring to reserve a spot at Rum Vault events even though it's only been open less than a year. From the Roasted Beet starter, to the Coconut Crusted Barracuda, to the Banana Bread and Butter Pudding Dessert, the rum-inspired dinner was quite memorable. To finish off the meal, Chef "Smilie" and Rum Ambassador Sobers presented us with a Vault Flight of 3 hand-made truffles paired brilliantly with rums that showed the spirit's range. Displayed like little treasures, the truffles and sips of rum that sat above them truly represented the rare value of the dining experience we enjoyed.
GARDEN TO PLATE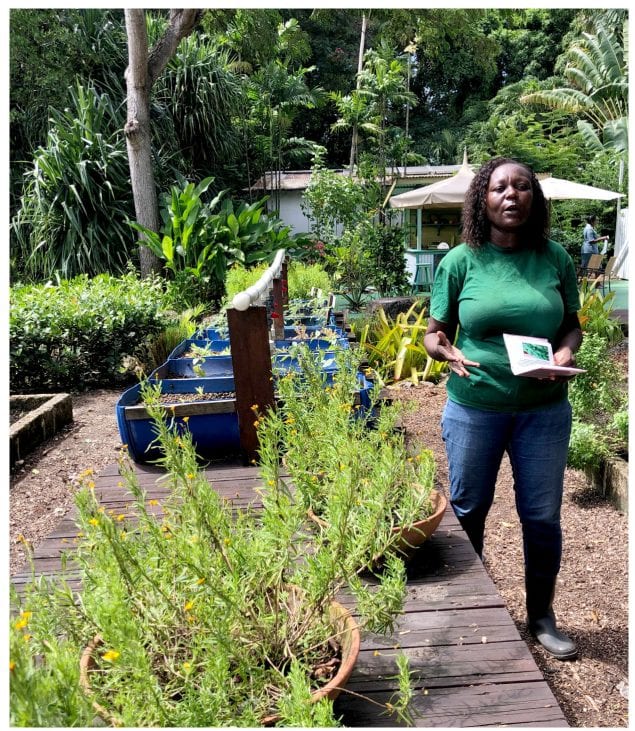 On the other side of Colony Club from the Rum Vault, past meticulously manicured tropical foliage and snaking pools is a garden where Chef Wayne and his team harvest fresh produce on site. After being given a tour of the Garden by Head Gardner Sharon, we met Sous Chef Michelle at the foot of the garden where she treated us to a cooking demo. There we learned how to prepare Barracuda with Spinach and Red Quinoa. The cooking demo was not just culinarily informative but exposed us to more of the history of the island and its identity through the fun banter we had with the convivial sous chef. Chef Michelle, who has worked at Colony Club for over 15 years, revealed more of Barbados' personality as she demonstrated how she came to learn to cook red quinoa and how she has incorporated it with more traditional Bajan flavors. She explained what Bajan spices to get at the market and why it's more difficult to find flying fish on menus these days in Barbados. Chef Michelle taught us not only how to fry barracuda, she also let us into her world which made meeting her one of the highlights of my trip.
Aside from the fish dish, Chef Michelle found out that we had been looking to try the Barbadian version of mac n' cheese called Macaroni Pie. Bajan mac n' cheese is baked with no bread crumb topping and the milk used to make the roux is steeped with aromatics like onion and cloves. She prepared it for us ahead of time to finally satiate our hankering for the traditional Caribbean favorite. It's this level of forethought and consideration that stays with Colony Club guests and keeps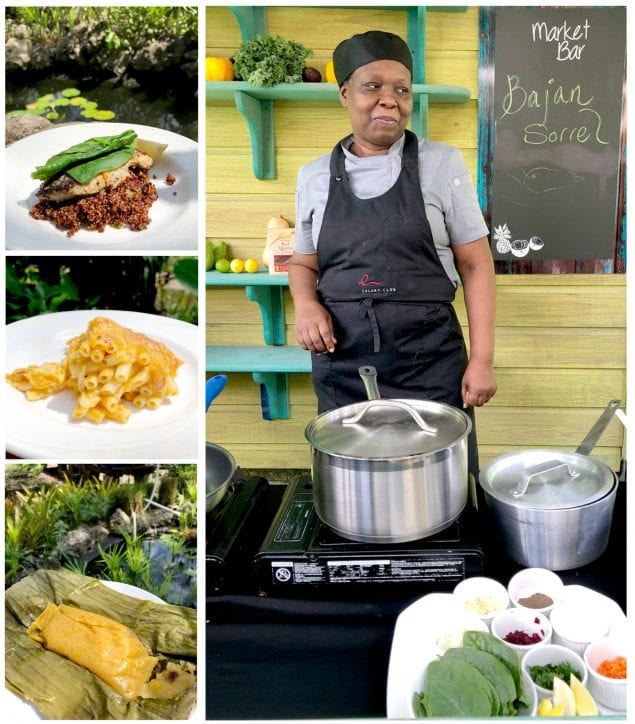 them coming back, year after year. The meal was finished with another Bajan favorite – Conkies. Conkies are a semi-sweet dessert made of pumpkin, cornmeal flour, coconut, sweet potato and raisins which are all steamed in a banana leaf. It reminded me of a sweet rice dessert Filipinos eat that is also steamed in banana leaves called Suman. But unlike Suman the combination of the different starches give it a more savory flavor and less sticky texture with the raisins adding pops of extra sweetness here and there.
See Also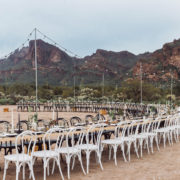 COU-COU BOSS
No story about Bajan cuisine can exclude the mention of their national dish: Cou-Cou with Flying Fish. We were treated to it when we visited the Tamarind Hotel via super convenient inter-resort water taxis that are complimentary to guests. There we met the winner of the resort group's Cou-Cou contest, Cook Donna Forde, who has irrefutably earned her nickname: "The Cou-Cou Boss".

Cou-Cou is basically a polenta dish with okra incorporated into the cornmeal as it cooks. It is finished off with flying fish that is stewed in a tomato-based gravy and spicy pickled cucumbers. To avoid a lumpy end product the cornmeal is continuously stirred as the water that the chopped okra was parboiled in is intermittently added. As Cook Forde stirred the polenta you can see that she earned her title, not just by her technique and  flavors, but by the quiet authority and confidence she mixed the ingredients with. Standing tall and proud the Cou-Cou Boss showed us how, by using her senses, she knew exactly when to add more okra water and how much. When she was done, the polenta was silky and had a very slight gummy texture. She plated the starch in a shallow bowl and spooned a generous amount of flavorful gravy with rolled up flying fish over it. She added just enough cucumber to brighten up the comfort food and give it some heat. Properly made, it is easy to see why this Caribbean favorite has, from its introduction by African slaves, stood the test of time.
Versatile ingredients and familiar flavors make it also easy to reinvent and elevate the traditional dish. In fact, the contest that Donna won also produced a winner for the "Modern Cou-Cou" contest and a dessert that received honorable mention and is also showcased in the book. The winner of the modern Cou-Cou was from The Tamarind Hotel, as well. Senior Sous Chef Jamal Blackman won by creating a Cou-Cou Sushi Roll with the traditional ingredients. Even more unconventional, Cook Elizabeth Carrington from Daphnes created an Offset Cou-Cou dessert which incorporated the ingredients into a cornmeal cake, tomato jam, flying fish caramel sauce and an okra ice cream. It was not only innovative and delicious, but it truly evoked the combined flavors of the treasured dish.
CERTAIN TO RETURN
Surely, the attraction of Elegant Hotels Group Resorts can be largely attributed to the gorgeous beaches they sit on and the breath-taking sunsets and tropical climate that they offer. But what makes vacationers come back to them, and what will make me return sooner rather than later, is their greatest asset – their talented and warm staff. In my experience, islanders in warm climates are inherently accessible, friendly and constantly want to feed you. All the Bajans I met strengthened this cliché in the best ways possible. And when they're constantly trying to feed you excellent food, you know a return trip is inevitable.
Special thanks to The Barbados tourism board who made this trip possible and introducing us to PEG farms and Nature Reserve. PEG farms not only showed us the farming advances that they are pioneering at their biodynamic farm, but also introduced us to their farm fresh food at The Chrysalis Café. Their dishes at the café really highlighted the clean, fresh and flavorful produce. Clearly the technique in making these dishes successful came way before the ingredients even reached the kitchen.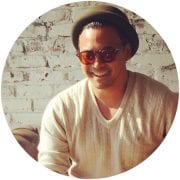 jordi adiao
I learned early in life to embrace your awkwardness... now, are you going to eat your chicken skin?