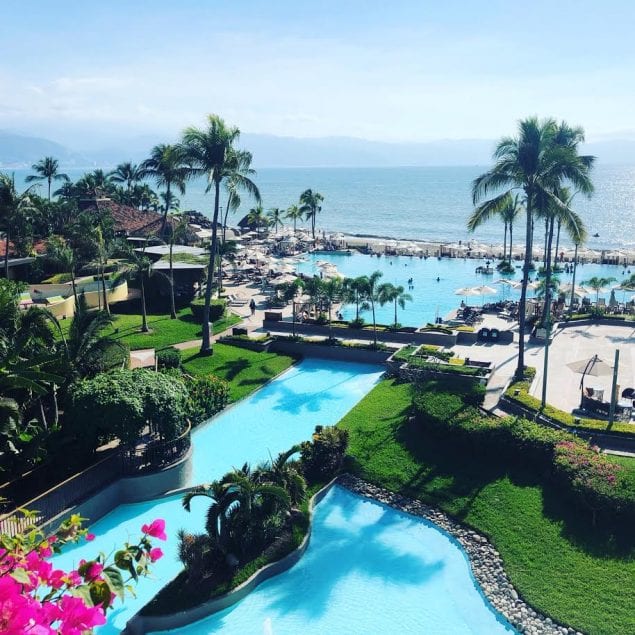 The minute you step into the Marriott Puerto Vallarta Resort & Spa your home. The newly $20 million renovated Resort has made updates to their 433 rooms, including 28 suites, with a decor inspired to make you feel as if you're part of the Jalisco culture and balconies with breathtaking views. Soak in the new infinity pool or take a dip and swim up to Nosh, a poolside bar for a relaxing drink and well, a Nosh. Stay in the hotel to eat and chose from one of the Marriott Puerto Vallarta Resort and Spa's six restaurants or have a seven-course meal featuring a true Jalisco feast of local dishes in the Herb Garden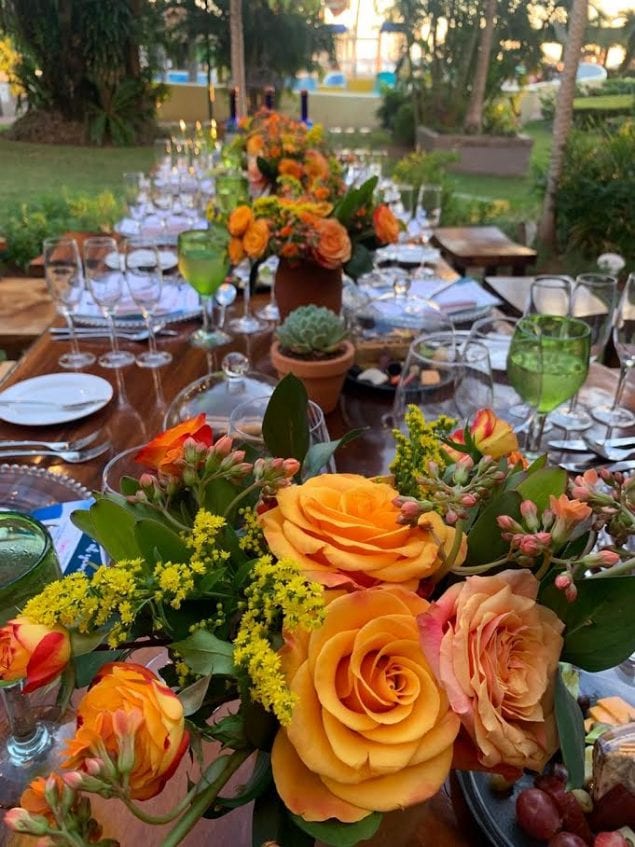 .
From authentic Mexican to Japenese, anything you crave is within reach. After dinner (or before) you'll want to meet Audrey Formisano, the Marriott's tequila sommelier who will reveal the steps in making CasaMagna, the Resort's very own brand of tequila. Let me say it's "Blue Agave" that makes authentic tequila. But I'll let Audrey tell you all about it. Grab something lite at Las Casitas before going for your Spa treatment at The Ohtli Spa
Proudly the largest Spa in PV, ask about the Jantzu Rebirth Therapy treatment or their Stone Therapy and Massages. If Judith is available, book the Deep Tissue Massage and be transformed. Seriously.
With all of the changes made to the Resort completed, there's one thing that remained the same. The feeling you get from the Marriott Puerto Vallarta Resort & Spa staff. And for this jaded New Yorker (yes, some real New Yorkers are jaded, that's how you can spot us), you quickly discover there's no need to be on guard. You understand the Jalisco culture is alive and vibrant, passionate, and undeniably organic. You feel the love everywhere. Especially in their food.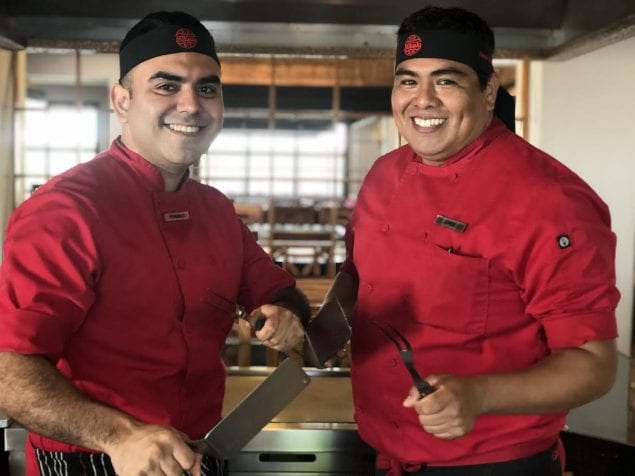 Chefs Jorge and Fernando at the Marriott Puerto Vallarta Resort & Spa not only cook at the Resort's Mikado restaurant, but they also host cooking classes at the Marriott Puerto Vallarta Resort and Spa for their guests. Both start their day at the Mercato del Mar in the 5th de Diciembre district. The Mercato del Mar is an open-air sanctuary of fresh fish, meat, and produce which is a food paradise for anyone who enjoys eating and cooking. The produce sold at the Mercato del Mar has been grown on the farms of Jalisco and their surrounding areas by local farmers. All different types of fish are caught daily by generations of Fishermen in the beautiful protected Banderas Bay.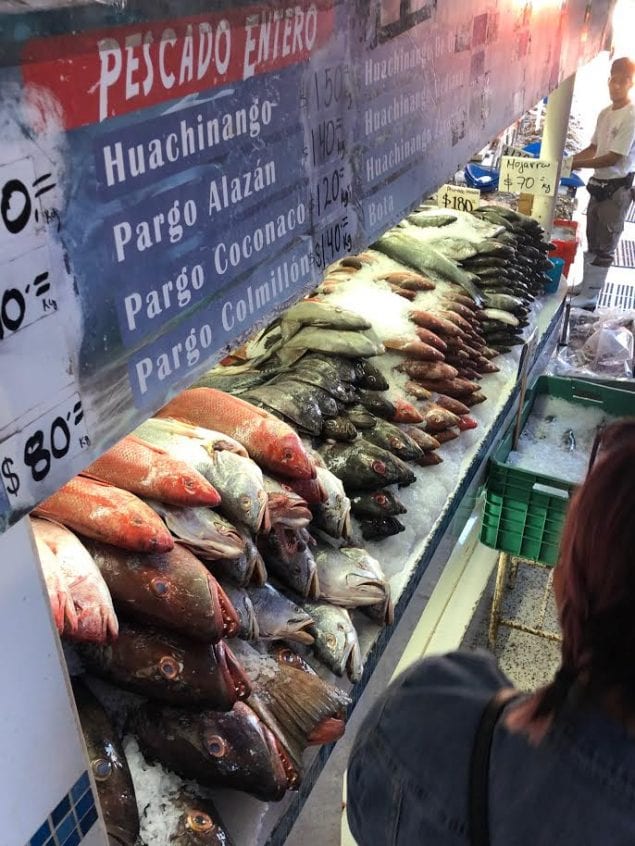 As a little boy, Chef Jorge couldn't wait until the meal was ready to be served, so to end his pestering lovingly, his mother would get a warm tortilla, sprinkle it with salt, roll it up and give it to him to help ease his hunger. He seems delighted by the memory. His mother's cooking continues to be the foundation of all his recipes. He learned by watching her and then by watching others produce dishes they learned from their mothers and abuelas. Below you'll find his mother's Enchilada recipe.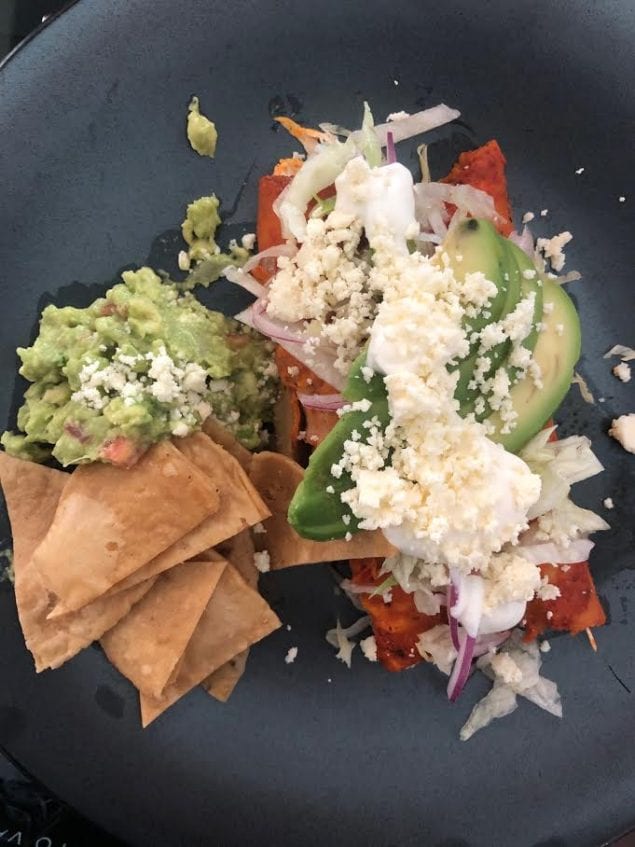 Lastly, you'll regret not meeting Mitzy so ask anyone where she can be found. Everyone knows her. "Whose Mitzy?" you ask. Let's just say she came for a visit and loved the Marriott Puerto Vallarta Resort and Spa so much she decided to stay indefinitely. If we can all be that lucky.For more information about the Resort, go to https://www.marriott.com/hotels/travel/pvrmx-marriott-puerto-vallarta-resort-and-spa/
ENCHILADAS
For the Adobo
7 dried ancho chiles, seeded and deveined
1 dried guajillo chiles, seeded and deveined
5 cloves of garlic
3/4 cup of water
1/4 teaspoon cumin
6 tomatoes
2 cups shredded cooked chicken / Fresh cheese/ vegetables
Salt and pepper to taste
1/2 cup of vegetable oil
20 corn tortillas
To Garnish
3.5 ounces of grated Cotija cheese / Fresh cheese
1 cup of sour cream
1 cup of chopped lettuce
2 tomatoes sliced for decoration
1 piece of sliced avocado
Ingredients for the Tomato Sauce
8 tomatoes
5 clove of garlic
1/2 teaspoon dry oregano
2 pieces of serrano chile
2 spoons Chicken
Salt and pepper to taste
3/4 cup of water
Place ingredients in a pot with enough water to cover them, pepper and
salt to taste and let them simmer for 15 minutes. Drain part of the
water and place in the food processor until everything is seamlessly
integrated, pass through the strainer and reserve.
See Also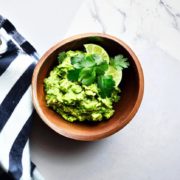 Cooking Enchiladas
1. Place in a pot enough water to cover the dried chiles to boil for
two minutes, and drain. In another pot, put the tomatoes, garlic,
cumin, salt, and black pepper to taste with water to boil, let
them simmer for 7 minutes.
2. In the food processor, add the chiles with the tomato mix to
smooth and make a sauce. Now our adobo is ready.
3. Heat oil in a large skillet over medium heat. Dip each tortilla
in the sauce, then place into the hot oil. Almost immediately,
turn it and fry it for about 10 seconds each side. Remove to a
plate. The easiest way to do this is to fry the tortillas and
stack them directly one on top of the other until you have fried
them all, this will keep the tortillas flexible until you're
ready to fill them.
4 Take a fried tortilla and fill with about 2 tablespoons of
chicken/cheese/vegetables. Roll up and place seam side down on a
plate. Place three of these in each dish. To finish your
enchilada plate, start with a layer of tomato sauce, then a
handful of lettuce, three tomato slices, a layer of sour cream, 2
tablespoons of fresh cheese, a slice of avocado, and a bit of
finely chopped onion.
Gabe Fanelli
In another lifetime I went to Culinary School (ICE) and graduated with a degree in Pastry Arts. I interned and worked for a bit in the Test Kitchen of Rachael Ray's Magazine "Everyday with Rachael Ray" but missed meeting her by 15 minutes. Currently, I'm the Marketing Director for Town Sports because after eating all of that pastry and working in a test kitchen, I needed a free gym membership.