Red peppers have a beautiful flavor and are incredibly delicious as chutneys and spreads.
By Priya Mahadevan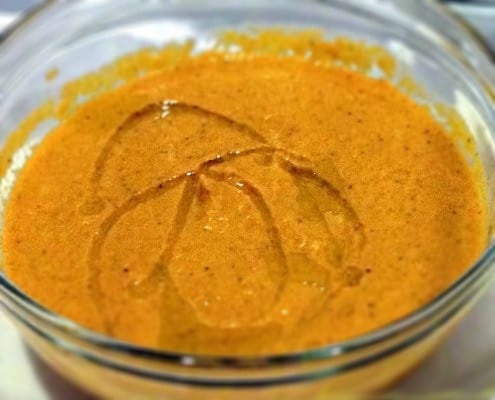 Red Pepper chutney has always been a hot favorite in our home. I going through a Chutney/ spread phase at the moment and am trying out various permutations and combinations. I have made chutneys with just about every vegetable that I know will taste good when ground – One key rule however to think about when you plan on making a chutney, consider vegetables that have a lot of water – for examples squashes, peppers, and greens and fruits lend themselves really well to chutney preparations. I was making a non- Indian sort of meal, and was looking to make something that was delicious that could at once be spread over toast bites, dipped with chips, steamed veggies or even pita and go well with dosais, in subsequent use. The versatility of chutney needs no elaboration from me. But let me just say that if I have a chutney around, lunch ideas become really simple – spread them over tortillas, throw some greens and or beans into it and sink your teeth in;  My kids tend to do that when they come home hungry after school. Peppers have a beautiful flavor and are incredibly delicious as chutneys and spreads.
I had it for lunch with some Rava Dosas (south Indian Lentil Crepes) with my friend and she fell in love with the preparation –
The recipe without further ado
Ingredients
1/2 each of red and orange peppers
1 fine red apple (I used pink lady)
1 tomato
1/2 red onion
2 red chilies
2tbps Porto (sweet Red wine) Optional
2 tsp of olive oil (1 to saute and one to drizzle over the finished chutney
a small fistful of slivered almonds
Method
Roast all the ingredients – save the porto to add before griniding – do no cook it
Grind adding NO water –
Chill before serving
Priya Mahadevan
Priya Mahadevan is a writer and food blogger with a background in journalism & communication. Priya's mission with her food blog is to blow the myth that healthy cannot be tasty. She was a political and feature correspondent for a prominent Indian newspaper in the 90s before moving to the US. She lives in Virginia with her husband and 3 beautiful children. You can find her world of vegetarian recipes at http://priyasnowserving.blogspot.com.