Tequeños – Fried Venezuelan Cheese Sticks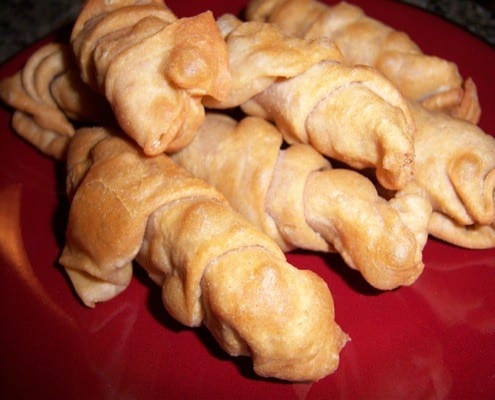 Tequeños are small sticks of cheese wrapped in slightly sweet dough and fried to golden perfection. It wouldn't be a party without them.
By Carolyng Gomes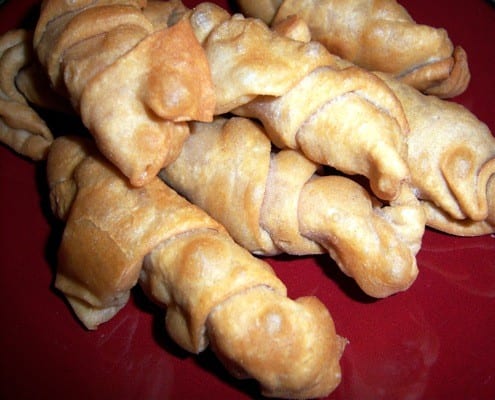 The presence of these little fried delights let you know that you have arrived to the right party. Never lacking at a Venezuelan fiesta, tequeños are small sticks of cheese wrapped in slightly sweet dough and fried to golden perfection. It wouldn't be a party without them.
Tequeños are a perfect appetizer because they are low cost, easy to make, can be assembled beforehand and are sinfully delicious. The dough can be made up to 24 hours before, and these little bite sized treats can be assembled and refrigerated or frozen in preparation for the big event or for that night you just want a little fried goodness. In the spirit of a family fiesta, invite children to help out by assembling these appetizers. Cut the cheese and the dough, and let those little ones wrap and seal your delicious, cheesy bite sized packages.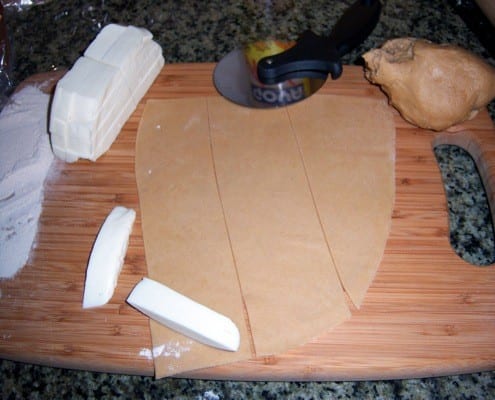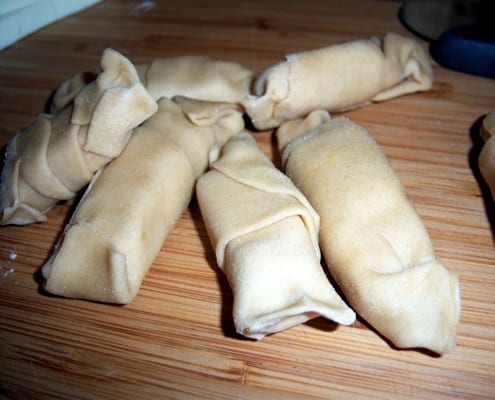 After they are wrapped and sealed, fry your tequeños up and enjoy. Added bonus, they can also be fried straight from the freezer. Serve them smoking hot. A tequeño isn't a tequeño unless the cheese is running out a bit from the first bite. So get a bowl out, roll up your sleeves, pull out a nice frying cheese like Caribe Queso Blanco and send out your invitations because trust me, those tequeños will disappear in un dos por tres because nobody can stop at just one.
Don't forget to grab some for yourself before giving them to your guests. They go fast! ¡Buen provecho!
Tequeños – Fried Venezuelan Cheese Sticks Recipe
Tequeños are small sticks of cheese wrapped in slightly sweet dough and fried to golden perfection. It wouldn't be a party without them!
Ingredients
Dough - 2 cups (340 grams) of flour (whole wheat flour works too!)
¼ cup (42.5 grams) of butter, softened
1 large egg yolk
1 teaspoon (6 grams) of sugar
½ teaspoon (3 grams) of salt
½ cup (4 ounces) of water + (if necessary)
Filling - 8 ounces of Caribe Queso Blanco, or another cheese that can stand up to frying
Frying - Canola oil
Instructions
In a large bowl mix all ingredients for the dough.
Knead for 10-15 minutes until smooth. (If using a stand mixer, mix on speed 2 (low speed) for 2 minutes followed by speed 3 (medium speed) 1 minute. Then, manually knead 1 minute or until smooth)
Cut the dough in half and cover. Roll out one half of dough until very thin on a lightly floured surface.
Using a pizza cutter or sharp knife, cut dough in strips roughly three times the size and twice the width of the cheese sticks. I recommend cutting the cheese sticks around 2 inches (5 cm) long and ½ inch (1 ½ cm) thick.
Using one strip of dough, wrap the cheese diagonally, overlapping the dough. Fold over the edges and pinch to seal.
Repeat this process with the remaining dough.
Heat 1 inch (2 cm) of oil in a pan. Fry 3 tequeños at a time, flipping after 30 seconds, until crispy and golden on both sides (about 1-2 minutes)
With a slotted spoon, remove tequeños and place on paper towels to drain. Repeat with remaining batch until surrounded by a sea of tequeños.
Let tequeños rest 3 minutes before serving. Any tequeños that were not fried can be frozen for about 4 months for your next fiesta!
Carolyng Gomes
Carolyng loves to eat, loves to cook and loves to eat more. To her a recipe is more a list of suggestions, saving time doesn't mean sacrificing on flavor and when in doubt, a splash or two (well, a nice pour) of wine never hurts. Welcome to her Cocina Latina, where South American and Latin fusion dishes are always on the menu.