Jordi Adiao takes a closer look at A Pasta Par in lower Manhattan, and found himself transported to Italy.
For various and obvious reasons, I haven't traveled much outside of the tri-state area in the last year and half. Though I'm determined to book an excursion soon, I find that I can assuage my wanderlust by trying new and interesting restaurants and experiences that New York City has to offer in abundance. One Soho restaurant recently transported me to what I can only imagine is the sophisticated nightlife of coastal Italy. Simply sitting at A Pasta Bar will erase lower Manhattan from your peripheral. Surrounded by its luxe modern finishes, playful sayings in neon, potted palm trees and a plethora of white and yellow roses, it's easy to imagine easing into dusk on a small Italian island on the Mediterranean with balearic beats wafting softly into your ears.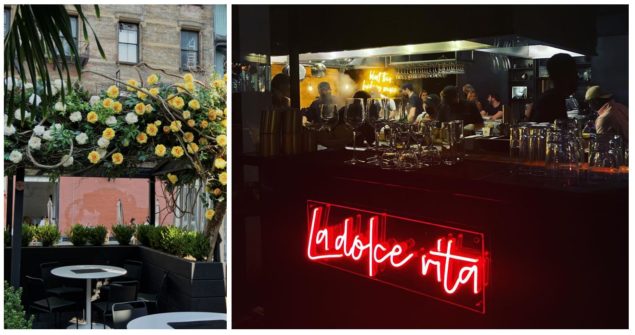 Though there was ample banquettes and comfortable outdoor seating, we chose to sit at the large wrap-around counter that essentially acts as the border between the front of the house and the back of the house. We had front row seats to the bustling open kitchen where appetizers and pasta dishes were meticulously prepared, seasoned, sauced and garnished. Unfazed by peering diners, it was apparent that the chefs preparing all the dishes were confident in their craft and knew exactly how to consistently put out each dish to exact standards.

We watched as our Langhirano Prosciutto appetizer was sliced paper thin, then brought to us with foccacia and bufala ricotta topped with a pistachio pesto.  The ricotta and prosciutto weren't as salty as I expected which allowed the flavor of the 24 month aged meat to stand out, even alongside the herby pesto. Our other appetizer choice was the Tartare di Salmone. Carried by the bright citrusy flavors of the mango and passionfruit gazpacho, the dish was ceviche-esque and paired perfectly with my Cuban Spy cocktail. Together the zesty tartare and the tropical rum-based drink flavored with Amaro Nonino transported me further into my Capri fantasy.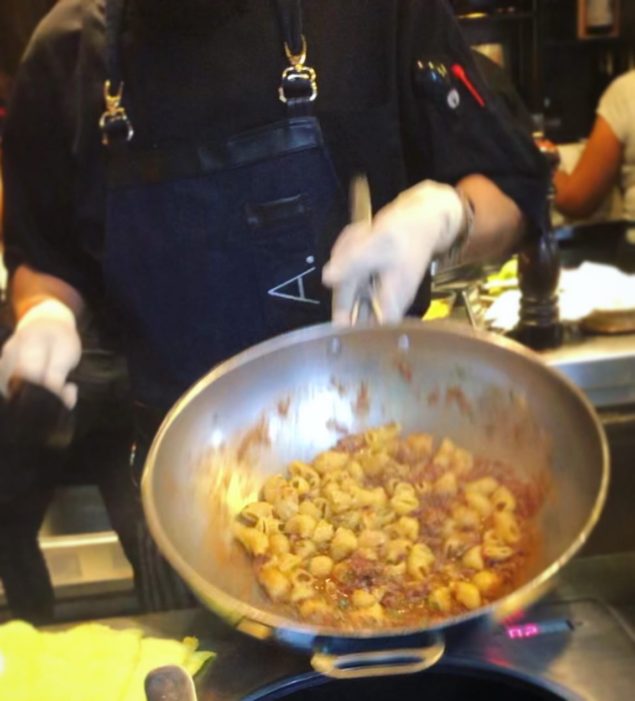 As more and more diners joined the vibrant scene we noticed that banquettes were being filled in by diners who wanted to impress their dates and the rose-crowned outdoor seating mainly contained larger groups of revelers. The counter surrounding the kitchen where we sat attracted regulars dining solo who found little need to refer to the beautifully curated online menu; they knew exactly what they wanted. Watching the chefs prepare the pasta dishes, it was easy to see that the most popular dish was the Chiocciole Al Ragu – Bolognese sauce made of Beef, Veal, Lamb, Pork. As it cooked in the pasta woks in front of us I could see why it was so sought-after. The rich scent of the various meats combined with Parmesan Cheese alone was mouthwatering.
For our main carbs, we chose even more decadence. The Tagliatella Al Tartufo Nero was as velvety as it was earthy in flavor. While each noodle was fastidiously wrapped around giant tweezers, then plated carefully, black truffles seemed to be shaved over the creamy pasta with abandon. The focus around the menu developed by founding owners Simone Tiligna and Nicola Pedrazzoli and Chef Esteher Valcarecel and her sons is simplicity. They want the quality ingredients to shine and this tagliatella dish most certainly allowed the truffles to do just that.

I have to admit, we ordered the second pasta dish purely on the basis of its appearance; but it didn't disappoint in flavor and texture. The 24K Gold Spaghetti was undoubtedly dramatic and mimicked the chic black aprons adorned with brass fasteners worn by the restaurant's chefs and servers. The Squid Ink pasta was finished in a sauce that was barely there visually but undeniably there when you tasted it. It reminded me of a rich bouillabaisse in flavor which was unexpected and gratifying. Topped with gold leaf and sea urchin, the pasta dish became almost Caravaggian.
In order to extend our pasta and people watching, we ordered two desserts. The Cheesecake All'Arancia e Pistacchio was a rustic and lighter cheesecake than New Yorkers are used to. The multi-textured dessert combined classic Italian flavors of ricotta, crumbled cookie, caramel, orange and pistachio. The Ricotta e Pera mimicked the bright flavors of the Cuban Sky cocktail and the Tartare di Salmone. The pear parfait was layered with ricotta, pineapple coulis & whipped coconut. Light and not overly sweet, it was a nice finish that brought the meal full-circle.
A Pasta Bar succeeded in seducing my senses with its beautiful décor, vivacious open kitchen, gorgeous plating and simple yet elegant flavors. It helped transport me from my everyday to a cosmopolitan evening in the Mediterranean that I hope to experience for real in the near future. Until then, I know where to go.
A Pasta Bar is located on 330 West Broadway, NY 10013 and is open Monday to Friday 5pm to 11pm | Saturday & Sunday 12pm to 11pm
Reservations can be made by calling (646) 692-4131or emailing ciao@apastabar.com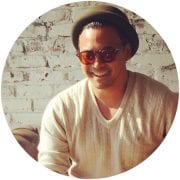 jordi adiao
I learned early in life to embrace your awkwardness... now, are you going to eat your chicken skin?