When you think about a bar or pub food, some initial concepts include beers, burgers, and fries. At Barn Joo Nomad–the Korean Gastropub located in Nomad, New York–check those preconceptions at the door.
What was once a floral shop has now become a destination for diners to experience untypical bar food. What makes Barn Joo unique from other Barn Joo bars or general bars? To start, it's a Gastropub like many gastronomic-focused places, the gastropub takes pride in serving top-notch handcrafted cocktails and Korean-inspired dishes. On Barn Joo Nomad's menu expect to find offerings like open rolls with yellowtail sashimi, a spicy pasta seafood stew and more.
The atmosphere is also less bar-like. Barn Joo Nomad is not somewhere where you will find enthusiastic football fans chugging happy hour beers and shouting at every failed touchdown. Instead, diners are more excited about the chill environment and trying Korean ingredients mixed with unfamiliar ones.
"The fact that we don't have Happy Hour is also probably what makes Barn Joo Nomad unique. Another good thing about us? We like to call our cuisine "Korean Inspired," rather than "fusion." The way we look at it, every dish we make has something Korean about it, whether it be the ingredient or the way we prepare our dishes," says the Gastropub's manager Louis.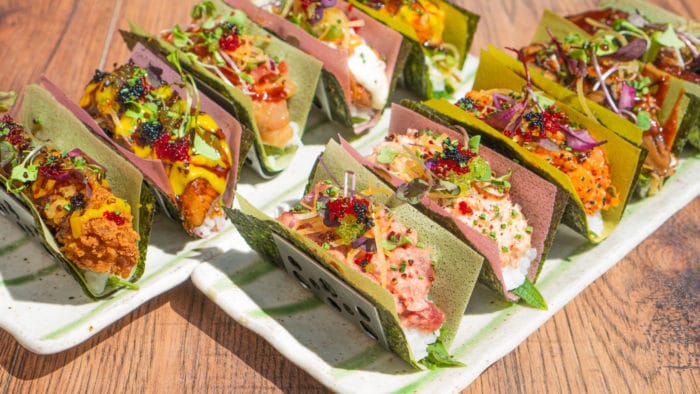 The Flavors at Barn Joo Nomad
Starting with the cocktails, Barn Joo Nomad's cocktail crafters transform the classics like the Aperol Spritz. By adding housemade grenadine and Bokbunja, the classic becomes the popular Jeju Spritz. Another unique drink is its Colada Highball, made with coconut water reduction. For someone ( like myself), who doesn't enjoy coconuts, this cocktail is perfect. The drink is made with a hint of coconut water reduction and isn't overwhelmingly sweet like the pina colada's-well known for its regular appearance at all-inclusive resorts.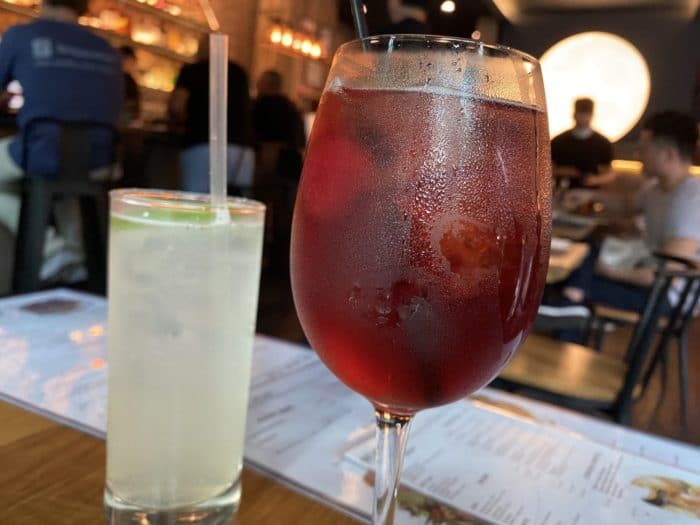 On Barn Joo's shared / bar snacks menu, guests will not find burgers, beers, or extra-large wings. Instead, the menu offers its namesake open roll trio set. "The rolls range from Uni and Yellowtail to Shiitake, and Black Truffle Mushroom and Eel served with bone marrow soup that's housemade, along with a chef-special soy sauce reduction with pickled ginger chayote," says manager Louis. "BJ Signature Open Roll Trio is also a best seller. The open roll experiments with creative plating and structure, putting a twist on the original roll concept." Additionally, the smaller bites menu offers more familiar bar dishes like fries but truffled and wings–still fried but Korean style.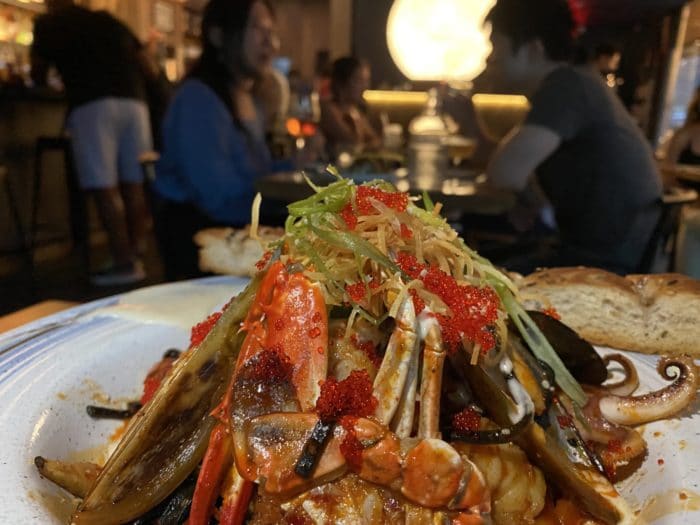 Other irresistible dishes include its Pasta Nomad Noir, for diners who may want something more substantial to eat. The Pasta Nomad Noir is an oceanic spicy stew bowl filled with black squid ink pasta, crab, mussels shrimp, fish roe, calamari swimming in a bechamel cheese five sauce boasting spicy asian flavor from the chili oil. "Pasta Nomad Noir definitely has flair. Originally, the spicy seafood stew flavor is taken from Jjamppong, a popular Korean-Chinese dish." says Louis. Another larger dish includes The Nomad Bite. Prime beef short rib takes center stage on this dish and offers a hint of sweeter flavors from dates and sweet potato puree.
For a decadent dessert, the Gastropub's Bread Pudding does not disappoint. Every spoonful of the flakey, rum infused bread, hinting of warm notes of toasted nuts topped with melted ice cream, is divine.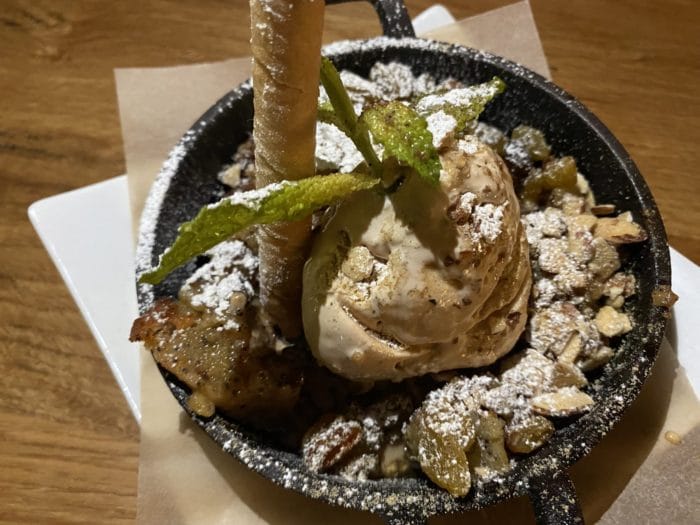 What's Next for Barn Joo Nomad
Earlier in 2021, Barn Joo Nomad opened its doors in its namesake community. Like many other restaurants and businesses, Barn Joo Nomad's journey pre and post COVID-19 wasn't linear. However, on a Thursday evening, regular and non-regular fill the gastropub's seats. The filled tables suggests business is seemingly going well even without the happy hour specials. "Since the beginning, the neighborhood support has been tremendous, and we even have regulars. The full moon through the open window on 6th avenue draws them in for a bite or a drink. Whatever diners get as a first order usually keeps them around for more than intended.
As far as next steps manager Louis says" We are aiming to launch a few dishes but it is a bit too early to share. It's always in our plans to have a rotating menu, challenge and innovate ourselves, but also to be reactive to the needs of the customers. Maybe that's another reason for us to chat in a month."
Barn Joo Nomad
Details:
816 6th Ave, New York, NY 10001; www.barnjoo.com; @barnjoo_nyc