Among many businesses and lives affected by COVID-19's impact, the food industry took a hard blow. Many of which turned over their tables, laid off employees and completely shut their doors – unable to survive the COVID-19 pandemic. Fortunately a few restaurants like Fiaschetteria located in the East and West Village, kept their doors open. Barely that is, anxiously awaiting when customers can return for a real dining experience. 
So, when Governor Andrew Cuomo and Mayor De Blasio announced Phase 2 of reopening New York's economy is happening. Which includes dining service limited to outdoor dining for restaurants, emotions were high for the Fiaschetteria family. 
Support and dealing with COVID-19
During the early stages of the pandemic, Fiaschetteria made significant changes. Compared to their standard business operations they switched to delivery and take out services only. This way they continued to feed their community and support their staff. "Even with a reduced salary, our staff was happy and grateful to have a job. However with limiting our business to just deliveries, we were able only to cover their salary. Nothing more." says Fiaschetteria.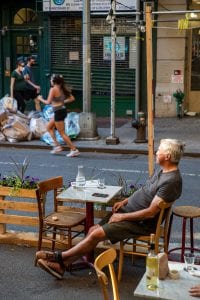 Prior to Phase 2 outdoor dining service news, Fiaschetteria relied heavily on takeouts and deliveries. Whether it was East Village Specials of Gnocchi Al Pomodoro (homemade gnocchi w tomato and basil sauce) and Spaghetti alle Vongole (spaghetti with clams) Or 7th Avenue Specials of Linguine All Aragosta (linguini with lobster)  and Tagliatelle Carbonara Di Cozze (tagliatelle carbonara with mussels). Paired with homemade bread and their infamous focaccia.
Additionally they received government assistance via the Paycheck Protection Program (PPP)  and launched two cooking programs for customers to purchase. "Cook With Us" and "Tuscan Bento Box", similar to HelloFresh and Blue Apron, the Fiaschetteria programs give customers the opportunity to recreate their Italian favorites in the comfort of their home. "Cook With Us" includes two sauces, cheese and fresh bread. Whereas "Tuscan Bento Box" includes raw cut pasta, sauces, cheese, two appetizers, two half liters of wine, two desserts and a checkered tablecloth.  Customers can access demo videos to prepare their at home pasta meals on Fiaschetteria's Instagram page (@fiaschetteriapistoia). 
But even with these measures they struggled to stay afloat and created a GoFundMe page for extra support from their community. "It has been a very scary time. Anxieties are really high. What affected us most, both as a restaurant and personally is the uncertainty about everything."
Enforcing masks and coping with changes.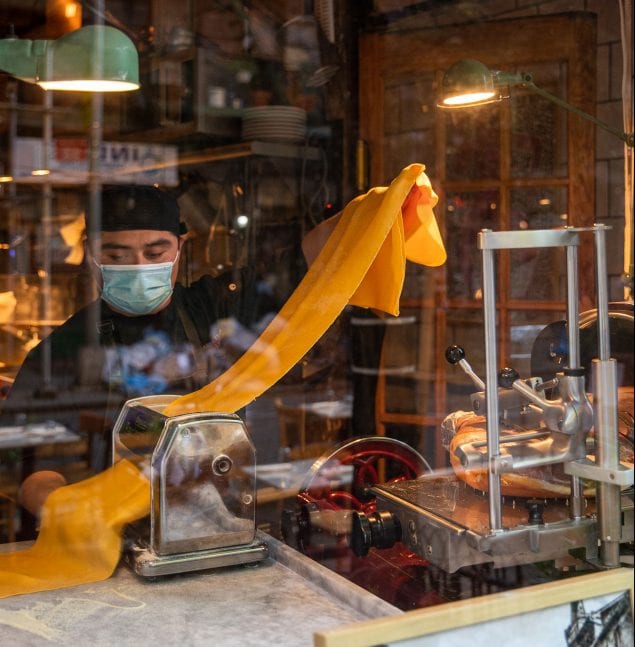 Anticipating many challenges in the coming days, new protocols for outdoor dining will be established. Six foot distance between tables, ordering mass quantities of hand sanitizer to disperse in the restaurants. "We won't allow people without masks to enter but, of course, they will be able to remove it when sitting. Gloves and masks will be worn by all of our staff in the kitchen. Our wait staff will also be wearing masks, but no gloves, since it would be less hygienic than bare hands that are washed and disinfected continuously". 
See Also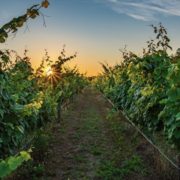 In the coming days  the team will deliver a  dinner to 30+ nurses at NYU Langone Medical Center's pediatric oncology center. "One of the nurses at the hospital is a regular at Fiaschetteria, and reached out to tell us how much she loves our pastas." While Fiaschetteria struggles with the financial pressures COVID-19, community and family remains a priority. " We are excited to support our community of front line workers during such difficult times." 
Fiaschetteria is now open for outdoor dining, take out and delivery. For more information visit – https://www.fiaschetteriapistoia.com/
All images used in this feature are courtesy Tina Boyadjieva (@tinabfoto)
Alyssa Holder
I enjoy listening to the stories of the people who devote their time to fill our stomachs with scrumptious food. And of course, experiencing and sharing my thoughts on the cuisines that span across the world.