The summer months are almost upon us and this light and delightful recipe adapted from Chef  José Andrés is always ready to refresh you on a hot day. You can find it on the menu of The Bazaar by José Andrés or for lunch at Bar Centro at the SLS Hotel in Miami Beach. The best thing is that you can even make it at home.
By Brenda Benoit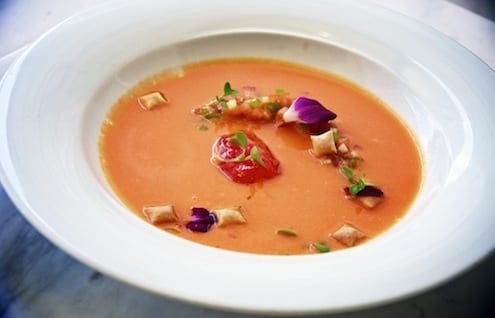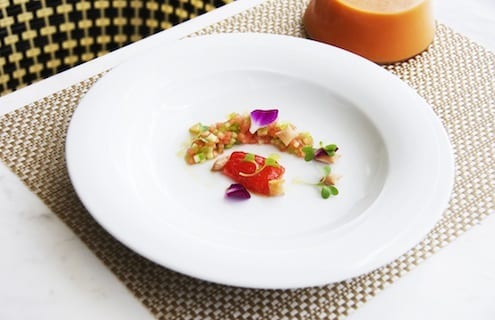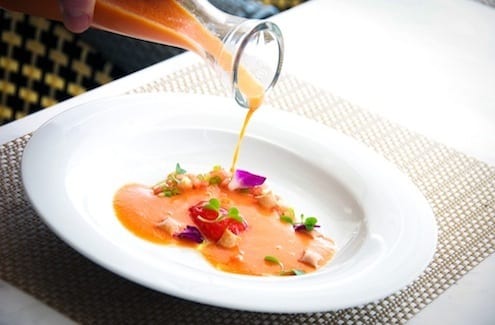 Gazpacho
Gazpacho recipe courtesy of chef José Andrés.
Ingredients
For the soup:
1 cucumber, peeled, seeded and chopped
1 green bell pepper, seeded and diced
3 pounds ripe plum tomatoes
2 garlic cloves, peeled
¼ cup sherry vinegar
½ cup Oloroso sherry
¾ cup Spanish extra-virgin olive oil
For the garnish:
2 1 inch-thick slices rustic bread (or any other crunchy cracker)
¼ cup Spanish extra-virgin olive oil
3 or 4 plum tomatoes, halved
½ cucumber, diced
Edible flowers, micro-greens (optional)
Sea salt to taste
Instructions
To make the soup
combine the cucumbers, peppers, tomatoes, garlic, vinegar, sherry, olive oil and 2 cups of water in a food processor or blender. Puree the ingredients until everything is well blended into a thick orange liquid. Pour the gazpacho through a medium-hole strainer into a pitcher. Refrigerate for about 30 minutes.
For the garnish
if using bread, preheat oven to 450F. Cut the bread into 1-inch cubes and toss in a mixing bowl with 2 tablespoons of the olive oil. Spread the bread on a baking sheet and bake on the middle rack until golden brown, about 7 minutes. Set the croutons aside to cool.
When you are ready to serve, dice the cucumber. Put a few croutons (or crackers), plum tomato halves, cucumber and any other garnishes in each bowl and pour the gazpacho over them. Drizzle with the remaining 2 tablespoons of olive oil and sprinkle with salt.
Chef José Andrés
also says that if you want to save time, you can simplify the garnish: just use a few cubes of cucumber, tomato, and green pepper and pour the soup over it.
Enjoy!
Try another great Spanish recipe – Padron Peppers – here.