Shaved Carrot Salad with Ginger, Maple, and Sesame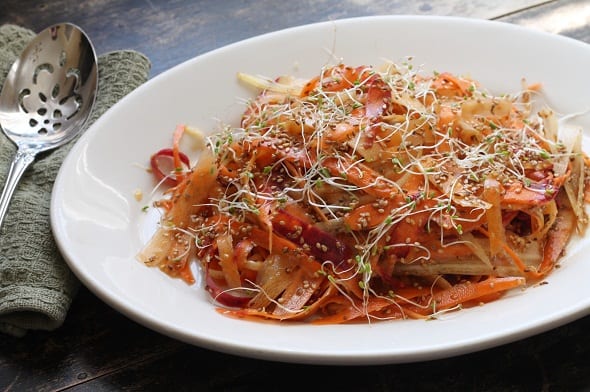 This salad is delicious on its own, but feel free to throw in a handful of bay shrimps. Enjoy!
By Bryan Pickard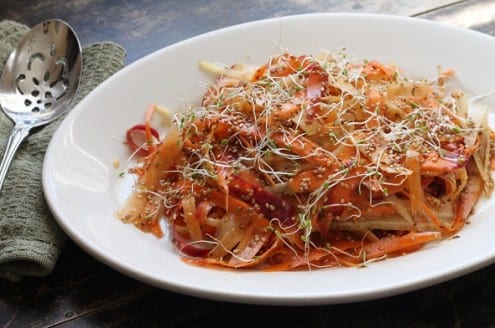 Before heading back to Cape Breton, I swung by the Farmers' Market to try one of Evan's famous fish burgers and stock up on some spring produce. I also picked up some cellar carrots from Noggins Corner, which are featured in this salad. Many friends who claim to dislike carrots will quite happily devour bowls of this crisp salad. Such is the power of the very thin slice and of flavours like ginger, sesame, and maple.
Shaved Carrot Salad with Ginger, Maple, and Sesame
This salad is delicious on its own, but feel free to throw in a handful of bay shrimps. Enjoy!
Ingredients
• 1 lbs carrots, peeled into strips (I used mixed colors)
• ¼ cup unhulled sesame seeds, toasted
• 1 thumb-sized piece fresh ginger, grated
• 3 tablespoons oil
• 1 tablespoon maple syrup
• 1 tablespoon rice or white wine vinegar
• ½ teaspoon coriander seeds, crushed
• pinch sea salt
• pinch dried pepper flakes
• sprouts for topping (optional)
Instructions
With a peeler, peel the carrots so you have long, thin strips.
In a bowl, mix the shaved carrots with the rest of the ingredients.
Let sit for at least 15 minutes before serving.
Top with sprouts and toasted sesame seeds.
Bryan Picard
Bryan Picard is a wild and homegrown food enthusiast. He lives in the Maritimes in Canada and has worked the kitchens as a cook and chef for the past ten years. He writes on his blog The Bite House.