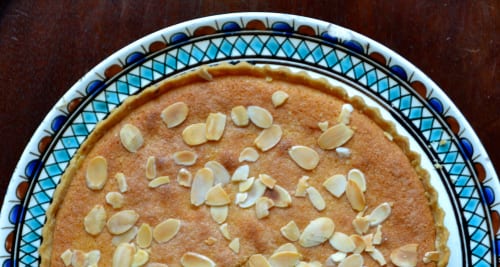 It may not have looked like a rhubarb jam, but it very much tasted like one. Especially when gobbling hot guilty spoonfuls of it from the sticky pan.
By Helena Berthon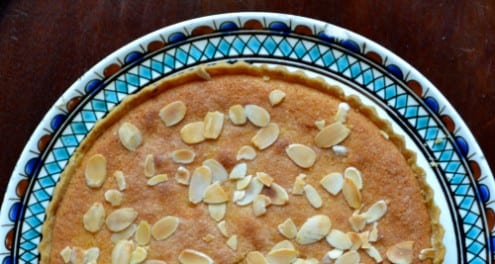 Rhubarb Bakewell Tart
It may not have looked like a rhubarb jam, but it very much tasted like one. Especially when gobbling hot guilty spoonfuls of it from the sticky pan.
Author:
Helena Berthon, adapted from Felicity Cloake's Perfect Bakewell Tart
Ingredients
For the pastry
140g plain flour, plus extra to sprinkle
85g cold butter, plus extra to grease
Pinch of salt
Ice cold water
For the rhubarb jam (not the recipe I used (gunge recipe), which is a good thing…)
250g rhubarb
250g jam sugar
A good squeeze of lemon juice
For the frangipane
110g butter
110g caster sugar
2 eggs
110g ground almonds
25g plain flour
½ tsp baking powder
Zest of ½ lemon
25g flaked almonds, to top
Instructions
To make the pastry for the tart, mix the flour and salt in a bowl, and then grate in the cold butter. Rub this into the flour, then stir in just as much cold water as you need to bring it together into a dough; it should not be sticky. Alternatively use a food processor (which I did). Wrap in clingfilm and chill for at least an hour. Preheat the oven to 190°C (170°C fan)/gas mark 5.
Grease a 23cm tart tin and roll out the pastry on a lightly floured surface until large enough to line the tin. Do so, then line with baking paper and weigh down with baking beans or dried pulses. Bake for about 15 minutes until golden.
Meanwhile, make the rhubarb jam by putting the rhubarb into a large saucepan with the sugar. Heat gently, stirring, until all the sugar has dissolved, then squeeze in the lemon juice and increase the heat. Boil for about 10 mins, skimming off the scum as you go (the fruit should be soft). Once the jam is ready, let it cool slightly to one side.
To make the frangipane, cream together the butter and sugar until fluffy, then beat in the eggs. Fold in the dry ingredients and lemon zest and a pinch of salt.
Remove the paper and beans and return the pastry to the oven for a couple of minutes until golden. Spread the rhubarb jam over the base, and top with the frangipane. Level out and bake for 25 minutes until golden and well risen. Add the almonds on top in the last 5 minutes of cooking.
Helena Berthon
Helena is a huge foodie making the most of the explosive gastronomic scene in London, England. She has had her own food blog, http://hellyfillsherbelly.com, for almost two years in which she combines recipes and food styling, with witty and engaging stories. At the moment, she's working all hours in the world of food television, which although hard work, is the perfect opportunity to taste some top notch food. She loves eating, restaurants and cooking, and can't imagine a life that doesn't revolve around food.