Update your dinner and try these Picadillo Tacos. You won't regret it. Actually, you may just make it your new staple for taco night!
By Carolyng Gomes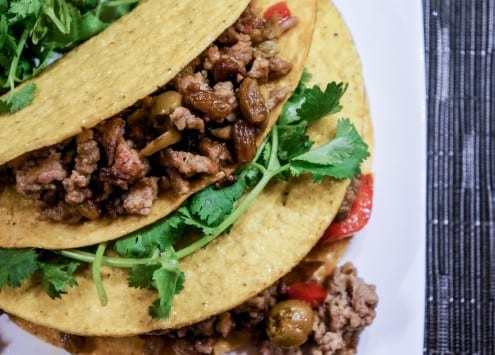 Picadillo Tacos
Update your dinner and try these Picadillo Tacos. You won't regret it. Actually, you may just make it your new staple for taco night!
Ingredients
1 lb ground pork
¼ cup + 2 tbsp golden raisins
¼ cup pimento olives, diced
½ sweet red pepper, diced
¼ medium onion, diced
1 tsp agave
¼ cup of water
8 hard tacos shells
Salt and pepper to taste
Instructions
Bake taco shells according to distributors directions.
Preheat a pan on medium-high heat.
Sauté onion and red pepper for 3-5 minutes, until onion is translucent and pepper is softened.
Add raisins and olives. Sauté for an additional 2 minutes.
Add water and continue stirring mixture until water has evaporated and raisins are plump.
Add ground pork to pan and incorporate all ingredients. Stir occasionally until the pork is cooked through.
Add agave to mixture and stir until fully combined.
Stuff warm taco shells with picadillo until overflowing.
Enjoy immediately.