Keep Oceanside Sketchy memorabilia still abounds in this quaint beach town, but truth be told, Oceanside has evolved into a seaside gem with beautiful new resorts, a burgeoning food scene, and a competitive surf and skate culture. So if you're looking for a charming new beach
area to explore, Oceanside is a hidden treasure.
If you live in California, consider taking the train to Oceanside and enjoy a scenic journey along the Pacific Coast. Angelenos can leave their car at the Amtrak parking garage for only $8 per night and take a round trip train ride for $56 in coach. Your vacation can begin right away in the café car—grab a snack or coffee, or if you're ready for something stronger, canned margaritas, mules, ciders, and beers are also available. Now sit back, relax and enjoy the beautiful ocean views.
Here are a few suggestions on where to explore, stay, eat, and drink. Whether you have a few days or you're just making a day trip, there's something for all who love scouring a new city for memorable experiences.
Where to Stay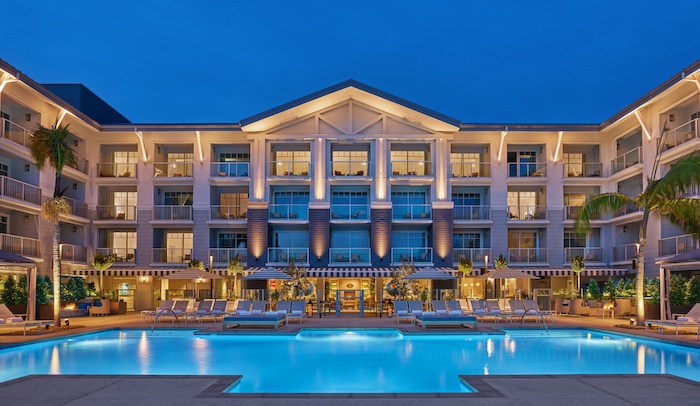 Once you disembark the train you'll find two brand new boutique resorts, The Seabird and Mission Pacific, side-by-side on the water. The attention to detail makes both beautifully-designed hotels incredibly warm and inviting. The Seabird boasts a nautical and coastal-inspired theme, while Mission Pacific feels bolder with wood accents throughout.
If you're after a more family-oriented experience, The Seabird offers activities for kids and adults alike. Art lovers can explore OMA West, a rotating art gallery inside the resort. You'll also find the "Little Seabirds" program which features pirate treasure hunts on the beach, arts and craft activities, and more for the little ones. If you need a day to reset, reserve a poolside cabana where you can enjoy an adult beverage and light fare from The Shelter Club, an exclusive restaurant for guests. Rooms at The Seabird are bright and spacious, and many have incredible ocean views.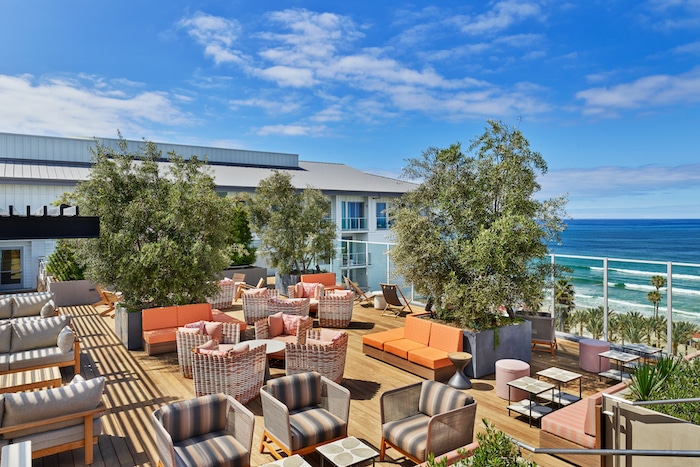 If you're traveling with friends, consider staying at Mission Pacific. The rooms are luxurious with a contemporary feel, with plenty of ocean views as well. Check out The Rooftop Bar (the only one in Oceanside!), which sits near the glistening pool on the roof. Whether you lay out by the pool or sit at the bar, enjoy delicious dishes and craft cocktails, and be sure to stick around for the iconic Southern California sunset. Find more on food and beverage in the food section.
Where To Eat
Don't skip out on making a Dija Mara reservation. This Indonesian restaurant featuring a Bali-inspired menu received a Michelin nod, making it a hotspot—and for good reason. Enter through a rolled up garage preparing you for an industrial vibe with cool art throughout the restaurant. Knockout dishes include the beef tartare with black garlic, curry aioli, and parmesan; and the Nasi Gorang (wok-fried rice with Bay shrimp, confit chicken, and a sunny egg on top).
Also, don't forget to order the whole fried fish with tamarind glaze. It's the perfect shareable and the tangy tamarind combined with the crunchy and flaky skin is a crowd pleaser. For drinks, consider their array of natural wines, or out-of-the-box cocktail creations like the "Beets by Bali'' with beetroot-infused wine-based gin, lemon juice, honey, ginger, and black pepper. With its great atmosphere, expansive ocean-scape, beautiful decor, and delicious food and drink program, Mission Pacific's The Rooftop Bar has it all. Popular Valle de Guadalupe Chef Roberto Alcocer helms the kitchen, preparing Baja-style small plates including fresh ceviches, tostadas, and tacos. Make sure to order the grilled market oysters, which are reminiscent of New Orleans chargrilled oysters. Order a super fresh craft cocktail like the "Hora Dorada" with tequila, blood orange, ginger, lime, and pepita salt, and relish in one of the best ambiences in Oceanside.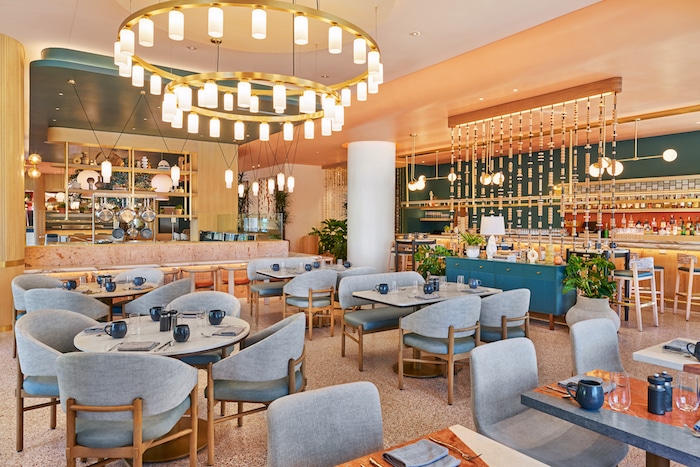 The Seabird's Piper Restaurant is bright and inviting with its light blue, salmon pink, and green tones. Beyond the unique pasta roller curtains you'll find an open-kitchen design featuring a made-to-order pasta station. In the morning, sit outside on the wrap-around patio and enjoy brunch items with a twist, like banana fosters oatmeal or a photogenic and elevated avocado toast with cucumber, chili-ginger cream cheese, everything furikake, and sprouts. Add the soy-cured salmon to boost the dish even further.
If you have a sweet tooth, Parlor Doughnuts is a must. This popular midwest doughnut shop has made waves here in Oceanside with cronut-style donuts popularized by Dominique Ansel. Choose from a range of flavors including French Toast, Bourbon Caramel, Churro, and
Strawberry Shortcake for a flaky, buttery treat.
Where to Drink
With plenty of popular neighboring towns in San Diego County, one might not think to enjoy a memorable cocktail experience in Oceanside. However, you will be delighted to find several impressive watering holes here.
Carte Blanche is a French-inspired Mexican bistro. The colorful and bright dining room is warm and welcoming. Grab a table outside or head to the bar for a cocktail. Here, they serve a "Margarita Ooh La La," which is a modern take on the traditional margarita. And what makes it outstanding is the mountain of passion fruit foam that the bartender whips on top. During happy hour from 3 p.m. to 5 p.m. Tuesday to Friday, you'll enjoy this margarita for $2 off.
For a boozy happy hour, head to 333 Pacific between 5 p.m. and 7 p.m. Wednesday through Sunday. The steakhouse presents a vodka happy hour with $9 martinis. Choose a vodka you've never heard of and the bartender will shake or stir a fabulous martini for you. If you're a wine lover, on Wednesdays, 333 Pacific offers 50% off select bottles of wine.
For an extremely well-balanced cocktail experience, end your evening at Frankies. The seductive art, exposed brick, and deep green booths create a swanky and sexy atmosphere. Options include cocktails like the Amalfi with rose aperitif, Campari, Fino, Brut and Allspice. If that's not your cup of
alcohol, try the Jerry Thomas with apple brandy, cynar, peach, Demerara, and mint. If all else fails, ask your bartender to craft one of your favorites instead.
Oceanside Activities
Oceanside's Sunset Market is a short walk from either resort. It's open every Thursday from 5 p.m. to 9 p.m, and with over 200 vendors, it's reminiscent of street markets you'd find in a European city. As you walk around, you'll be surrounded with an abundance of tantalizing aromas emanating from the many food stands. Look forward to a variety of culinary options like Argentinian empanadas, Filipino shortbread cookies, Thai mango sticky rice, and much more. Wash it all down with an agua fresca while enjoying a live band or just meander through the artisanal stands, where you can shop for jewelry, beachwear, or art.
Explore even further by renting a bike. Start by the Oceanside pier and head down to The Strand right on the water and you'll find a bike path. Walk or bike by beachfront condos and cottages and enjoy the salty beach air, as surfers glide effortlessly on the incoming waves. Bike towards Oceanside's Harbor and you'll find a multitude of docked boats, colorful shops, and restaurants. Then, if you're ready for a break, stop in Oceanside Broiler for a local spot with no frills. Park your bike, and head in for a bite. The best part?
Happy hour is seven days a week from 12 p.m. to 6 p.m.
Oceanside's deep-rooted surf and skate culture is no secret. So, when in Oceanside, do as the "Osiders" do. At Seabird, you can sign up for a private surfing lesson with North County Surf Academy and surf alongside professional surfer and third-generation Oceanside resident, Duran Barr. If skating is more your speed, Mission Pacific has a unique "Skate School" program that pays homage to Oceanside's beloved sport via guided skateboard lessons from Neal Mims, a lauded Olympic skateboard coach and talent behind Golden State Skateboarding.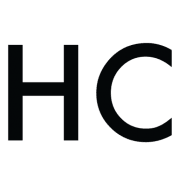 Keyla Vasconcellos
Keyla Vasconcellos is a passionate, freelance writer regarding all things food, lifestyle, and travel. She is usually searching the streets of Los Angeles for the next great bite, or she is shooting food photography for restaurant clients, or daydreaming about her next travel destination.