Deep in the San Fernando Valley, Dan Bercu explores the authentic flavors and history of Halal Kitchen Café, one of Los Angeles bestAfghan restaurants.
To strike back at the terrorists of 9/11, anti-arab teenagers drove their Chevy Nova into the lobby of a Greek restaurant in my home state of Ohio. I decided to take action to support local ethnic restaurant owners, sample their cuisine, and let them know they were welcome in their own country. So, in October 2001 – I ate at every Middle Eastern restaurant I could unearth.
After the recent collapse of Afghanistan the same altruistic impulse reignited. I immediately Googled, "best Afghan food Los Angeles." The greater LA area is home to over 13 million people, and contains more ethnic restaurants than almost any city on Earth. The results of my search contained a smattering of Persian, Pakistani and various other cuisines from Central Asia. Yet only one true Afghan restaurant emerged – Halal Kitchen Cafe?, located deep in the San Fernando Valley.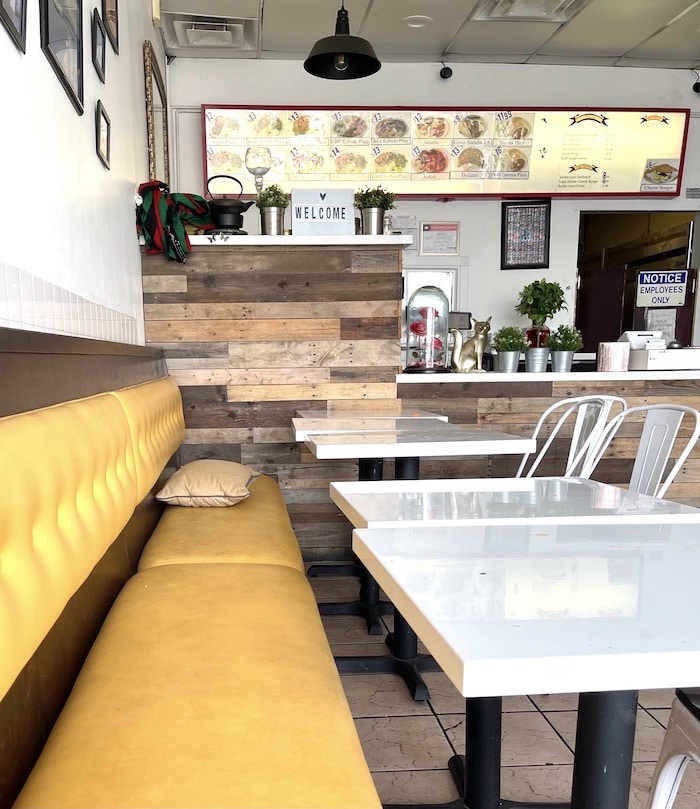 I knew I had to go there.
The bright sunny cafe? faces East towards Mecca. The restaurant fronts a mini mall, squeezed between a car wash and a 7-11. The mustard yellow banquets and white tile floors are warm and welcoming. The proprietor, Sharif Sadat, greeted me with a wide smile, tinged with a bit of sadness. She fled Kabul in 1980; escaping the Soviet occupation, she traveled by donkey over the Hindu Kush mountains to Pakistan. For the next four decades she raised her 8 children until her husband died, after which she decided to open Halal Kitchen to share her love of food – and retain her sanity.
Halal is Arabic for "permissible"; the Muslim equivalent of Kosher. The menu is focused on 16 core items, and Sharif is not merely the owner of the restaurant. She is the restaurant. Literally. There are no waiters, cooks, or busboys. Sharif does it all. The smell of crushed Black peppercorns, coriander and cardamom explodes from the kitchen as the proprietress takes your order.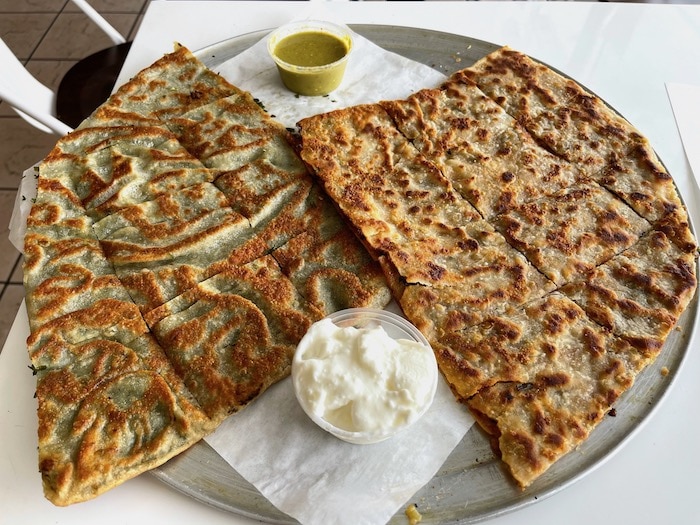 At Halal Kitchen, For $13 you can order a Bolani – stuffed flat bread – as big as your table. Flatbreads are some of the oldest foods on earth, some as ancient as 14,000 years old, and early Persian soldiers baked flatbreads on their shields over open fires.
The Bolanis came out sizzling on a metal tray. One half was stuffed with leeks, the other a dosa styled potato. The tops were blackened as thoroughly as any pie pulled from the ovens of Pizzeria Mozza. A dollop of house made yogurt and chive sauces added both spice and the cooling effect of lactose.
Mantu dumplings, also $13, are typically prepared and consumed for large gatherings of family and friends. They are difficult to make and appear on the table as expertly crafted packages of paper thin dough stuffed with ground beef and garlic. Topped with chana Dahl, tomato sauce and yogurt, they are as wonderful as any ravioli served at Felix. A sprinkling of magic oregano dust seals the deal.
Already stuffed, I girded myself for one last plate of kabobs. The $14 Lamb and Chicken Afghani Plate was a great end to the trifecta. Another ancient food, Kabab-remnants were discovered in ancient Minoan Cities, dating back 18,000 years ago. The chicken breast cubes were rolled in dehydrated grapes for a sour yet pungent finish. The lamb, marinated with rosemary and oregano was a bit dry, as it usually takes many hours of stewing before lamb becomes fork tender. The Kabuli rice Palao was expertly cooked with autonomous grains studded between golden raisins and shaved carrots.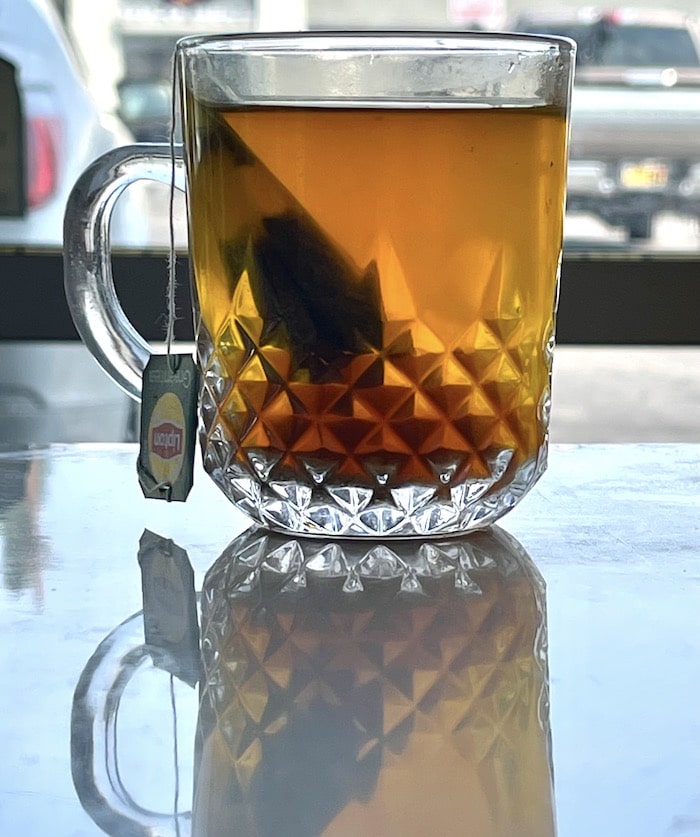 The meal ended over shared glasses of saffron scented tea with Sharifa. We watched Afghan tv in Arabic and talked about life, once again under the Paleolithic rule of the Taliban. She gave me a big hug and I exited Halal Cafe? into the blood red heat of the SF Valley.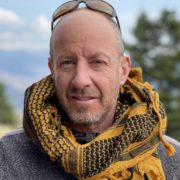 Dan Bercu
Dan Bercu travels to remote places in search of unusual food and adventure.