Spend a cold winter afternoon making sheets of fresh pasta. Roll out this flecked saffron tagliatelle and serve it in a simple spiced butter sauce.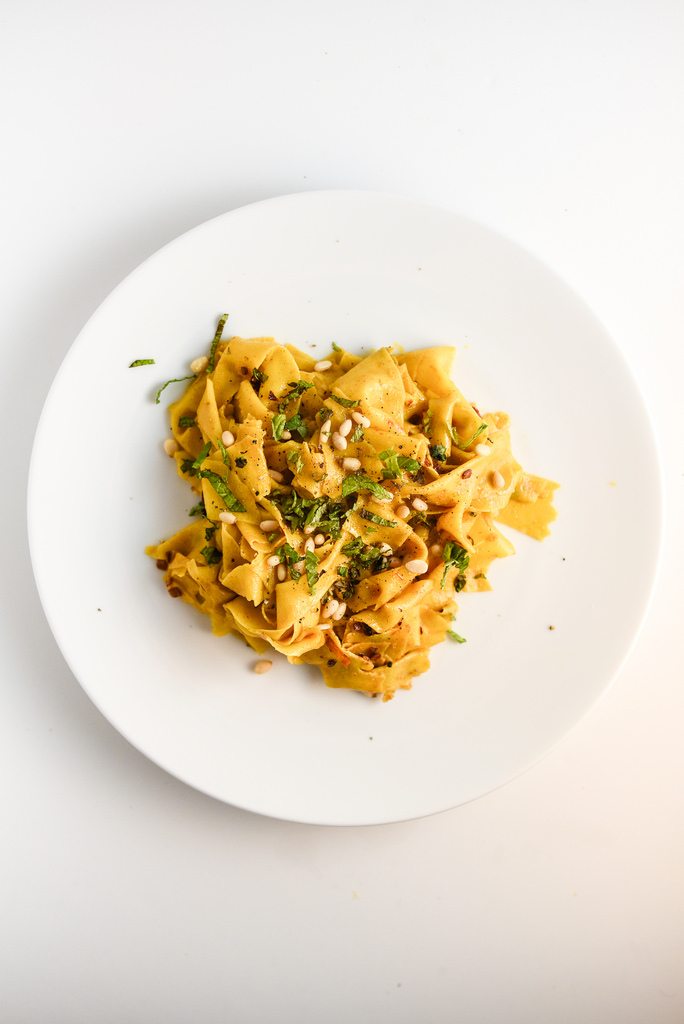 This year, I'd love to master making pasta. I've done it a handful of times before, and each time, the end product is better and better.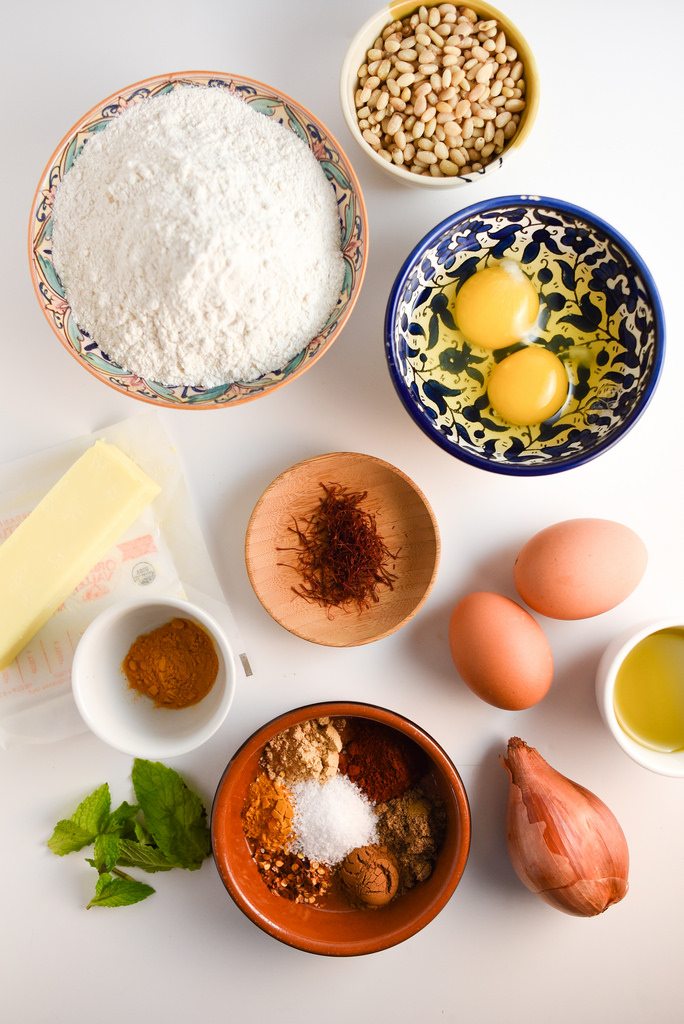 But what I'm most in love with is the process. It's so incredibly therapeutic to make dough from scratch and to roll it and roll it and roll it out into thin sheets. I'm absolutely addicted, and in my opinion, it's the perfect way to spend a cold Sunday afternoon.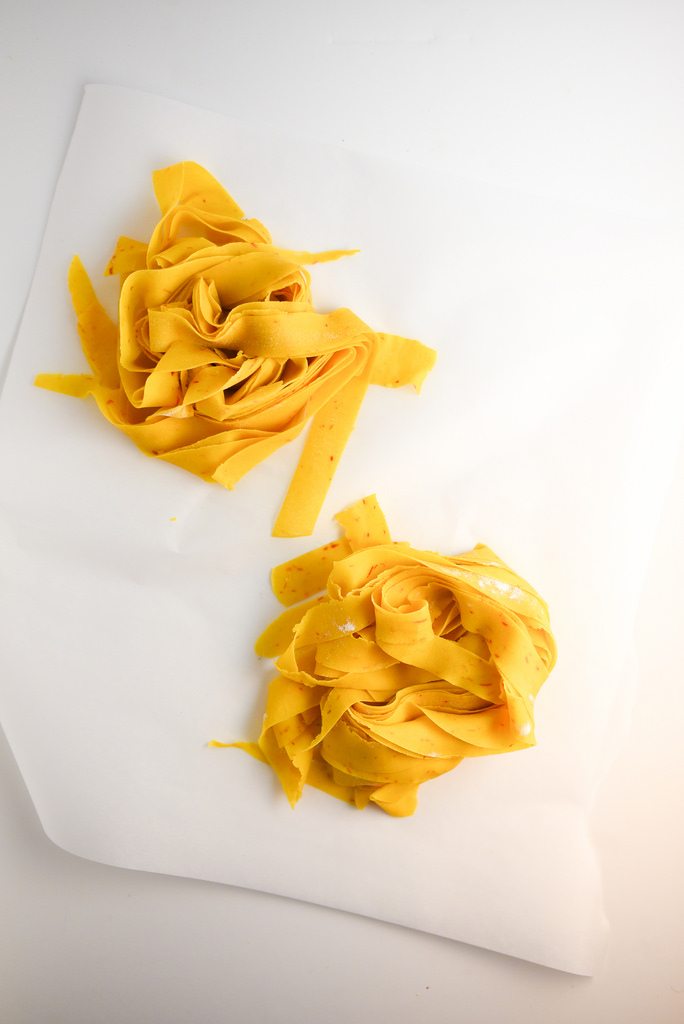 For this recipe, I went to my favorite source: Ottolenghi. In his 2010 cookbook Plenty, he has this incredible looking recipe for saffron infused pasta. The color immediately caught my attention. So did the sauce–butter mixed with all the spices. I was in.
The end result was exactly what you'd expect from a recipe of his: incredible flavors, perfect texture, and seconds for everyone.
See Also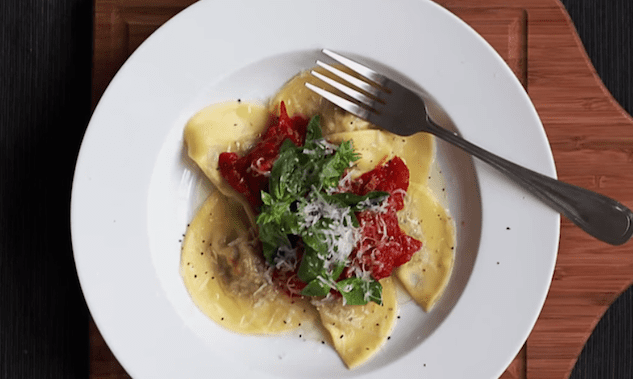 If you haven't made pasta before, I recommend reading the Serious Eats's Science of the Best Fresh Pasta post. It's long and detailed and what I used as my technique for pasta making when getting started. The more you do it, the more you start to get a feel for the pasta and how to laminate it and roll it and flour it and cut it. It's becoming much more natural and intuitive, but I've still got heaps to learn.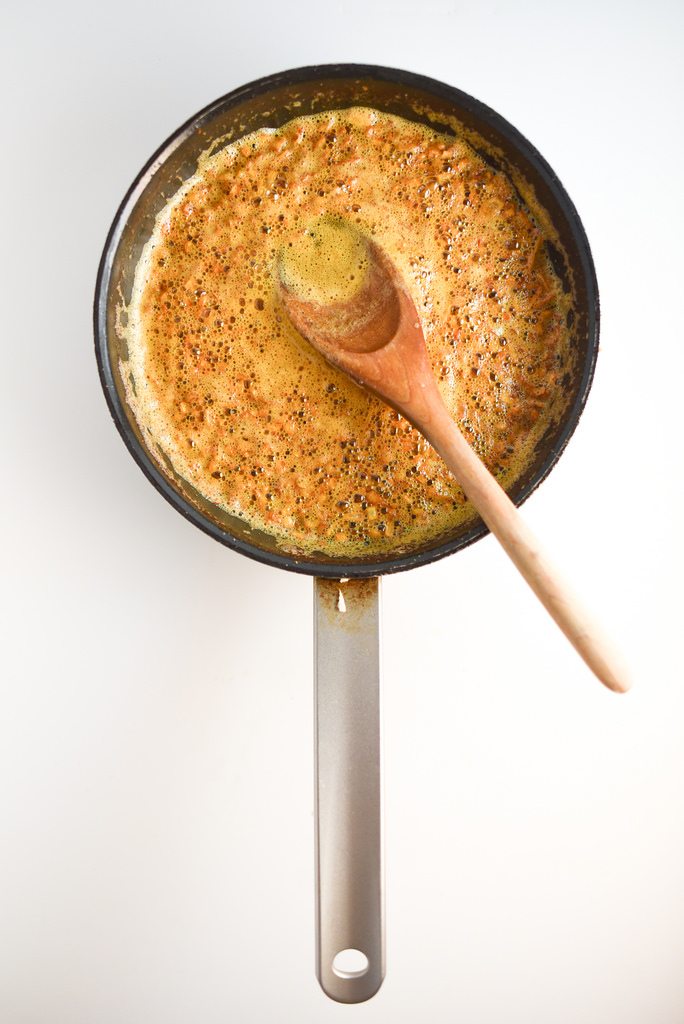 Print
Fresh Pasta: Saffron Tagliatelle
Author:

Vicky Cassidy

Category:

Main
For the pasta:
2 teaspoons

saffron threads

1/4 cup

boiling water

4

medium eggs

1/4 cup

olive oil

440 g

00 pasta flour (plus more for rolling)

1 teaspoon

ground turmeric
For the spiced butter:
½ cup

1 stick unsalted butter

6 tablespoons

olive oil

6

–

8

small shallots (finely chopped)

1 teaspoon

ground ginger

1 teaspoon

sweet paprika

1 teaspoon

ground corinader

1 teaspoon

ground cinnamon

½ teaspoon

chili flakes

½ teaspoon

ground turmeric

1½ teaspoon

Kosher salt
Black pepper to taste
For garnish:
1/4 cup

pine nuts (toasted)
Chopped parsley (basil. or mint (or combo of the three))
Instructions
In a medium bowl, infuse saffron threads with boiling water for at least 10 minutes. Add eggs and oil and whisk to mix.
In a food processor, pulse together flour and turmeric. Pour in saffron mix and pulse until a crumbly dough forms. Place dough onto a lightly floured surface and knead with your hands until it comes together and becomes smooth, about 2-3 minutes. Wrap the dough in plastic and let it rest for 30 minutes.
Divide dough into four pieces. Cover three of the quarters and roll the remaining one into a rectangle. Using a pasta machine set to the widest setting, pass the dough through three times. Laminate the dough (if you're not familiar, check out the Serious Eats link above) three times at the lowest setting. Then begin to roll dough out, increasing the setting on the pasta machine one notch at a time until you've reached the lowest setting. Place the pasta onto a lightly floured baking sheet, folding the pasta onto itself as needed, and sprinkling with flour between the layers. Cover with a damp kitchen towel. Repeat with remaining dough.
Use a sharp knife to cut the pasta into ¾ inch wide strips. Hang them to dry (on the back of a chair or whatever surface works) for about 10 minutes.
Meanwhile, make your spiced butter. Melt butter in a large saucepan over medium heat. Add olive oil and shallots and cook until shallots are softened and butter starts to brown, about 10 minutes. Add all spices, salt, and pepper. Stir well and remove from heat and keep warm.
Bring a large, heavily salted pot of water to boil. Add pasta and cook for about 2-4 minutes, or until al dente. Drain the pasta and return to the saucepan with spiced butter. Toss the pasta to coat. Serve with pine nuts and herbs.
Vicky Cassidy
Vicky Cassidy can usually be found in her Madison, WI kitchen with cumin or paprika in her hair and olive oil smudges on her camera. She is a self-taught cook and the occasional baker, and she loves oversharing stories about her kitchen and life on Things I Made Today.