This Saint Patricks Day bread recipe is faster than hopping on your bike and driving to a store.
By Regula Ysewijn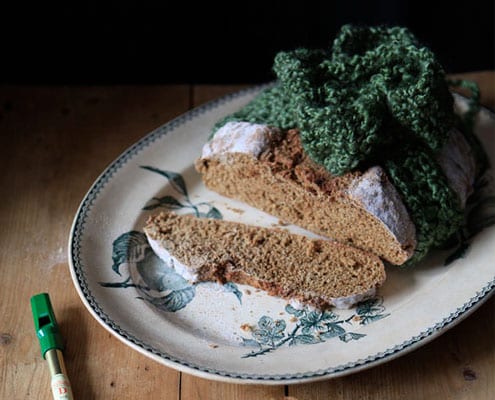 I've never been in Ireland so therefore St-Patrick's day is something I only know from visiting the Irish pubs that used to be plenty in Antwerp. The day would be advertised on the pubs blackboards weeks in advance offering live music and a Paddy's special menu. When the day finally came, the Irish folk living in Antwerp and the Irish sailors who were at Antwerp port with their ships would gather at the pubs to enjoy a pint and a meal, you would hear the traditional Irish folk music from behind the corner along with loud and often drunken sing-a-longs. In Antwerp you most certainly knew when it was St-Patrick's day… But as the Irish pubs started to disappear, the St-Patrick's day celebrations and the taste of Irish food went with them.
This year I had my mind set on baking for St-Patrick's day but as I have been having a busy time, it had to be quick and wholesome. I decided on soda bread because it was always the bread served with the food in my favorite Irish pub in Antwerp. The pub had been on that location since the time a pint of Guinness was only 2,5 cents so I was sorry to see this bit of history fade. Whole wheat soda bread or 'wheaten bread' as it is known in parts of Ireland is a bread where Bicarbonate of soda is used as a raising agent instead of yeast or a sourdough starter, the process is activated by the acidity in buttermilk, live yoghurt or like in this bread here, stout beer and live yoghurt. Buttermilk and live yoghurt contain lactic acid which reacts with the baking soda and forms air bubbles of carbon dioxide. The trick is to underwork your dough and get it in the oven as fast as you can to get a good rise.
Baking Soda bread is a great alternative to baking your bread traditionally when in urgent need of a loaf and no time to spare. Made with good quality organic wholemeal flour this makes a fine loaf in just 45 minutes – baking included. This is faster than hopping on your bike and driving to a store.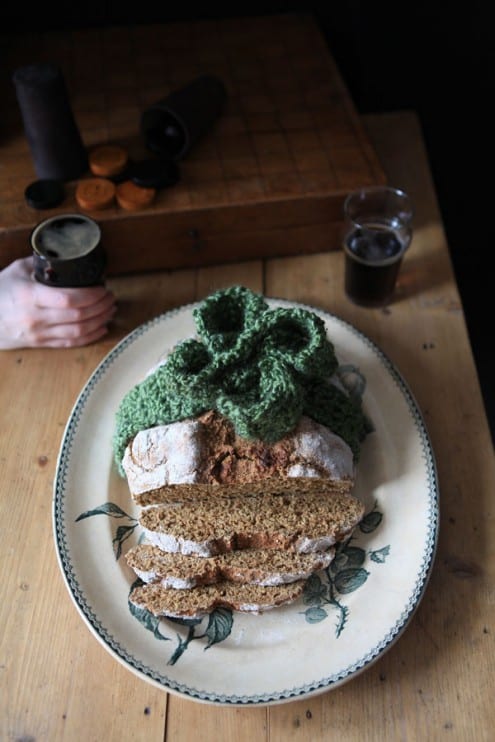 Wheaten Soda Bread with Stout Beer, Oats and Molasses
The perfect bread for St-Patrick's day
Ingredients
500g/17oz. good quality - organic wholemeal wheat or spelt flour
½/4oz. cup rolled oats
2 teaspoons of baking soda
1 teaspoon of seasalt
3 teaspoons of molasses or black treacle
200ml/6.7 oz stout beer and 200 ml/6.7 oz live yoghurt
some extra flour to dust
Instructions
Preheat your oven to 190C/375F.
Line a baking tray with greaseproof paper.
Combine the flour, baking soda and salt well in a bowl.
Add yoghurt and stout and mix with the dry ingredients.
Quickly form a wet dough - it is important to get the bread in the oven as quickly as possible and not to overwork it - if the dough is too wet dust with flour until you can shape it.
Dust it with flour and cut a cross in the dough half way down the dough.
Put on the baking tray in the middle of the oven for 40 minutes.
The bread is ready when it makes a hollow sound when you knock on the bottom.
Cool on a wire rack.
Notes
I like to place a small container of water with the bread in the oven, the moisture will help the bread get a tender crumb. Best eaten when still slightly warm and spread with butter.
Regula Ysewijn
Regula fell in love with Britain when she was a little girl, her parents travelled with her across the country feeding a love that is still as strong now as it was over a decade ago. On her blog 'Miss Foodwise' she writes about her quest discovering everything there is to know about British food and culture. She has a passion for vintage British cookery books and a weakness for dainty floral tea cups. Regula is a photographer, graphic designer and culinary school student.